No Tornadoes Recorded Through First Half of March, a Rare Feat for The United States
The first half of March 2015 recorded zero tornadoes in the United States. The only time this has happened in the last 65 years was in March of 1969.
Only 17 times has the start of March seen less than 10 tornadoes between 1950 and 2013. The 63 year average is 27.66 tornadoes nationwide through the first 15 days of March.
Despite a slow start, this isn't necessarily telling for how the severe weather season as a whole will play out. In 1969, for example, the year ended with 608 tornadoes – which, while below average, still proved devastating for many. That year 32 people lost their lives to tornadoes, and over 1300 were injured. As we mentioned at the start of March, we think this year's severe season has the potential to be an active one for some.
Here is a look at tornadoes by year for the first half of March. The minimum count is 0, which happened in 1969 and now 2015, the maximum count is 111, occurring in 1996.
View the full screen version here.
It's been a remarkably quiet year for severe weather in general, not only tornadoes. To start 2015, the SPC went nearly two months (51 days) without issuing a severe watch, the longest of such stretches since going 54 days to end 1986.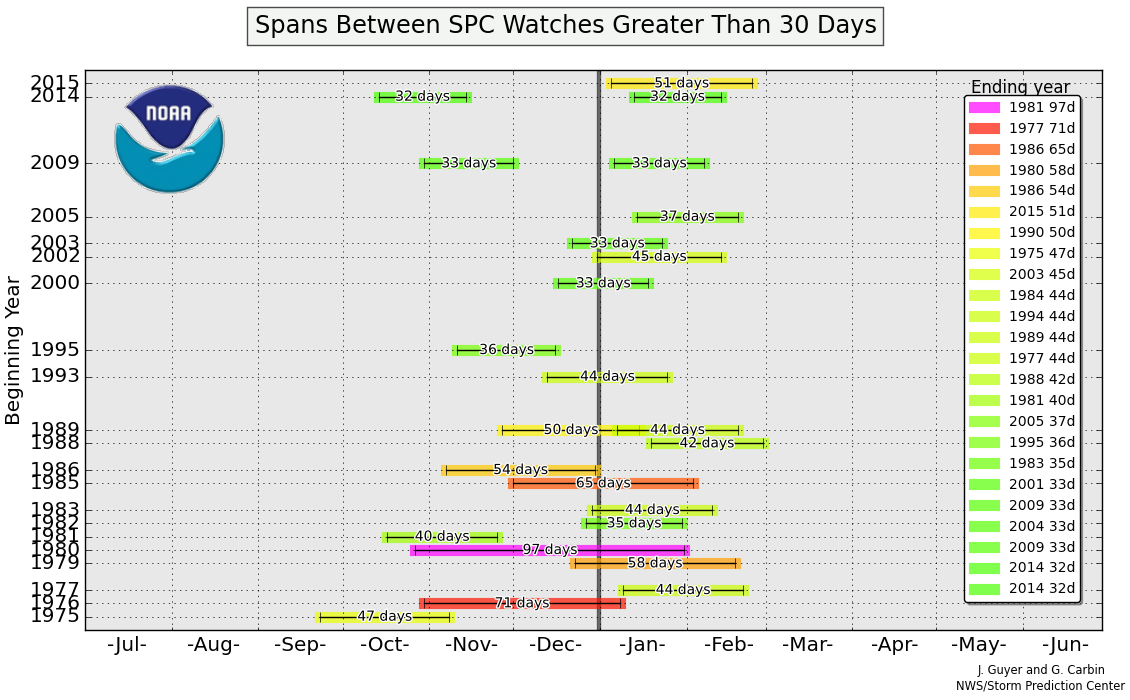 Enjoy the calm weather while it lasts, severe season will inevitably come eventually, and likely sooner than many wish.