After a very dry start to the month across much of Colorado, things are set to get soggy Wednesday and Thursday. Precipitation will come in the form of snow at higher elevations, but for the time being temperatures look too warm for snow at lower elevations.
The National Weather Service has issued a Winter Storm Watch for the Front Range mountains generally above 9000 feet. Heavy snow will be possible from Wednesday evening through Thursday afternoon. The Watch indicates 5 - 10" of snow will be possible, which seems reasonable. Certainly higher-end totals will be possible, especially further south and at highest elevations.
Across lower elevations things are a bit more complicated. At this time the lowest the rain-snow line appears to get is about 5600 feet, which could mean some snowfall or mixing for Denver's western and southern suburbs. Given how warm this system is, and how warm surface temperatures area, not putting a lot of stock in accumulating snow under about 6300 feet. That said, not willing to rule out a few inches for some, especially along the Palmer Ridge Wednesday night.
Not the news the snow-lovers were hoping for, to be sure, but good news nonetheless given the dry start to the month. Latest models indicate some locations could see >1.0" of precipitation by Thursday night. Below is the 00z GFS precip forecast through Thursday evening.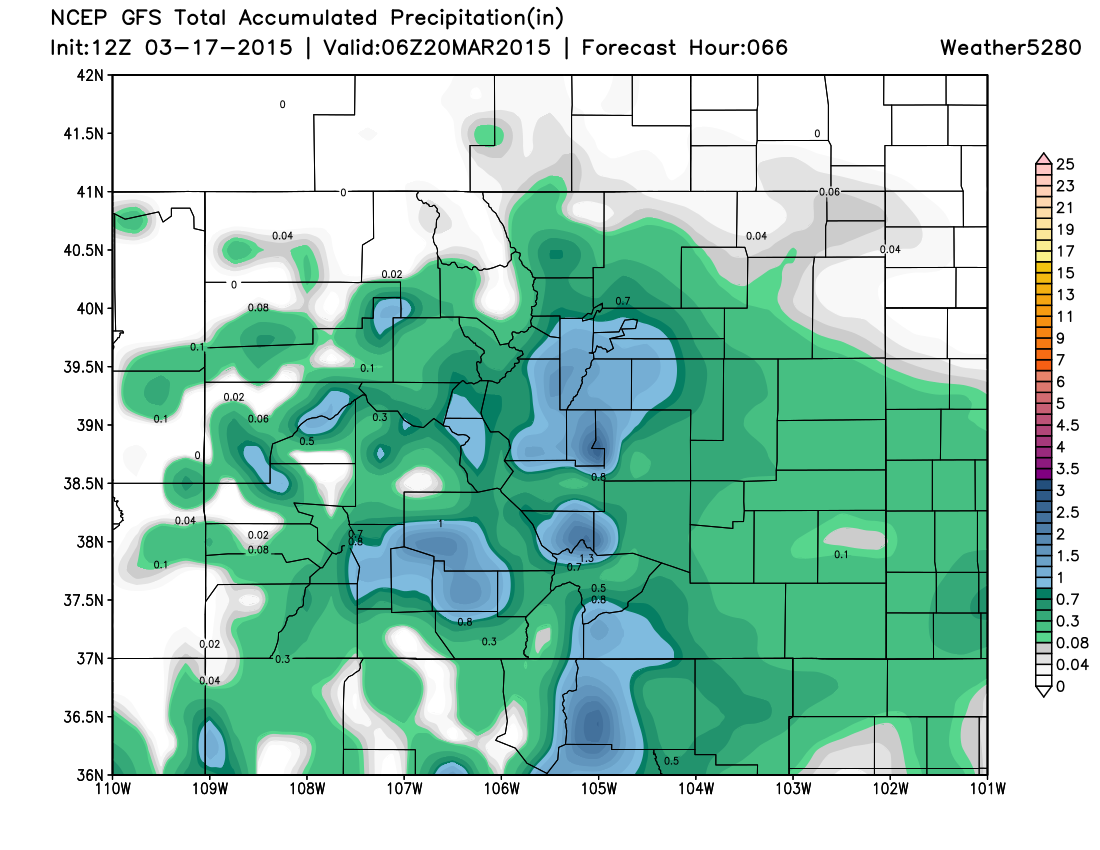 There will be plenty of moisture to work with with this system, as PWAT values climb to 0.6 - 0.9" Wednesday night: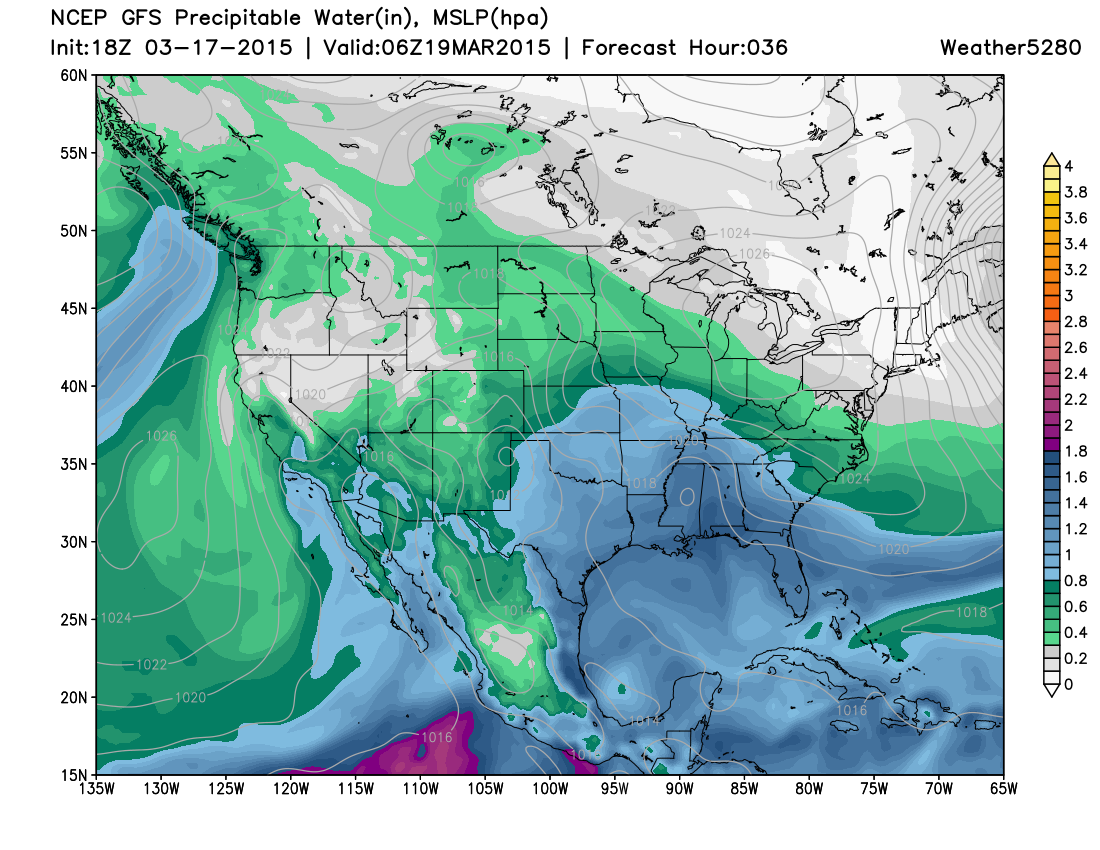 Overall there's reasonable agreement between the models. A few things to watch for will be placement of greatest precipitation and where the rain snow light eventually settles. The EURO actually dry-slots Denver a bit with this system, shunting heavier precip east of the metro, while the NAM/GFS really hug the I-25 corridor and Foothills. The EURO is also a bit colder, with 'frozen precip' showing up even across the Plains. The GFS/NAM/UKMET have trended toward favoring the Denver area, Palmer Divide, and Pikes Peak region for heavier precipitation totals.
Temperatures really won't be all that bad with this system, but certainly cooler than where we have been. Highs Wednesday may climb back into the 60s for Denver before cooling into the 30s overnight with rain developing. Thursday will be the coldest day of the week with afternoon highs in the 40s for Denver. Remarkably, temperatures are forecast to remain above normal overnight Wednesday despite the rain and snow. Denver's average low is 27° this time of year.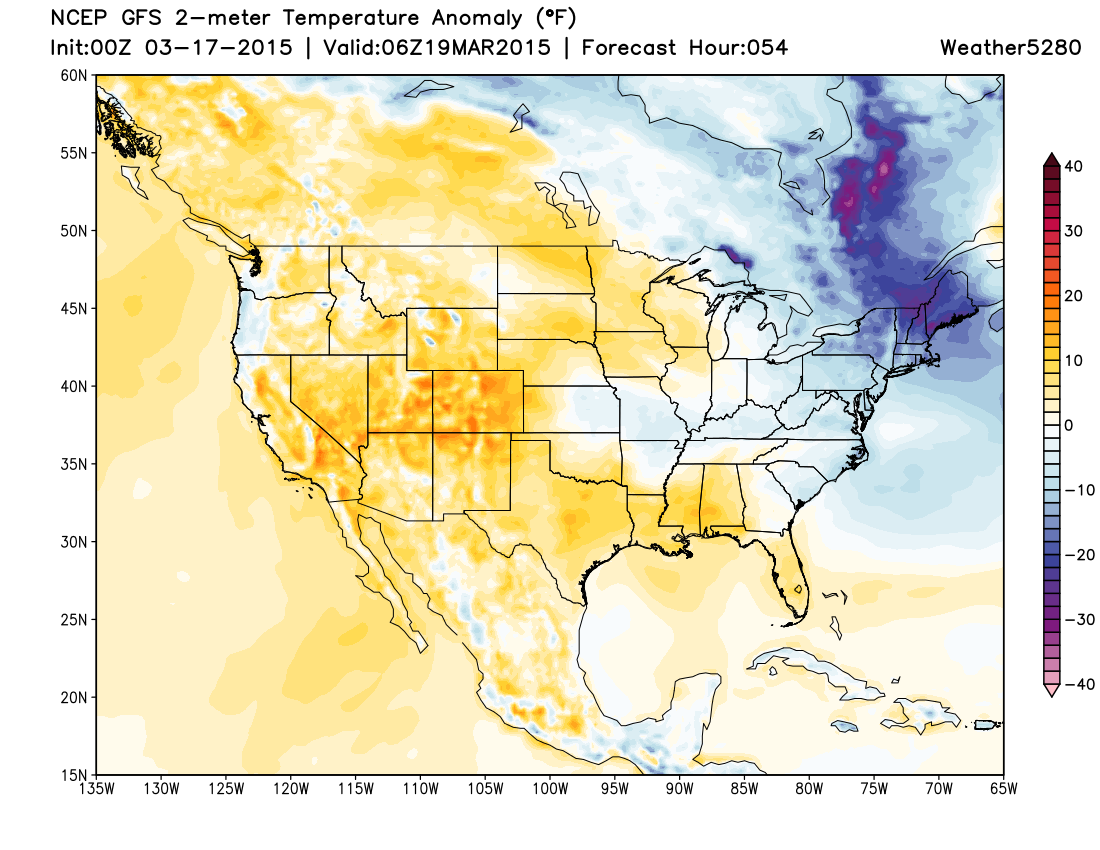 Still some time to work out the details. The next round of models come in tonight, and should give a clearer indication on the open questions above. At any rate, plan for some wet weather moving into the state for Wednesday and Thursday, with winter driving conditions possible if you're heading west Wednesday night and Thursday.