We'll begin this week's SOTA with a quick look back at last week's rain event across lower elevations of Colorado. While Thursday's storm system brought beneficial moisture to some, it left many high and dry. Greatest precipitation totals over the last five days have been across the Palmer Ridge and southern I-25 corridor into New Mexico. The Weather5280 station recorded 0.57" of precip Wednesday night and Thursday, with 0.91" now month to date.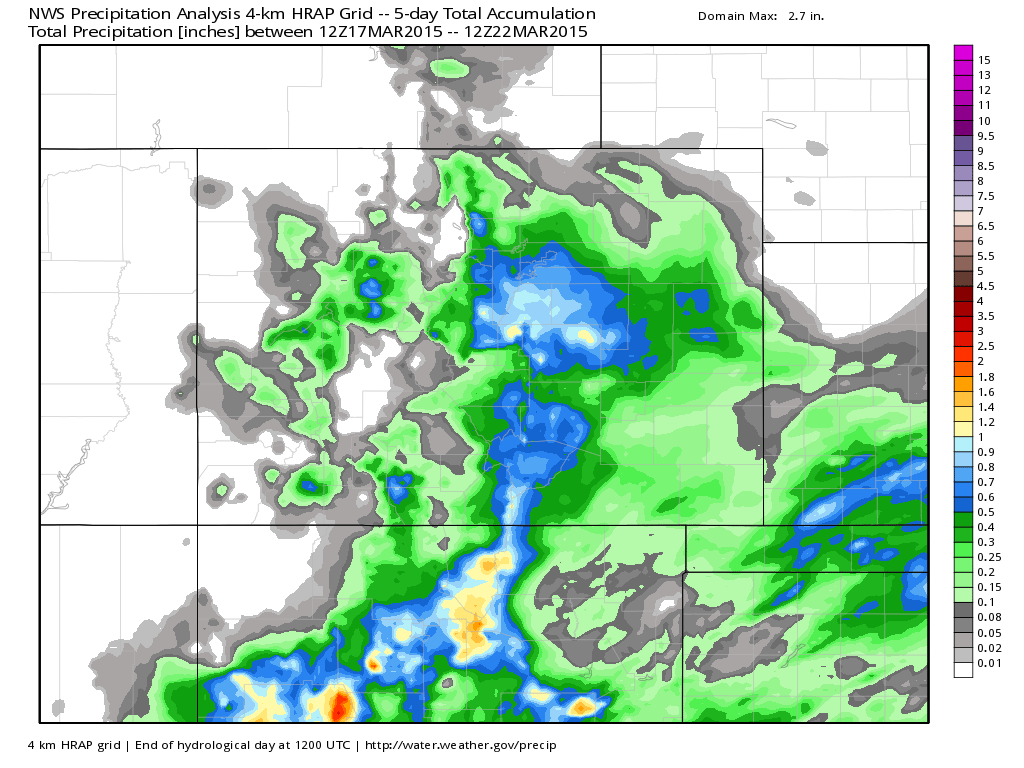 Temperatures month-to-date have been warm, no question about it. As Matt Makens discussed out in last week's SOTA, snowfall potential to end the month looked pretty grim for Denver, with the best chance coming sometime in the 25 - 28th timeframe (I'll address this in a moment).
First, back to the temperatures. Denver is averaging 2.5° degrees above average now for the month after a very cold start. Part of the blame for this can be laid on the very strong MJO signal. Currently in phase 8, the MJO is forecast to slowly weaken and move into colder phases to end the month and start April.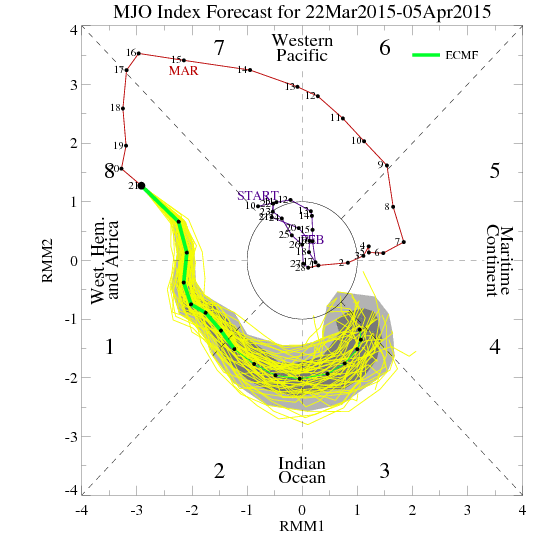 As you can see (below) phase 8 is a very warm phase for most of the U.S. outside of the east coast this time of year, but phases 1, 2, and 3 are colder phases overall.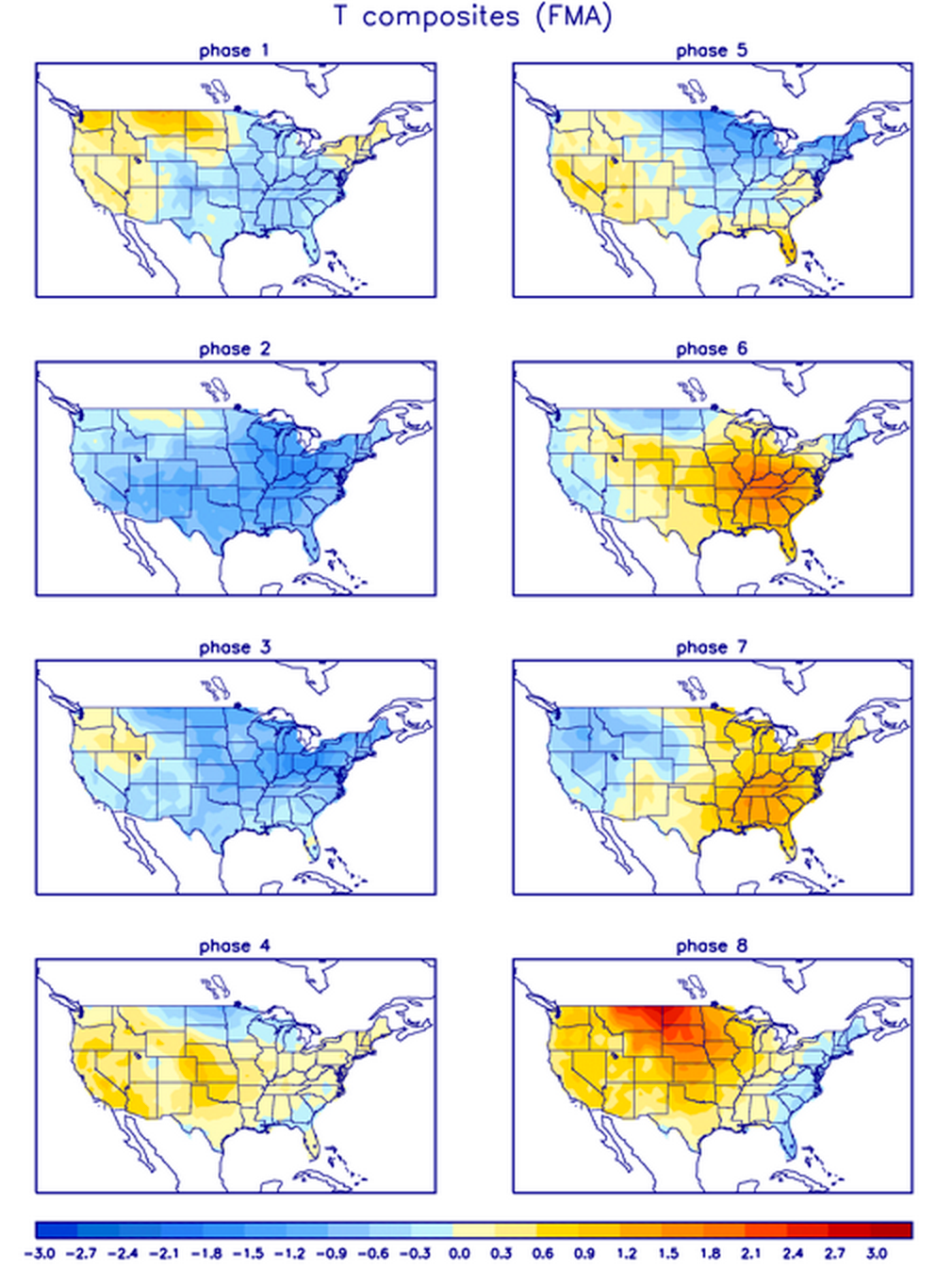 Outside of a long-shot snow this week, it looks like this March may finish on this list of least-snowiest, this after a record-setting snowiest February. While I think the warmth as stuck around longer than we anticipated from a few weeks ago, it's not exactly surprising either given the setup. Climatologically speaking, there's still a ways to go with our cold season around here, so let's see out the next 3 to 5 weeks shake out. On average, April is Denver's second snowiest month.
The week ahead
There were two mentions above of rain and snow chances this week. Despite the GFS trying mightily at times last week to bring a significant snowfall to northeast Colorado this week, the odds of this look quite low at this time. None of the other models ever really got on board with this solution, and the ensembles never looked all that impressive either. Currently the GEM looks coldest and snowiest for Denver proper this week, with the 18z GFS in close second, if you're keeping score.
The week ahead will feature three main chances for precipitation across northeast Colorado, with a handful of cooler days as well. The dominant flow will be out of the northwest, so the question will be how much moisture will be available at lower elevations with these precip threats.
The first chance for showers will come Monday night, but chances are pretty low at this time for Denver. Greatest odds for rain and snow shower activity looks to be north along the Colorado/Wyoming border, with better chances for the north-central mountains. We may even see some thunderstorms north of Denver late Monday.
Tuesday will be cooler, but also drier and windier across northern Colorado. This will mean an increased fire threat across the plains Tuesday, with low humidity and wind.
Wednesday PM then Thursday into Friday will be our next chances for precipitation across northeast Colorado, with a good chance for mountain snow (especially along and north of I-70). The question is, how much moisture will we have to work with at lower elevations.
The GFS is (and has been) most gung-ho, while the EURO has been consistently drier. For now will go somewhere in between and keep temperatures cooler with a chance for precip Wednesday night and again Thursday into Friday. While I'm not thrilled with how the GFS is handling things, keep in mind the time of year and how dry last Thursday's event looked until 36 hours out, and this bears watching. Should there be enough moisture available, and in fact a secondary cold front Thursday, we could see a good round of rain and snow, even at lower elevations.
At the moment, the Thursday/Friday timeframe is the most intriguing for rain/snow chances at lower elevations this week, though chances for anything significant remain low.
Here's a look at today's 12z GFS snowfall forecast through Friday night. While accumulating snow across lower elevations is in serious question at the moment, I like what it's showing for the northern mountains.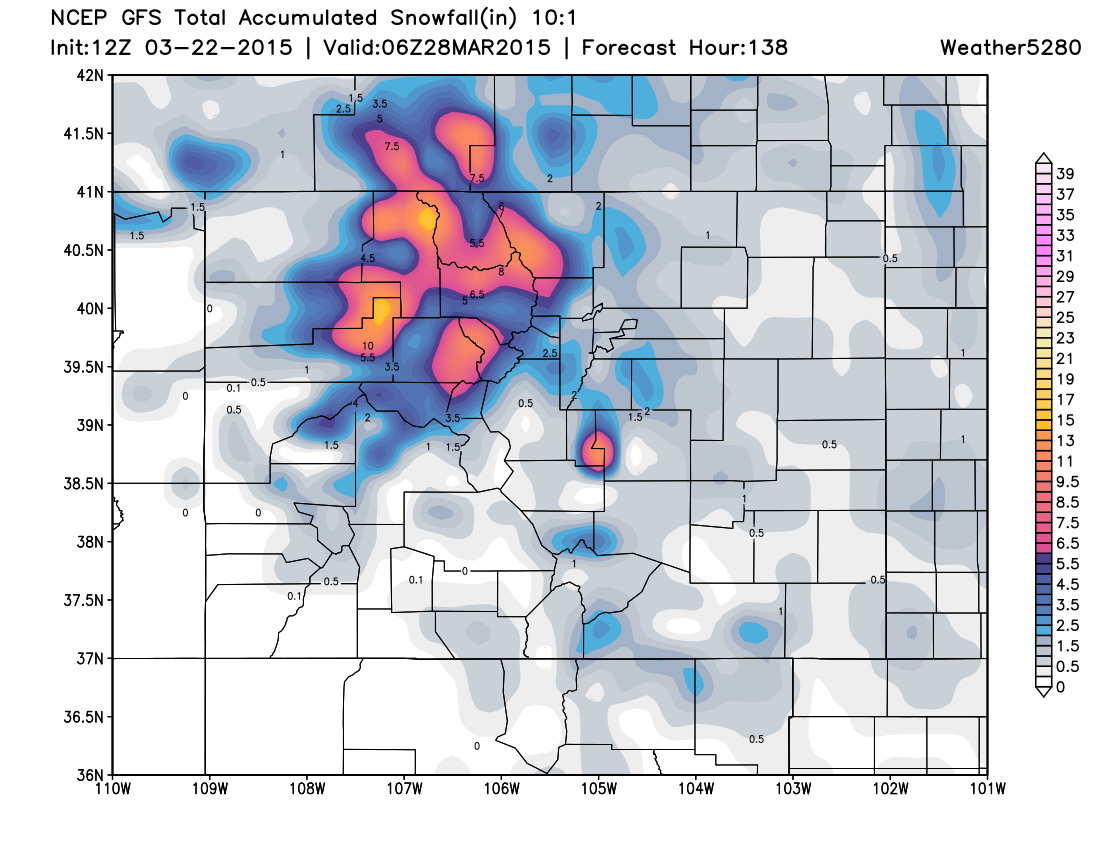 And finally, precipitation forecast over the next five days: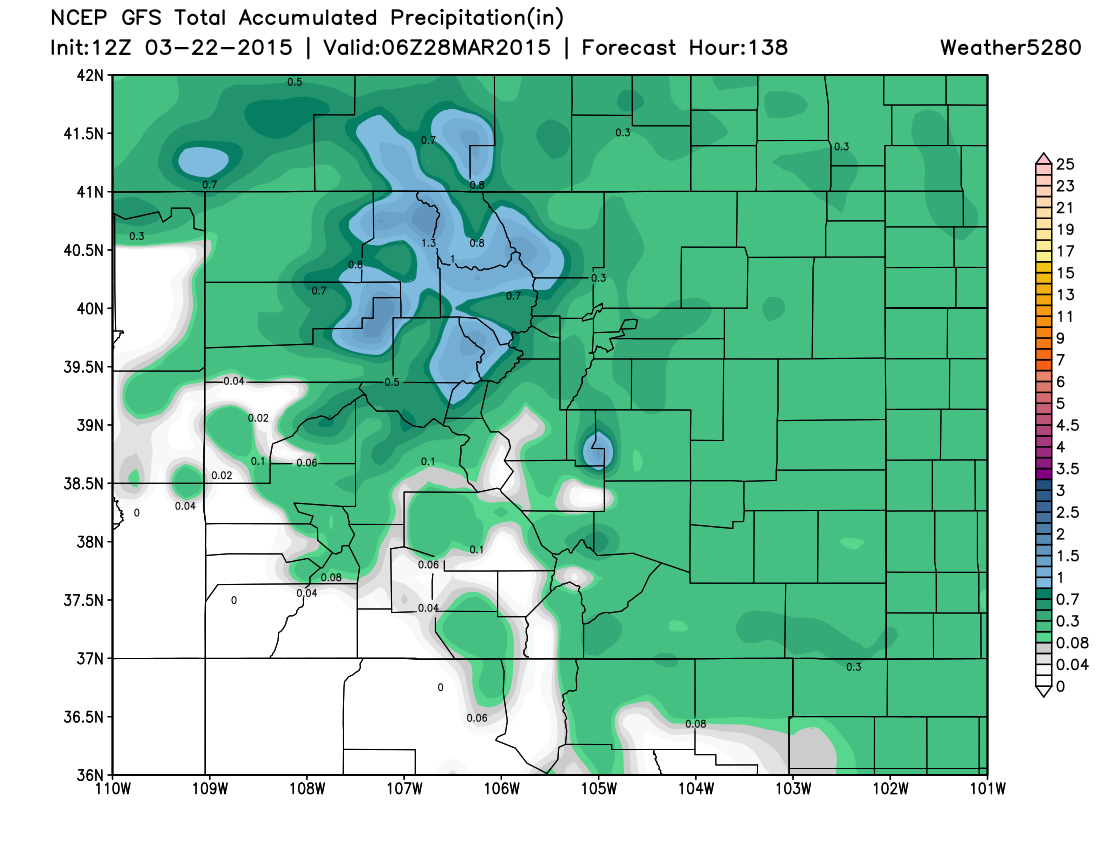 In short, an unsettled week ahead, with late week being what to watch for Denver.
All for now!