We started talking about the change on the way as early as last week, and although temperatures will top out in near record-high territory today, a chance of snow returns to the forecast area as soon as Wednesday night.
Take a look at these forecast temperature for 5pm today from this afternoon's HRRR. Highs in the 70s and 80s clear north to the Canadian border.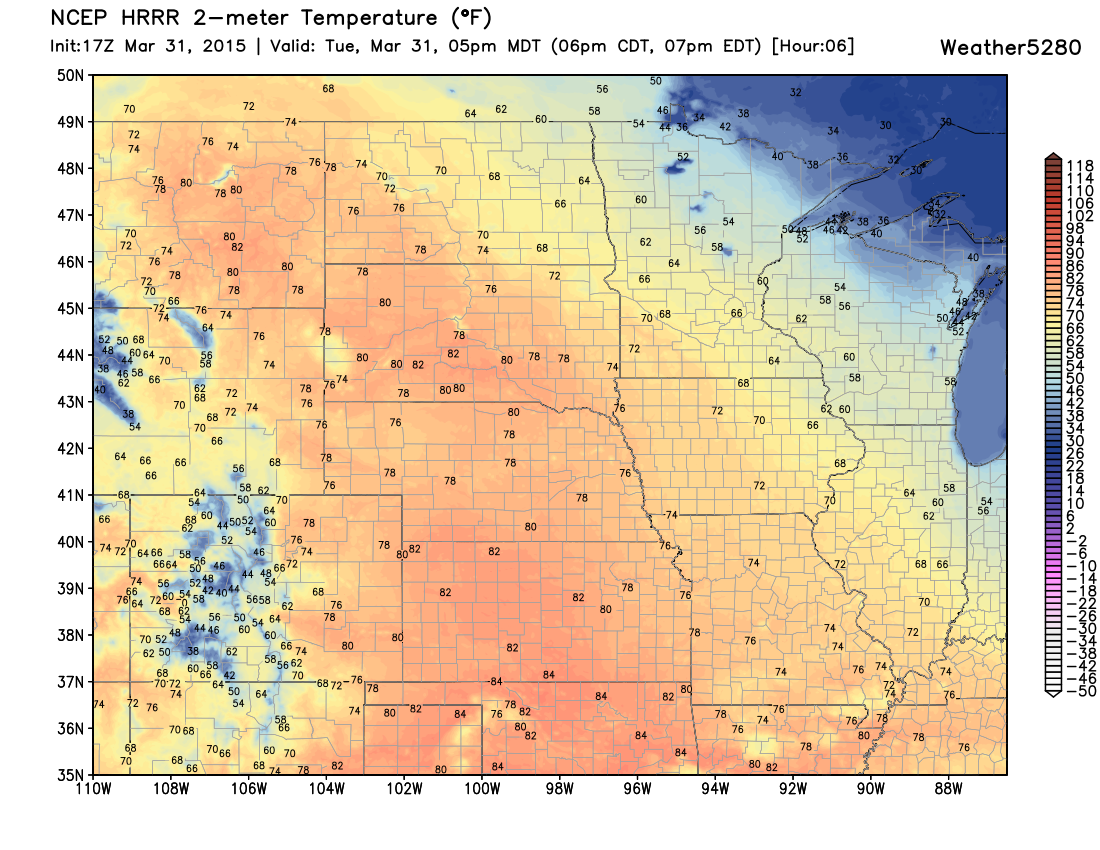 Wednesday
Wednesday will again be mild, but likely 10 degrees or so cooler than today. Changes will start approaching from the northwest Wednesday night. A few showers and storms will be possible across the eastern plains later in the day Wednesday, as shown in the 4k NAM composite reflectivity forecast below. Across southern Colorado a Red Flag Warning will go into effect Wednesday afternoon with gusty winds and low relative humidities in the forecast.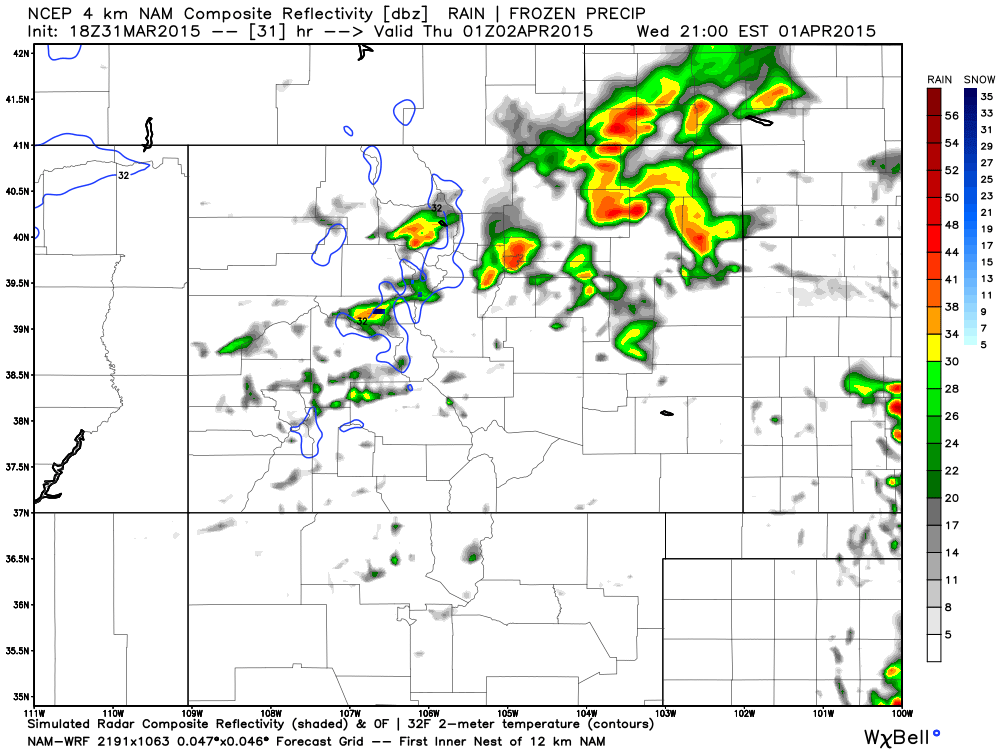 Thursday and Friday
By early Thursday we should start to see more rain and snow across the region, with temperatures forecast to be dramatically cooler than how the week started: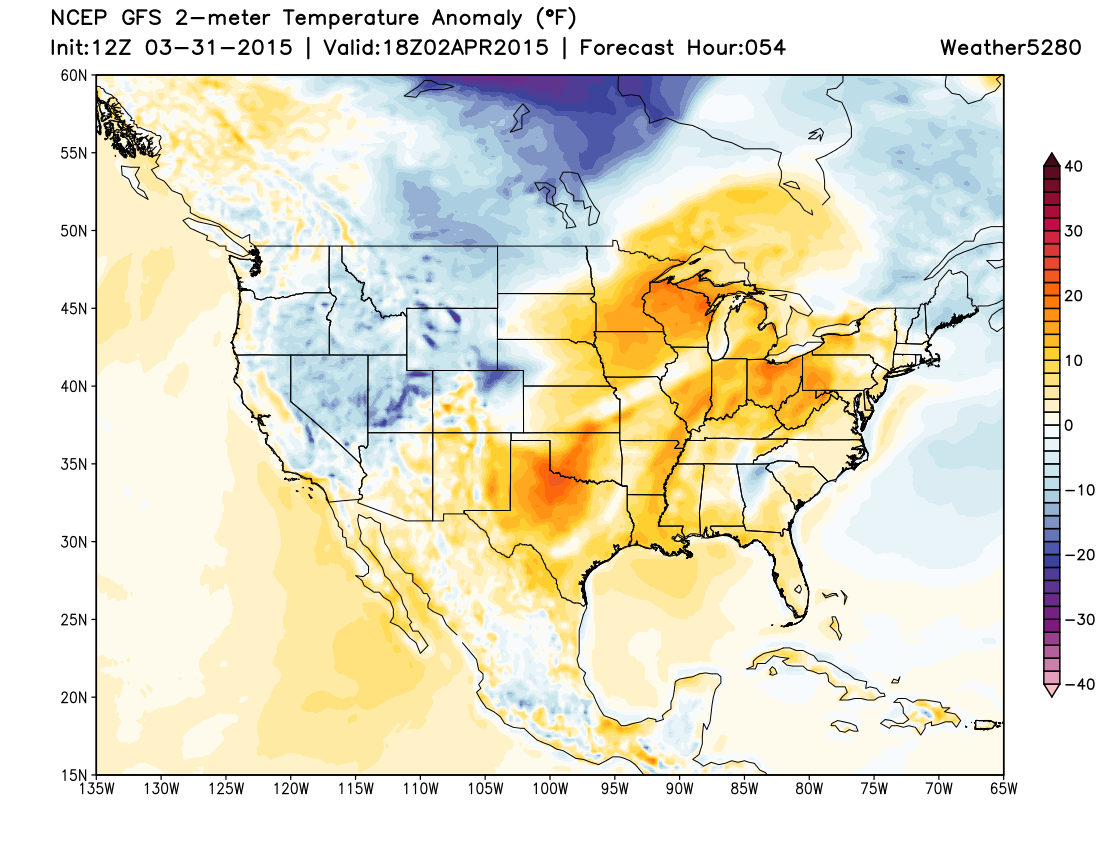 Rain and snow are forecast to increase in intensity and coverage through the day Thursday, with likely rain changing to all snow >4900 feet by mid morning. Banded snowfall, with some convection showing up on the models, will continue off and on into Thursday night.
At this point there's pretty high confidence we see snow, even at lower elevations (Denver), but how much is able to stick will depend on several factors...
Timing and Temperatures.
This time of year timing is a huge part of whether or not snow will accumulate in the city. Coming off several weeks of very warm temperatures, the ground is very warm right now, couple that with high sun angle and relatively warm 2-meter temperatures, and any snow falling during daylight hours will have a hard time sticking, especially to warmer (paved) surfaces.
While many models are producing >6" of snow for Denver Thursday through Friday, some have the bulk of the heaviest precip coming during daylight hours Thursday afternoon. Should the heaviest precipitation fall after dark Thursday, chances for a significant April snowfall in Denver rise considerably.
The latest GFS is forecasting soil temperatures to cool into the 40s by Thursday afternoon, still plenty warm for melting from below.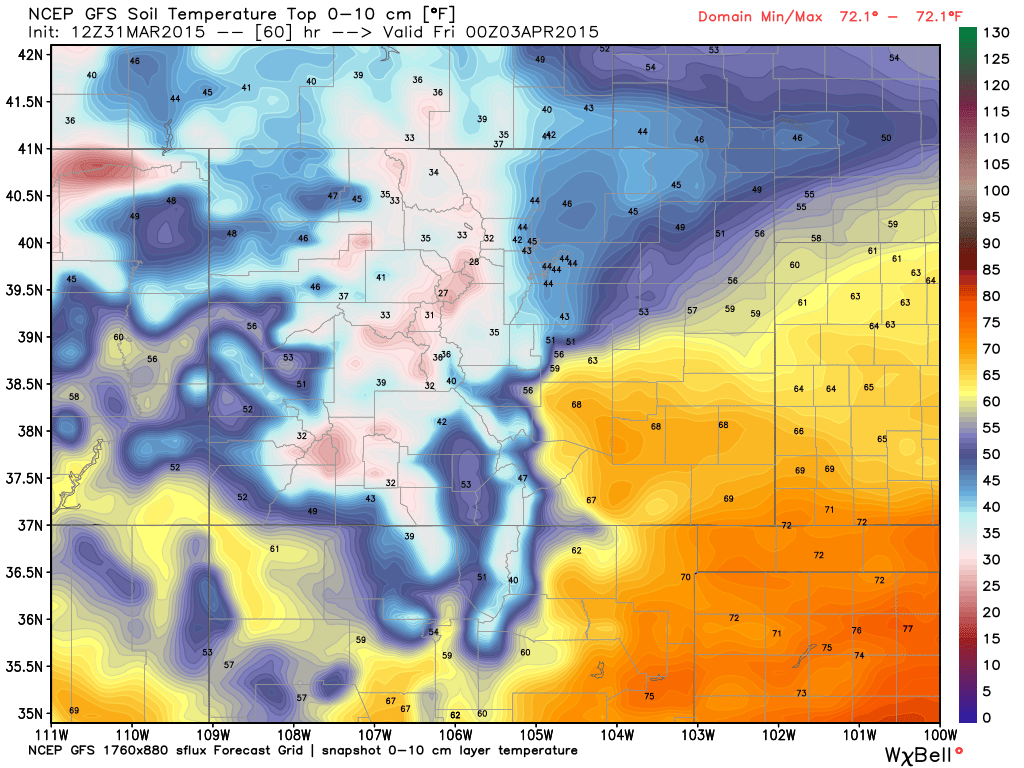 No sun (overnight) and/or high intensity snowfall can overcome a lot of this, thus April is Denver's second snowiest month on average after March. That said, it's a bit too soon to be issuing a snowfall forecast for Denver, until we get a better handle of timing/intensity/and positioning of heaviest QPF.
Greater confidence in moisture than accumulating snow
There's actually very good agreement between the models with this system, which isn't always the case. The biggest question will be around where the heaviest rain/snow sets up. The EURO has been consistently further south, while the GEM a bit further north. The GFS/UKMET have been somewhere in between, which would be the compromise to lean to at this time. This puts metro Denver under the heaviest precip totals through Friday night.
Here's a look at today's 12z GFS QPF forecast. Accumulating snow or not, this will be a great system for northeast/eastern Colorado, with 0.5" to 1.3" of precip progged by the models.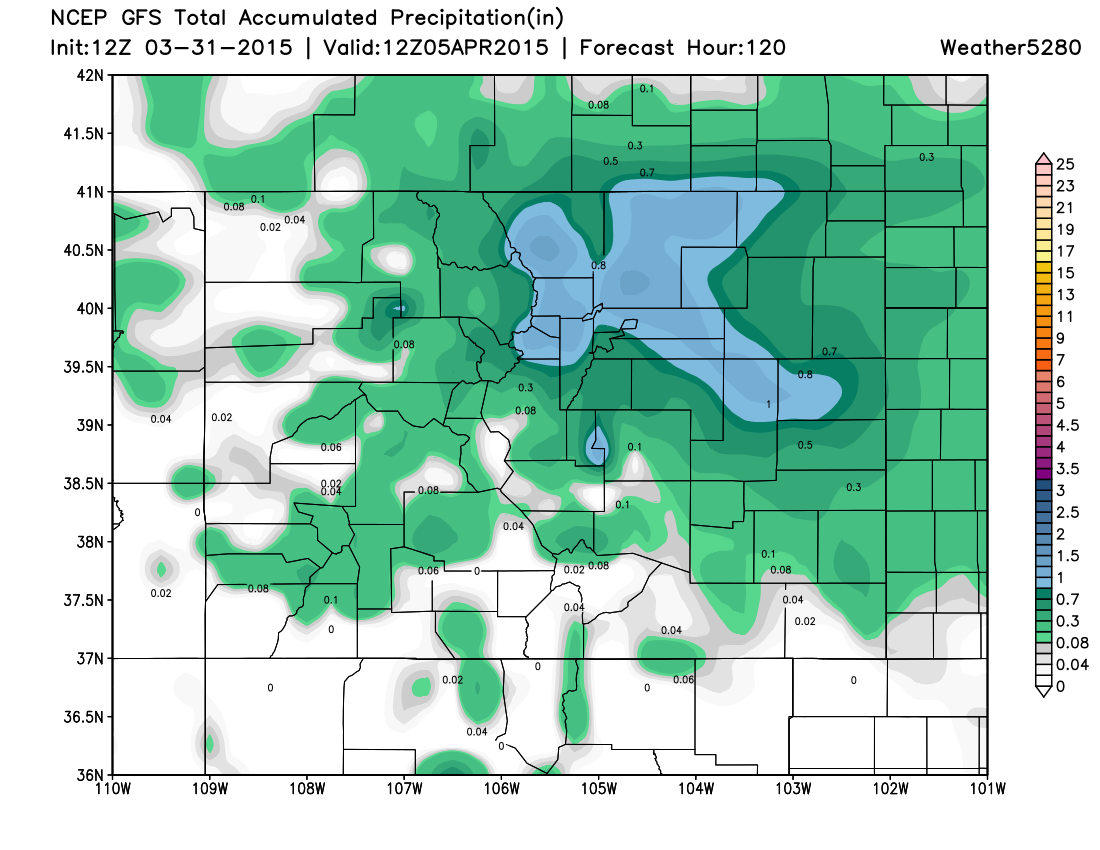 While how much snow may stick in Denver will be the question we'll narrow in on over the next 24 - 36 hours, do keep in mind that this is less of an issue for the higher elevations surrounding Denver. Many Front Range mountain locations will be looking at a significant winter storm Thursday afternoon through Friday morning, with >8" of snow possible should things not change too much between now and then. Please plan accordingly.
"What sticks vs what falls"
Just a note on the forecast going forward... you're likely to hear a LOT of different snowfall forecasts for Denver over the next few days, so please keep in mind all the considerations listed above. There will likely be a big difference in how much snow falls vs how much snow sticks vs how much snow sticks, but rapidly melts. If the equivalent of 8" of snow falls Thursday afternoon, it'll have much less impact compared to if that much falls Thursday night.
We'll have much more coverage of this big change in our weather over the next few days. Not subscribed to Weather5280? Please do so now, and stay ahead of the storm!