The last week featured a weather pattern very familiar now: warm dry start, mid/late week cool down and precip, and warm finish. Last week's system which brought several days of severe weather across the middle of the country did very little for Colorado, with minimal precip across northern portions of the state.
Here's what precipitation we've seen over the last five days via WeatherBell Analytics, overwhelmingly dry.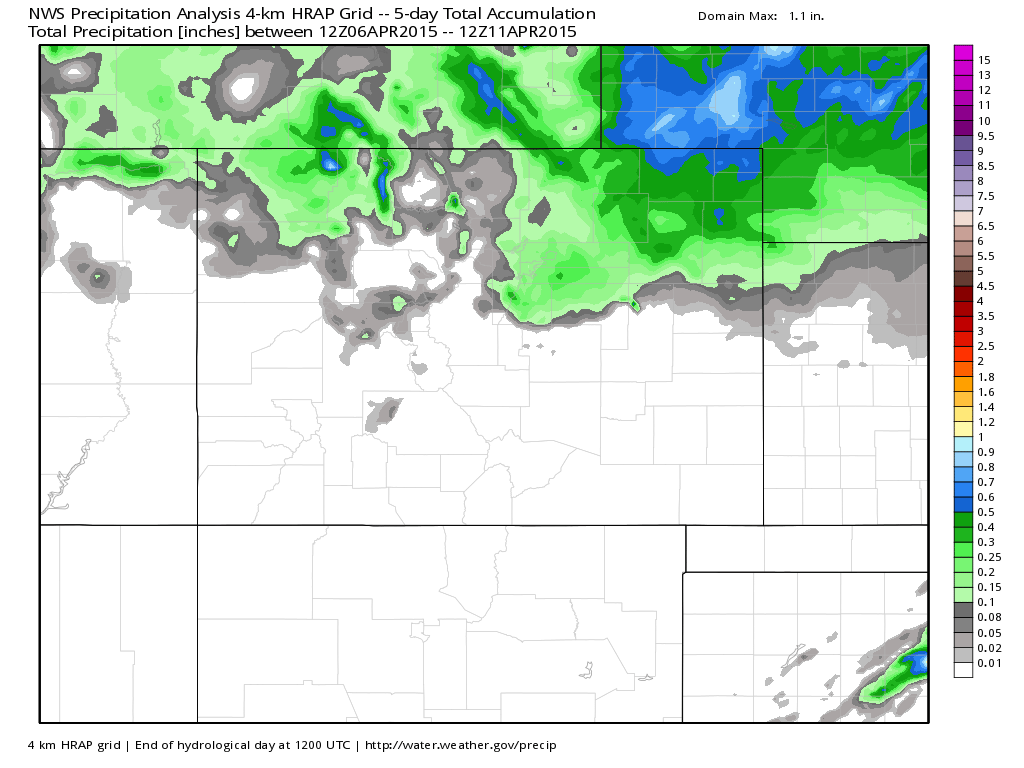 Severe weather across the plains proved deadly, as several tornadoes touched down over the last week. On April 9th, this EF4 tornado ripped through Rochelle and Fairdale, Illinois.
Despite the frustration (yes, we hear you!) the pattern has been more active across the west – unfortunately that hasn't translated to much rain or snow for Colorado. Despite 'missing' on several systems, we've now had four weeks in a row with Wed/Thu storms, this week looks no different – the question being, will this one finally produce?
The week ahead
I'll tell you what, I haven't seen a 12z model run like yesterday's in a long time. The GFS had jumped on the idea of a very slow, strong system for mid/late week the night before but had backed off at the 06z run. By 12z it was back, producing nearly 3" of precipitation for Denver, and upwards of 18" of snow.
To much surprise, the EURO followed. Last night's 00z EURO run produced 1.35" QPF for Denver from Wednesday night through Friday, and absolutely plastered eastern Colorado with rain and snow from about I-76 southward.
Today's 12z runs? Much of the same. In fact, the GFS model produced a whopping 42.6" of snow for DIA from Wednesday through Saturday. (!!).
Now, let's back up a bit and not put the cart ahead of the horse. The global models have been pretty horrid as of late – at this time last week the GFS was insisting on a big storm last Wed/Thu and we know how that turned out.
What's different about this one however, is there's more support from other models, AND, it falls in line with what the Weeklies were hinting at some time ago, AND, it fits with our analogs for a big, late-season storm.
Then, you see something like this from CIPS Analogs... suggesting a big spring snow is certainly on the table.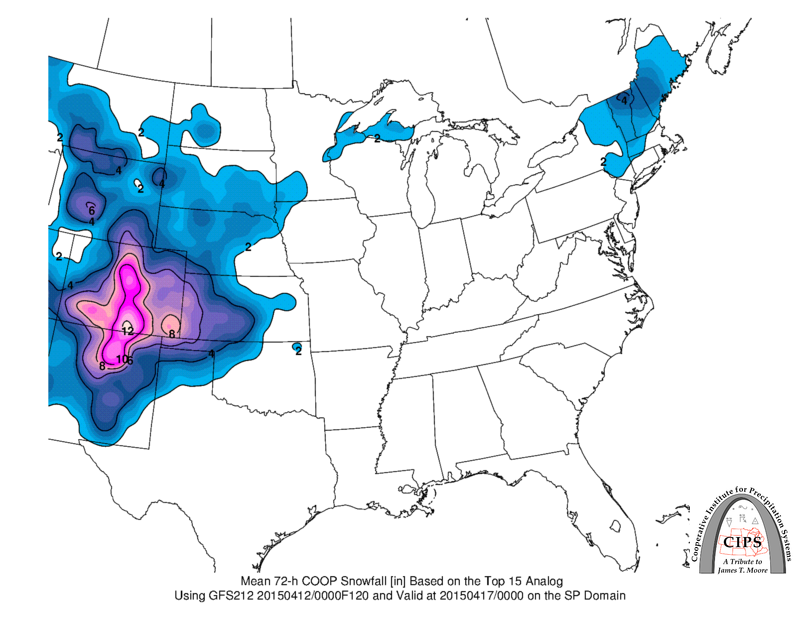 Now, this certainly isn't a done deal, and if anyone says it is, they haven't been paying attention lately. What looking increasingly likely, however, is that there will be a very slow moving cutoff low moving across the region from Wednesday possibly into Saturday that will bring a good amount of moisture to someone.
Here's a look at the GEFS ensemble for early Friday (EURO ensembles are similar). The low hardly moves for over 2 days...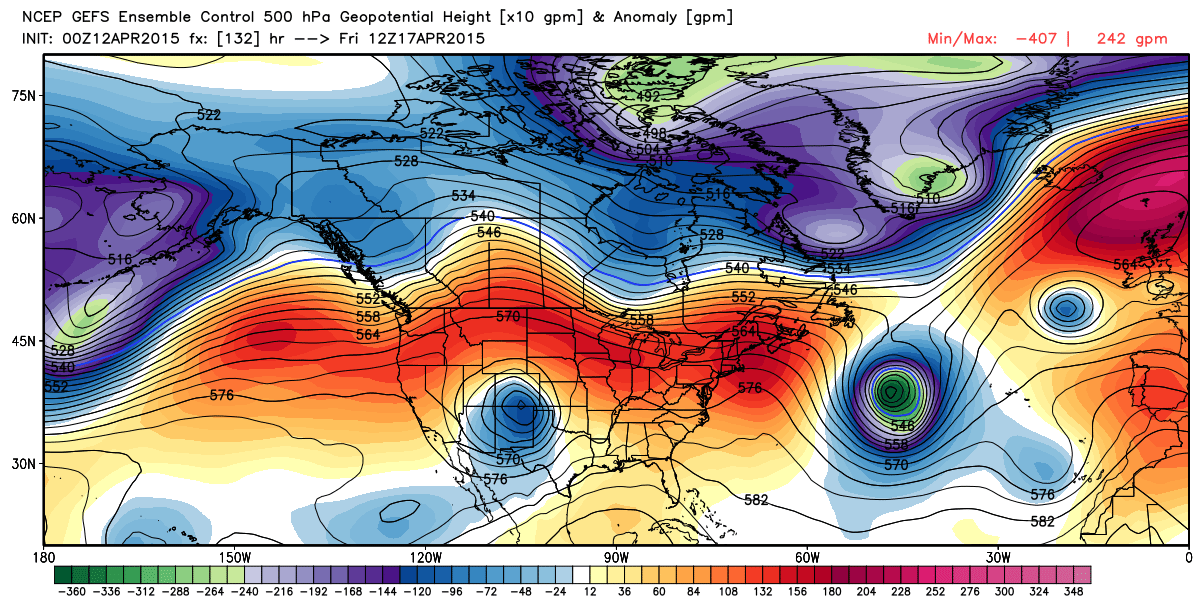 The Canadian ensembles pump the ridge in the west, and (frankly) show very little impact for Colorado with this system. While this is not our favored solution at this time, it's certainly something to watch. Note in the image below, no closed circulation (blue) over southern Colorado like we see in the GEFS above. Worth noting, however, that the GEM operational run DID come around to a deeper solution today, so we'll see if the ensembles follow.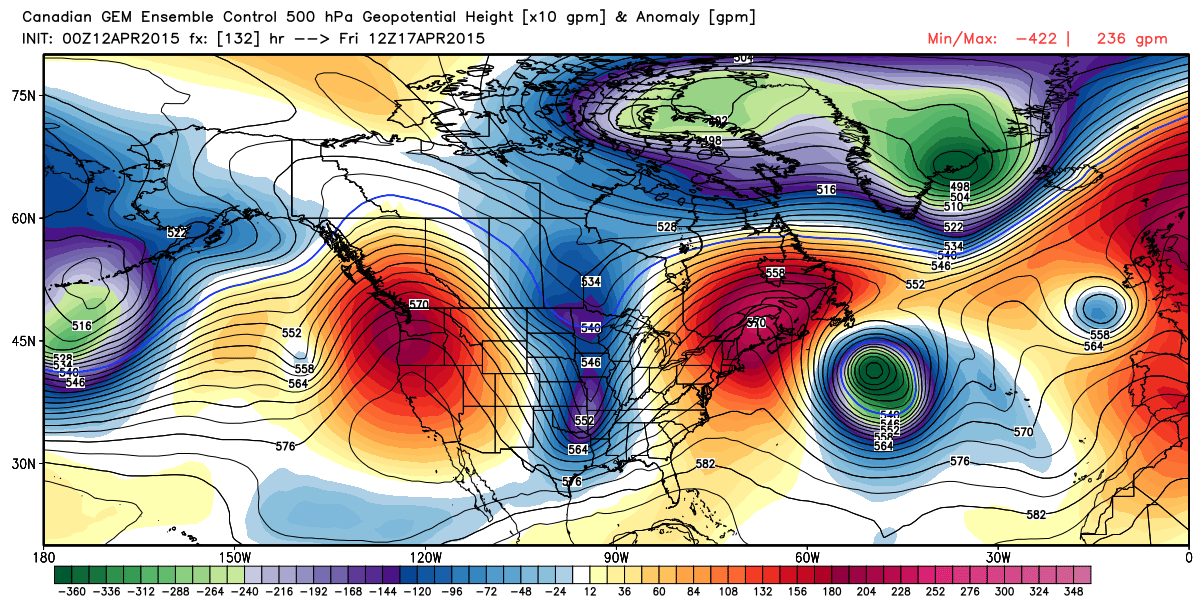 If we weight the GFS/EURO/UKMET/JMA higher than the GEM, then we come to a solution with a far greater likelihood of seeing some (possibly GOOD) rain and snow later this week.
For precip, track and speed
The biggest concern at this point should be eventual track of the upper level feature and speed. Current modeling suggests both a favorable storm track for Denver metro south and a VERY slow speed, meaning a prolonged period of rain and snow. However, there has been some tendency in the modeling to favor a more southern solution, keeping the heaviest precip south and east of Denver. This is where we've seen the most fluctuation run-to-run, with the GFS dropping very far south last night (nearly nothing for Denver) back to the mega-storm it has this afternoon.
While it seems like a good 1 - 4" of liquid (if not more) will be possible between Wednesday and Saturday for someone across eastern Colorado, where that bullseye ends up, remains the question. Also, if this thing moves through faster than currently progged, obviously totals would be lower.
To highlight this quickly, take a look at this morning's 06z GFS run (top) compared to the 12z run (bottom). Circled in white is northeast Colorado. Notice that at 06z the model produced next to NO precip for the greater Denver area (heavy precip south and east), while at 12z it makes Denver the bullseye. In either case a big storm for someone, but largely different impacts. For reference, the greens are <1" precip, blues 1 - 3" and pinks/reds >3". Huge differences here for Denver between two consecutive model runs.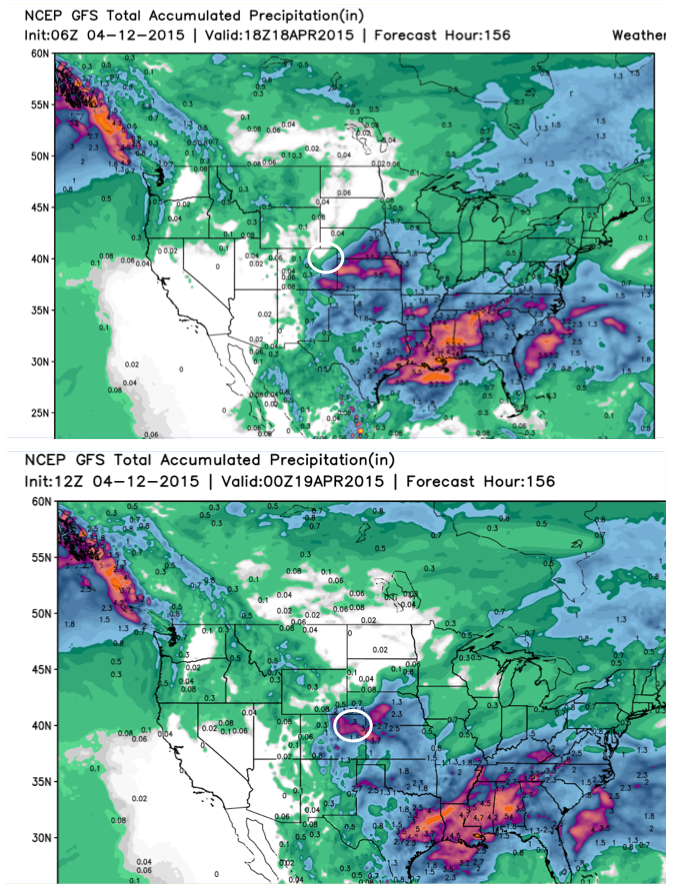 For snow, it's all about those temps, 'bout those temps, you got it
The snowfall forecast with this system is going to be DIFFICULT, so we really won't even touch that yet. Here are a few things to consider though...
For the snow-lovers in the group, you may end up wishing this came about 3 or 4 weeks earlier. We get big snows in April, but everything is harder this time of year.
Surface temps are warm, air temps will be marginal, daytime snow is no good for accumulation.
That said, this looks like a decently cold system, a prolonged event, and if enough of the right ingredients come into play, snow will accumulate, even at lower elevations. If today's GFS is anywhere in the ballpark with this thing... well... I don't even know, but I don't think it is.
Going forward...
A long ways to go so we'll see how things shake out. For now we'll be looking for better run-to-run consistency from the models, as well as keeping an eye on the Canadian. As we start to get a better handle on where this thing is headed, we can start to obsess over the details – like how cold, and how wet.
For now plan to pay close attention to the forecast as we head into the coming week, and prepare for the potential for a big spring storm across eastern Colorado. We may get to the end of this week having seen severe storms (Wed northeast CO, Thu southeast CO), heavy rain, and accumulating snow. We like this storm for someone, just not sure yet if that's for Denver or not.
No subscribed to Weather5280? Now is a great time to do so! More updates to come...