In yesterday's State of the Atmosphere I made a comment about how horrible the global models have been recently. Last night, the GFS took the cake, producing one of the greatest forecast flips any of us ever remember seeing.
Its 00z run produced what would be a record-setting snowfall for Denver later this week with >50" of snow for the southeast suburbs assuming 10:1 ratios. Six hours later the same model cut totals by nearly 100% to ~0.5" at DIA. By 18z today it was all but dry for the entire eastern part of the state. Did we believe 50"? No, nor do we necessarily buy its 0.5" solution – the point is, what a mess.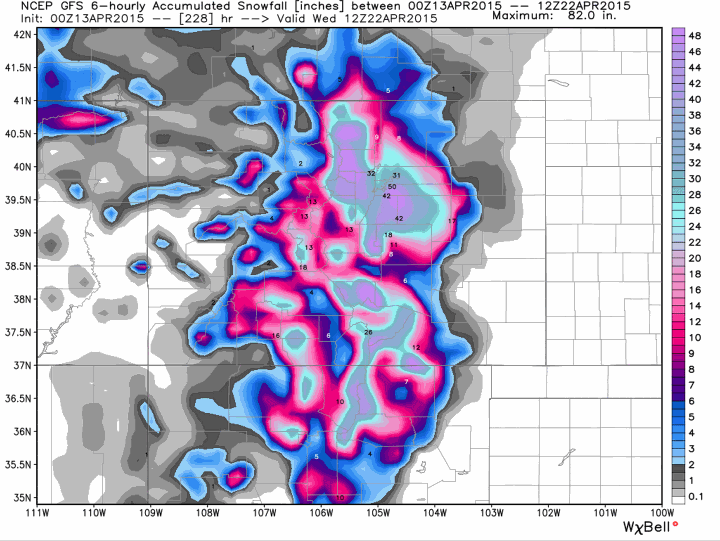 While the GFS is the biggest mess, no doubt, other models are struggling as well. In yesterday's update we discussed how the GEM wasn't really biting and that we were ignoring it for the the time being. Today it's one of the wetter models for northern Colorado.
The EURO has been a bit more stable but varies in which part of the state it favors. Currently it's favoring southern Colorado (generally south of the Palmer Ridge), cutting Denver's QPF forecast by nearly 75% since last night's run. The difference being between it and the GFS, is that overall these are smaller shifts, not just WET / DRY for all of eastern Colorado. The EURO still slams a good portion of the state.
Track and speed remain keys
We'll continue to ignore possible snowfall accumulation details for the time being outside of noting that a significant snow is certainly on the table somewhere across the Front Range and eastern Colorado.
The big difference between the models and their run-to-run inconsistencies revolve around how they are handling the upper level feature we discussed yesterday. Both track and speed will be key in a) who gets heavy precip/snow, and b) how much and how prolonged the event is.
We expect better agreement to emerge tonight as our main feature comes onshore in the northwest US. Until then there's a lot of different scenarios still on the plate.
Take a look at last night's 'epic' GFS 00z run at 500mb (top) compared to its 12z run this morning (below). Notice the nicely circular, textbook cutoff at 00z gets strung out by 12z, with some energy dropping very far south, and another closed low trying to develop to the east of Colorado.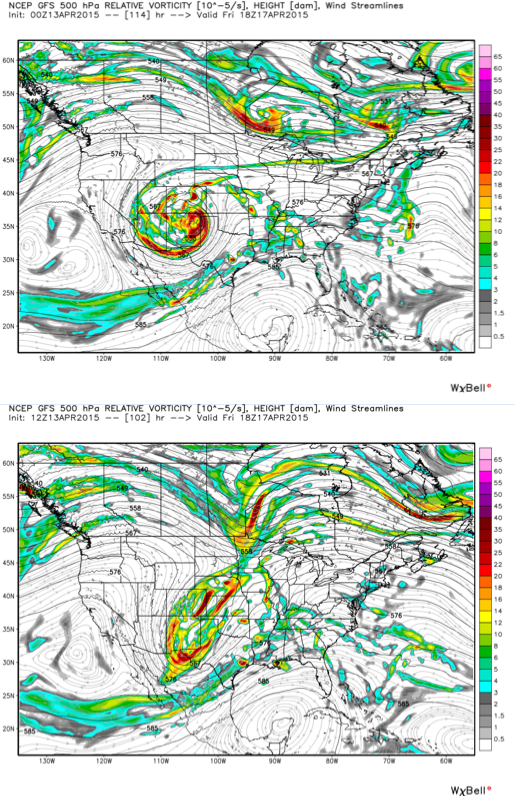 So while the 06/12z GFS completely lost our storm, and the 18z NAM is DRY into Friday, and the EURO seems to be favoring a more southerly solution... there are still some models showing a more significant look for northeast Colorado.
The operational Canadian model for example looks much more like the 00z GFS did, and after being one of the driest models on Sunday is now one of the wetter models for northern Colorado.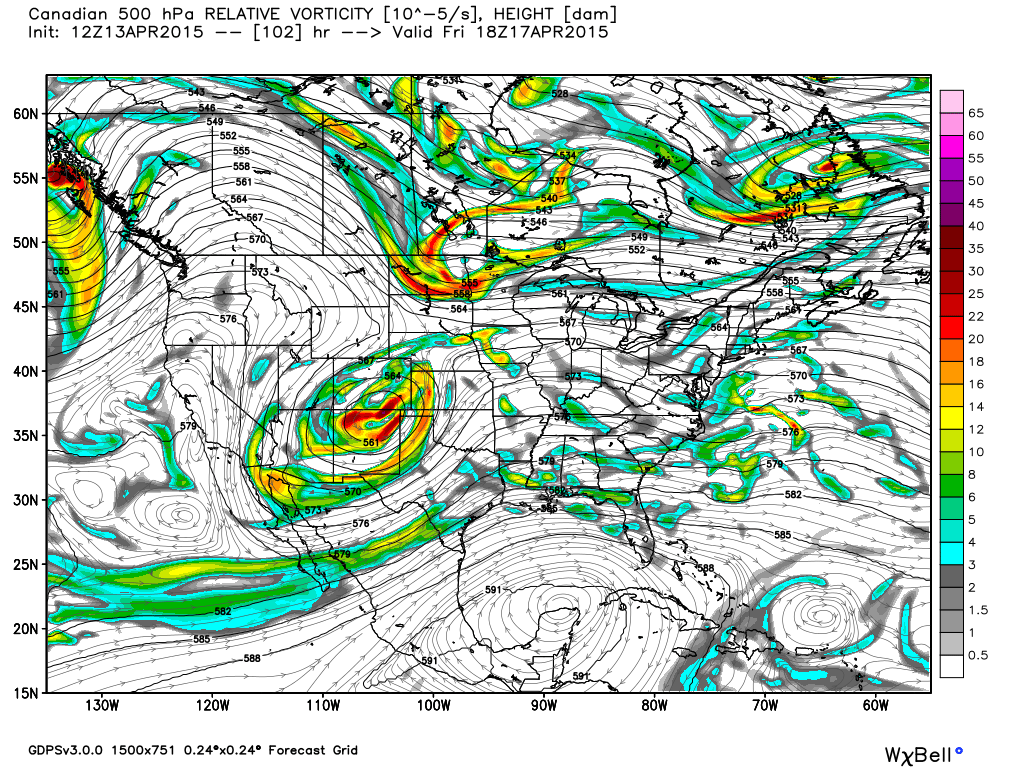 Assuming for a moment the recent GFS runs are wrong, and we do get a strong closed low to move through the Four Corners region Thursday – the next question is what happens next. Some models try and take the upper level feature south at this point, while others slowly progress the low east along the Colorado / New Mexico line. The latter would mean we see rain and snow continue into the weekend, with greater probabilities of seeing a significant event for much of eastern Colorado.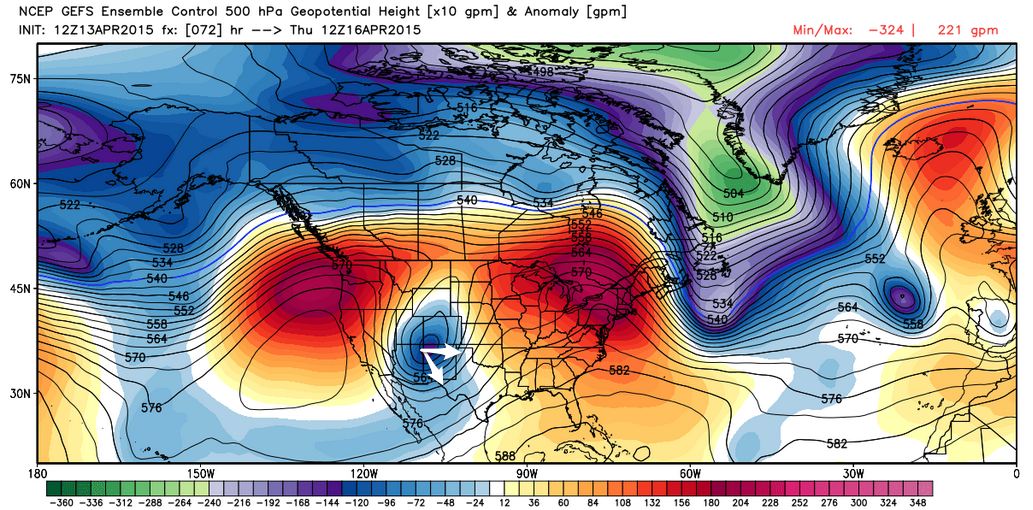 Keeping score
For now it makes little sense to model hug too closely since as you can see they-have-no-clue. While we sit back and anxiously await tonight's runs... here's more or less where we stand ("in short"):
GFS. Throwing it out for the time being given the absolute train wreck it's been on over the last 24 hours. That said, the big issue with the GFS is that it's splitting the energy at 500mb – if that's a trend we start to see in other models tonight, this entire thing goes out the window.
ECMWF. Today's EURO solution is the "bust" I'm okay with. It largely misses Denver (we'll still get some rain and snow) but hammers southern Colorado where we need moisture the most. Also worth noting, its ensembles are actually more bullish for Denver today, even as its deterministic slashed QPF. Unfortunately the EURO has struggled quite a bit this season.. so maybe this is its chance?
Canadian. Late to the party, but I'll take it. Good precip event for northern Colorado, and an INSANE snowfall gradiant across the northern Front Range (2" DIA to >30" Boulder). Things I don't like about it include the fact it was way late to the party, and its ensembles continue to be less impressive, though look MUCH better than yesterday.
UKMET. May be leading the way right now for a big time event across eastern Colorado. Personally I think it runs a bit bullish, but nice offset to what the GFS and NAM are doing, and should lead to pause before declaring this storm a 'bust'.
NAM. Will pretend it didn't run today and see how it looks tonight. Its 18z run would mean virtually no precip for Denver through the end of its run which takes us into Friday night. Yikes!
Ensembles. Changes in the ensemble packages, by and large, have been less dramatic (as they should be), so for now we're continuing to put more weight there than any individual run. For example, the GFS ensembles still look much more reasonable today with handling the UL low than its operational runs.
Lastly, weeding through the mess, it would seem like a) confidence is down from yesterday in this thing producing "the big one" -- but certainly not off the table. Also very little in the way of trends right now, but if we were to believe the EURO for the moment (it's been the least moody) the idea would be that southern Colorado may end up being favored. Lastly, at the rate we're going everything could look exactly the converse in 8 hours.
Clearly there's a lot still to be resolved. As mentioned above, we're hoping for better consistency and should be able to start to narrow in on some solutions after tonight's model runs as our UL low comes onshore. For what it's worth, there's been more stability around each model's ensemble runs, which should suggest we may see solutions converge somewhat tonight as well.
We'll plan to have another update out tomorrow but probably hold off on doing one tonight and just let things sit for a bit. If you don't already, definitely follow us on Twitter where we'll likely be posting some updates this evening. Tomorrow we'll get things all squared away and just what kind of end to the week we're going to have.
If the week ends sunny and dry I'll be glad we didn't jump on the record-snow bandwagon I saw around town last night, as fun as it looked.