Since Sunday, it has been a wild ride in the world of computer models. Early this week we were struggling for model consensus, on where the main storm system was going to track. Last night the models seemed to get a much better handle on where the storm will track. That consensus generally moved the forecast for the storm farther north.
This does a couple of things, 1) Paints a significant rain/snow bullseye over the northern Front Range northward into Wyoming, and 2) Brings a pronounced "dry slot" across the southeast part of the state. Under this scenario, there should be a decent chances for thunderstorms Thursday afternoon, but after that, mainly dry or southeast Colorado that desperately needs all the moisture they can get.
While we are more certain as to where the main storm center will move, there is still a lot of uncertainty as to how the overall situation will evolve. For example, a slight wobble in the track by just a hundred miles could have huge implications for who gets what. As is the case with most closed lows, there are a lot of moving parts and details to resolve.
Severe Weather Potential
As mentioned above, the Southeast Plains will likely see a decent chance for a few strong to severe thunderstorms on Thursday afternoon. While there isn't a ton of fuel for the storms to utilize, there is enough to get them going. Plus, there is a going to be plenty of shear in the atmosphere tomorrow. By that I mean wind changing in speed and direction with height. That is a necessary ingredient to get storms rotating and could possibly gain supercell characteristics. As it stands right now, large hail, and strong wind will be the main threats. However, if we can get a little more moisture into the equation, the tornado threat would increase. This is true along and east of a Kit Carson to Lamar to Springfield line and east...
Here's a look at the hi-res 4km NAM simulated reflectivity forecast for later tomorrow afternoon. Note it developing a few strong storms across southeast Colorado.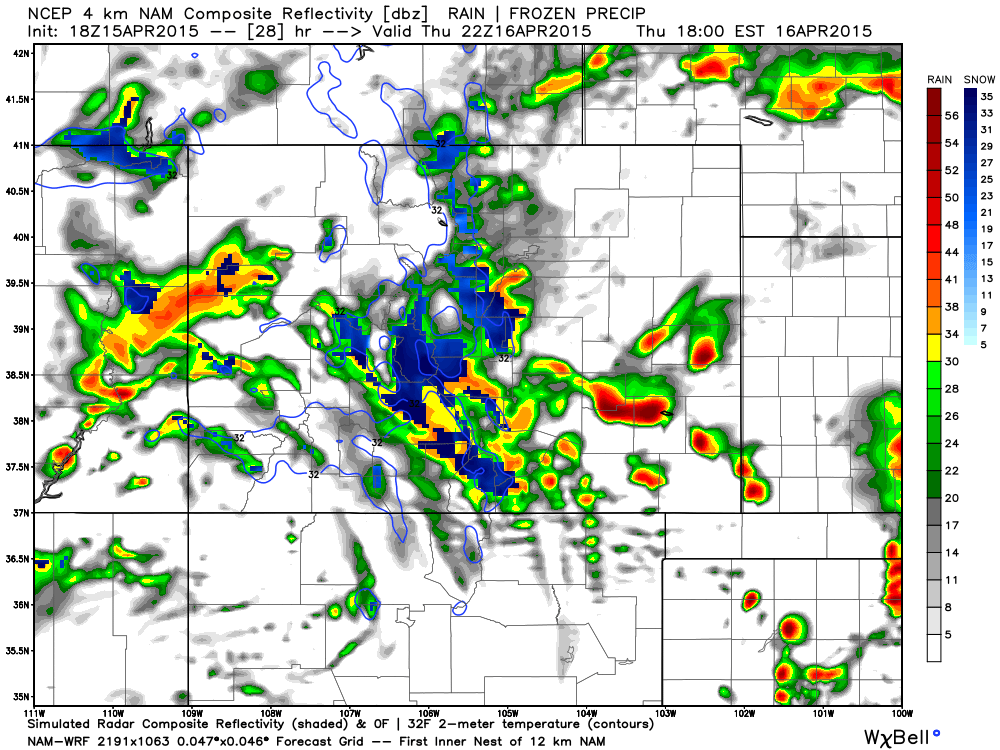 Heavy Snow
Many times when we get snow in April, elevation means everything. This is especially true when a storm doesn't have a lot of cold air to tap. This looks increasingly to be the case with this storm. Thus, we feel two areas have good chances for heavy snow. Obviously the mountains are going to do well. The central and northern mountains could see as much as 1 to 3 feet of snow, and some of those higher totals could also occur in the foothills immediately west of the urban corridor. This area looks to be the clear winner in terms of snow amounts.
The second area of concern is the Palmer Divide. Higher elevations along the western half of the Palmer Divide will likely be cold enough for heavy wet snow. While this area will see much less snow than the mountains, there is potential for several inches...mainly from the far southwest side of Denver to Monument. The biggest issue here is the likely difference between what falls and what sticks. With the ground being as warm as it is, the grass, trees, and anything elevated off of the ground will accumulate the most snow.
While Denver will also see some falling snow, we think that temperatures will likely be too warm for much of that snow to stick. There is also a bit of uncertainty with this too, as some models do suggest several inches of snow possible. However, we think that those higher totals will be confined to the far southwest and west side of town.
Farther south in Colorado Springs, it is a little more complicated. Colorado Springs is closer to what will be a large dry slot over Southern Colorado. Thus, the farther south and east you go, the less moisture you are likely to see. That being said, the models still suggest total precipitation amounts in the 0.50" to 1.20" range. This will likely fall mainly as rain, with some wet snow mixing in from time to time. Areas just north and west of town will likely see some wet snow, and some of the totals could be quite heavy...especially in Teller County (Woodland Park).
With all that said, we'll issue a snowfall forecast map which takes us through Friday night, but please note that adjustments may be made as we head into Thursday and get a better feeling for temperatures and rain/snow line. At the moment we think the best chance for accumulating snow will be at elevations >6,000 feet, with more of a question mark above 5,500 feet, and far less likely to see accumulation <5,500 feet.

Precipitation
For those at lower elevations that don't see snow (or accumulating snow) this storm will still have an impact. Here's a look at the GFS precipitation forecast through Saturday night, projecting 0.5" - 3" of precipitation across northern Colorado: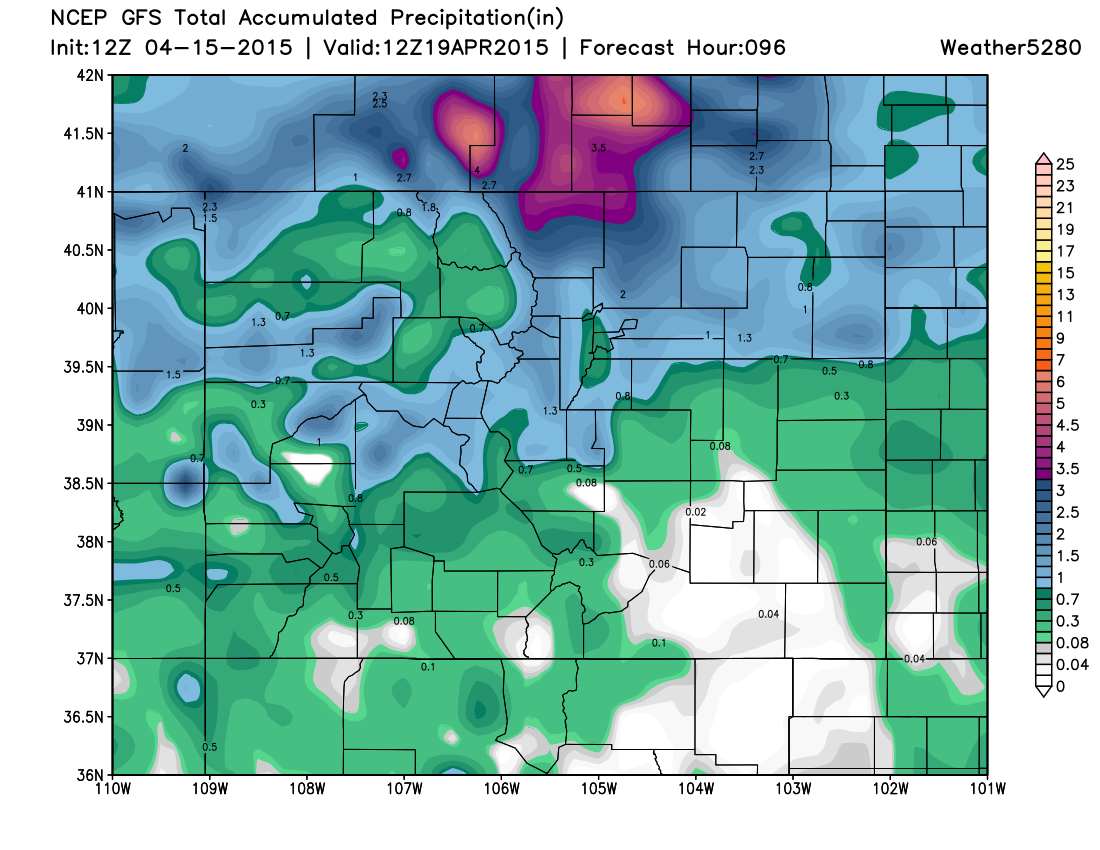 A couple things to note here, 1) the GFS finally came around to what the other models are showing (yay!), and 2) the dry slot discussed above across southeast Colorado.
Here's a look at the NAM which has been a bit more consistent in bringing some heavier precip south – though note it still has a dry slot for east/southeast Colorado. Overall shows 1 - 3" of liquid for much of the I-25 corridor through Sunday, extending into northeast Colorado.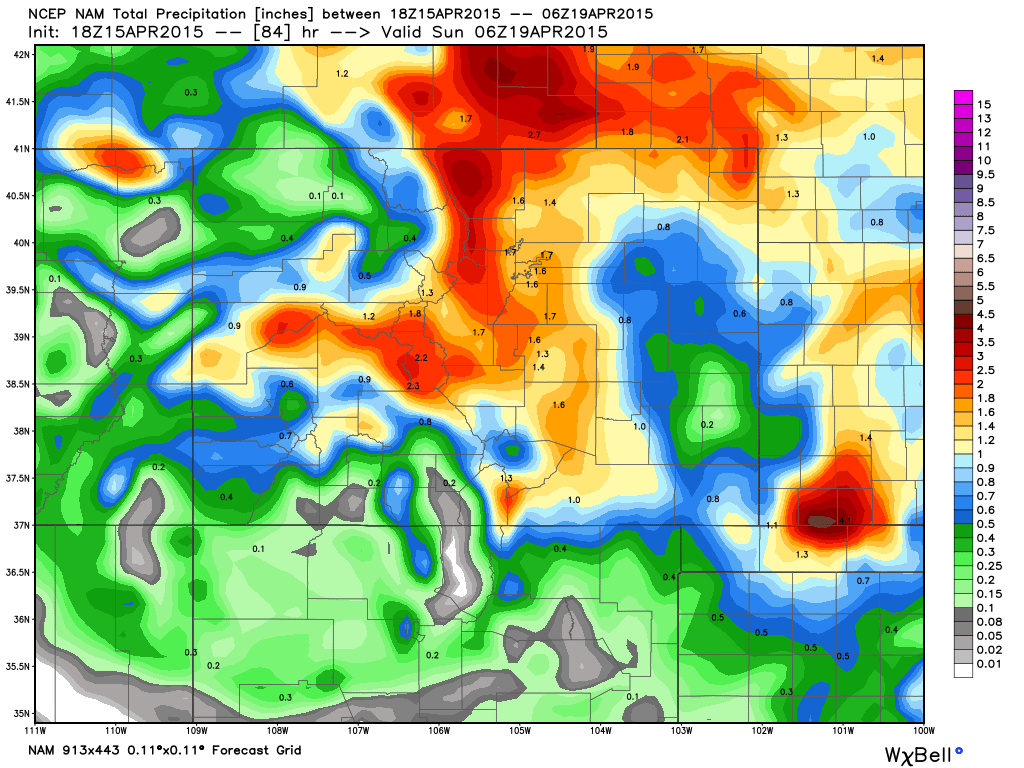 Long duration event
We're already feeling the impacts of our system today, and this will likely stick with us well into the weekend. In fact, some models keep us unsettled into early next week.
The best chance for the heaviest rain and snow for the Denver area likely will come Thursday night and into Friday. If the city sees accumulating snow with this system, this is when it would be likely to occur, so we'll be watching trends / temperatures closely as we head into later in the day Thursday.
While the Southeast Plains are likely going to get shorted from this initial storm, most models suggest more chances late weekend through next week. As you look at the 10 day total expected moisture from the GFS, you can see some decent totals on the Southeast Plains. Most of that comes from late weekend through next week, as other disturbances move through.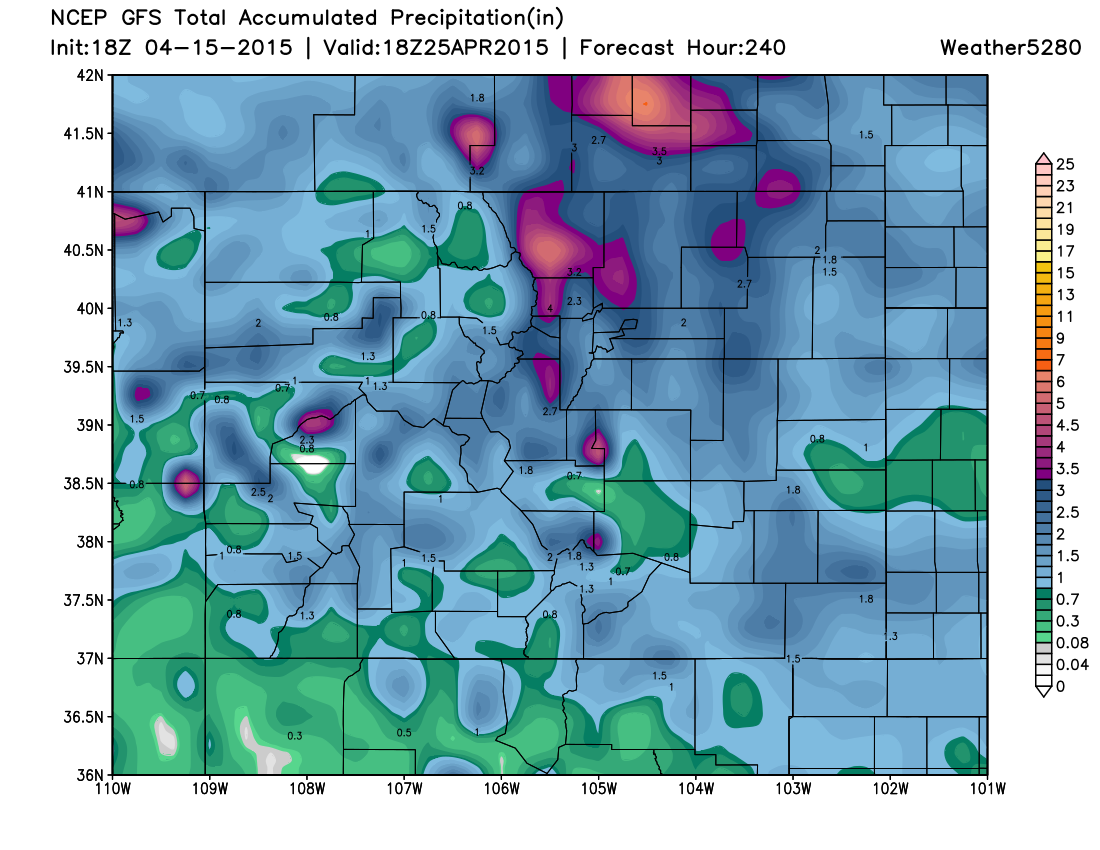 For those that live there and may be reading, you are probably saying, "sure there are more chances...we always get chances, but nothing delivers". For you I say, at least there is a chance, which is better than what we have had most of this spring. We are rooting for ya...
Out of any other type of storm, the computer models usually handle cutoff/closed Lows the worst. They may get the general trend right, but the details are what really matters. As I said above, any wobble (which these storms tend to do) in the overall track will have large implications for who sees what. A wobble south, means more moisture for more people. A wobble north would likely mean the opposite... The good news is that the storm has been on shore for a solid day, and any new computer model info should be better than the previous run in terms of reliability of data. We will be watching tonight's model runs closely and providing updates on the storm track and what is expected.
As always, subscribe to Weather5280 for all the latest.