We're tracking another potential good rain and snow maker for the end of the weekend, but much like with last week's system, there's still some of uncertainty when it comes to eventual track/impacts.
To finish the week expect temperatures to remain near to slightly above what's seasonally normal: highs in the mid to upper 60s, with a chance for showers and storms. While rainfall won't be widespread over the next several days, a few locations could see good precipitation depending on where the storms do setup. For Denver look for a 20 to 30% chance of storms through Friday.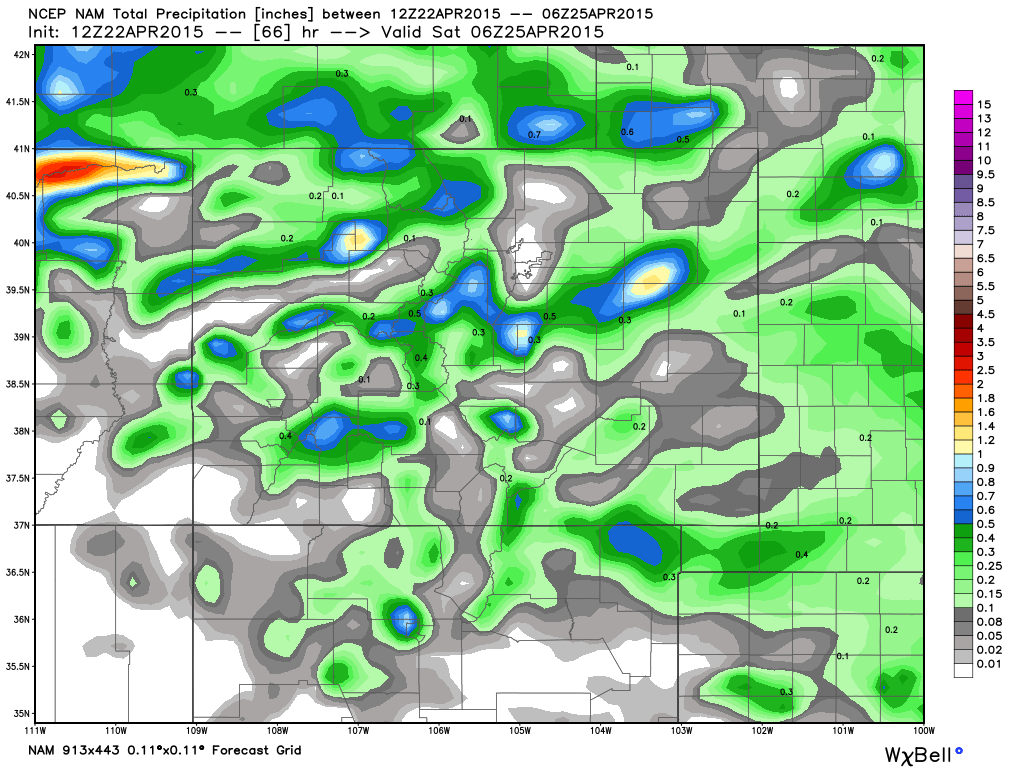 Our attention then shifts to the weekend, specifically Sunday into Monday. Models are coming together to show another large upper level feature effecting the area during this period, possibly bringing another good chance for rain to lower elevations and a good Front Range mountain snow.
Latest trends have been to dig an upper level low into the Four Corners by 00z Monday (Sunday evening), then slowly track it east/southeast across New Mexico overnight Sunday into Monday. This solution would again favor portions of eastern Colorado for some good moisture.
GFS 500mb relative vorticity Sunday night...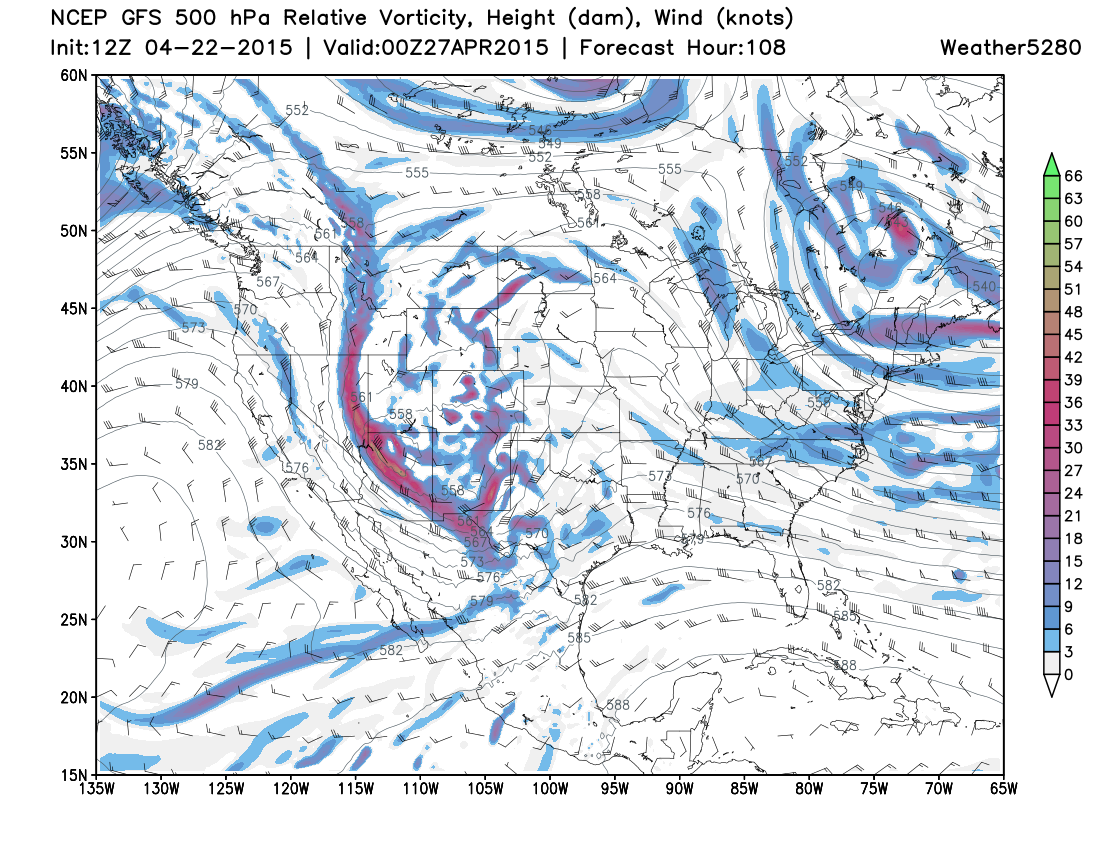 Canadian 500mb height: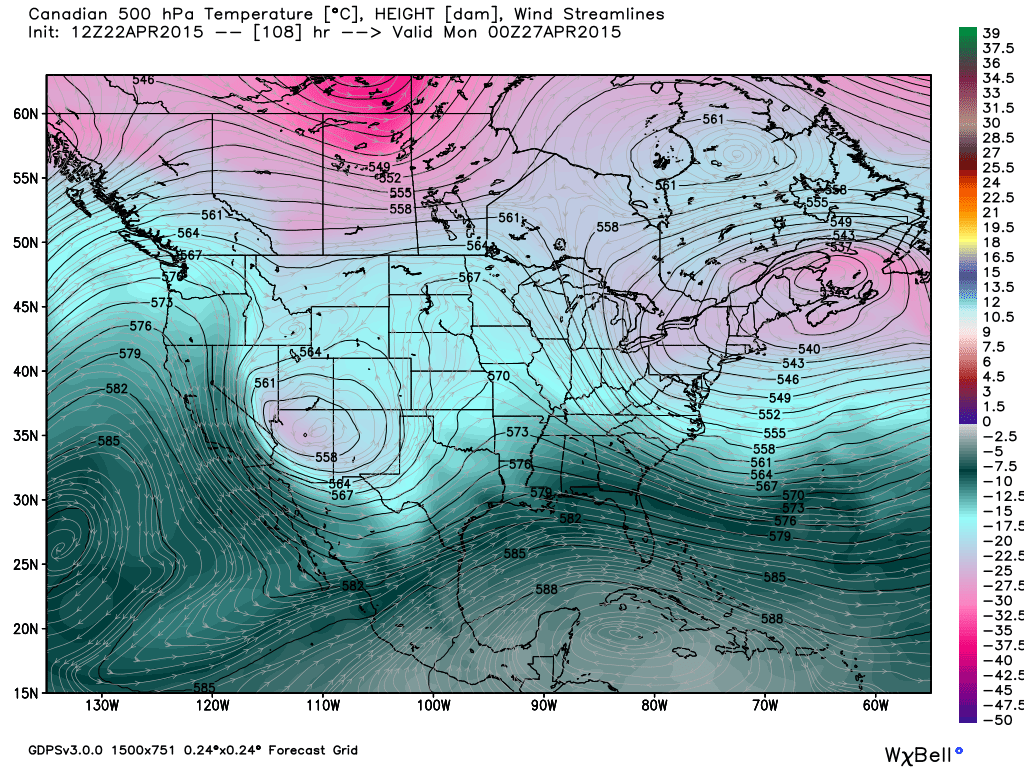 Some of the precipitation totals the models are printing out are very impressive with this thing, and of course quite welcome. Here's the current precipitation forecast from the 12z GFS. Currently a widespread 0.5 to 2" across the plains, with pockets of >3" at higher elevations. Its 18z run was even wetter across the board.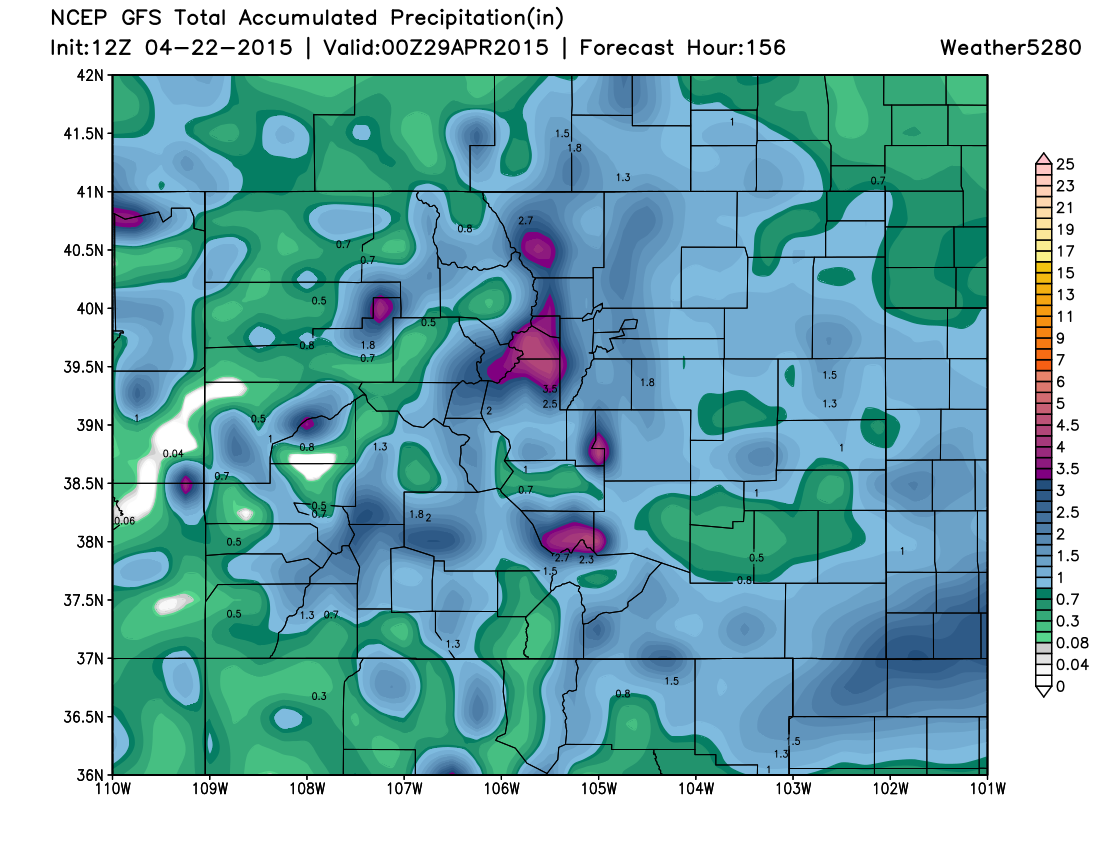 And the potential for another good Front Range snow (includes some accumulating snow across the Palmer Divide):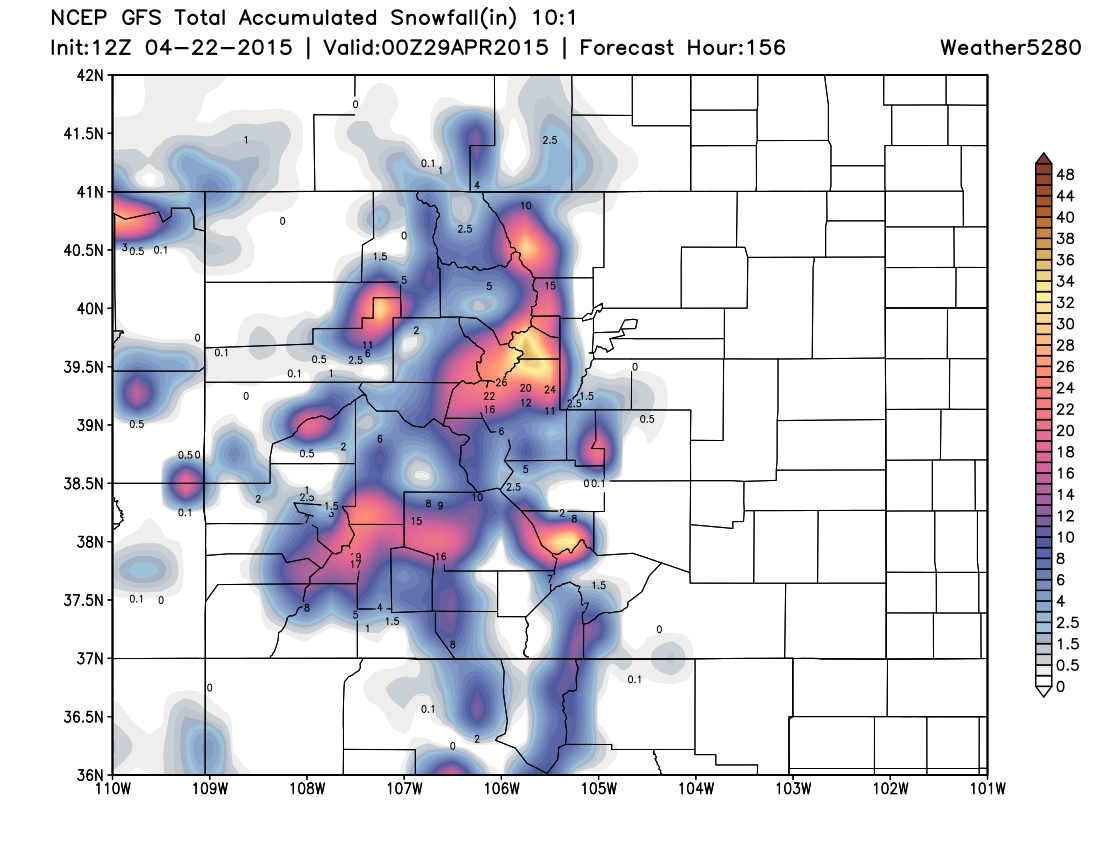 While it's far too early to nail down the specifics, certainly the potential is there for another widespread good precipitation event right on the heels of last week's system. While the GFS/CMC/EURO all are showing pretty good precipitation right now for Colorado, there are some subtle differences we need to continue to track over the coming days in where this thing will end up. Today's 12z EURO, for example, tracks the upper level Low in such a way that it really dry-slots the eastern Plains (favoring the I-25 corridor for heavy precip) while the CMC/GFS look much better for the Plains.
As for rain/snow, this system currently looks a bit warmer than the last, which would mean less snowfall at lower elevations. While this could change, I would say the likelihood of accumulating snow <6,000ft this time is much lower. That said, should thing come together just right locations above 6,000ft will likely see another significant snowfall, with some models producing >15" again for the Front Range mountains.
Plenty of time to work out the details, but wanted to get a heads up out there as there could be some impacts on weekend plans, especially Sunday. We'll keep the updates coming as we get closer, and narrow in on totals and timing as the weekend gets closer. Stay tuned!