After a drier than normal March across northeast Colorado the pattern has become much more favorable over the last several weeks. For northeast Colorado April ended with above normal precipitation, while west-central and southern Colorado remained below normal for the month.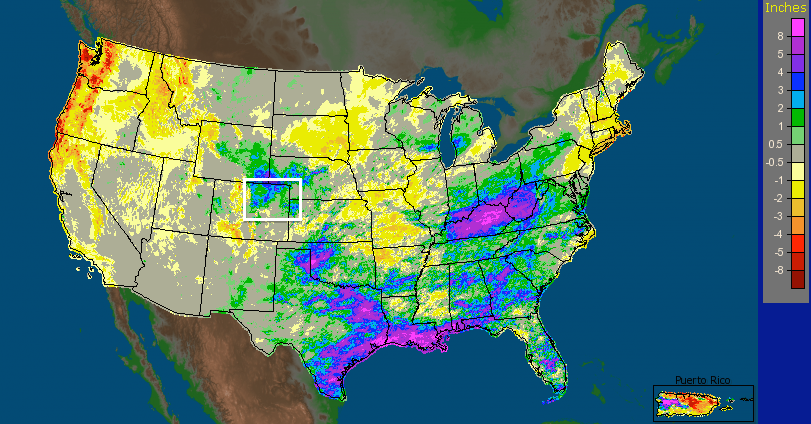 Year to date, much of eastern Colorado has seen near-normal to above normal precipitation, with western Colorado feeling the pinch for snowfall shortages.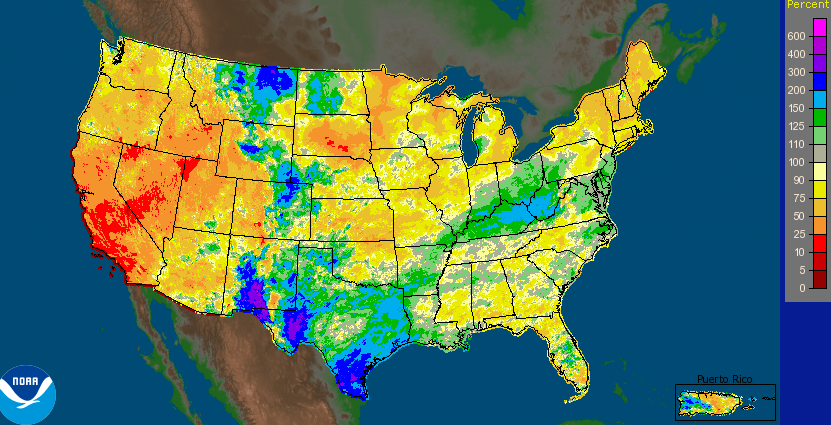 With this, we continue to see drought improvement across the region, with Texas, New Mexico, and Colorado continuing to climb out of the extreme drought we saw as recently as 2013.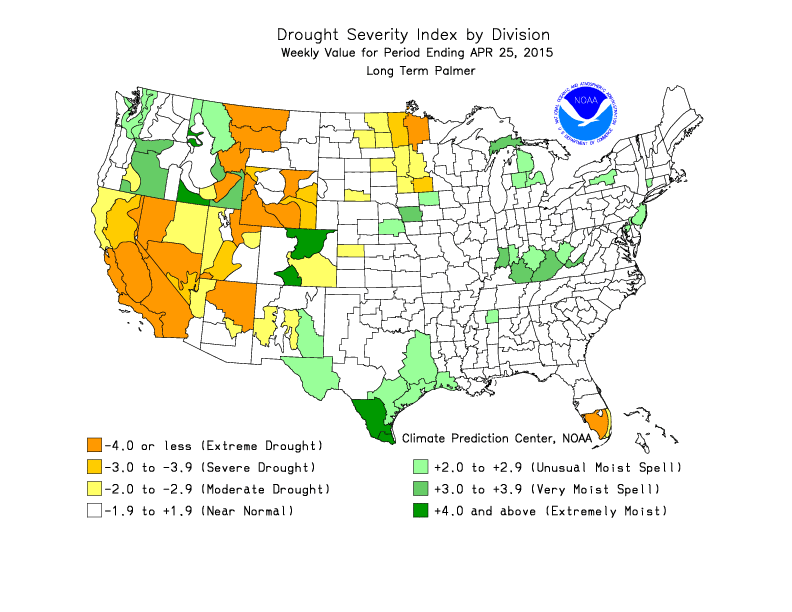 The next 10 days continue to look very wet across the central United States as we've outlined several times now. The combination of a favorable pattern and May being our wettest month will work together to bring a good wet start to the month to much of Colorado, including the greater Denver area.
Today's 12z GFS tells the story. Take a look at the total precipitation forecast through the morning of the 13th: widespread beneficial moisture from Texas, to Colorado, to Wyoming and even back west into the Great Basin.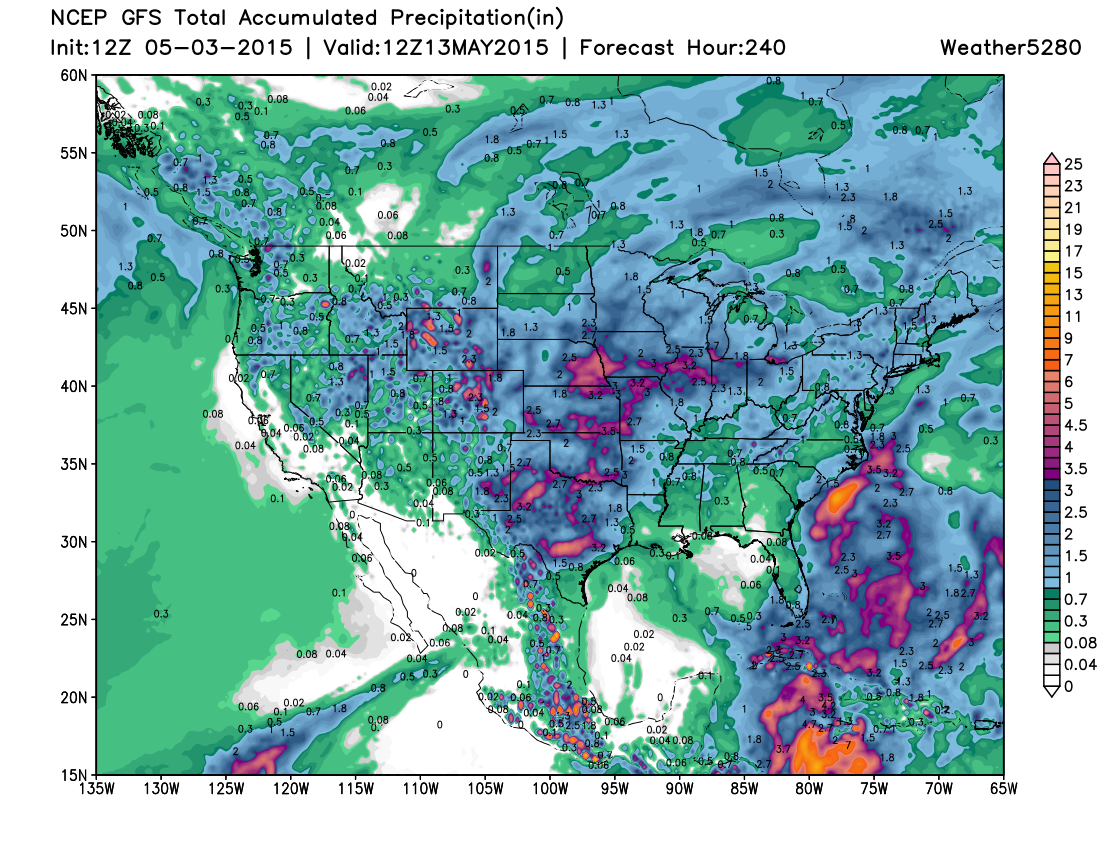 Taking a closer look at Colorado for the next ten days, we see widespread totals of 1 - 3" of liquid, with locally higher amounts. Well above normal for the period.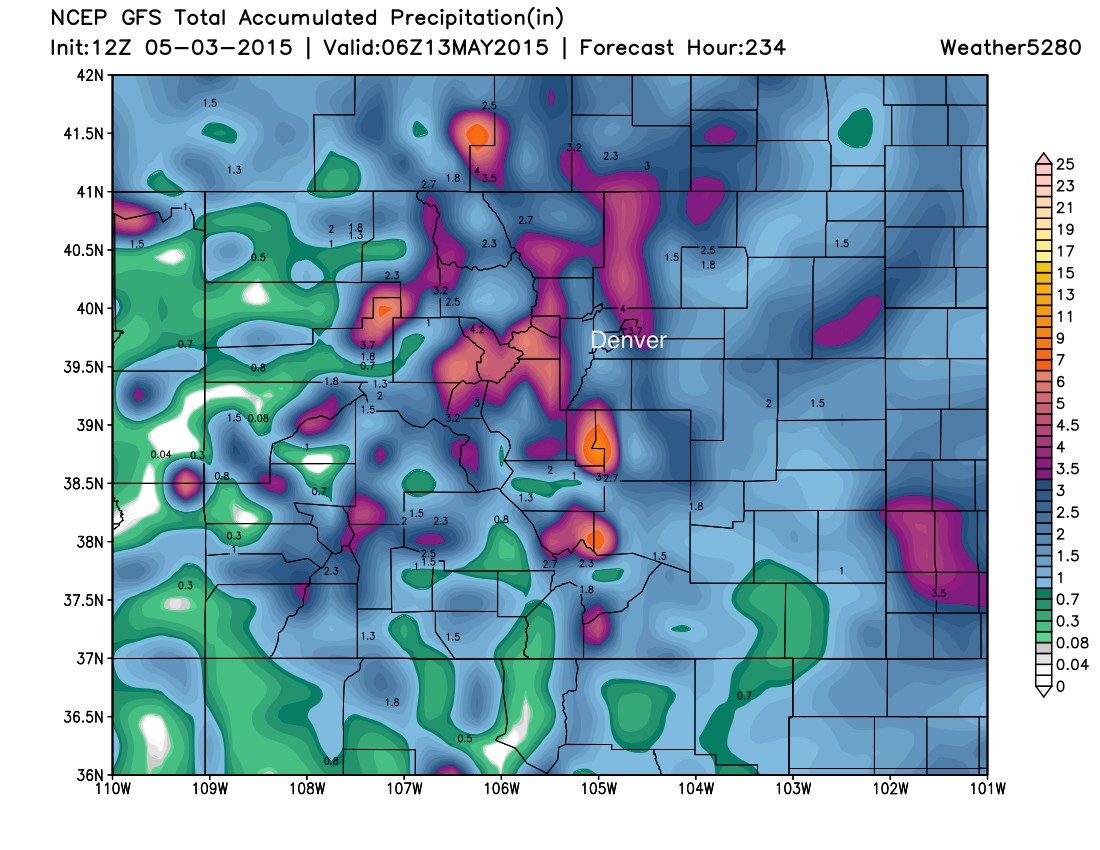 The week ahead
Troughing in the west will be the name of the game over the next week, which will translate to periods of wet weather across the state of Colorado. Our first target period will be from Monday evening through Wednesday, with the trough trying to reload in the west to end the week.
Highs Monday will be much cooler across the area with highs in Denver forecast to top out in the upper 50s to near 60 degrees. We'll see the chance for rain and storms increase Monday afternoon, and keep a good (>40%) of rain and storms in the forecast through Wednesday.
As for severe weather, there are still some questions here. While the severe threat looks low Monday, especially across northern/north central Colorado, we may see the severe weather threat increase a bit Tuesday across the Plains. For now, the SPC has issued a marginal risk for severe storms across southeast Colorado monday, and a marginal risk for all of eastern Colorado Tuesday. Still some time to see how things shake out, so we'll see what adjustments need to be made as we head into the week.

Along with all this precipitation will come a pretty decent shot at high elevation snow across the intermountain west through the next week to 10 days. While it seems as though the GFS is doing a pretty good job with totals at higher elevations, it may be getting a little bit carried away with next weekend's storm which it sees as colder – and therefore produces snow at lower elevations across much of Wyoming and into South Dakota. We'll see.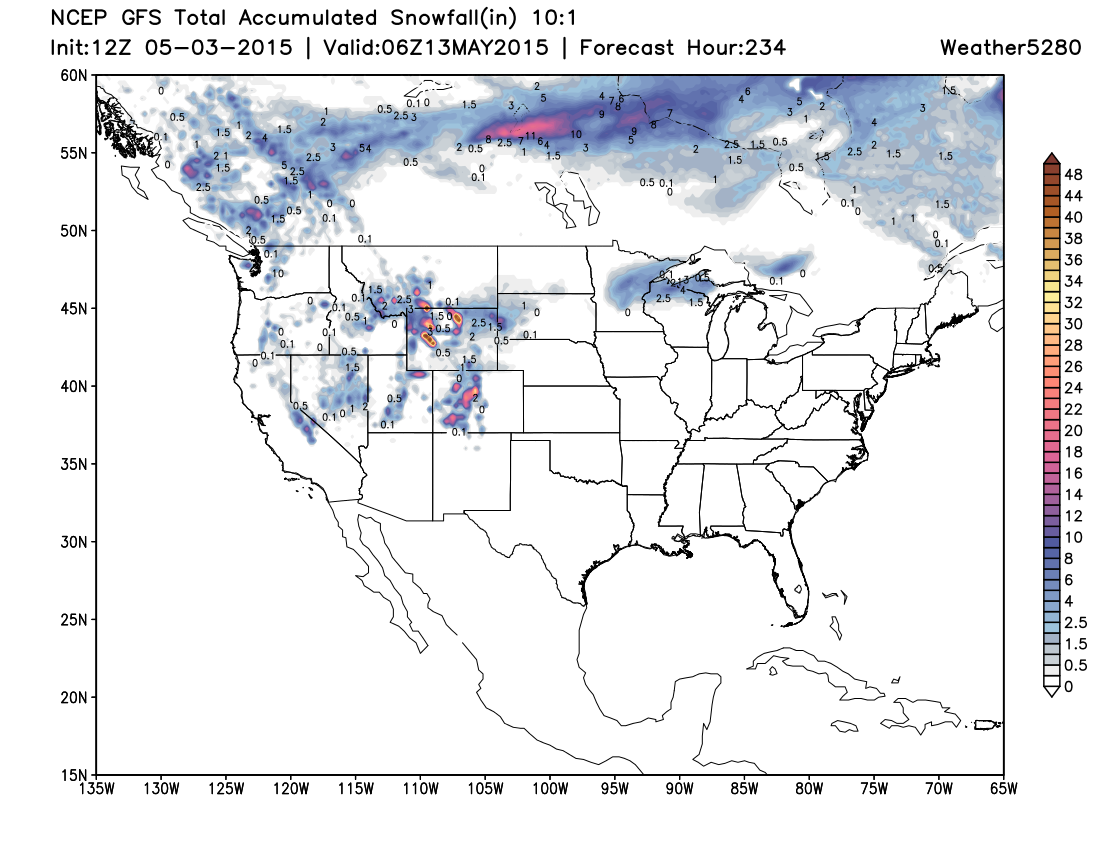 We'll keep an eye on how things progress this week and update as needed. Keys will be in keeping an eye on the severe weather threat, and also any locally heavy rainfall which may cause issues.
A few things to keep in mind are that while there's pretty good agreement between the models there are still some slight differences – which largely lead to differences in where 'dry-slotting' takes places over the coming days. Slight shifts in the upper level low will help determine this as we go forward. Then there's the issue of locally heavy rain with convective storms, which we all know this time of year can lead to huge differences in a short distance in precipitation totals. While we expect precipitation chances to be fairly widespread for the first half of the week, for some areas this will be enhanced.
As our active weather pattern continues, be sure to subscribe to Weather5280 to be kept up to date on the very latest forecasts and discussions. Enjoy your Sunday and get ready for what looks like a very promising period of precipitation for the central United States.