Update 8:00am Saturday: Severe weather outlook updated on Live Blog
---
Denver's Mother's Day forecast remains a challenge, and the weekend as a whole is set to be a very active one across the state. If your weekend plans include travel, please prepare for the possibility of severe weather, high winds, heavy rain, winter driving conditions, and nearly anything in between!
A high level look at the NWS advisory map shows a mix of winter and severe weather alerts across the middle of the country. A Winter Storm Watch remains in effect for the northern and central mountains of Colorado, extending up into eastern Wyoming, northwest Nebraska, and western South Dakota. Meanwhile a Tornado Watch is in effect for this afternoon across southern Colorado, eastern New Mexico and north central Texas. Expect this map to remain very active through the weekend.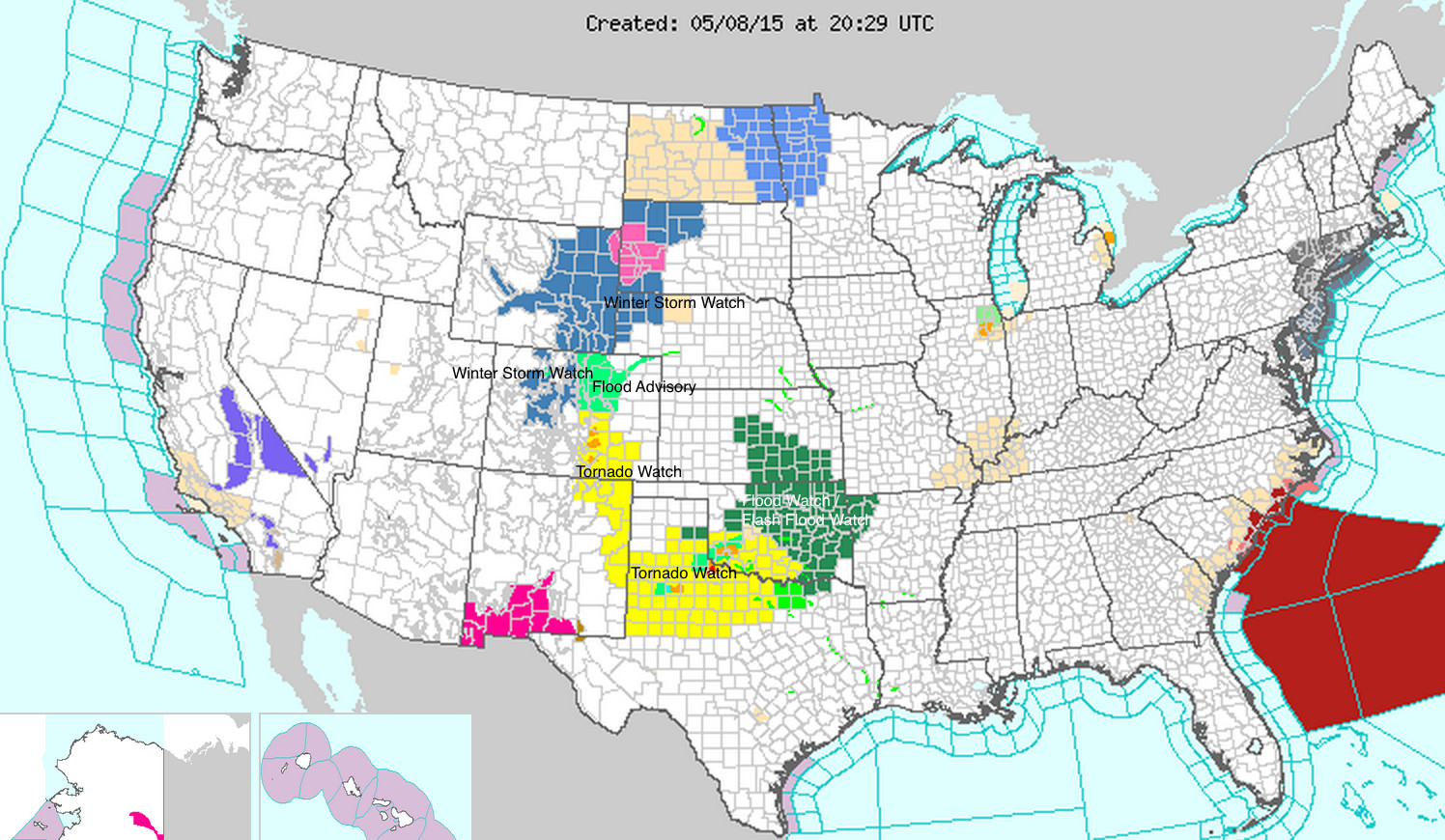 Saturday forecast
Saturday will be an active day of weather across Colorado, with severe storms forecast across the eastern Plains, storms capable of producing heavy rain, and mountain snow. The upper level Low responsible for this weekend's weather is currently located over the southwest, but is forecast to move into south-central Colorado by Saturday evening, before pushing northeast Saturday night.
While today's severe weather threat is mostly focused across southern Colorado, Saturday's threat will extend into northeast Colorado. As expected, the SPC has expanded the "slight" and "enhanced" severe weather outlook to cover portions of northeast Colorado Saturday, from just east of Denver to the state line. Strong storm capable of producing a tornado will be possible Saturday in this area. It's possible some severe storms make it further west, but the greatest likelihood for storms to be severe should be east of the metro areas.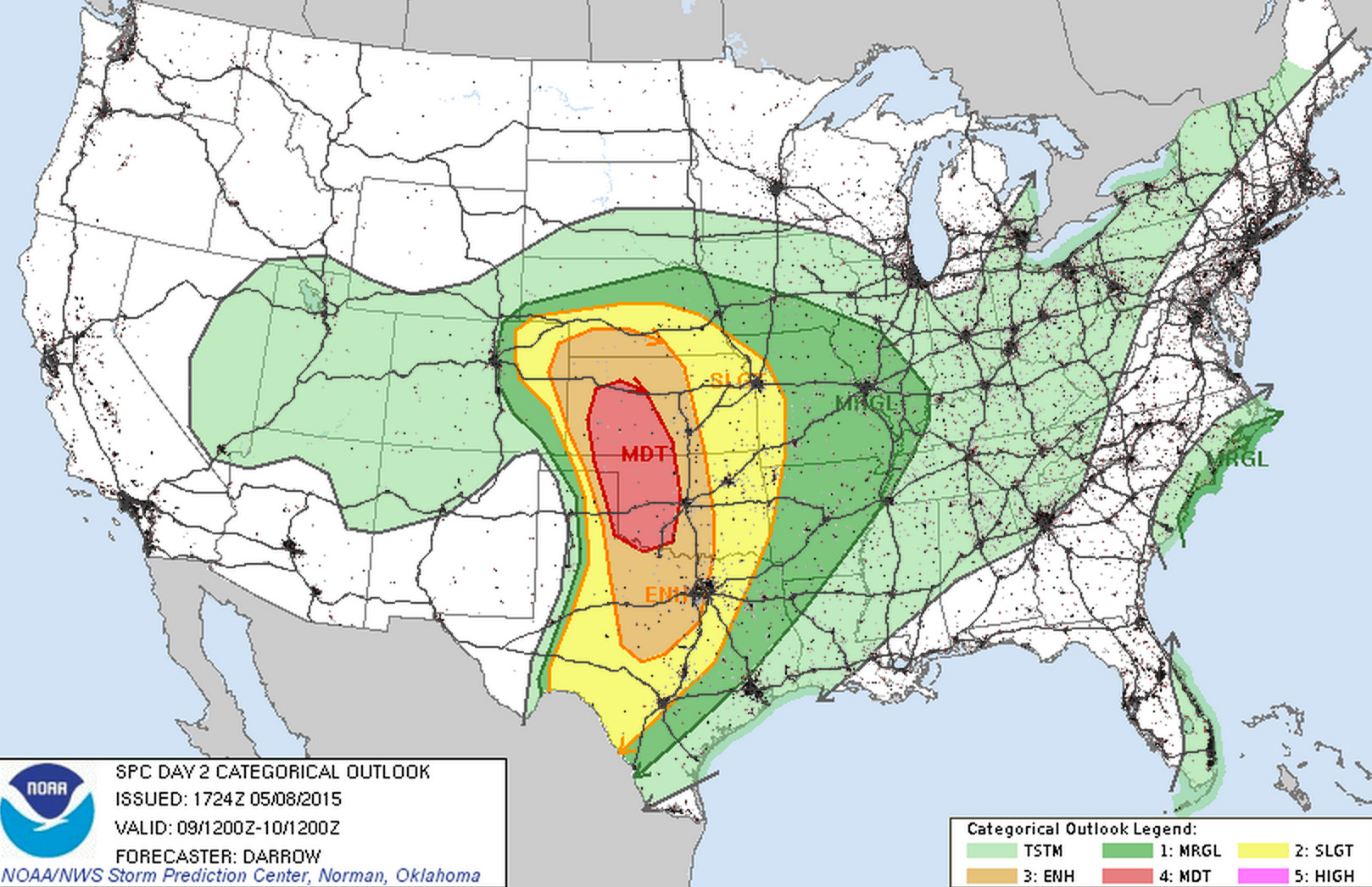 A quick peek at the NAM simulated radar forecast for early Saturday evening shows activity becoming widespread, with heavy mountain snow and strong storms across the Plains.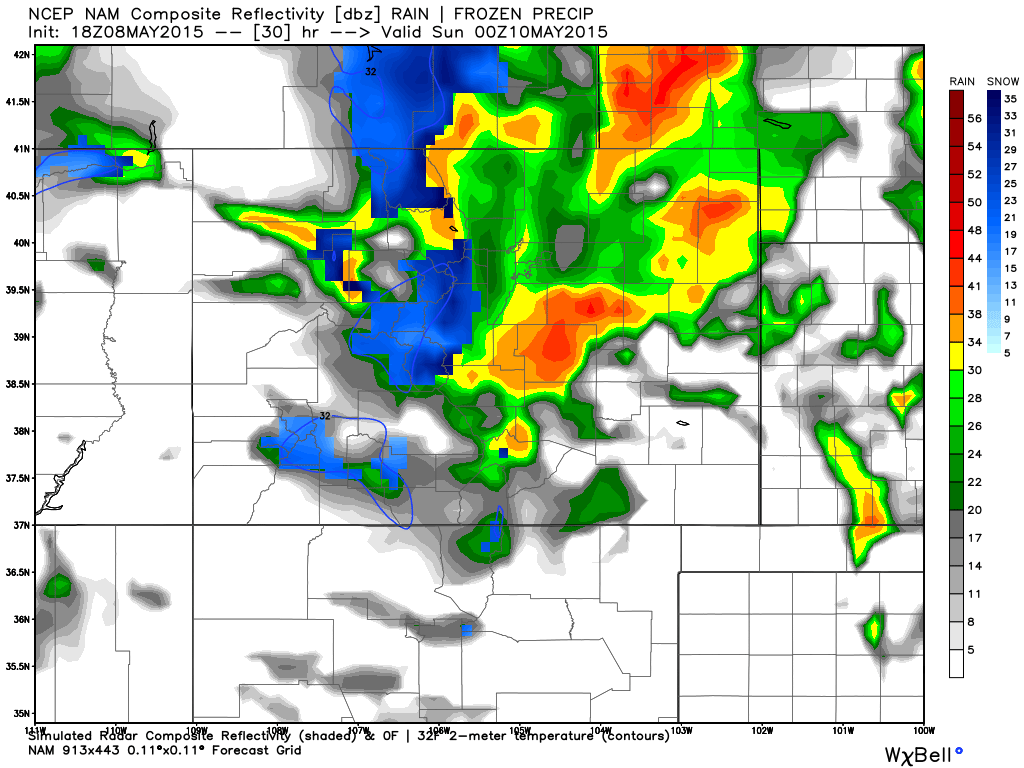 Saturday night
Here's where the big question mark remains – who at lower elevations will see snow, and how much. For Denver and the northern urban corridor it'll be a timing game: will favorable winds and cold enough temperatures cross paths long enough to provide snow in the city?
The thinking remains yes, though maybe not for long. With that, we continue to think some locations along and adjacent to the Foothills will see very little snow due largely to downsloping, while other areas will see several inches – or possibly more. Most models have some accumulating snow in Denver, except the GFS, which seems, as usual, to be running a bit too warm, and has a well-known warm bias.
Barring any big changes over the next 24 hours, we'd probably go something like... 1 - 4" for Denver, 3 - 6" across the Palmer Divide, at 4 - 8" along the Wyoming border and northward. There will also be a 'wildcard' pocket of heavier snow that extends just southeast of the city then nearly due north into Weld county. This pocket of heavier snow will be capable of producing 3 - 7" of snow. Hopefully we can pin this down in the next 12-24 hours... but for the time being, those living east of I-25 in Denver stand the best chance at seeing some of this heavier snow.
The latest 50th percentile WPC probabilistic winter precipitation map actually doesn't look too bad. Takeaways being: heavy mountain snow, some sort of awkward low/no-snow donut somewhere near Denver, heavy snow up along the CO/WY border and northward.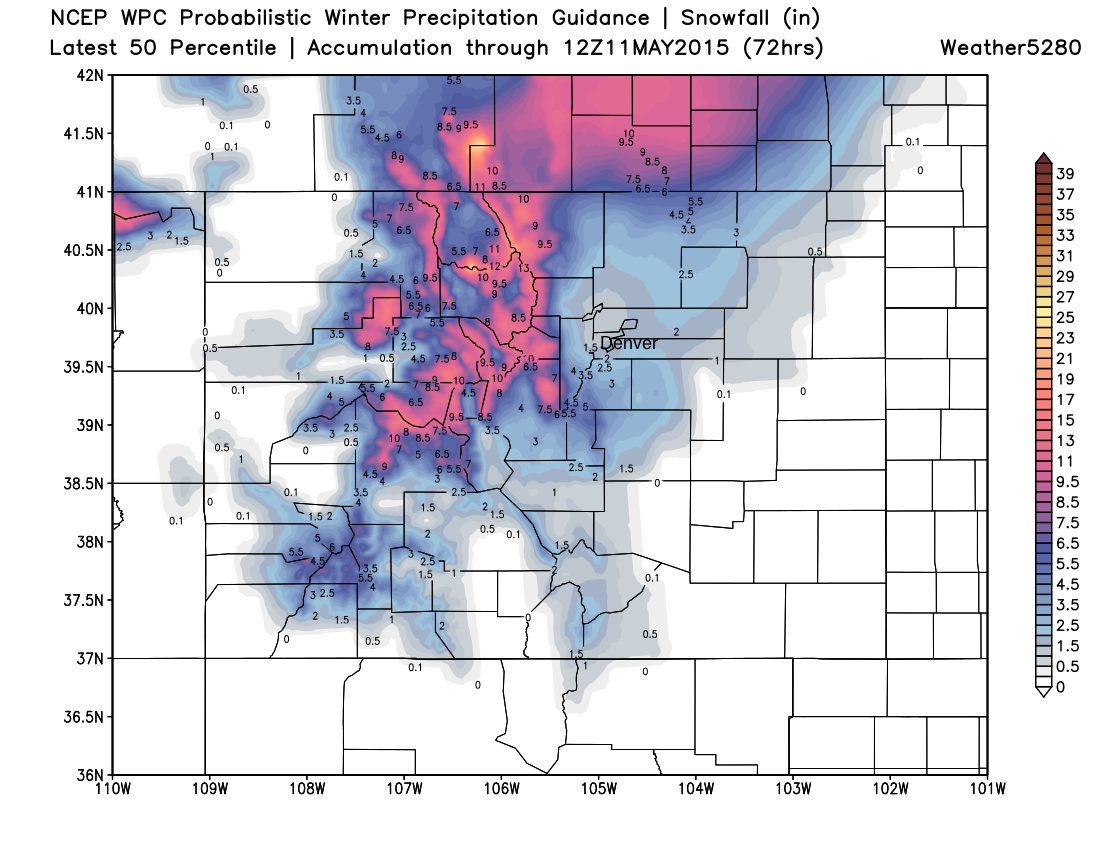 A look at the 75th percentile may be a good indication on the high-end potential with this system. This would imply >6" to the Palmer Divide, a good swath of 4 - 8" out east, and of course slightly higher totals in the mountains.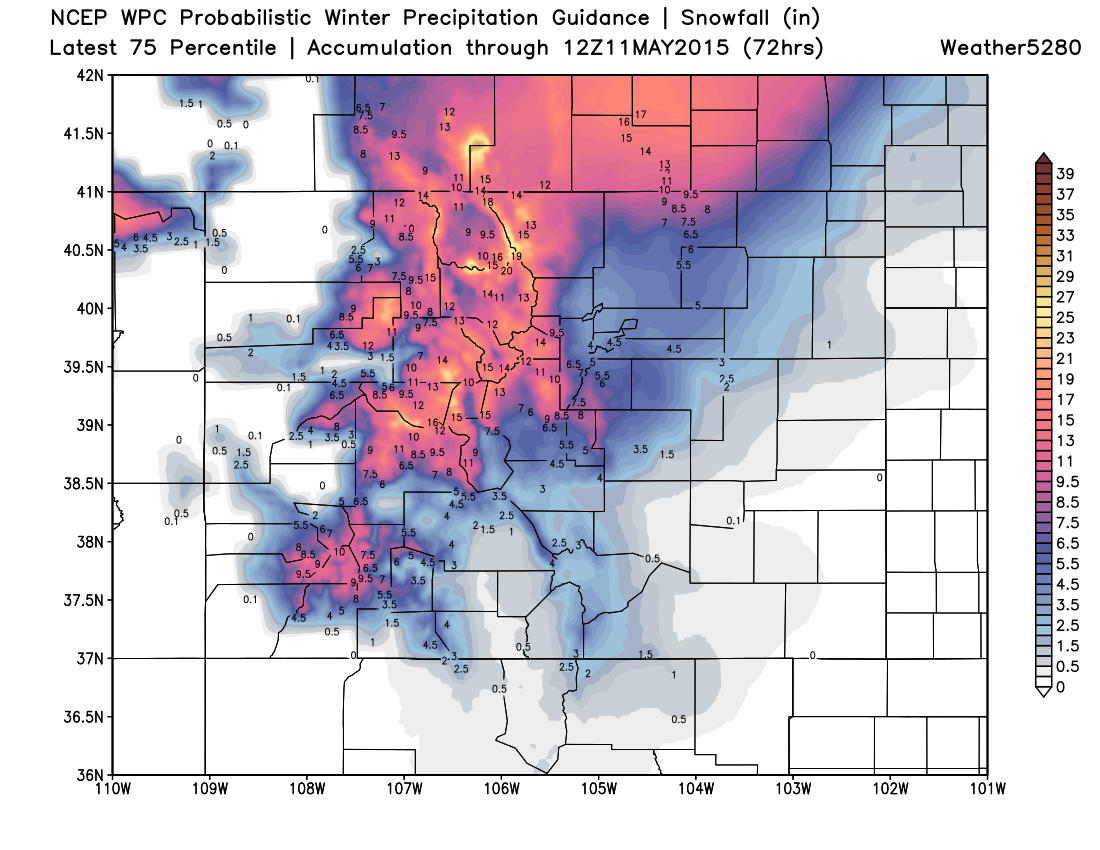 While we're staying conservative with this forecast in Denver, I'll tell you what... a few models have about 4 - 6 hours of very heavy snow pushing across the metro late Saturday night/early Sunday morning putting down a swath of 5 - 10" of snow; so, if things align just right (winds + temps), things could get interesting in a hurry for a few hours this weekend. This is that swath of heavier snow mentioned above.
An example of this would be the NAM. The NAM has been pretty consistent with this feature for several days now. Today's 18z actually INCLUDES Denver in this swath of heavy snow, while you can see it pushes the snow donut-hole a bit further northwest of the city. Subtle difference between each solutions, of course, make for very different outcomes. Previous runs of this same model have this heavier snow band a bit further east of the city, leaving most of the urban area free of the heavier snow.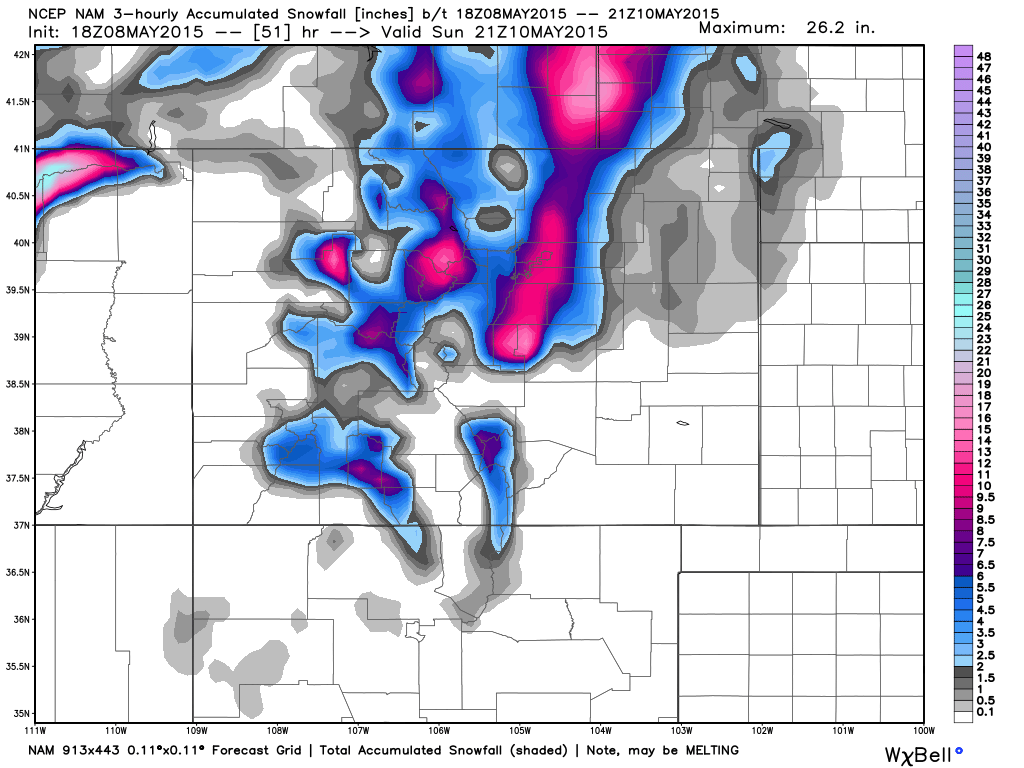 Sunday
Mother's Day will be chilly across the region, but precipitation should diminish through the day. Highs Sunday are expected to stay in the 40s for Denver, with a chilly wind. (The average high for the date is 69 degrees!)
The cold lingering into Sunday night and Monday morning is where we'll need to be concerned for fragile vegetation. A blend of all the models puts Denver's (DIA) low at 31.0° Sunday morning and 28.9° Monday morning.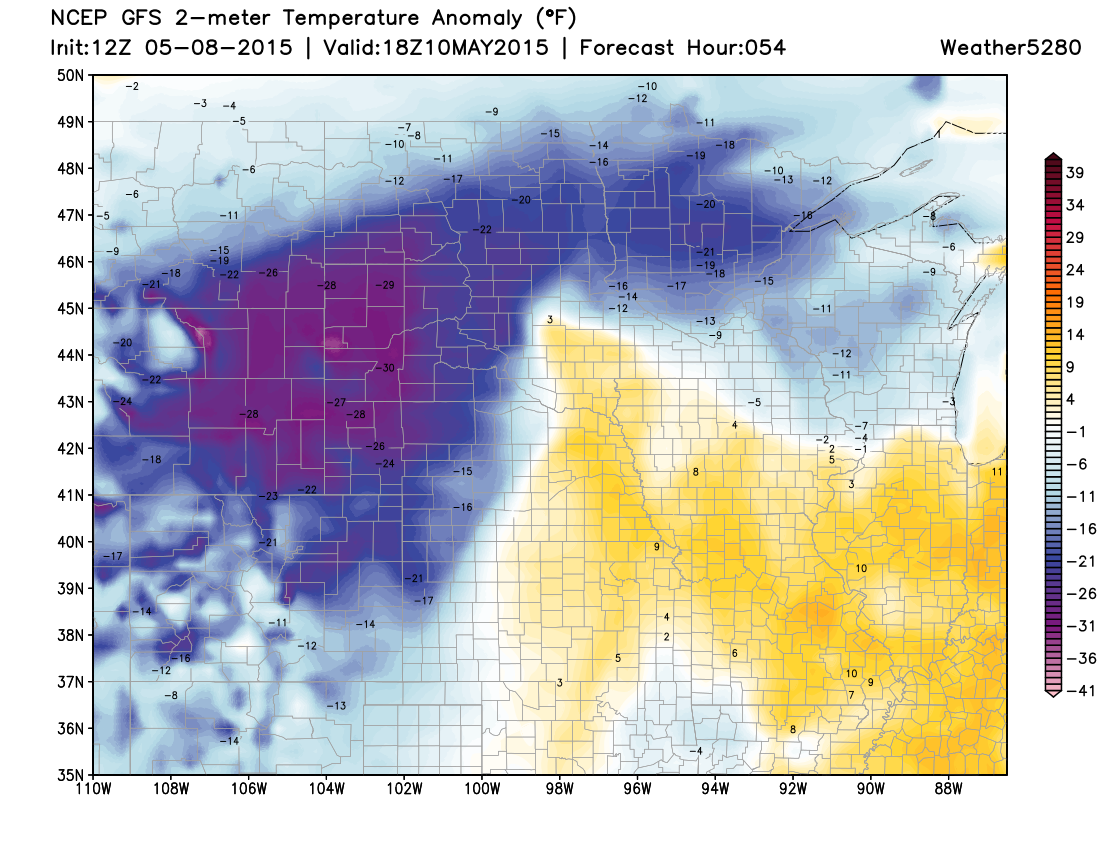 Wrap
Precipitation totals between this afternoon and Sunday are forecast to be from 1 - 3" across northeast Colorado, with locally higher amounts likely under stronger cells. With this, the NWS has issued a Flood Advisory that extends through Sunday for the entire Denver metro area, and much of north-central Colorado. This is a reminder that streams will be running high, and to please not drive through standing water.
In short, expect a very active weather weekend across the state with a mix of just about all the seasons on tap. We still believe there is the potential for a streak of heavy snow early Sunday morning in Denver, but for now we're leaning toward lower accumulations in the city proper. Once we get through the weekend we should get a break, if only briefly. Monday for the moment looks dry! Showers may return by midweek.
---
Just a heads up...
We'll be stretched pretty thin this weekend at Weather5280, and therefore there is an outside chance we won't be able to get an update out Saturday. Should this be the case... take our numbers above as a final snowfall forecast, and assume there have been no significant changes to the going forecast. I think we've got you all pretty well prepped for whatever Mother Nature throws our way this weekend.
Of course we will be active on social media, and won't ever be too far away should things change for the better (or worse). Be sure to follow us on Twitter (@weather5280) if you don't do so already.
If you don't hear from us before, happy Mother's Day to all the moms out there, and enjoy your weekend while staying safe out there!