Will the wet weather end? No, but we are going to return to a bit more typical weather pattern after week's of wet weather.
As of Sunday the 24th, only 3 days in May have been rain-less at DIA. Only one day had less than a 50% coverage of cloud cover. So, to say it's been a rainy, cloudy month is an understatement by Colorado standards. There looks to be a bit more sun in the forecast for this week, though more rain is possible too.
There are signs in the oceans that indicate this wet pattern will slow down, but not end.
Some of those fluctuations indicate we will have fewer passing storm systems in the coming week, then fewer still in two weeks. This will make for warmer temperatures and fewer rainy days for the start of June.
The changes in ocean temperatures affect the atmosphere above – they are connected. Those connections will move the jet stream north of us, which won't bring every system right on top of us, but more of a glancing pass.
I like looking at 4 teleconnections when I build a week to two week forecast: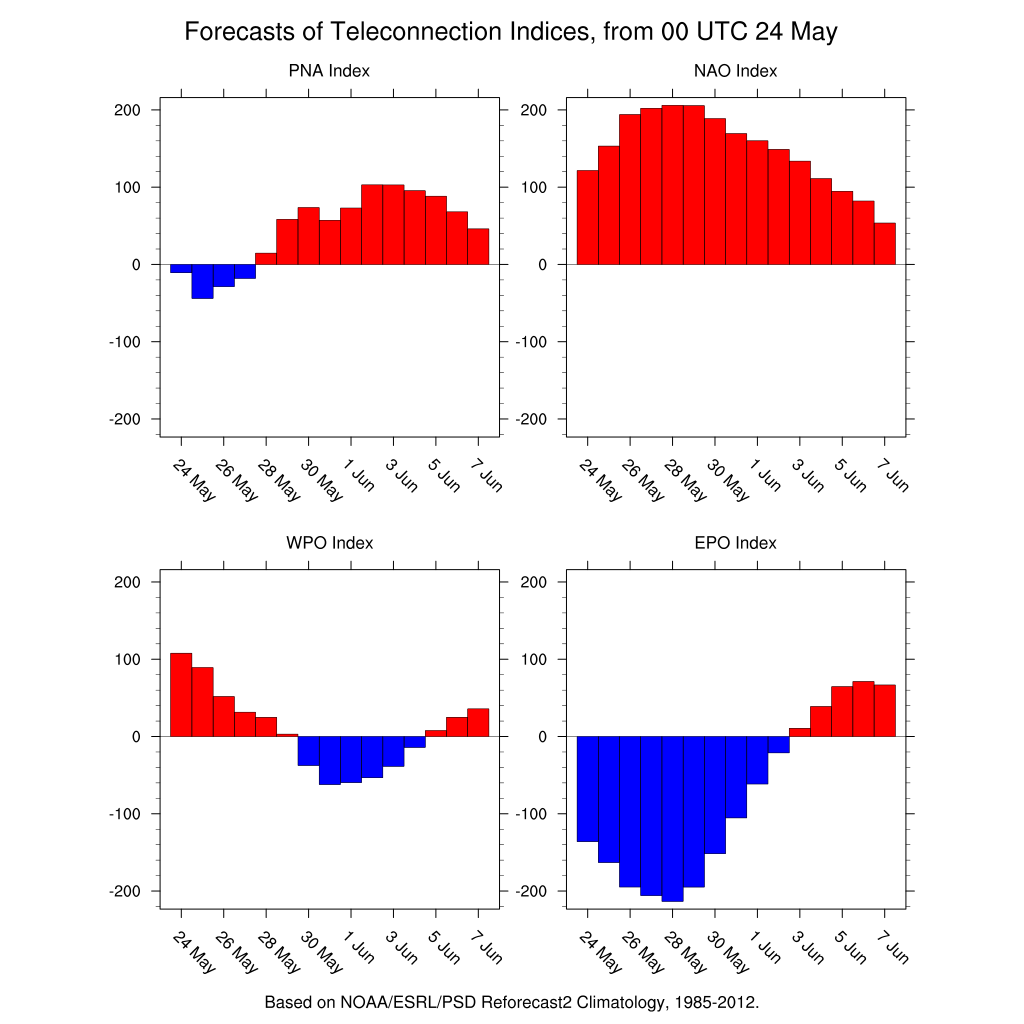 In this case the PNA is shifting back to positive territory. This indicates that jet stream shifting north, and a northwesterly storm pattern for Colorado versus the southwesterly track we have seen in May. The WPO and EPO are shifting positive, too. These are indicators that show me we will be warming. Finally, the NAO is staying positive, which tells me the storms will be moving through the region rather than stalling out near us.
This in no way means the rain will shutoff. The big picture remains wetter than average, because we have El Nino in place. El Nino can bring us 1 to 2 inches more precipitation per season than in La Nina or neutral patterns. The largest precipitation boost as a result of El Nino often comes in the spring and summer.
Here is the distribution of precipitation for the Front Range in the spring: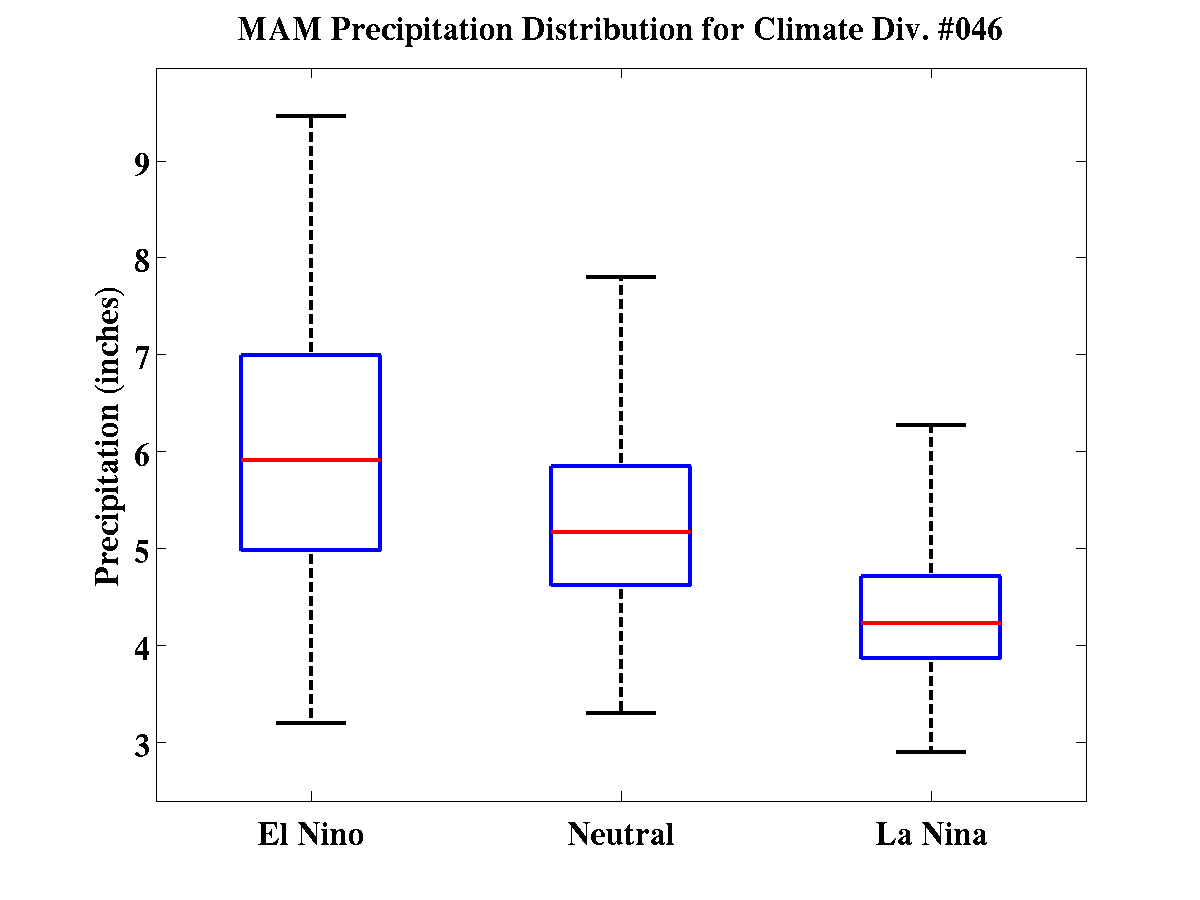 and for the summer: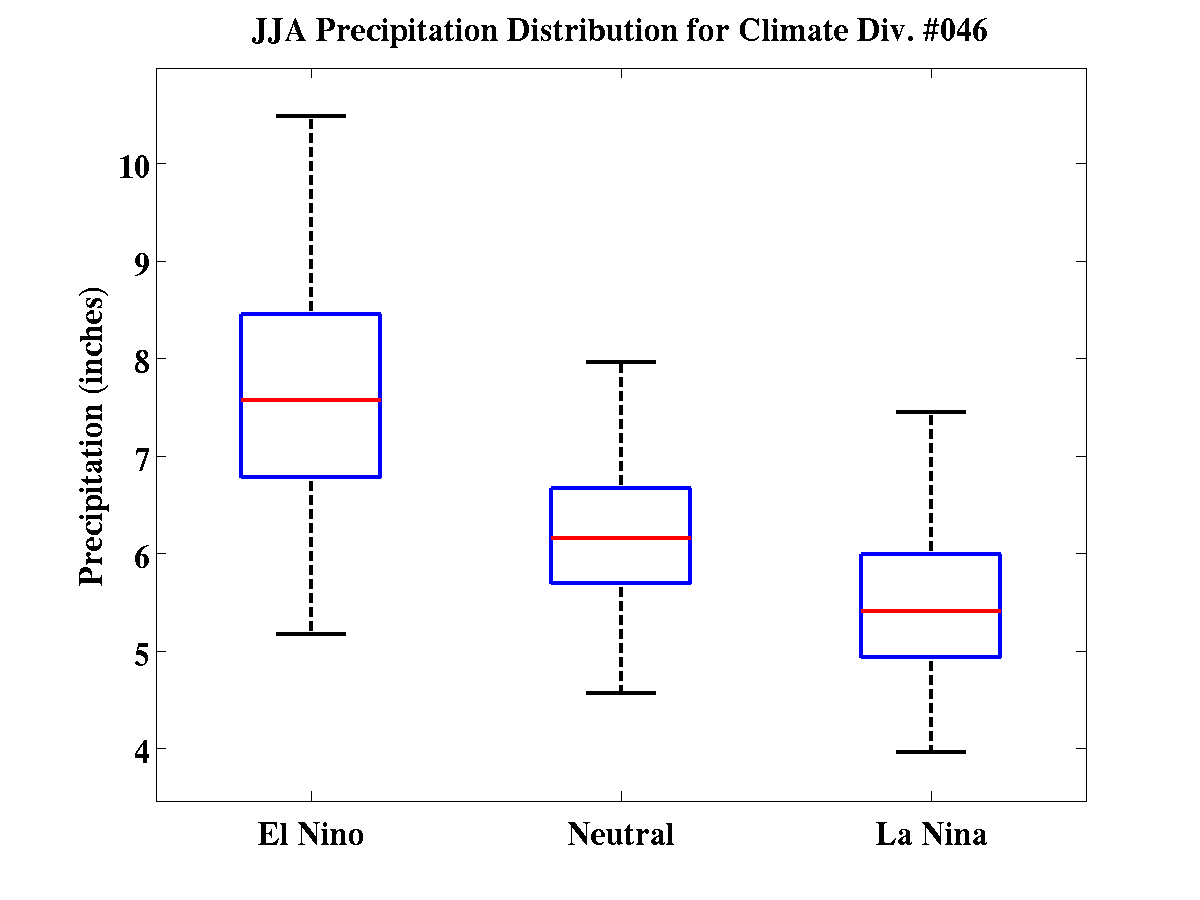 As you can see the summer season is much wetter when El Nino is in control. For the Front Range we average near 8" of precipitation in the summer season versus near 5" if its a La Nina year. The red line is the median precipitation amount of all El Nino years, the blue box includes half of all precipitation reports, and the black lines include the majority of precipitation reports.
As long as El Nino continues, the wetter than average spring will continue. Then, we will have a wetter than average summer. Though, that does not mean we will have 20+ days of clouds and rain each month, as the case has been this May.
The rainy days tie more into those week-to-week fluctuations that are looking a bit "drier" and "warmer" for us into June.
The El Nino forecast is worthy of a long discussion, and Brian Bledsoe recently posted about that forecast here on wx5280. Of course we're continuing to track the El Niño conditions and what that means for Colorado, so expect additional updates and discussions regarding this here soon.