There were 90 hail storm reports nationally Wednesday to the Storm Prediction Center, of those 40 were in Colorado. Storms broke the cap around 3:30pm, and proceeded to pound the metro area and Palmer Divide with heavy rain, lightning, and hail. Several reports of golf ball sized hail were made from the storm near Elizabeth, CO early Wednesday evening.
Despite quite a bit of rotation in yesterday's storms, none produced tornadoes. Low level flow was not all that strong as indicated by yesterday's 12/18z soundings, which likely helped reduce the tornado threat Wednesday.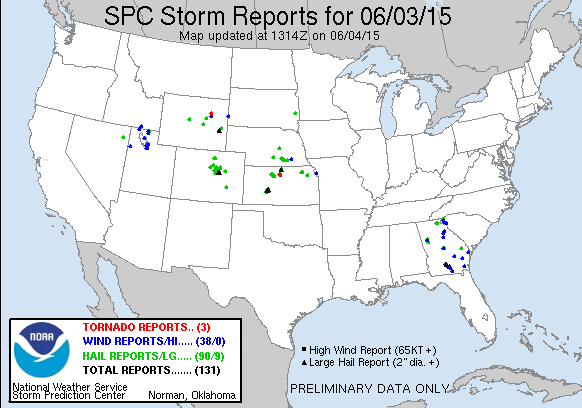 Severe weather threat returns today
There will again be the chance for severe storms across eastern Colorado today, though the coverage will likely be less across the metro area. Latest hi-res models indicate a few storms developing during the early afternoon hours across eastern Colorado, with a second round firing by early evening.
We'll go with 30% chance for storms across the metro this afternoon, with higher chances (50 - 60%) east, and across the Palmer Ridge. Any storms that do develop will have the potential to turn severe, producing hail, wind, and possibly a tornado.
There will still be some impressive CAPE around today to support severe storms and hail. You'll recall yesterday we also head good shear in place, which looks less so today. While there are enough ingredients still in place for severe/supercell development, the overall threat is a bit lower. That said, I would not be surprised if we see a non-supercell tornado this afternoon east of Denver.
Here's a look at the morning SPC outlook for severe storms today. Slight risk for northeast Colorado, and moderate risk east: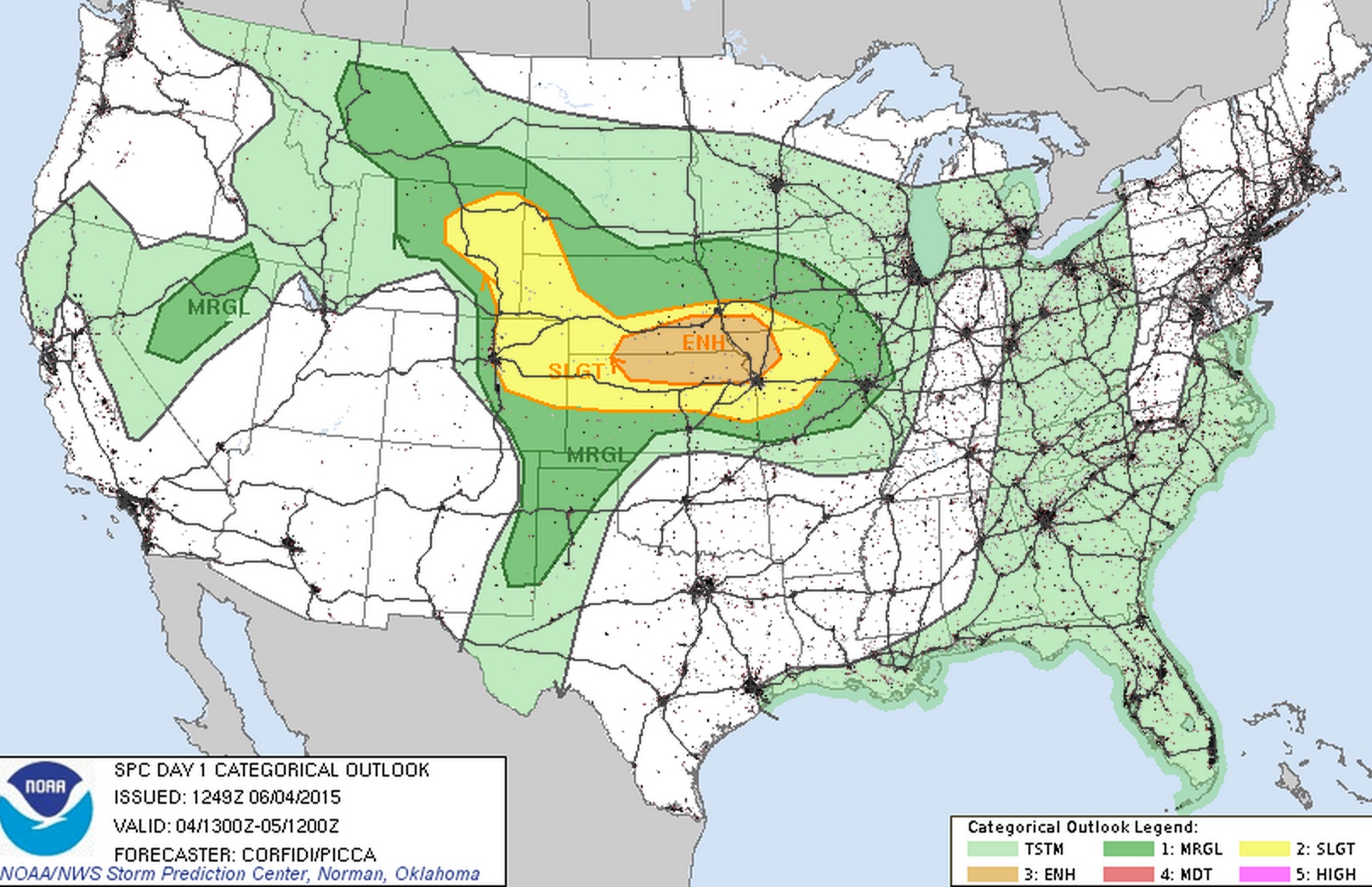 The tornado threat includes 2% probabilities for Denver, with greater probabilities across extreme northeast Colorado extending into southern Nebraska and northern Kansas.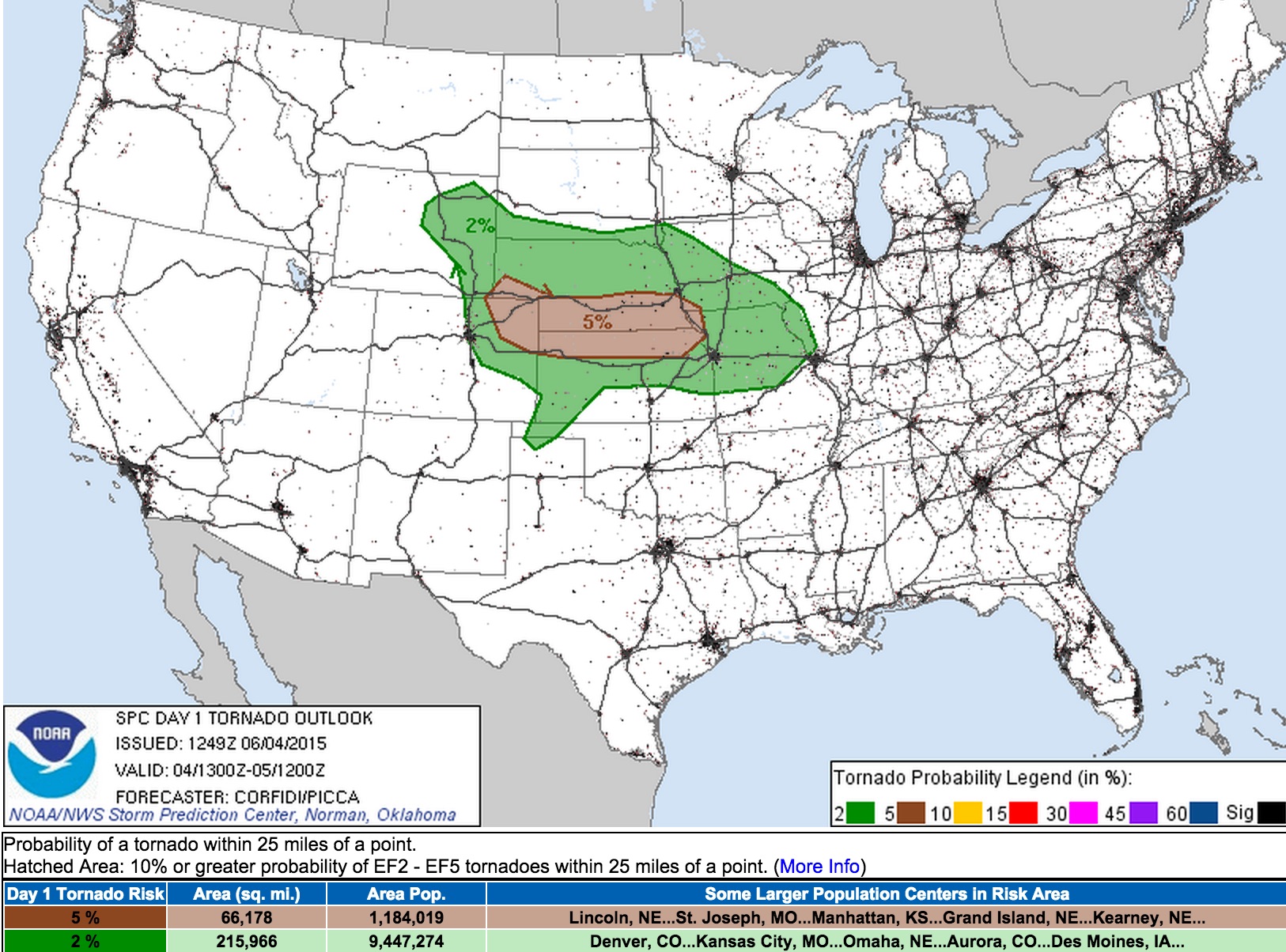 Looking toward the weekend
A good chance of storms will remain in the forecast through the weekend for Denver, with severe storms possible across northeast Colorado both Friday and Saturday. Latest modeling produces pretty good QPF over the forecast area through Sunday night, with 1 - 3" of rain forecast for northeast Colorado, and likely some heavy rain for western/southwestern Colorado as well.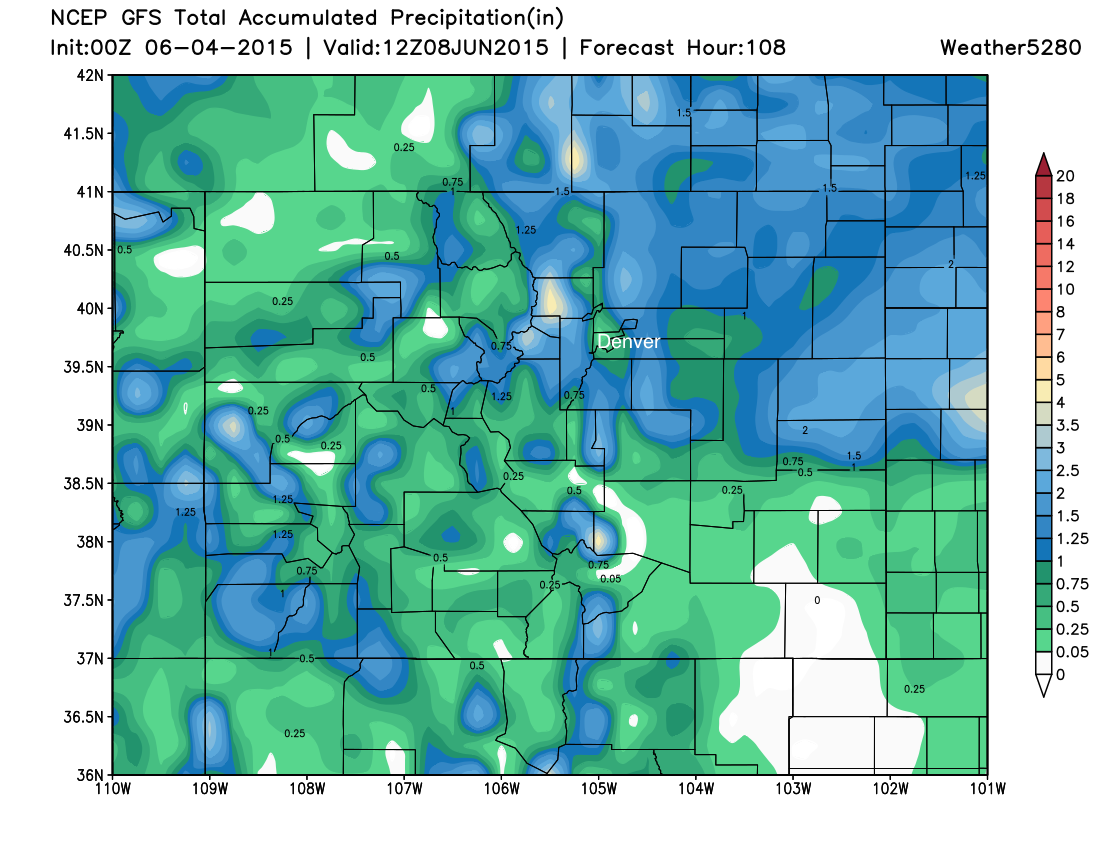 We'll address the weekend in more detail in a future post, but wanted to give a quick heads up that the chance for storms will stick with us over the coming days.
Meet up tonight!
Lastly – a quick reminder about tonight's meet up. We'll be at Denver Physic Opera on Broadway at 6pm for beers and geeky weather talk. Brian Bledsoe will also be sharing some thoughts on the El Niño and our long range forecast which you won't want to miss.
Thinking about coming? Let us know, or just show up!
See you tonight!