Rare EF3 damage from Berthoud tornado
It was another busy severe week across eastern Colorado including two tornadic storms on Thursday which produced an EF3 tornado near Berthoud and an EF1 tornado near Simla.
Prior to Thursday's event, there were only 7 EF3 tornadoes on record during what is Colorado's most active tornado producing month. While rankings are given based on damage, EF3s will typically carry 3 second wind gusts of 136-165mph. The majority of the damage done over the five mile path of the Berthoud tornado was EF1 and EF2 strength, but it's estimated to have reached a peak of 135mph at least briefly.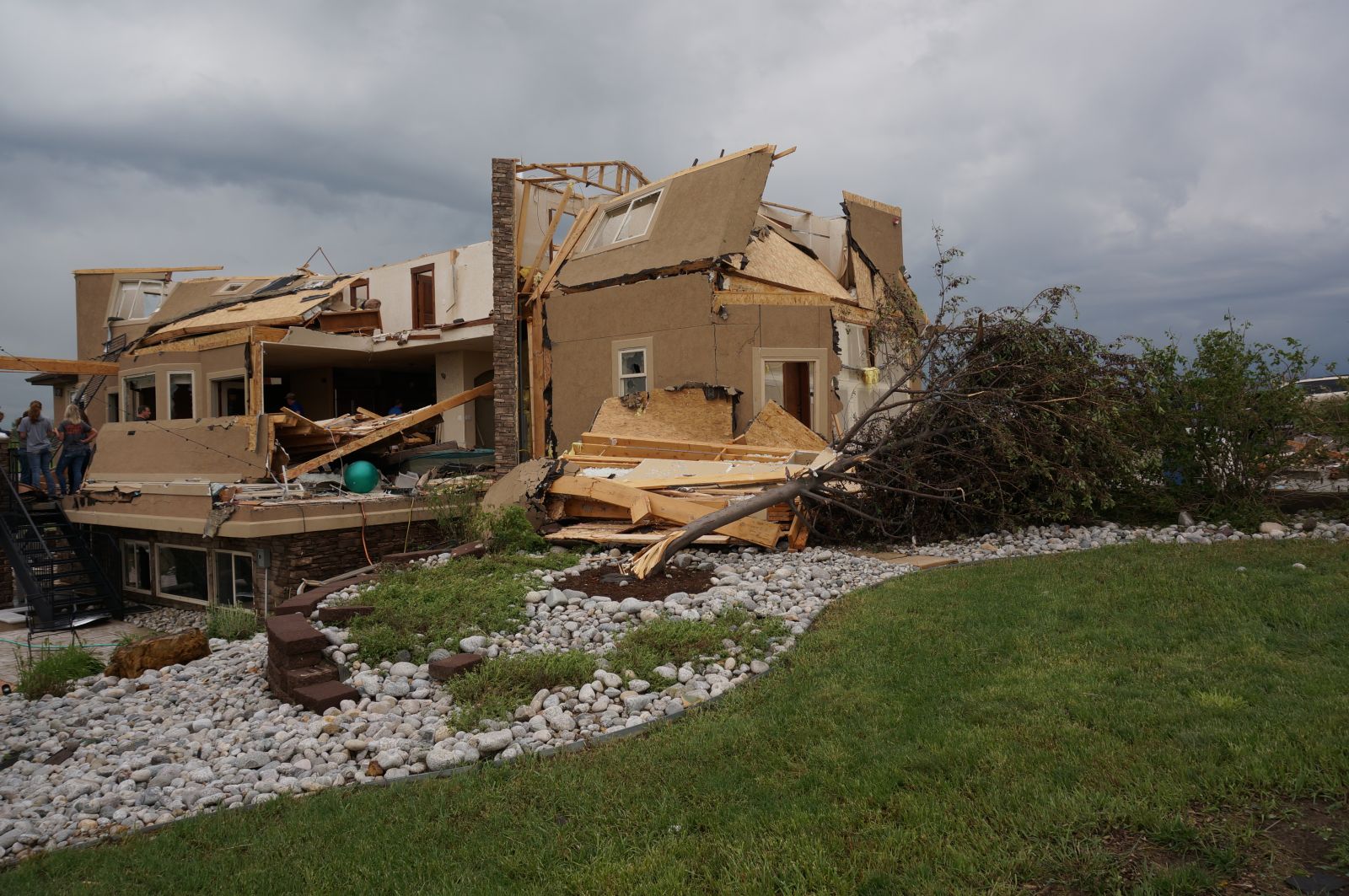 Through the first six days of June, there have been 13 preliminary tornado reports across Colorado. Below is a map of all the severe thunderstorm warnings (yellow polygons) and tornado warnings (red polygons) issued since June 1, as well as the reported tornadoes (white dots). A very busy week for the I-25 urban corridor and east-central Colorado.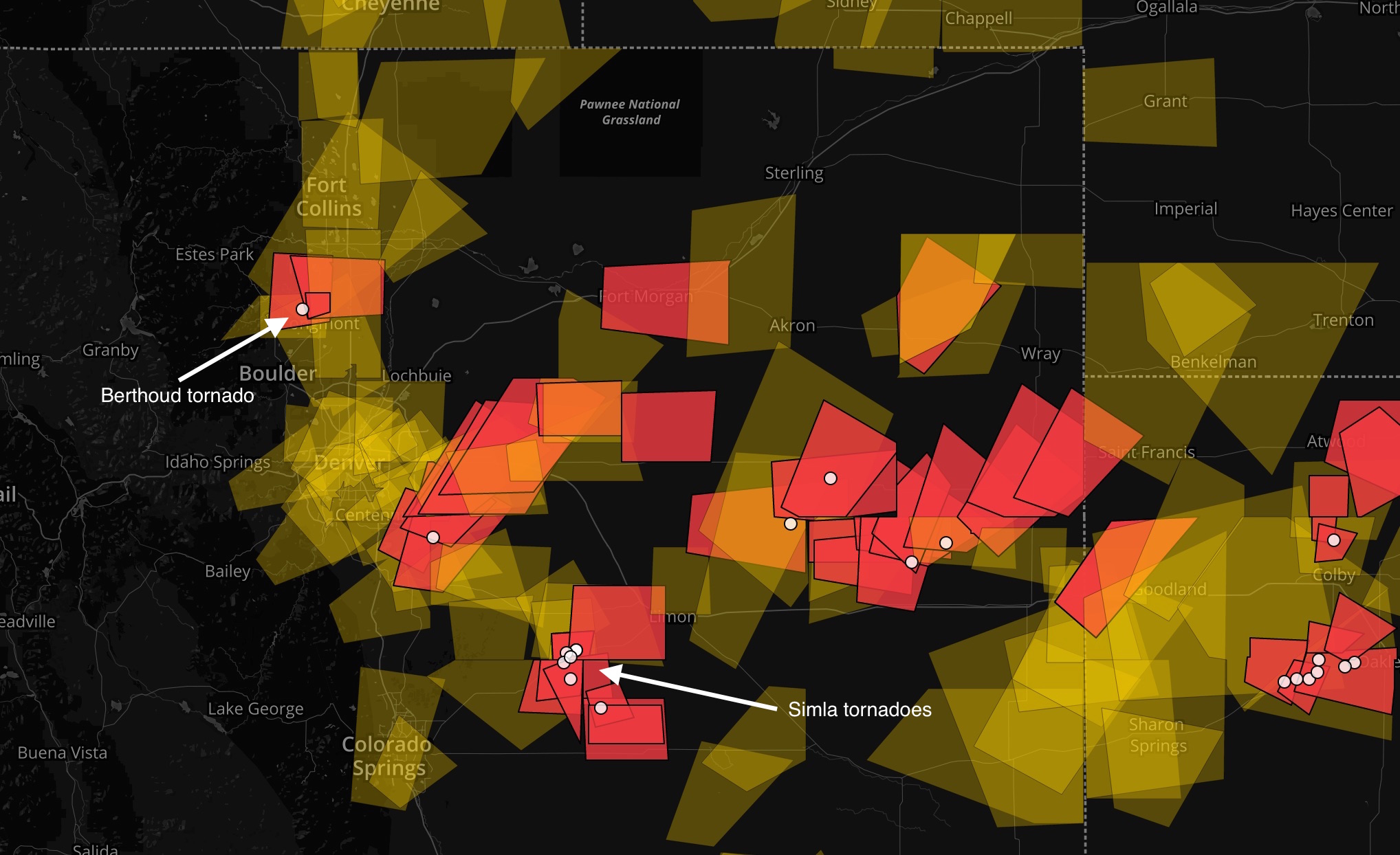 Precipitation totals have also been quite impressive, though coverage overall has been down as compared to recent weeks. Through the first six days of June, Denver International Airport has recorded 1.01" of precipitation, which is just over half of the normal monthly precipitation for June. Here's a look at the latest precipitation analysis map for Colorado since June 2: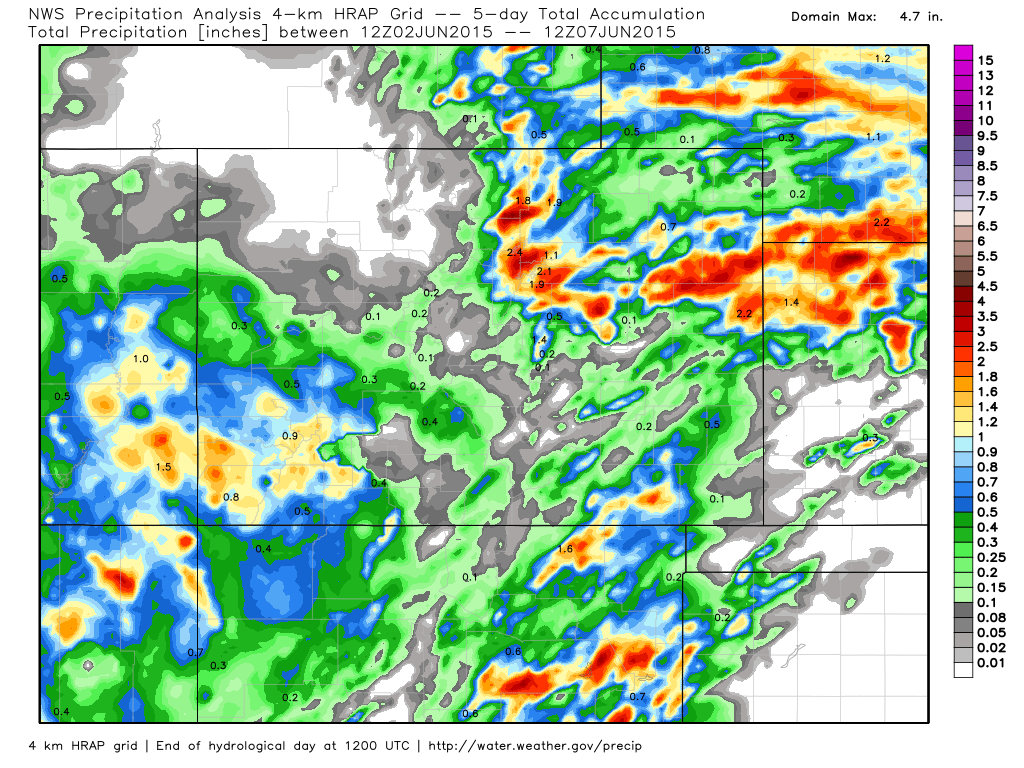 The week ahead
Somewhat of a challenging forecast for the week ahead as we may see the influence of subtropical moisture work into the state as Hurricane Blanca is forecast to move toward Baja California as it weakens, and eventually its remnants into the southwest United States. This morning Blanca is still a 81mph hurricane, though is forecast to weak overnight to a Tropical Storm as it nears the Tropic of Cancer.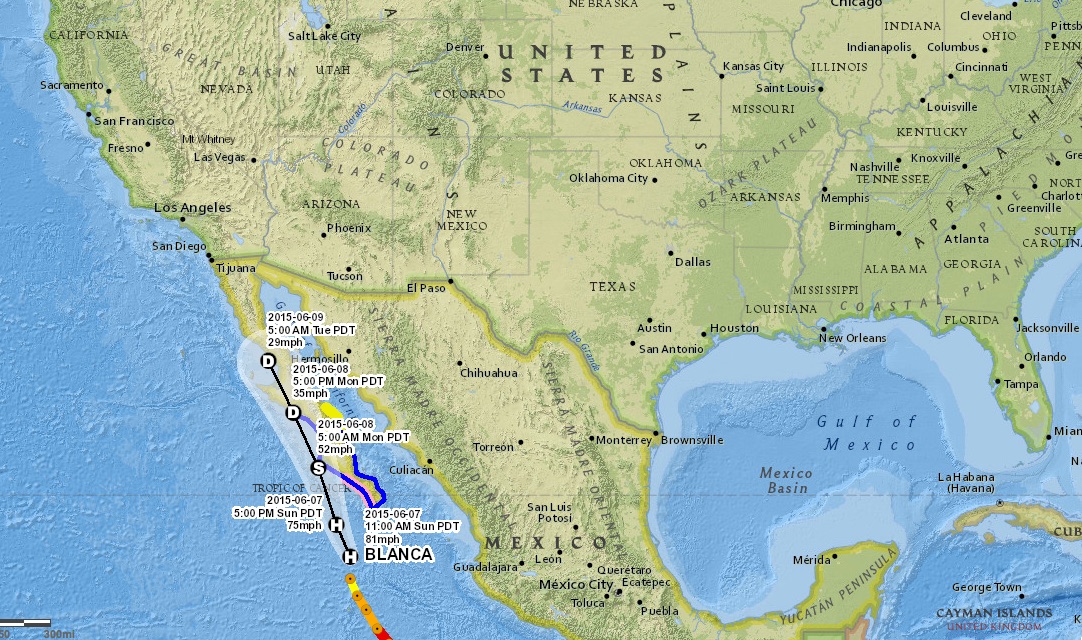 Before this, we expect at least a day or two of slightly drier conditions across eastern Colorado, with temperatures warming into the 80s to start the week too. Storms will be scattered in nature Monday, with likely the driest day of the week coming Tuesday for Denver. By Wednesday we should see highs again climb into the low 80s, but may see a bit more shower activity by Wednesday evening as our next trough approaches from the west.
From Wednesday PM through the weekend is when our forecast could again get wet, with all medium range models showing an increase in moisture with the advancement of our next upper level system. Should we tap into some moisture from Blanca, the flooding concern will again be elevated to end the week as the ground remains very saturated across the region. Currently the ECMWF is showing the greatest QPF coverage over the next 7 days, with widespread totals from 1 - 3" statewide, and locally heavier amounts. Couple this moisture with rapid snowmelt as we're now heading into mid June and flooding will remain a big concern across the state for the near future.
Given the uncertainty remaining in the track of our late week system, still some uncertainty in the impact Blanca's moisture will play in our forecast. The upper level feature that will begin to impact the region Wednesday will also be a bit disorganized, and likely eject bits of energy east through the end of the week and into next weekend, but not all at once. This should help enhance convective activity statewide, and with plenty of moisture to work with, we currently expect storm coverage to be widespread.
The long and the short of it is, no real rest for the weary as our active pattern looks to continue. Get out and enjoy the warmer/drier days to start the week, but keep an eye to the sky as we can't rule out scattered storms over the next few days despite being quieter overall.
We'll keep an eye on the latter half of the week and push along updates as needed. If you're not yet subscribed to Weather5280, now is a good time to do so as we're in the heart of severe weather season for our state. Also be sure to find us on Facebook and Twitter (@weather5280) for all the latest.