Thur 3:10pm: Live Blog is up and running tracking severe storms and flooding rains.
---
A complex forecast over the next 24 hours or so as ingredients come into place for a heavy rainfall event somewhere across the eastern Colorado. With some uncertainty in pinpointing the greatest risk areas, the National Weather Service has issued a Flash Flood Watch for virtually all of eastern Colorado from 9am this morning through Friday morning. This means the potential exists conditions to develop which will lead to flash flooding.
There's a lot of moisture in the atmosphere for this time of year. PWAT values are running well above normal across the southwest with the influence of what was once hurricane Blanca, which means where storms do develop later today they will have plenty of water to work with.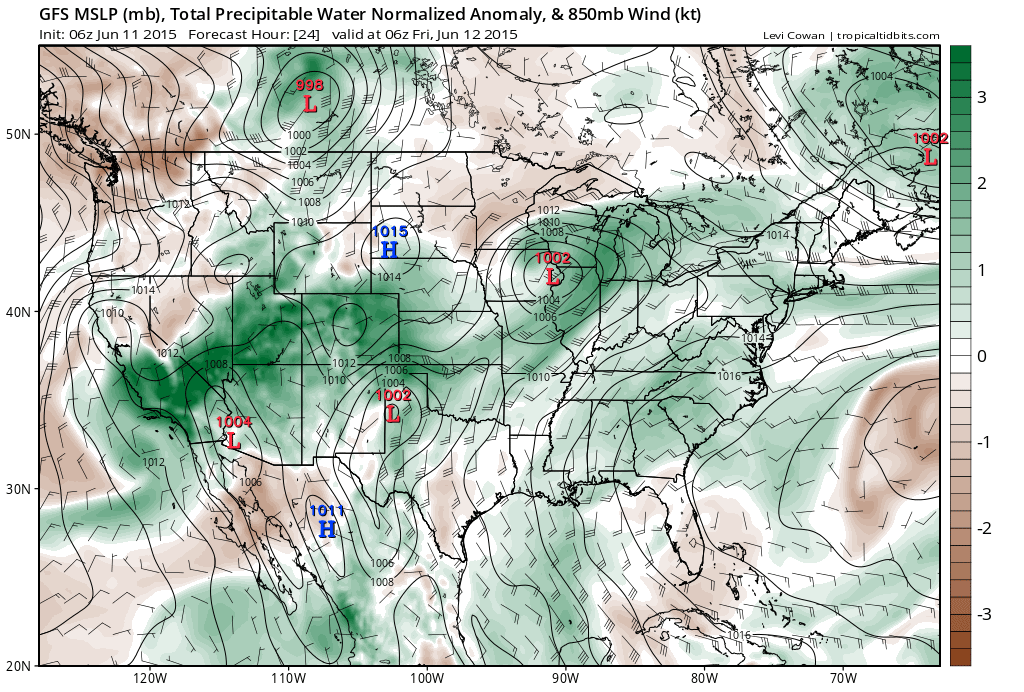 A cold front has moved through northeast Colorado this morning and will help set the stage for upslope flow and storm later today. Highs Thursday will be another 10 degrees or so cooler behind the front, with even cooler temperatures in the forecast Friday.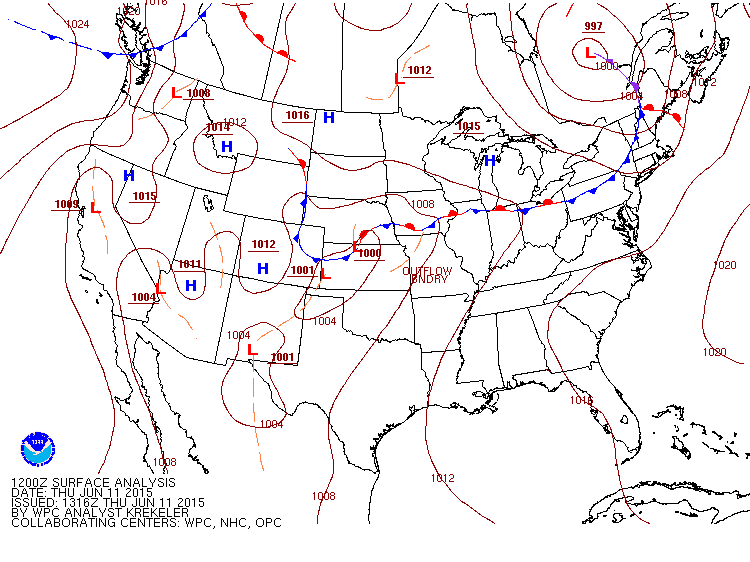 Uncertainty remains
The uncertainties mainly stem from inconsistencies in the models. We really don't love how they're handling this system, and while there's good agreement in heavy rain somewhere, there remain big differences who sees the greatest heavy rain threat with this system.
The overall trend last night was to move the greatest QPF south, though some hints this morning that they are coming back north a bit. Several models continue to keep Denver all but dry. Others, however, like the 4km NAM, ECMWF, and some in-house models, still showed 1 - 2" across the Denver metro area. Current thinking is that the Front Range, foothills west and southwest of Denver, the Palmer Divide, and east-southeast Colorado will stand the greatest chance for heavy flooding rain, though nowhere across eastern Colorado can be ruled out. A widespread 1 - 2" of rain is likely across the eastern half of the state, with locally >3" possible within heavier, slow-moving cells.
Below is a comparison of the 12z NAM and 12z 4km NAM. Both show a southern bias with heavy QPF, though both show pockets of very heavy rain north too. The 12km NAM (left) continues to dry-slot Denver, favoring locales south, west, and east for greatest QPF, while the hi-res NAM produces >2" for DEN. (greens <0.5", yellows <1.8", reds <4", browns >4").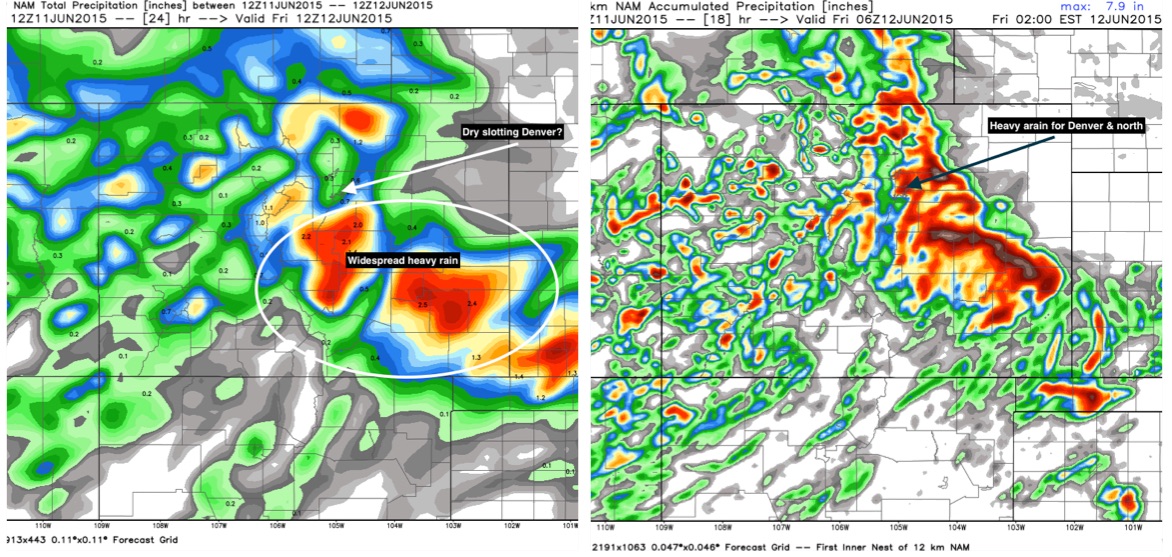 Additionally, just as other models have trended south, the HRRR (hi-res model out to 15 hours) came in this morning with a 2" max north-northeast of Denver through 9pm tonight – which, while maybe wrong, lends to our overall message of uncertainty, and not wanting to rule anyone out from the potential of heavier storms.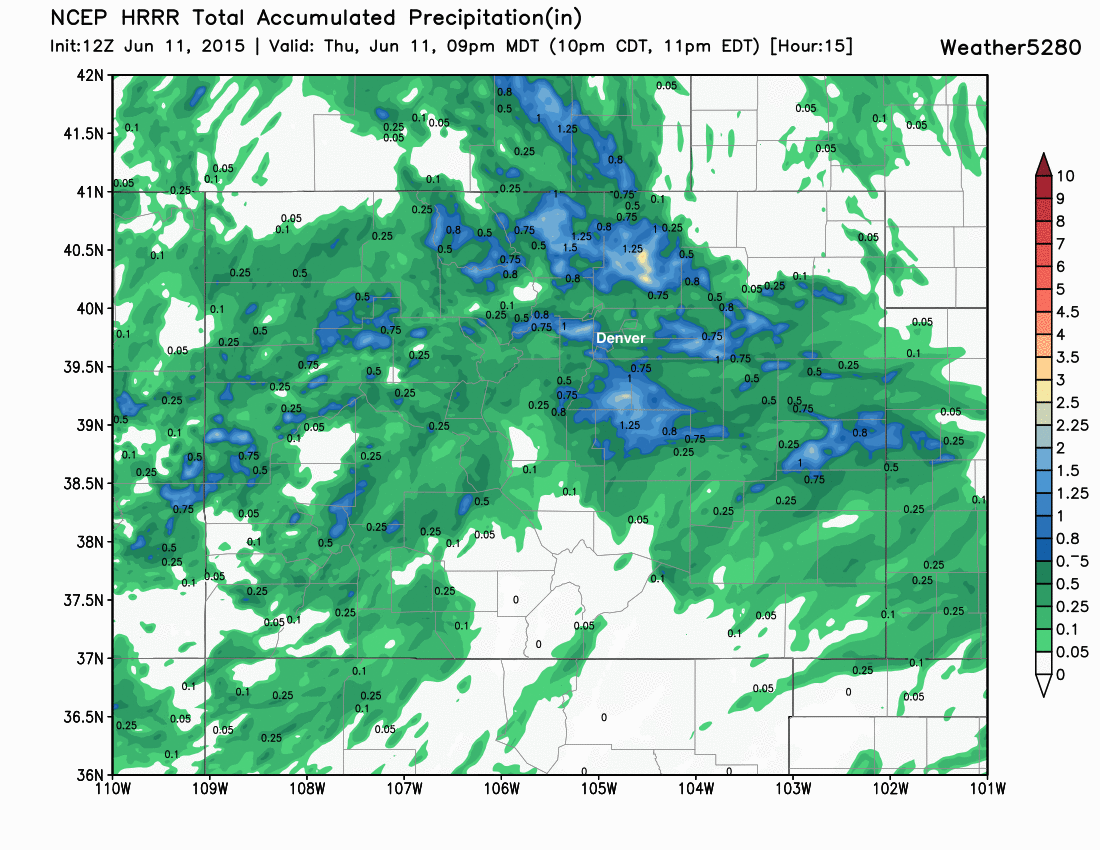 For Denver specifically, we think there is certainly a 'bust' potential as indicated by several of the models dry-slotting the city. That said, we'll go ahead and lean toward the wetter solutions as we don't love how models are handling things, and given the pattern overall it seems the safer bet. Last night's run of the European model produced ~1" rain for DIA, with good agreement between its deterministic run and ensembles. Again, a wet forecast, with the potential to be very wet if a heavier band of rain moves over the city.

Severe weather, too
As we speculated in our previous update, the Storm Prediction Center has increased the severe weather outlook coverage for Colorado today as well. Not overly impressed with the severe weather parameters today, but certainly some storms will be capable of going severe – especially south and east of Denver. CAPE values are expected to decrease during the day across northern Colorado, shifting the greatest instability south by 00z.
And here's the latest outlook from the SPC: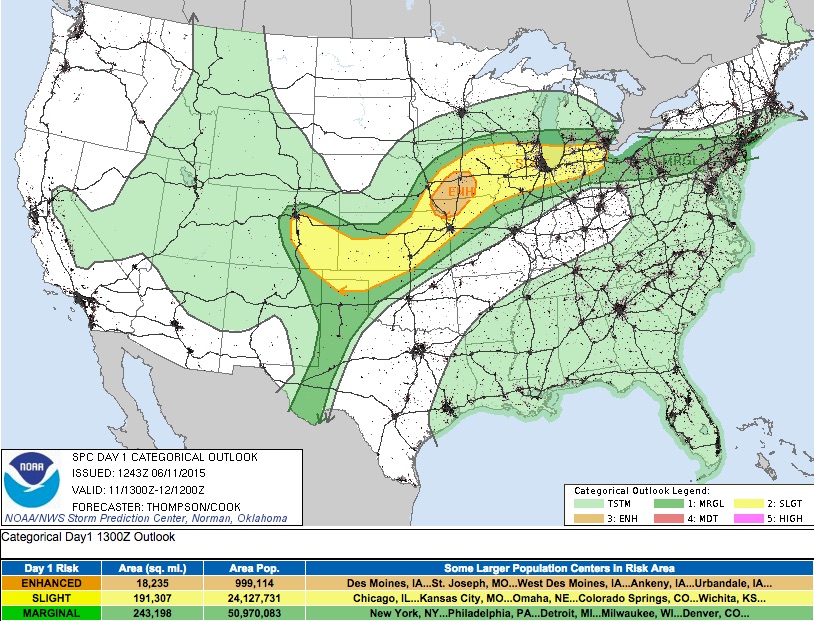 Like yesterday, the tornado threat will be low with severe storms today, but a brief tornado or two can not be ruled out. Damaging wind and hail will be the greatest threats across Denver and southeast Colorado, with 2% tornado probabilities as outlined by the SPC: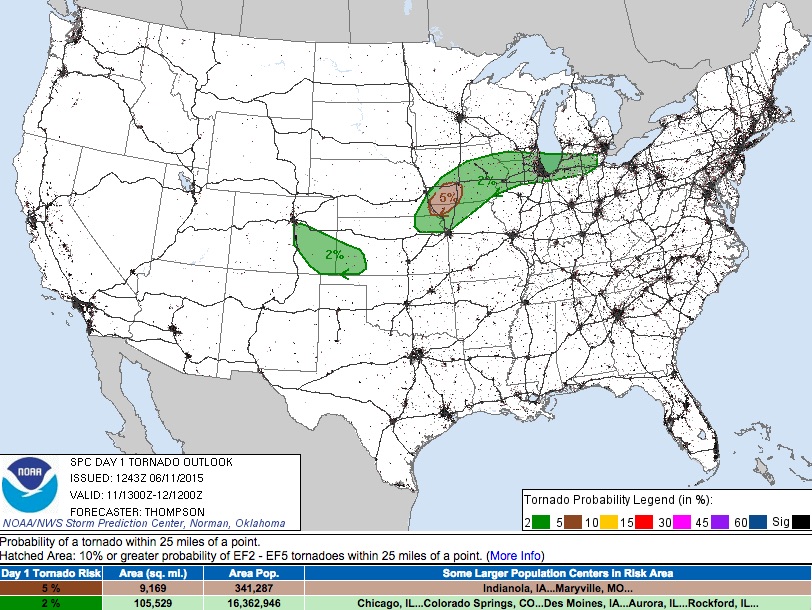 Summary
In short, expect a very active 24 hours across the state with the potential for heavy rain and severe storms. Remember that just in case you don't see the heaviest rain, this doesn't mean others aren't. Convective storms can bring a tremendous amount over water in not only a short amount of time, but also to a very small area.
Rainfall chances increase through the day Thursday, becoming heavy at times Thursday afternoon into Thursday night. The chance for heavy rain continues into Friday (especially across the far eastern Plains), with highs only making it into the mid to upper 60s for Denver.
We'll keep an eye on how things evolve over the next several hours and push along updates as we can to the Live Blog. It may very well be that many of us will be out this afternoon tracking storms, so you'll definitely want to follow us on Twitter (@weather5280) for all the latest. Lastly, if you're not subscribed to Weather5280, you can do so here.