A very typical mid to late June pattern in place across the state, and with that we've seen temperatures really climb in recent days. Denver International Airport finally recorded its first 90 degree day of the year last Friday, which is also the first time the city's been 90° or warmer since September 18, 2014. Officially DIA recorded a high of 92° on Sunday, though much of eastern Colorado saw highs top out in the mid to upper 90s.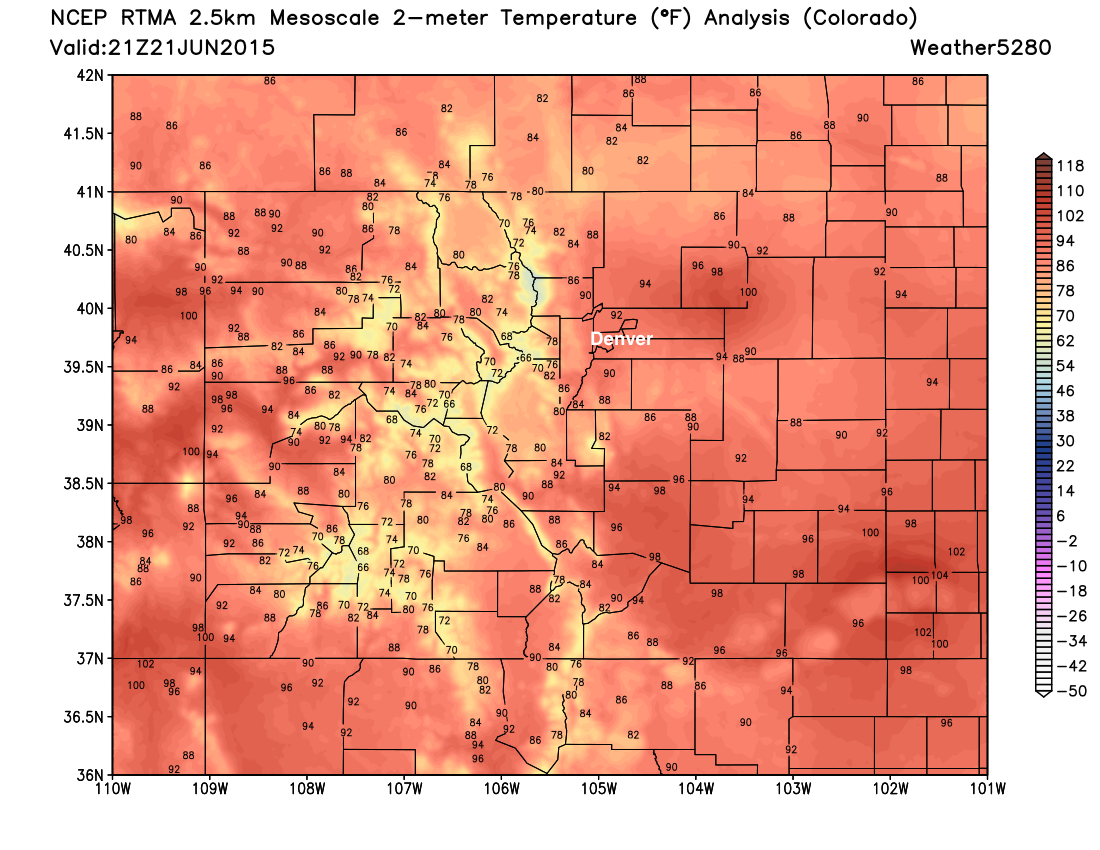 Despite quite a few parameters in place for storms (good CAPE values, great shear, high dews), the atmosphere remained 'capped' Sunday afternoon with a layer of very stable air preventing parcels from rising (called convective inhibition, or CIN), and not enough energy in place or sufficient lifting mechanism to overcome this inhibition. Below is Sunday's 12z sounding from DIA, showing layer of warm air above cooler air at 850mb and area of negative buoyancy. We should see similar conditions today and tomorrow.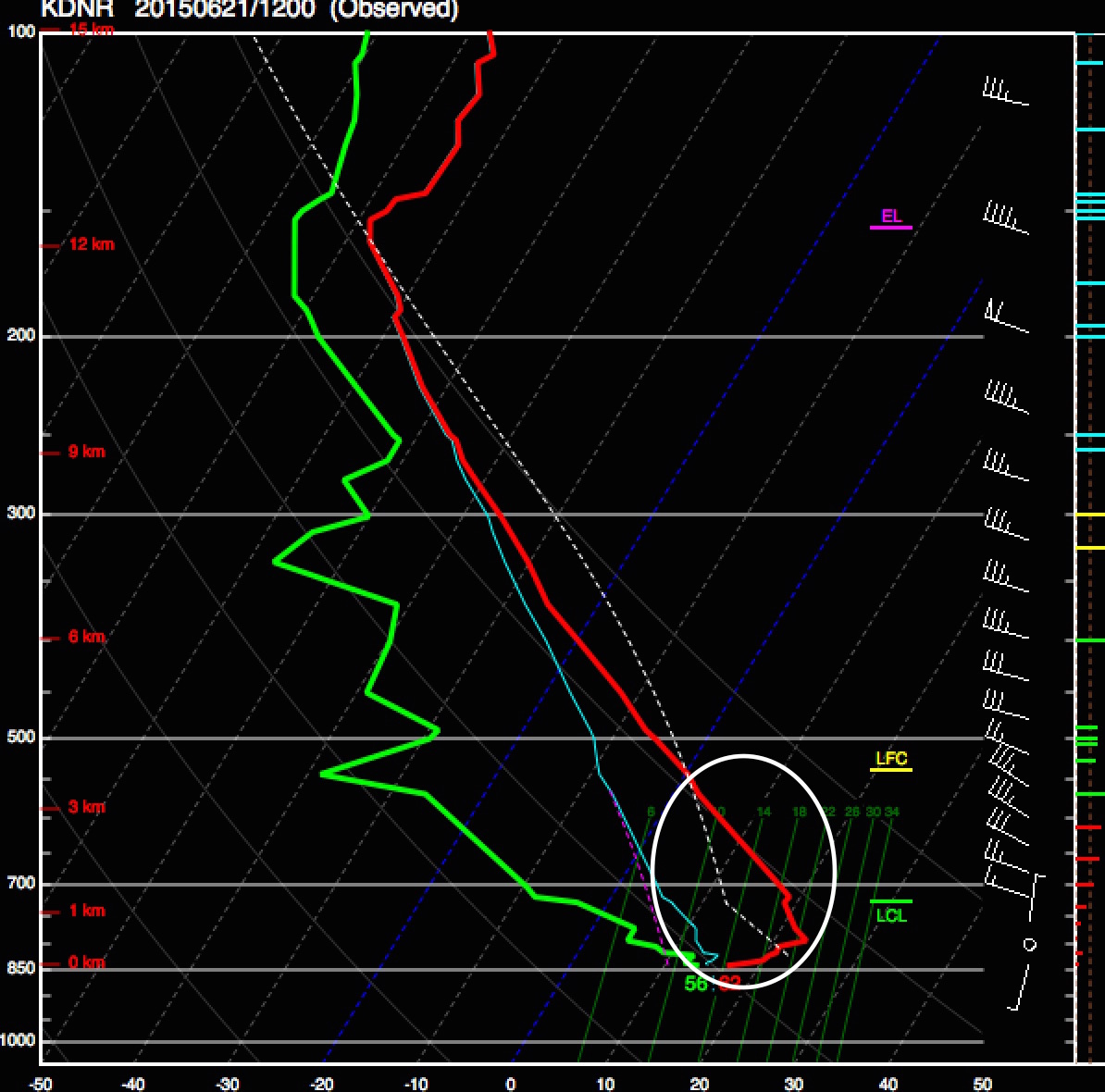 The week ahead
The week ahead will feature a few more very warm days, with low precipitation chances to start the week as inhibition is forecast to remain in place. Both today and Tuesday will likely feature highs in the 90s again across the greater metro area, but should be a few degrees cooler across the metro area as compared to Sunday.
By Wednesday the storm chances slowly start to increase again across the forecast area, and with that slightly cooler temperatures are forecast to return as well. Even as highs drop back into the 80s for Denver, temperatures are forecast to average above normal over the next five days: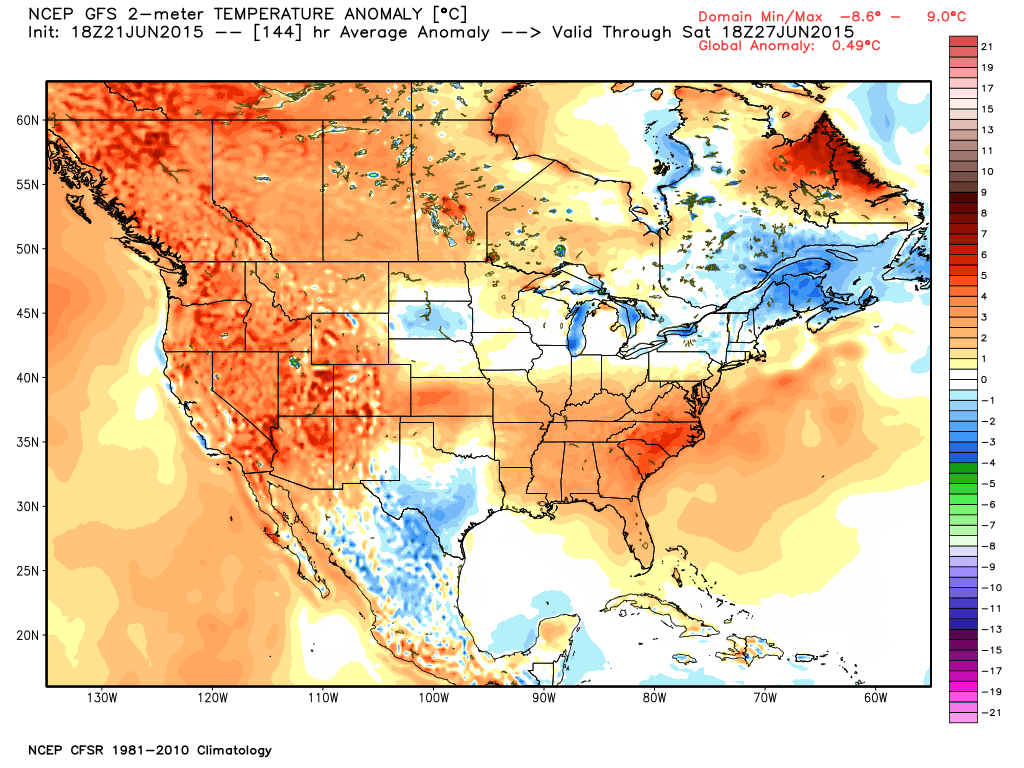 Some indication next weekend and beyond that will cool a bit further yet, with the real heat moving back into the Pacific northwest. Still some questions here as how thing will play out, but general look as cooler temperature anomalies in the eastern U.S. to start July, warm in the northwest U.S., with Colorado somewhere in between.
As for precipitation... this remains a bit more in question. Again, the next several days continue to look pretty dry outside of a few scattered storms that manage to develop. By Wednesday and Thursday models start introducing a bit more QPF into the grids, but nothing overly substantial at the moment. For now will increase storm coverage for the second half of the week, but not get too carried away with anything. There will be a big western ridge in place by the weekend with a northwest flow dominant across the state, with embedded features and better moisture in place to possibly increase storm coverage further.
Taking a look at the 10 day precipitation forecast from the GFS you'll notice things looking at least slightly wetter in the western U.S. as compared to the map we shared Friday but not overly so. For Colorado, QPF increases to >1" across portions of southern and eastern Colorado, with the best chances for rain likely coming as we head into the weekend and beyond.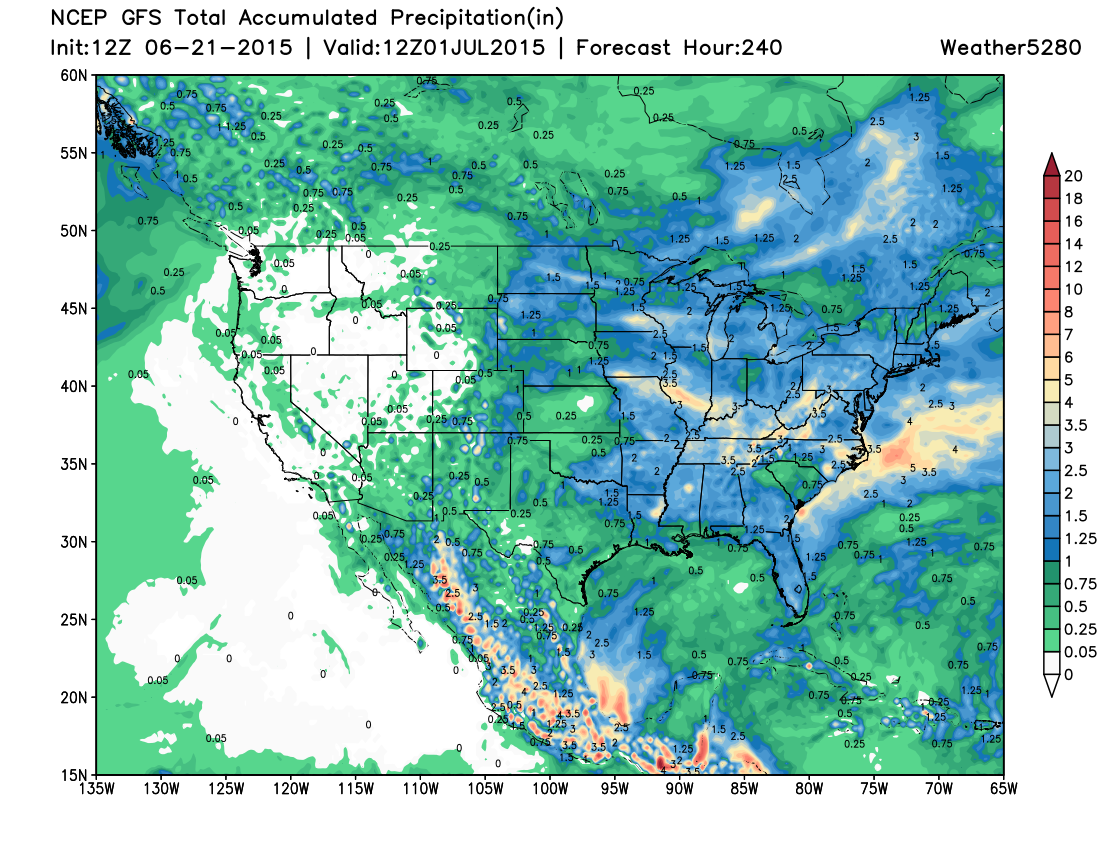 In all, coming off a period of quieter and warmer weather than we've seen in quite some time. We expect this to continue for at least the next couple of days, before better storm chances return to the state for the second half of the week into next week. We'll leave you with a map showing precipitation totals over the last 5 days, one of the quieter maps of this type we've seen in some weeks.