A big western ridge will pump record-setting heat into the northwest United States this weekend, with highs expected to exceed 30° above normal for many locations Friday through the weekend. Heat Advisories, Red Flag Warnings, and Excessive Heat Warnings are posted up and down the west coast with the expected heat over the next several days. For Portland an Excessive Heat Warning goes into effect Friday afternoon through Saturday night, with forecast highs expected to reach 100° Saturday. The normal high for the date in Portland is 76°.
Today's 18z GFS 2-meter temperature anomaly forecast shows highs Saturday >18° above normal for most of Washington, Oregon, Idaho, and western Montana: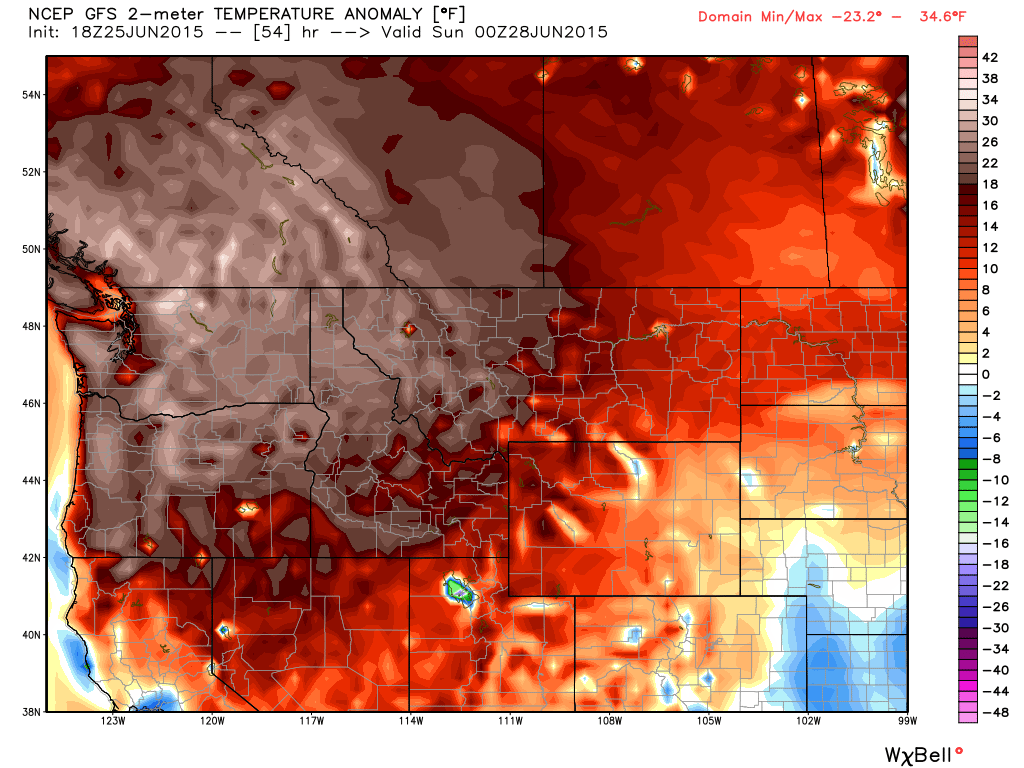 Forecast highs Saturday will range from the mid 90s to 107° depending where you are, with all the numbers circled in the image below being temperatures forecast to set a record for the date.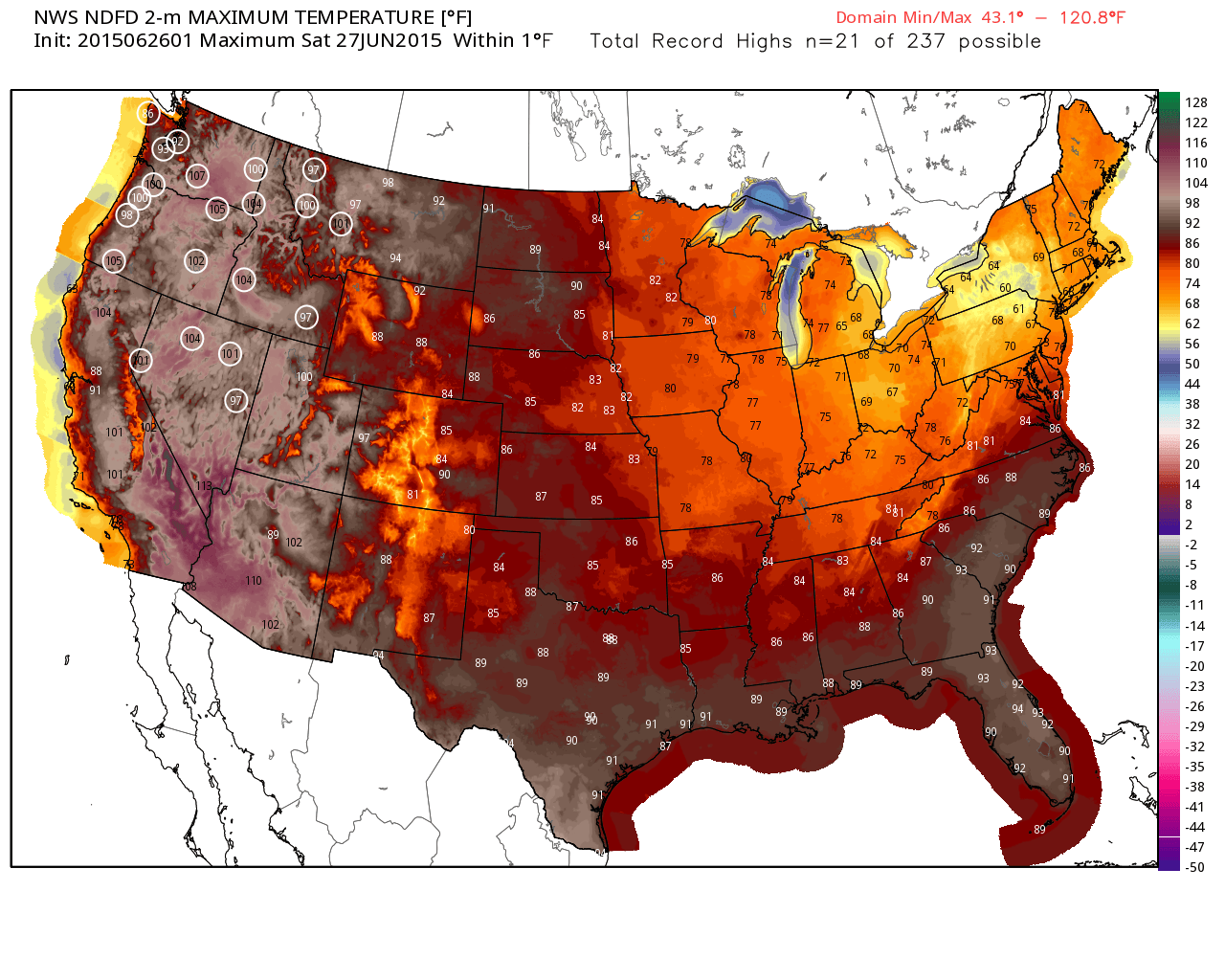 Responsible for the heat is a pattern we're very familiar with. As the west bakes this weekend, the trough moves into the east bringing with it cooler temperatures.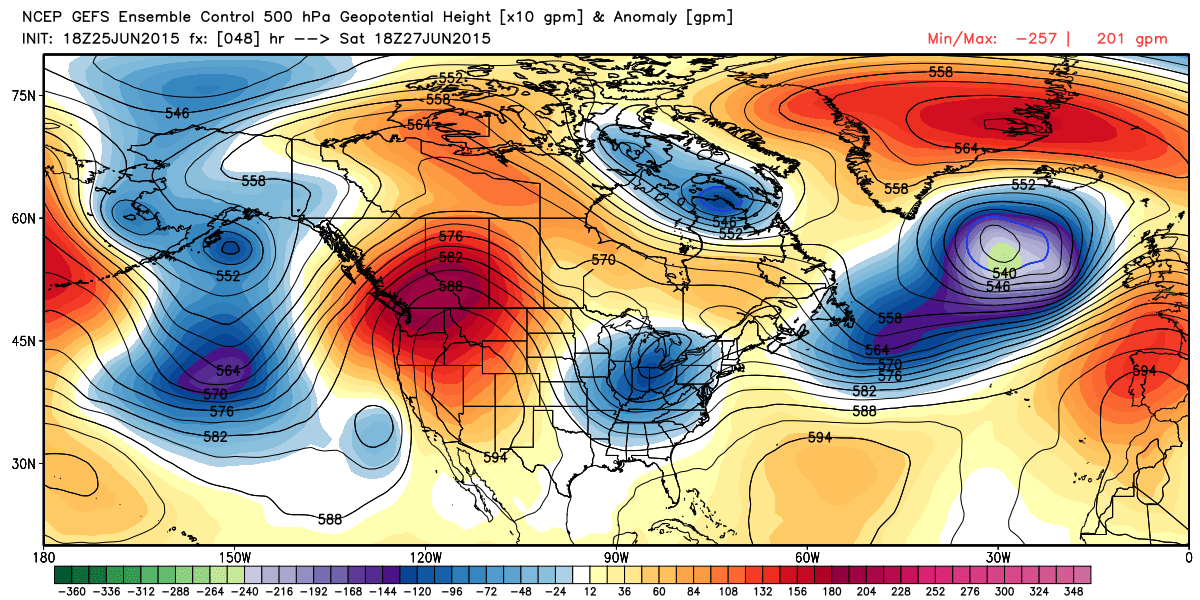 Colorado will again be somewhere in between, leading to what will be a hot, but probably not too hot, weekend around here. MOS guidance has temperatures near 80 Friday (some models forecasting KDEN doesn't break 80°), with highs climbing back into the mid to upper 80s for the weekend.
Storm chances will remain each day for Denver, though decrease a bit as we head into Saturday and Sunday. Storm chances for Friday should be near 20 to 30% for Denver, with chances dropping to 10 to 20% for the weekend, with only isolated storms expected. The severe storm threat is also forecast to be greatly reduced as compared to the last several days.
The GFS precipitation forecast through the weekend shows pretty dry conditions across the west, with widely scattered (generally light) precipitation totals across the eastern Plains of Colorado. We may see a bit better coverage for the Front Range mountains, and across south-central Colorado: