Bike to Work Day hit high water Wednesday as a severe thunderstorm brought heavy rain, hail, and damaging wind to Denver. Rainfall totals in excess of 2" were reported across the city in just a short period of time, pushing river levels high once more and flooding local streets.
Storms developed over the foothills around 4pm Wednesday, and quickly pushed east into the metro area. As these storms developed they consolidated over the city and slowed, leading to heavy flooding rain.
The flooding made for a very difficult commute for both bicyclists and cars Wednesday evening. Many intersections around the city filled with feet of water, leaving motorists stranded as high waters caused vehicles to stall.
This was the scene all over town:
The Cherry Creek filled to the brim as is typical with these storms, but unfortunate timing given the number of bicyclists that used it to commute Wednesday morning:
A tornado warning was also issued on the storm, with a few folks reporting a tornado on the east side of town. The National Weather Service has not yet confirmed if damage found is consistent with that of a tornado or not. There were several reports and images of a funnel from Aurora, but most of the damaging wind seen across the city was not tornadic.
Hail reports from dime size in the downtown area, to >2" southeast were common with this storm. Dr. Ryan Maue Tweeted this image out Wednesday afternoon showing hail estimates from the storm. The hail swath covers Denver County almost exactly, with very little hail elsewhere across the region.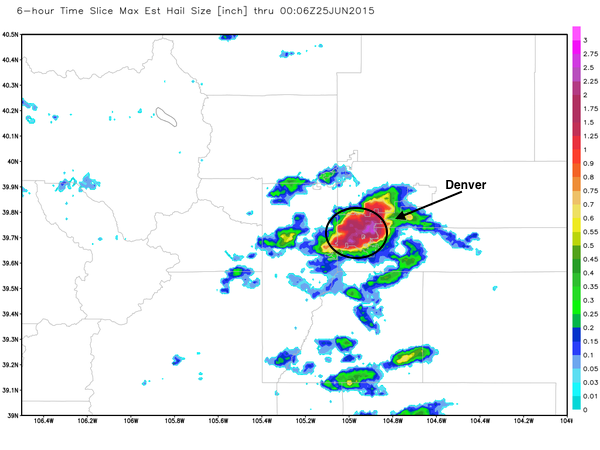 Our weather station which is one mile south of downtown recorded 1.99" of rain with this storm. Similar to the hail map above, notice how small the area of torrential rain was Wednesday, it just so happened it was right over the largest population core: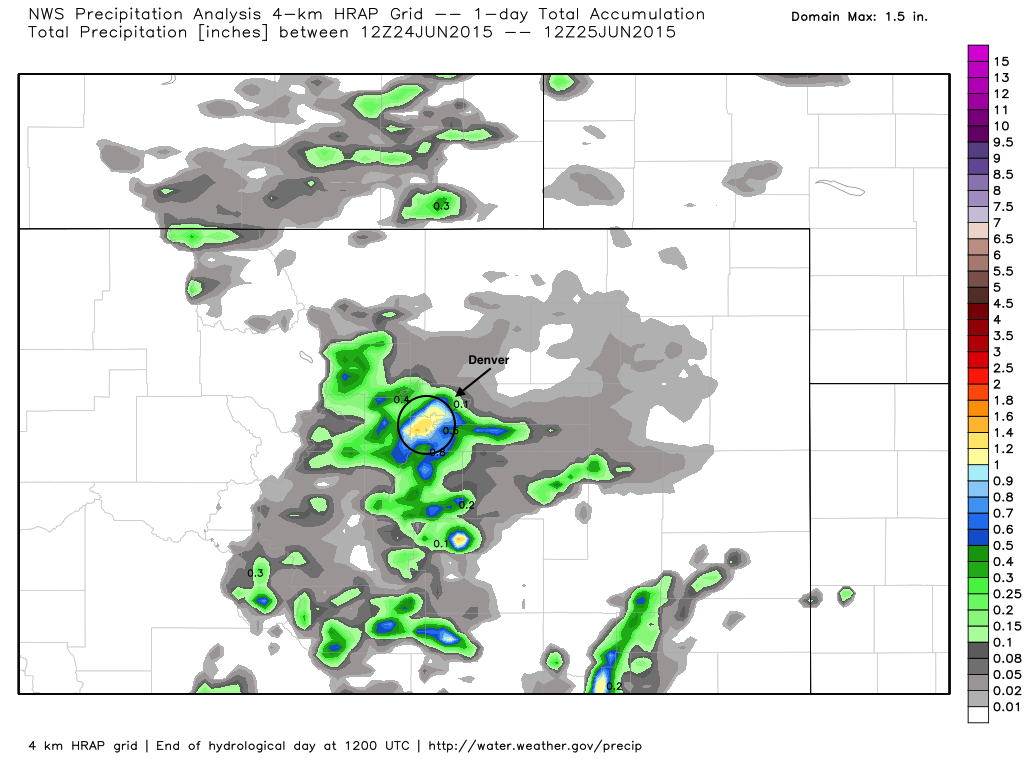 Severe storms possible again today
More storms are possible today, with a few of them possibly becoming severe. The Storm Prediction Center has issued a slight risk for severe storms across most of northeast Colorado this afternoon, with an enhanced risk for severe storms across the northeast corner of the state. The greatest risks with today's storms will again being damaging wind and hail.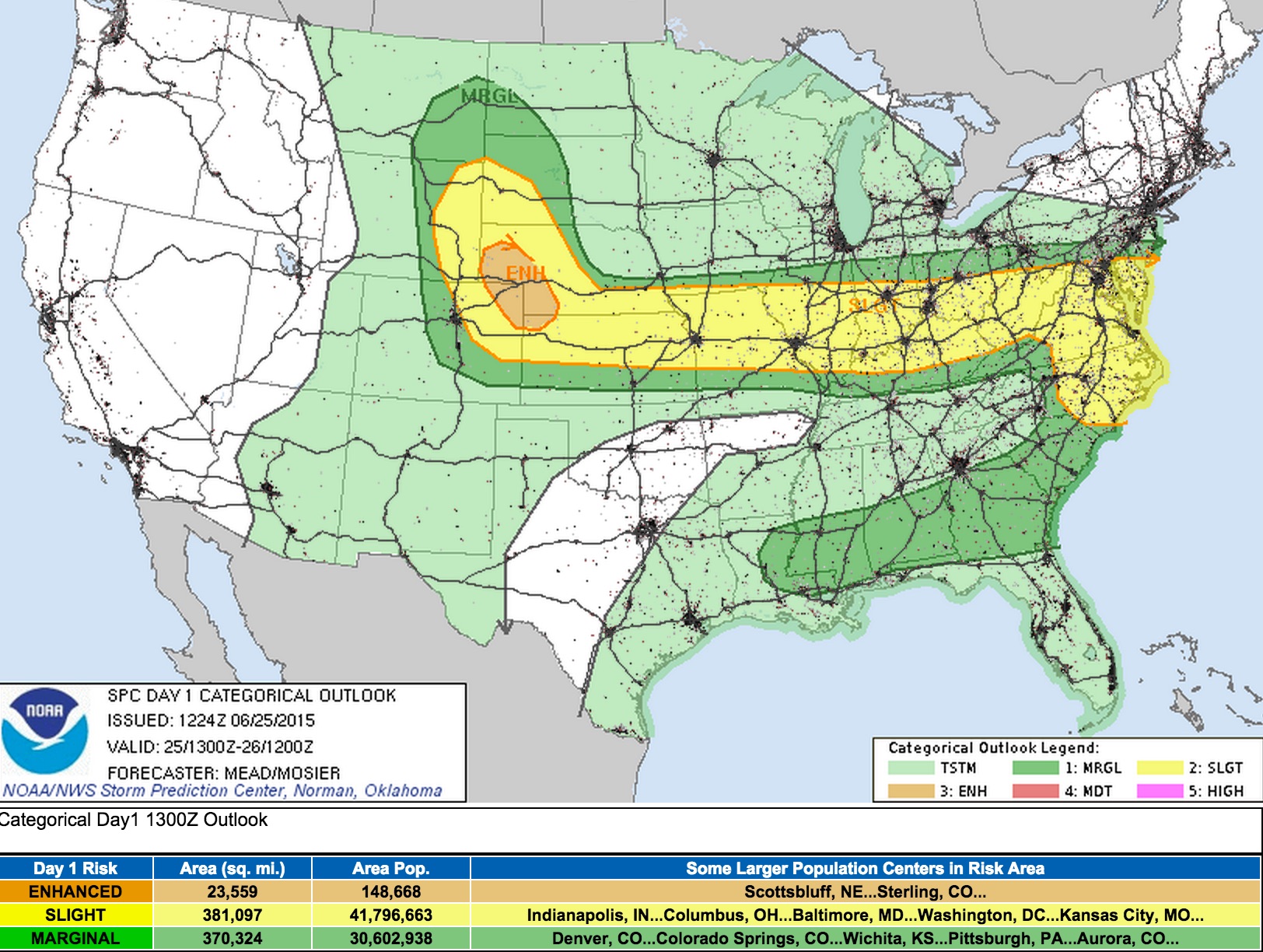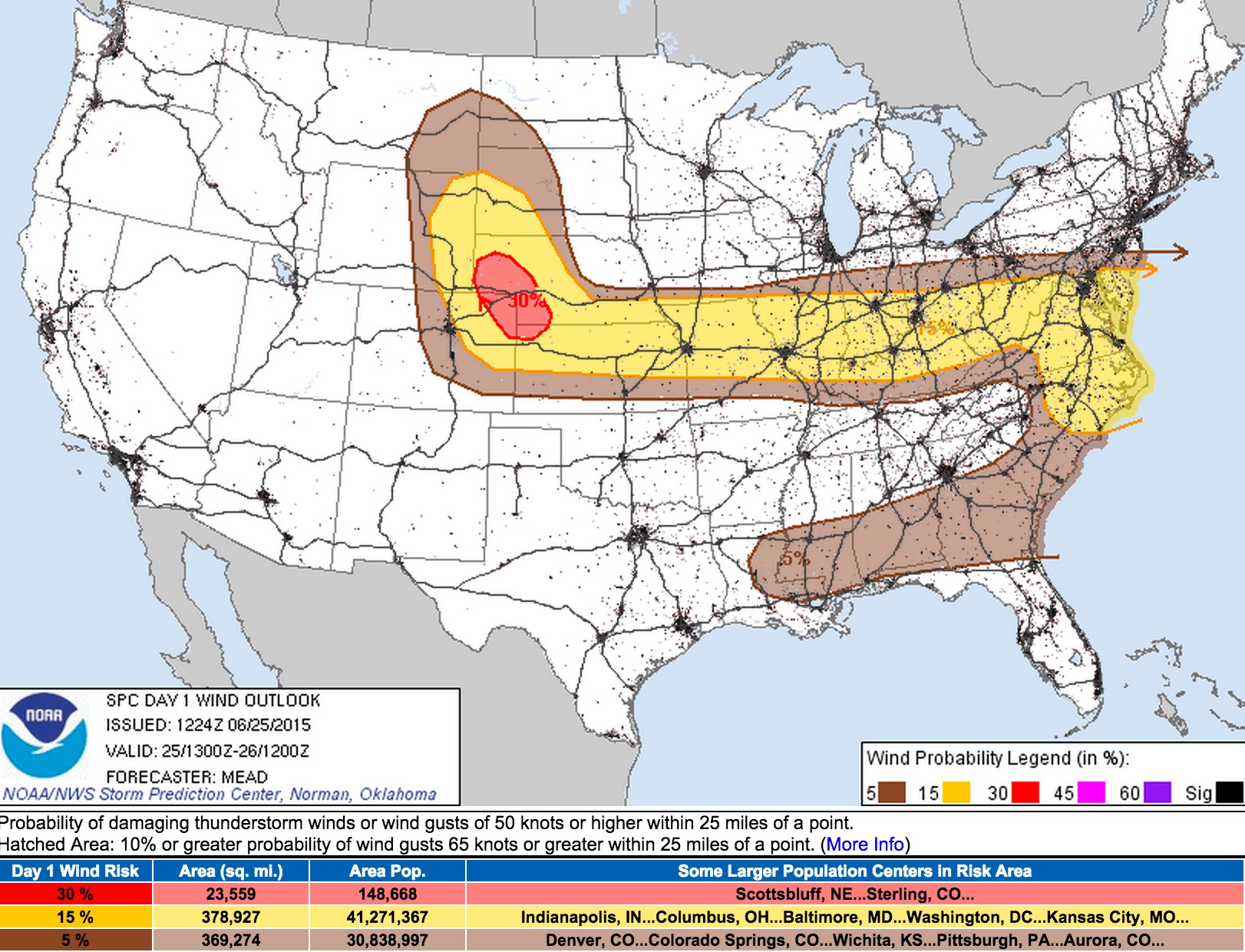 Denver's storm chances will be at about 30%, with any storms that do develop being capable once more of producing heavy rain, hail, and damaging wind. Latest hi-res models suggest the greatest chance for storms will be just east and northeast of Denver, though certainly wouldn't rule out a few strong storms along the I-25 urban corridor later this afternoon.
Have images from yesterday? Add to the comments below!