It's been an impressive couple of days weather-wise across the region as a significantly 'chilly' airmass has certainly made its presence known. Monday's high was just 65° officially for Denver, which is some 24° below normal for the date, and just 7° warmer than the average low for the date. A quick look at temperatures over the last week shows relatively normal daily heating and cooling followed by flat-lining of temperatures behind Sunday's front:

Precipitation totals since Sunday haven't been hugely impressive, and as discussed in this week's State of the Atmosphere, the higher totals have largely been confined to the higher elevations west of I-25.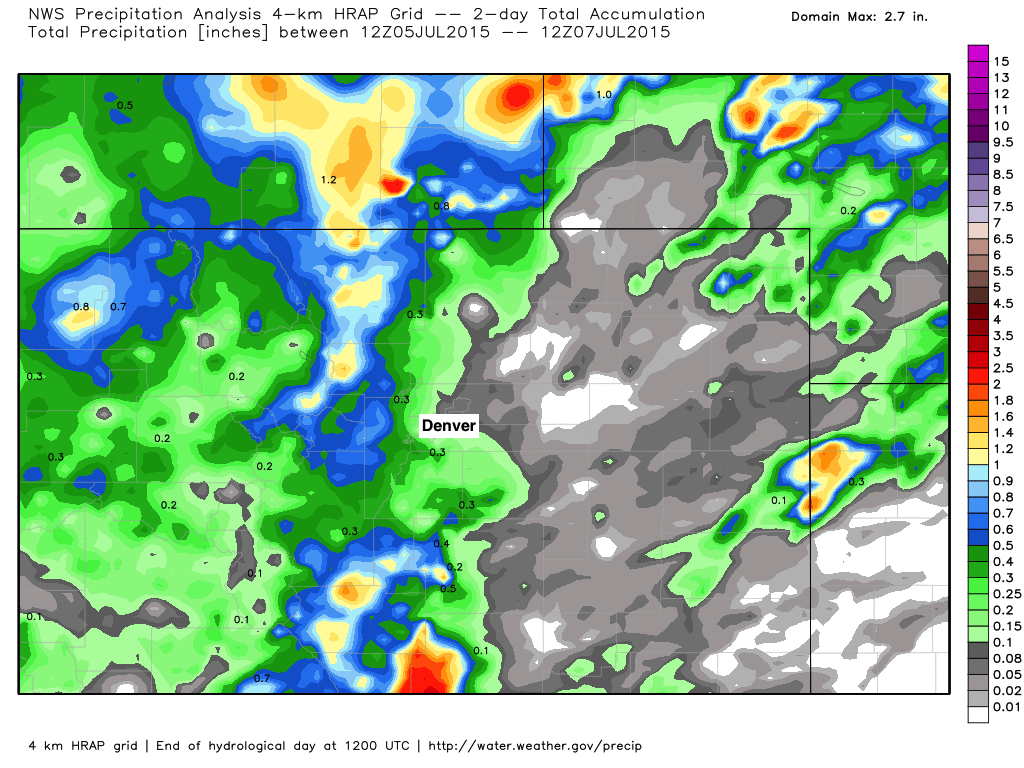 We've been tracking showers and storms all afternoon across the state today, though precipitation (overall) has been on the light side. A few heavier storms have been embedded within the shower clusters, especially south along the Palmer Divide and Colorado Springs area, but thus far no flooding concerns for these areas.
As showers and storms come to and end later tonight across the region, our focus will turn toward Wednesday where their may be a better chance for storms across the region, especially along and west of I-25, and across the Palmer Ridge and southeast. The WPC is outlining the Palmer Ridge and portions of southeast Colorado as being under a Slight Risk for exceeding Flash Flood guidance on Wednesday: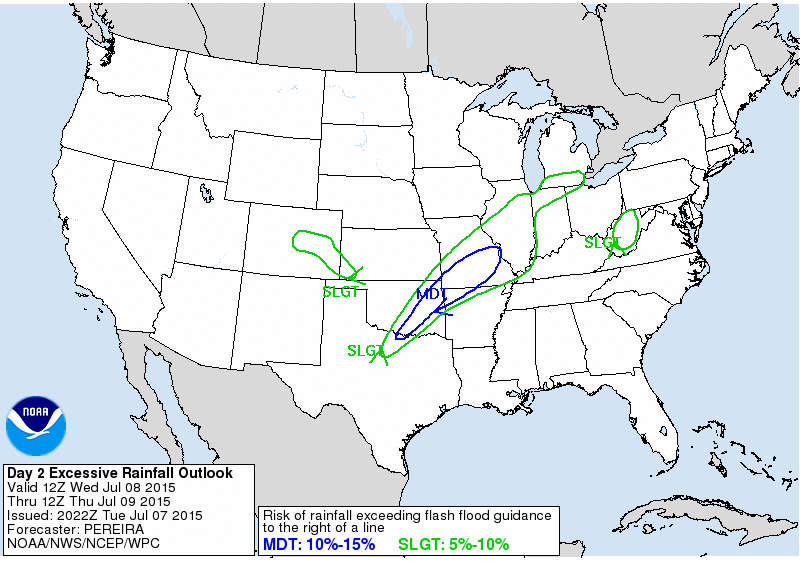 PWAT values will again near to >1" across much of eastern Colorado on Wednesday, which, combined with a slightly more unstable airmass means a better chance for heavy rain and potential flooding Wednesday.
Models are ranging anywhere from 0.3" to 2.5" across the metro area, all depending on how things setup Wednesday. The 12z EURO produces ~0.85" for KDEN. A quick look at a few other models show varying totals by location, but certainly a west and southern bias for the greatest QPF.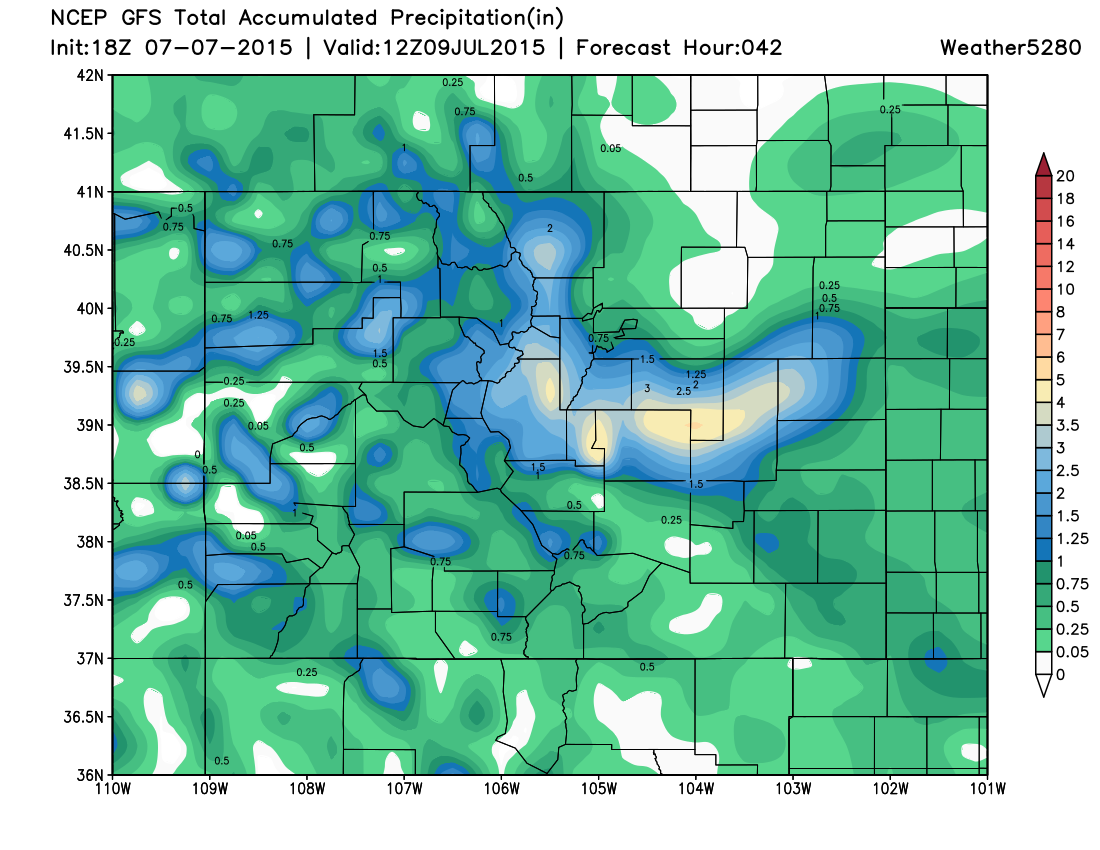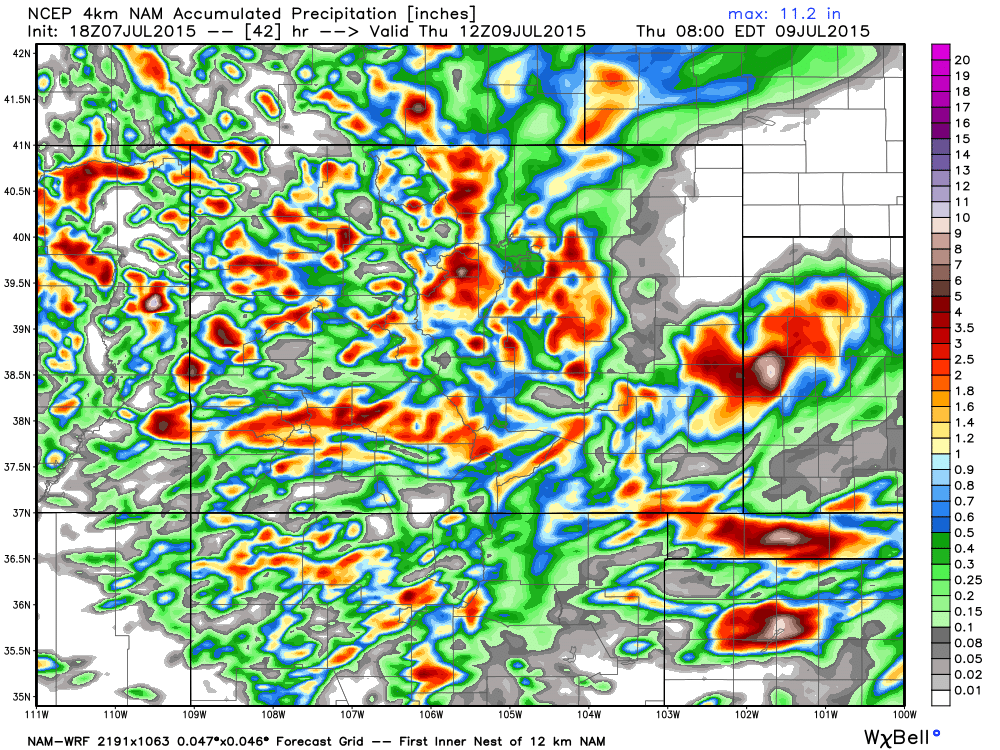 And the WPC precipitation forecast through Thursday morning, showing a swath of heavier precip across the Front Range foothills, extending southeast of Denver: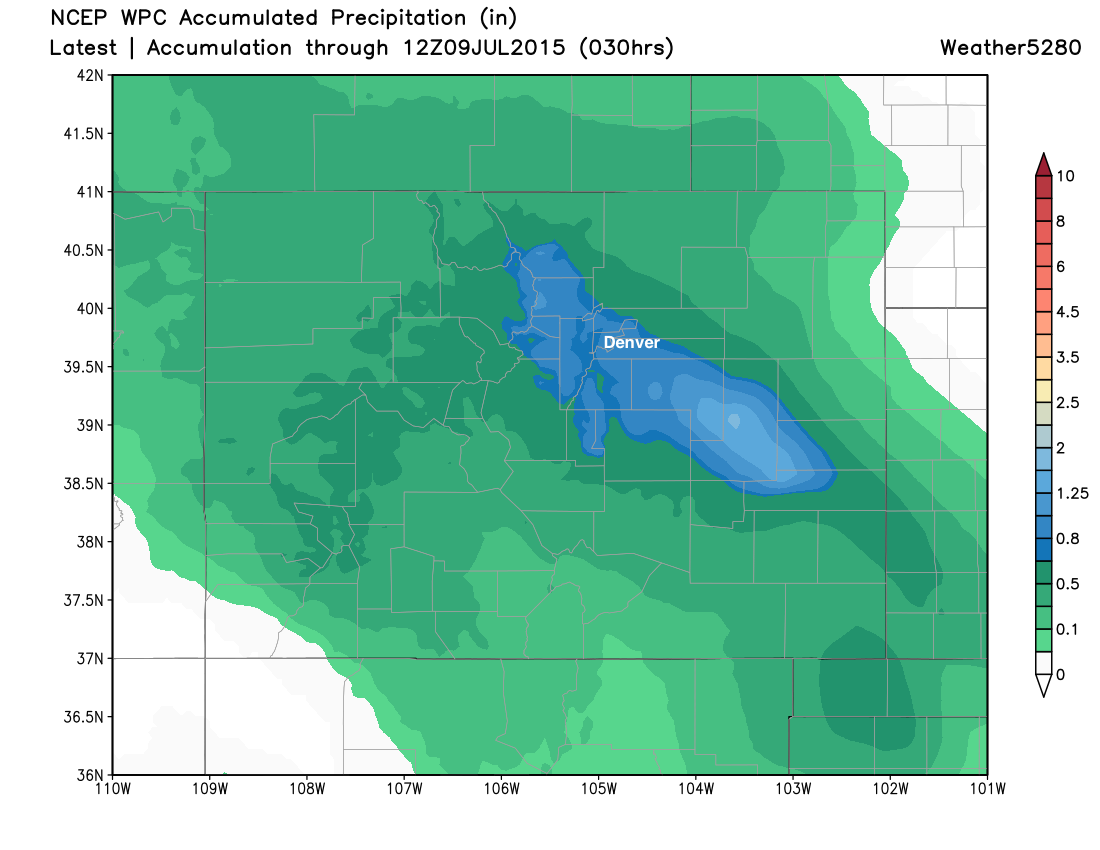 Lastly, the severe threat should remain low, though certainly can't rule anything out Wednesday. Currently the SPC has the only Marginal Risk for severe storms Wednesday over extreme southeast Colorado, though we'll see if they bump that north a bit later tonight or tomorrow.
The remainder of the week still looks to slowly warm and likely dry out a bit across the region. Highs will finally make it back into the 80s by Thursday, with likely 90s (or near 90) back in the forecast for the weekend. While the pattern dries into the weekend, we'll keep the chance for storms in the forecast each day of the next week for Denver.