It's unbelievable how time flies! We're now in the last weekend of July, with the start of August (and last month of meteorological summer) set to begin a week from yesterday.
Despite the recent string of hot days, July 2015 average temperatures remain below normal across the state. While we'll be very hot through Monday across eastern Colorado, we should see highs drop back to near and below normal for much of the remainder of the week.
To date, the average temperature for July at Denver International Airport is 72.3° F, which is 1.7° below normal. While we may see that average inch closer to normal after warm days today and Monday, cooler temperatures that arrive Tuesday should mean we stay below normal for the month when all is said and done Friday.
Monday may be one of the hottest day of the year for Denver, with afternoon highs climbing into the mid to upper 90s across the region. Latest GFS MOS guidance for Monday is 96°, NAM MOS is 95°, and GFSX MOS is 98°. By Tuesday we should see a nice punch of cooler air invade the state, dropping highs back below normal:

Taking a quick look at month-do-date temperatures across the U.S. we see widespread below normal averages through today, the exceptions being in the southeast and northwest. If we take a peek at our July temperature forecast the overall "look" is pretty good – though certainly not cool enough in southern California, and a bit too warm for New England and the Great Lakes as well:

Precipitation
While we should see some moisture around over the next week, the precipitation forecast overall doesn't have us all that enthused for the Denver area. We've seen some good storms across the Plains this afternoon, but the urban corridor has been very dry for some days now. Even Tuesday's nice cold front looks pretty dry at this time, with best chances for precipitation being south and east of Denver. In fact, greatest QPF over the next 5-7 days appears to favor the southern half of Colorado in general, with lesser coverage (overall) across northern and northeast Colorado.
The 12z GFS shows this quite well, and there's actually remarkable agreement between the models here. It looks like a nice wet week for eastern Arizona, New Mexico, and Kansas, with the flow of subtropical moisture staying south of Denver, predominantly.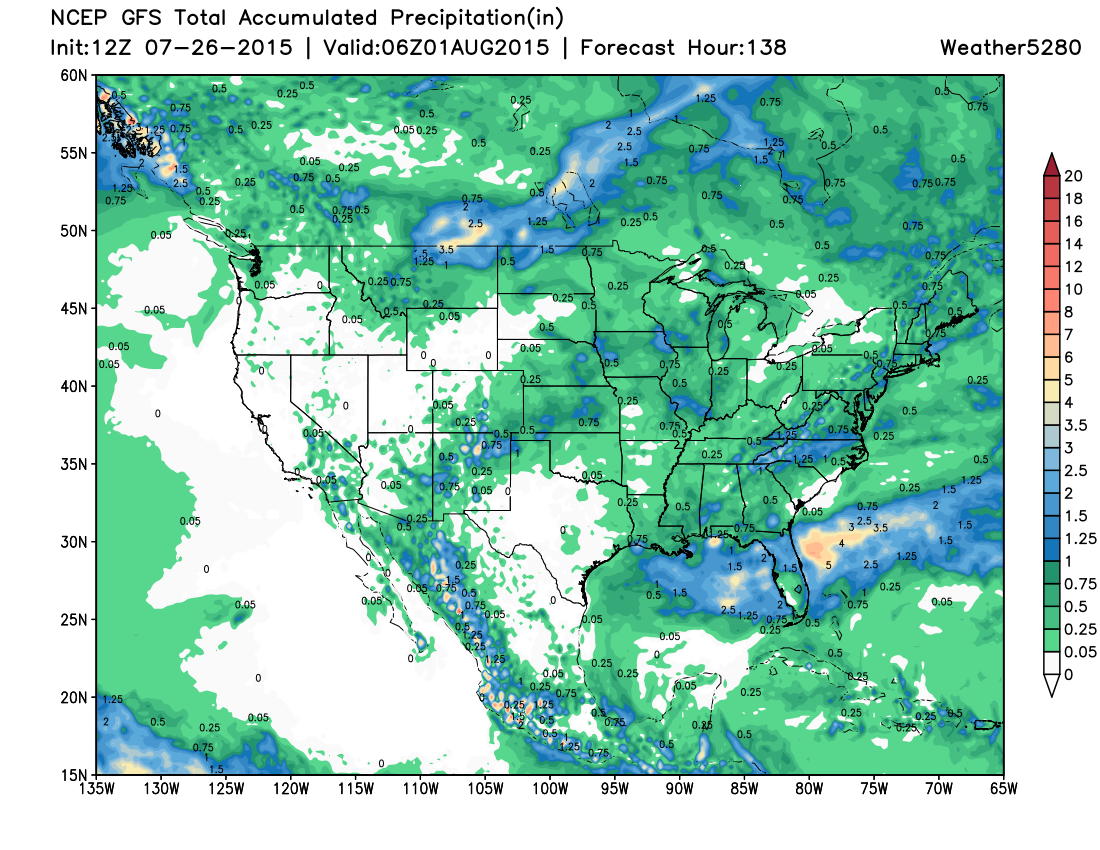 By next weekend temperatures will have warmed again to near normal and above. While medium range models don't look too wet for the area next weekend, a bit too far out to rule out storm chances, so will keep them in the forecast for now and update as needed through the week.
If we look beyond this week and into the first week of August global models suggest we start seeing a better return of moisture for northern Colorado. A long ways out, and some drier weather to get through before than, but something we're watching and certainly would make sense climatically to see moisture return.
Enjoy the summer heat, and stay tuned!