Well, the "beautiful" part of our weekend forecast worked out really well for today. The high through 3pm downtown was just 78.2°, running an almost perfect 8 degrees below normal for the date.
Yesterday was a bit of a mixed bag. We managed to warm quickly to a high 94° F in the city ahead of a strong cold front Saturday afternoon. Temperatures fell dramatically behind the front, from 94.6° at 1:28pm to 76.4° at 2:13pm. According to the National Weather Service in Boulder, the overnight low last night (early this morning) dropped to 43°, two shy of the record low for the date of 41° set in 1964.

The main issue yesterday, and to a certain extent today, has been the smoke. While yesterday's front cooled our temperatures nicely, it also ushered in more smoke from wildfires burning across the northwest United States. As a result, air quality over recent days has been very poor. A look at satellite imagery from Saturday shows quite vividly the upper level feature (swirl of clouds) north of Colorado which brought us both cooler air and a reinforcing shot of smoke.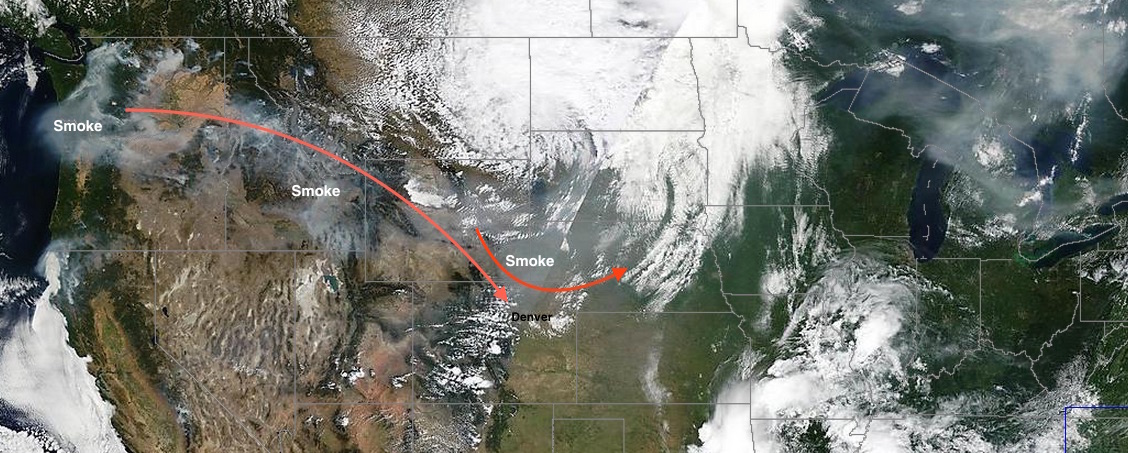 The week ahead
In the coming days we should see some improvement from the smoke as the northwest flow will ease. At the same time, this will allow temperatures to warm again as the ridge reestablishes itself. MOS guidance has temperatures back near 90° for Monday, and possibly low to mid 90s for Tuesday. Both days look pretty dry across lower elevations, with some storms returning to the high country.
KAT FIVE: This week is the 10 year anniversary of hurricane Katrina
The weather over the next week across northeast Colorado continues to look rather unremarkable if you're craving anything outside of 'pretty darn nice' every day, with only a few chances for scattered storms in the forecast. Most of the storm activity through the end of the week will be confined to the mountains and western Colorado, with very minimal QPF in the grids for northeast Colorado.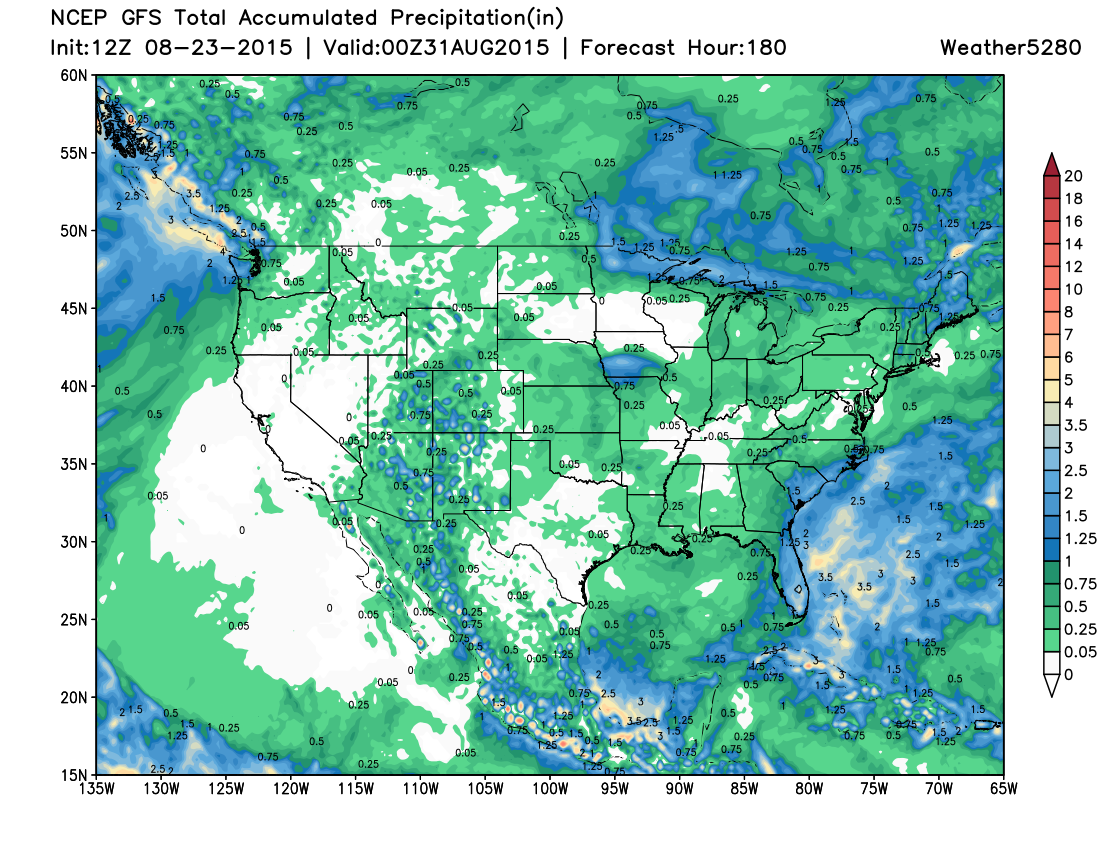 We will see at least one disturbance pass through the region by midweek which should help knock temperatures down again from the rather warm readings forecast Tuesday, but at this time it looks largely dry and generally unimpressive. The ridge is forecast to strengthen once more by the weekend.
Month to date
With roughly one more week left in August (can you believe it?) a quick peek at the numbers shows Denver running slightly above normal for temperatures and slightly below normal for precipitation. Through yesterday, DIA is running 1° F above normal and has recorded 1.06" of precipitation, which is 0.27" below where we should be for the date.
East of Denver temperatures are running a few degrees below normal, with spotty areas of above normal precipitation as well. Mountain areas have seen the greatest precipitation shortages this month, with temperatures running above normal as well.
Month-to-date temperatures departure from normal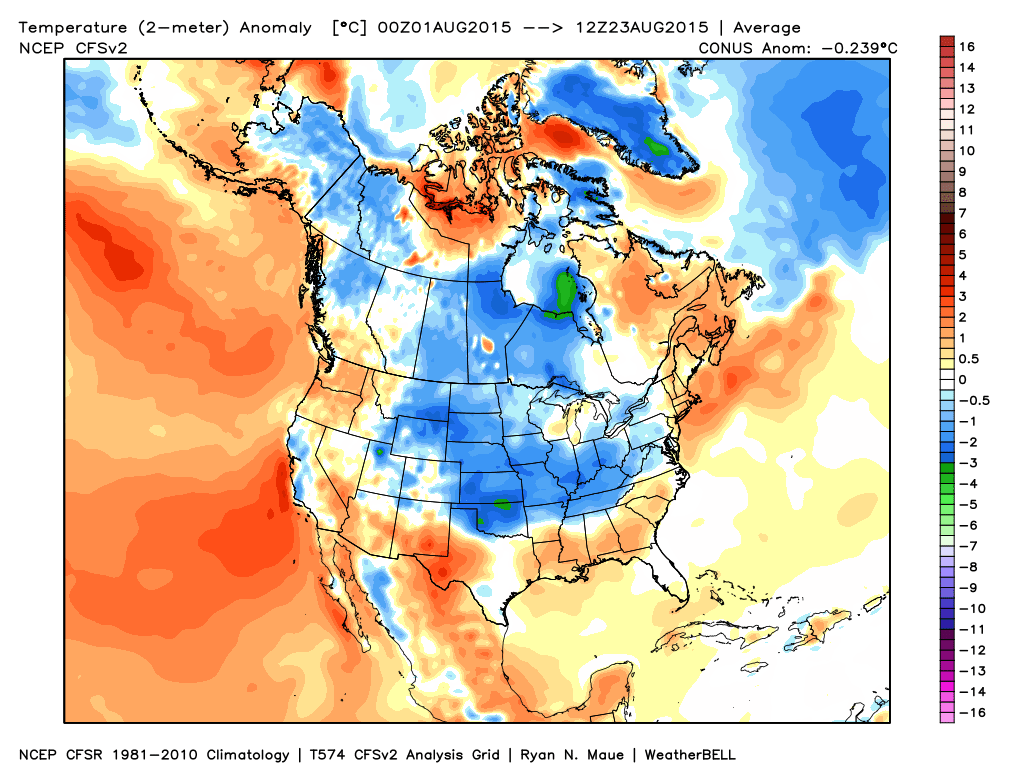 Month-to-date precipitation % of normal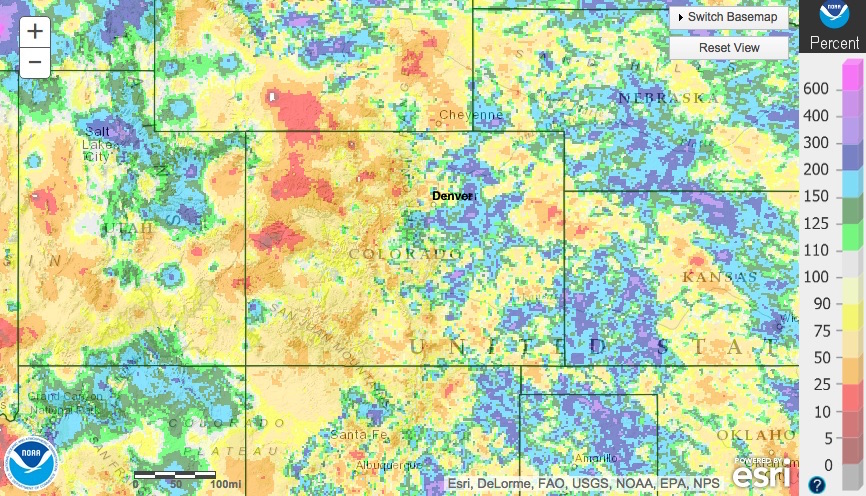 From where we sit today I'd expect Denver to end the month near-normal for temperatures, and slightly below normal precipitation. We'll see.