It feels a bit awkward to write another update on this system... but, it's potentially our first snow for the city, and models have left just enough intrigue in today's runs that we thought it was worth getting something out. The trend, if there is one, has been to favor a bit more snowfall across the metro area.
Overall, the forecast isn't changing much from our update yesterday. You no doubt have felt the cool down by now, and we'll be even cooler to end the week.
There will be a chance of snow with this system at lower elevations, and while many locations at lower elevations will likely see little or no accumulation – we are tracking the potential for a few spots across the Denver metro area to see some light accumulation by late Thursday morning. The greatest chance for snow appears to be lining up for Thursday morning, with mostly rain this evening before midnight.
Generally speaking this will be a 0 - 2" event for the Denver area, with many locations likely seeing no accumulating snowfall at all. Temperatures should remain warm enough that most accumulation that does occur will be on raised (grassy) and cool surfaces, though keep an eye out for slick spots Thursday morning, particularly above 6000ft.
A few locations may do a bit better than the general 0-2", however, and that's what we've been watching closely for today. Models are indicating that there may be some banded snowfall on the back end of this event Thursday morning (provided temperatures cooperate) which could possibly lead to a few isolated locations picking up a quick few inches. You know the drill: it's hard to narrow in on exactly where this band would set up – but something to be mindful off. Our two areas for bust high potential are the northern metro area, and western suburbs/Palmer Divide as outlined below. No Bust Index needed for this event, as the low-end for all snowfall totals is 0".
The GFS remains one of the least bullish for snow, due in large part to running a few degrees warmer than other models, which is typical. A look at its 18z run shows some snow for Denver's southern suburbs, but not much to speak of otherwise: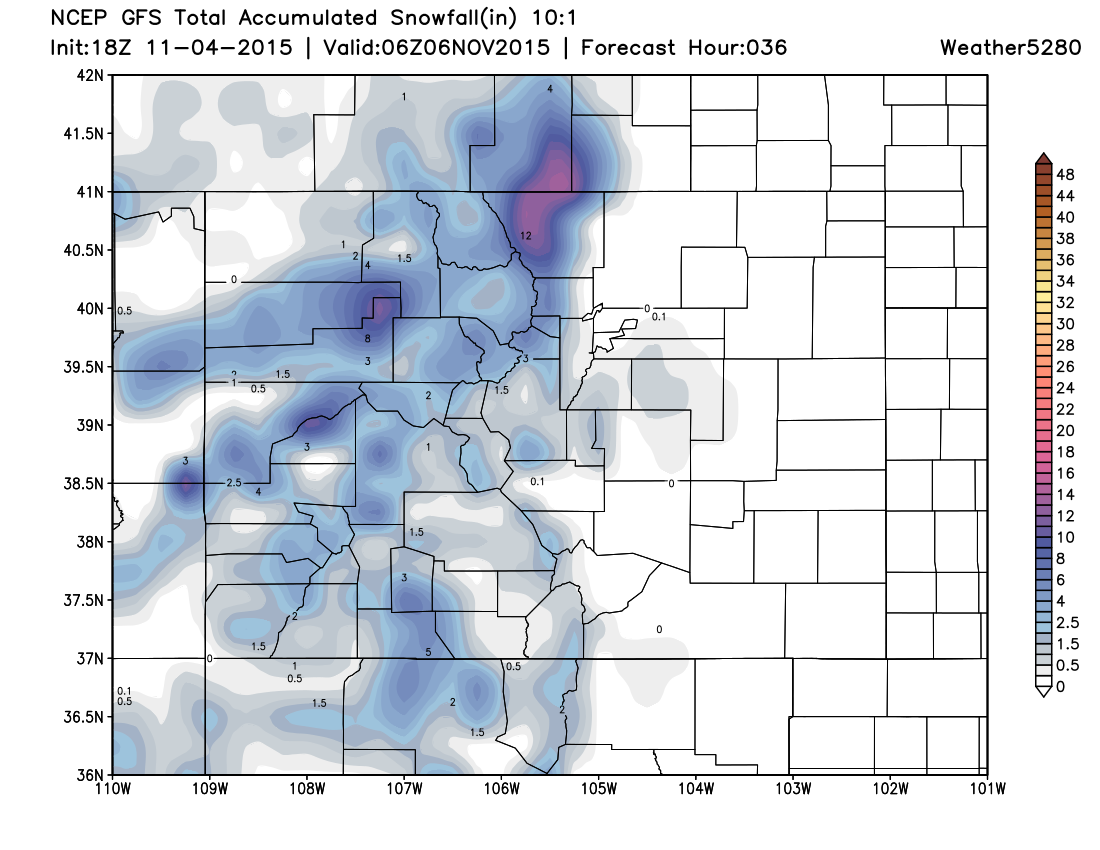 The 18z NAM (a model which has been basically dry up to this point) is showing some life however, with a decent band of heavier snowfall for the higher terrain southwest of the city, and 1 - 2" for Denver:
The EURO is somewhere in between, with a narrow band of 1 - 3" snow across the northern suburbs, and roughly 0 - 1" for the rest of the metro area.
By no means a blockbuster snowfall event on the way, but this system could have just enough tricks up its sleeve that it's worth keeping an eye on things tonight and Thursday morning. The first snow is always an exciting one, so if we manage some flakes, enjoy, drive safe, and send us some pictures!