Congratulations Denver International Airport, you did it. You picked up 1" of snowfall last night, meanwhile Denver was pretty much snowless. This marks this year's first snowfall as 5 November 2015, though it doesn't make up for the lack of even a flake up 'til now.
October ended snowless for Denver. Yet, the moisture was ahead of average with 1.76" recorded at Denver International Airport, which equals out to 173% of average for the month.
Despite the good rainfall, it is the snowless statistic that grabs my attention. Until now, Denver has only had 18 snowless Octobers in over 130 years of data. Of those, only two seasons ended with above average snowfall.
Further, this is only the 13th year since 1882 with no snow in September AND October. Of those 12 prior years, only one ended with above average snowfall. That single season, 1950-51, was actually in a La Niña pattern.

Why do I point that, La Niña, out? I do so because there are a lot of misconceptions about El Niño and our Colorado and Denver winters. As a reminder from my previous writings, El Niño patterns have brought Denver an average of 59" of snowfall versus 58" as the Neutral pattern average and 53" as the La Nina average. That's the difference of a single snow storm, and hardly an incredible snowy advantage to be in an El Niño pattern. That's the breakdown of seasons as a whole.
As far as our largest snow storms, more than half of Denver's biggest came in Neutral years, 9 in El Niño years, and 4 in La Niña Years. Remember, there's no such thing as an El Niño snow storm or a La Niña storm. El Niño and La Niña are longer term fluctuations in precipitation and temperatures, not singular events.
We certainly could have a large snow storm or two or three...this season, and there is still a chance, albeit dropping steadily, that we end the season with above average snowfall. Yet, based on history only 1 of 12, or 8%, of those years without September and October snow ended with more than average (57") snowfall. Of course, that is a historical perspective and we all know that weather does not exactly repeat itself twice.
It seems appropriate to add, although maybe obvious, that Denver was well past the average first date of measurable snowfall, which is October 19th. The city has had a number of late first snows the past several years: November 11, 2014 (the season ended right at average, and one of our analog forecast years), November 15, 2010 (season ended 34" below average), and November 14, 2008 (season ended 14" below average). The latest ever date of first snowfall is 21 November 1934, and that year ended within 9" of being average.
Part of the explanation for the late start to the snow season, as Brian Bledsoe has posted before, is the historically warm temperatures. September was the warmest recorded, and October the 6th warmest on record. With temperatures like that, it's easy to explain the lack of snowfall. Consider how much rain/thunder we had just Wednesday night.
Of those 12 prior years with no snow in September and October, 6 are ranked in the top 20 warmest. Only one of those years, 1998, was cooler than the average temperature.
Here is a look at how those same years (data prior to 1890 is not available for these graphics) performed from November through January (top two images), and February through April (bottom two images), in terms of temperature and precipitation averages.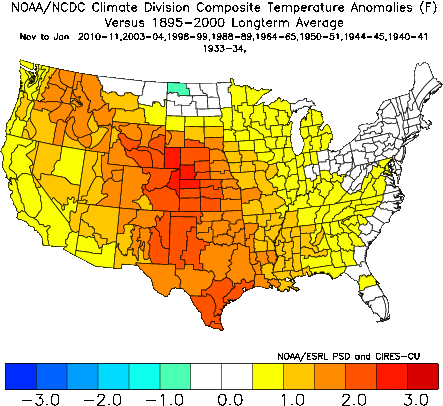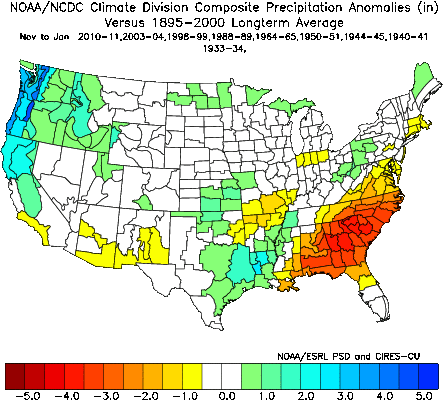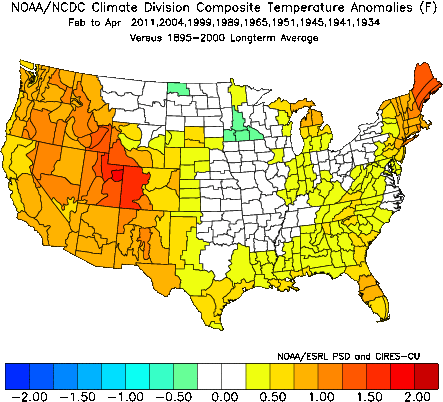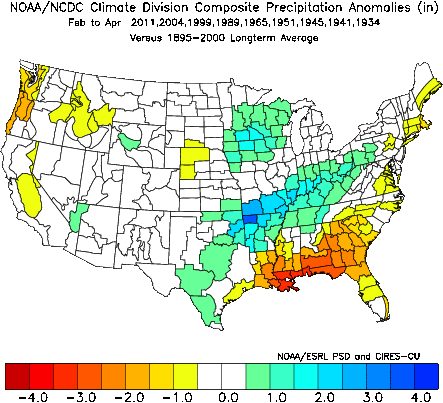 You see a similarity to Bledsoe's previous post regarding the winter and spring outlook? These particular anomalous years are drier than what he looked into and drier than what the climate modeling indicates.
So, Bledsoe offers hope for those of us wanting moisture (and snow), though barring one of these systems panning out soon, we may need to wait awhile. Perhaps this year won't quite follow the indication of similar past years with a snowless September and October.
As we all know the weather is never entirely repeated. And this year has a Pacific Ocean like we have never before recorded. We stand to learn a lot through the season ahead. Hopefully, we all continue to grow in our understanding of what El Niño patterns actually do.
As I've written before, El Niño garners too much attention when statistically it has less impact on the state than its reputation warrants. Based on reputation alone we would have had lots of snow by now, and not sitting in the 70s in November still waiting for the City to see its first snowflakes.