If you took the day off yesterday following our last storm, go have a quick look at some thoughts I shared last night here on the site. We'll build off of those thoughts today as we take another look at the forecast progression for what looks potentially like a very interesting week of weather next week after a relatively tranquil weekend across the region.
If you were expecting better consensus between the models today you'll no doubt be disappointed. In many respects they're further apart than they were 24 hours ago, with the EURO model losing virtually all signs of snow across eastern Colorado, while the GFS continues with blockbuster amounts. The difference between the 12z EURO deterministic and 12z GFS operational runs was roughly 40" (depending on what snow ratio you run with) as the EURO produced 1" of snow for Denver, and the GFS was somewhere in the ballpark of 40" next week. WOW! The Canadian is somewhere in between, but compared to yesterday has backed off considerably, at least for Denver.
Now, I can't show the EURO maps publicly, but I can show you the GFS compared to Ryan Maue's (WeatherBell) downscaled WRF he runs, which tells basically the same story. GFS (left) mega storm, on the right... well...

It'll likely be another 24 hours or more before we start to see better agreement between the individual models, and hopefully better run-to-run consistency as well. The main area of disturbance associated with this system is still off the west coast, and until it starts to move inland (likely tomorrow night) models will continue to struggle more than usual.
Analogs
Analogs for this system are very intriguing, and most are pointing to a good storm in the region. The top analog showing up today is October 29, 2009, a storm which tipped October 2009 to the 7th snowiest October on record for Denver, followed by December 24, 1982, which really needs no introduction for long-time Coloradans.

Impact guidance based on these analogs puts Denver's chance at >6" of snow at nearly 70% (remember, not a forecast), and greater than 12" of snow at about 30%. (Note this only goes out to 12z Nov 17th, if the GFS is correct, snow would continue beyond this timeframe.)

Pretty good odds, right? Well, maybe, but let's remember this is not a forecast, and from experience these analog sets can get as excited as us sometimes about snow. These are based off the GFS, and to bring you back down to earth again, let's not forget how quickly the GFS can flip. Remember this forecast from the GFS earlier this year compared to what actually happened? A great example of what a model can come up with vs reality: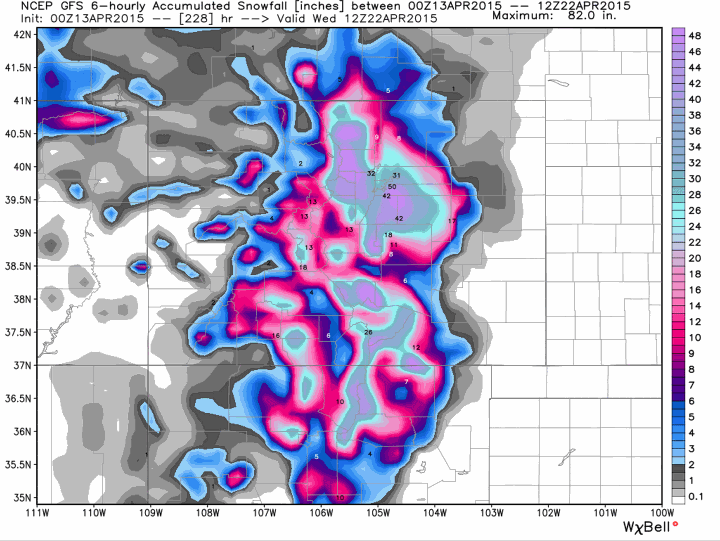 Yet, for some reason some outlets are still leading with weather headlines showing the GFS snowfall forecast for next week. The fact that the EURO isn't fully onboard here should lend some pause, despite the GFS actually doing better with the last handful of systems overall. Not to mention what the GFS is forecasting today would be pushing an all-time (on) record snowfall for the area which is a tremendously hard event for the models to accurately forecast.
Ensembles
While there's pretty good ensemble support for a big trough to impact the middle of the country next week, we still are seeing a wide variety of solutions in the ensembles as well. The 12z EURO ensemble mean was <2" for Denver, with many of its members showing virtually no snow at all. Meanwhile, the GFS ensembles actually looked more consistent (and wetter) than they have been over recent runs. Here's a look at today's 12z GFS ensemble output for KDEN (DIA), note that each of the 20 members show precip. by Tuesday, those showing blues are the (much) snowier solutions the model is producing: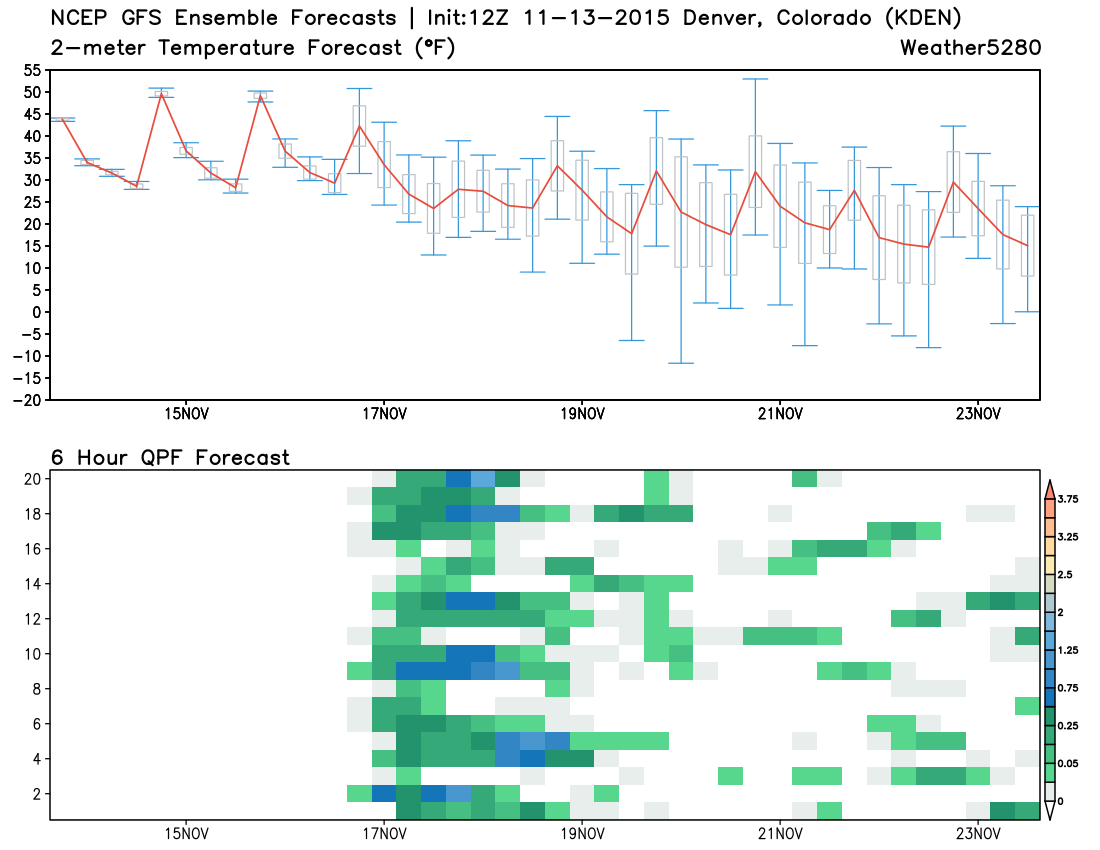 If we look at the mid levels, we continue to see some variations between the ensembles, all leading to slightly different scenarios – but with huge impacts – for eastern Colorado. Given these upper level differences, we'll continue to stress extreme caution before jumping on record-snowfall train. Here's a look at a comparison of the GFS/Canadian 500mb ensembles for next week, notice the differences between each. With both the GFS and Canadian, their ensemble means are further south than the controls with the main cutoff.
GEM ensemble mean: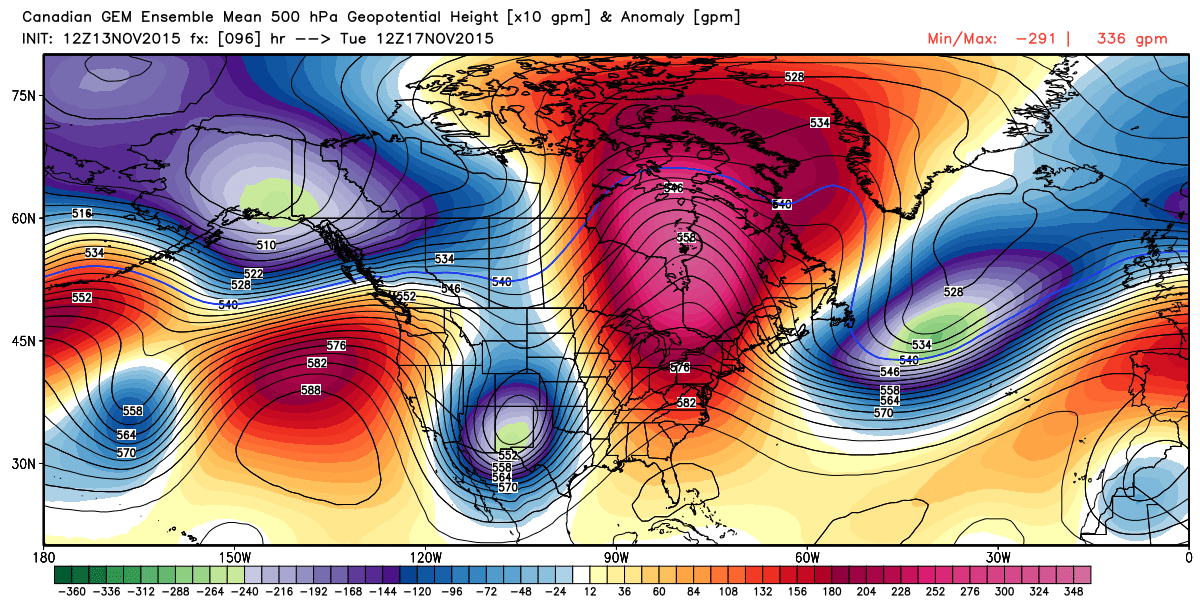 GEM ensemble control: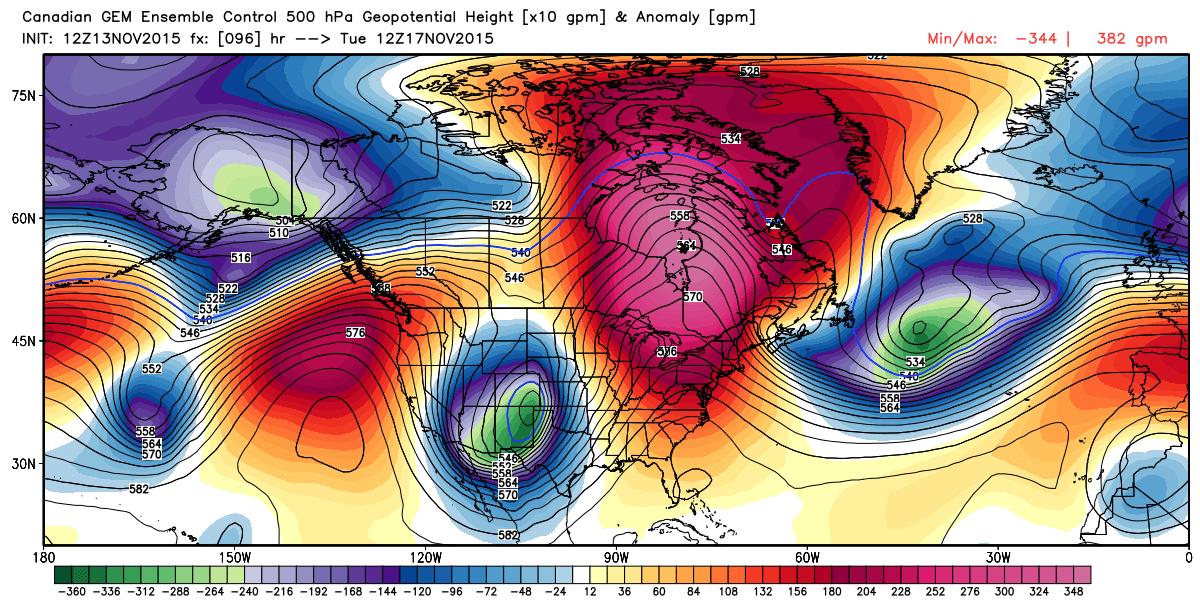 GEFS ensemble mean: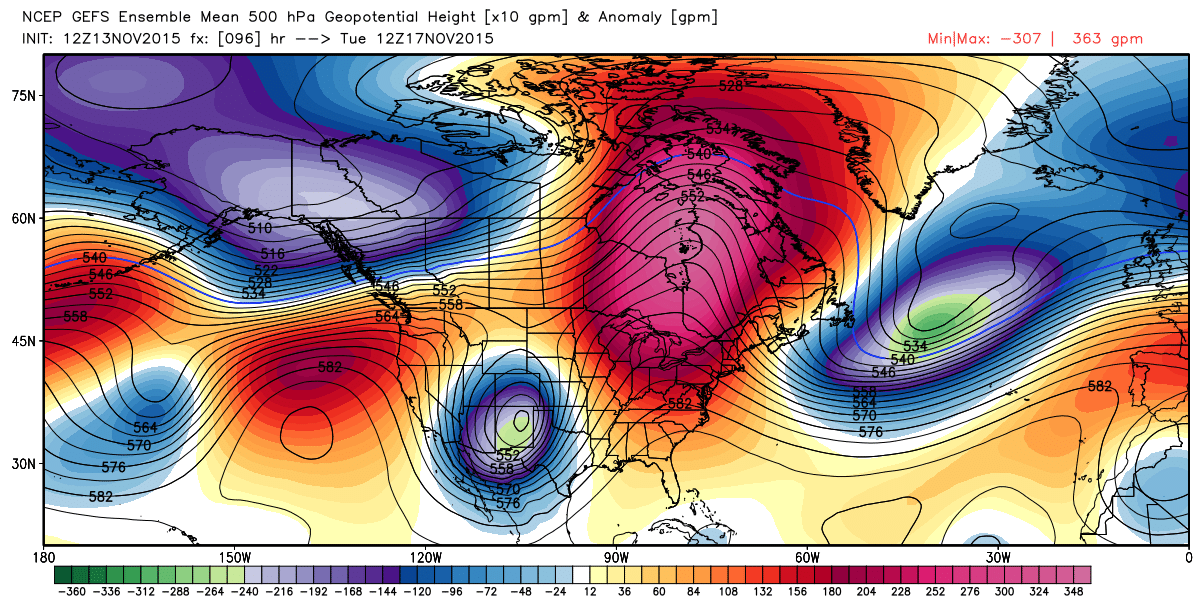 GEFS ensemble control: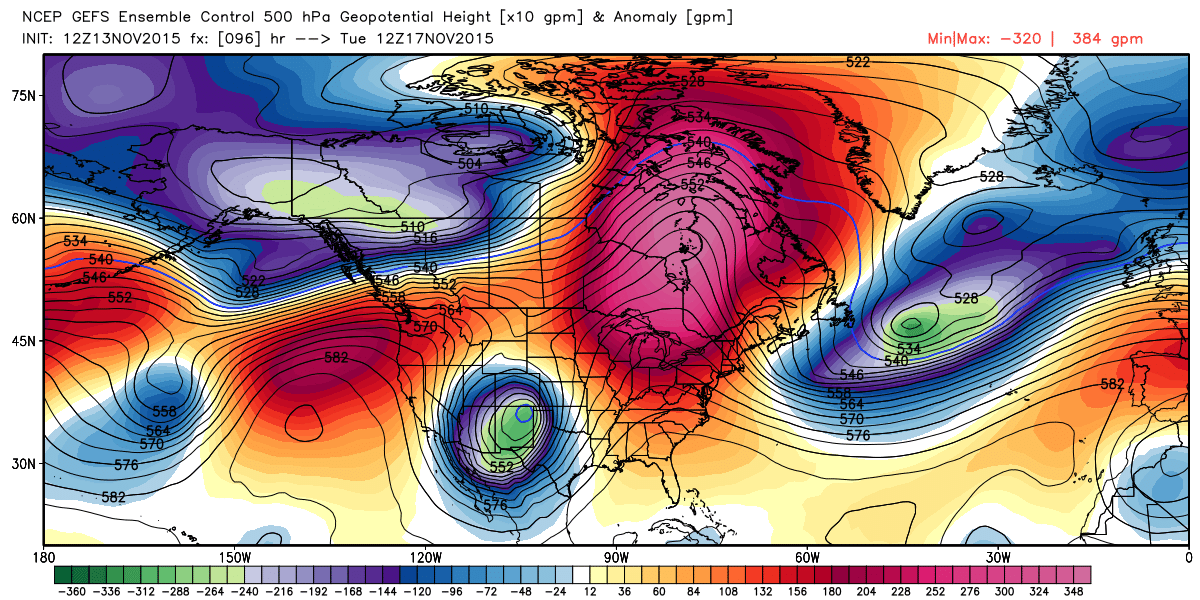 The EURO ensemble control remains more open longer and is faster to progress east. As long as the EURO is showing this, it should remain a big red flag. The EURO means look better, but again, inconsistencies here as well.
Takeaways
Today's big takeaway is patience. Let's see how things look come Sunday and then start worrying about the details. These big closed lows are notoriously hard to forecast several days out, and there's a LOT that has to align perfectly for a big snow delivery for northeast Colorado. Model-watching will certainly be interesting this weekend, but there's bound to be some big swings – so mentally prepare for that, GFS watchers...
We'll keep an eye on things and offer updates through the weekend. As we said last night, this system really fits well with what we've been talking about for weeks should it pan out, so we'll see how things shake out over the next few days. I wouldn't go canceling your week just yet, but certainly keep an eye out for the latest forecast as we head later in the weekend.
If you're not yet a subscriber to Weather5280, now is a great time to do so. You can subscribe here.