Cold air set to make a splash for the holiday weekend
No big changes to what we discussed in this week's State of the Atmosphere, cold air and a chance for snow are still set to arrive Wednesday night and linger through the weekend across eastern Colorado.
As discussed, this does not look like a huge snowfall event for most folks living east of the mountains, though a few locations may see several inches accumulate with off and on light snow chances for several days. Models continue to struggle with just how much snow we'll see east of the mountains – with a mean forecast of ~1" for Denver during yesterdays runs, and now back to ~3" today, with the 12z GFS and EURO once again showing totals of 5"+ for the Denver area (mainly west of I-25) by Friday evening.
Things are a bit messy with this snow-side of this forecast as a large upper level low will move into the western United States today and tomorrow, and then will not really go anywhere for awhile. The main energy really never moves across Colorado – at least not until late in the weekend or early next week – but will be effecting our weather from late Wednesday through the weekend. By the time the main energy does progress east, it will likely move too far north for appreciable snowfall east of the mountains, the exception possibly being well east across the Plains late in the weekend or early next week.

So, while we'll need to keep an eye on this upper level feature over the next several days, the main event (for the urban corridor anyway) will likely be the strong cold front Wednesday/Wednesday night, with the best chance of snow for the city being Thursday and Thursday night. Depending on which model you believe, it looks like snow will diminish during the day Friday and Saturday, with possibly more snow/snow showers by Sunday. A few models suggest snow shower activity will continue into Friday evening, which obviously would help boost snowfall totals if so. For now, any snowfall totals discussed will be for the Wednesday night - Friday night timeframe.
Holiday chill
The big headline will be the much colder air set to settle in later in the day Wednesday across the region. With highs the last several days running 10 to 15 degrees above normal, this cold front will certainly pack a punch.
While some of the latest runs do not look as cold as they did over the weekend, the airmass continues to look like the coldest of the season, with highs in the 20s both Thursday and Friday, with overnight lows in single digits and teens across northeast Colorado: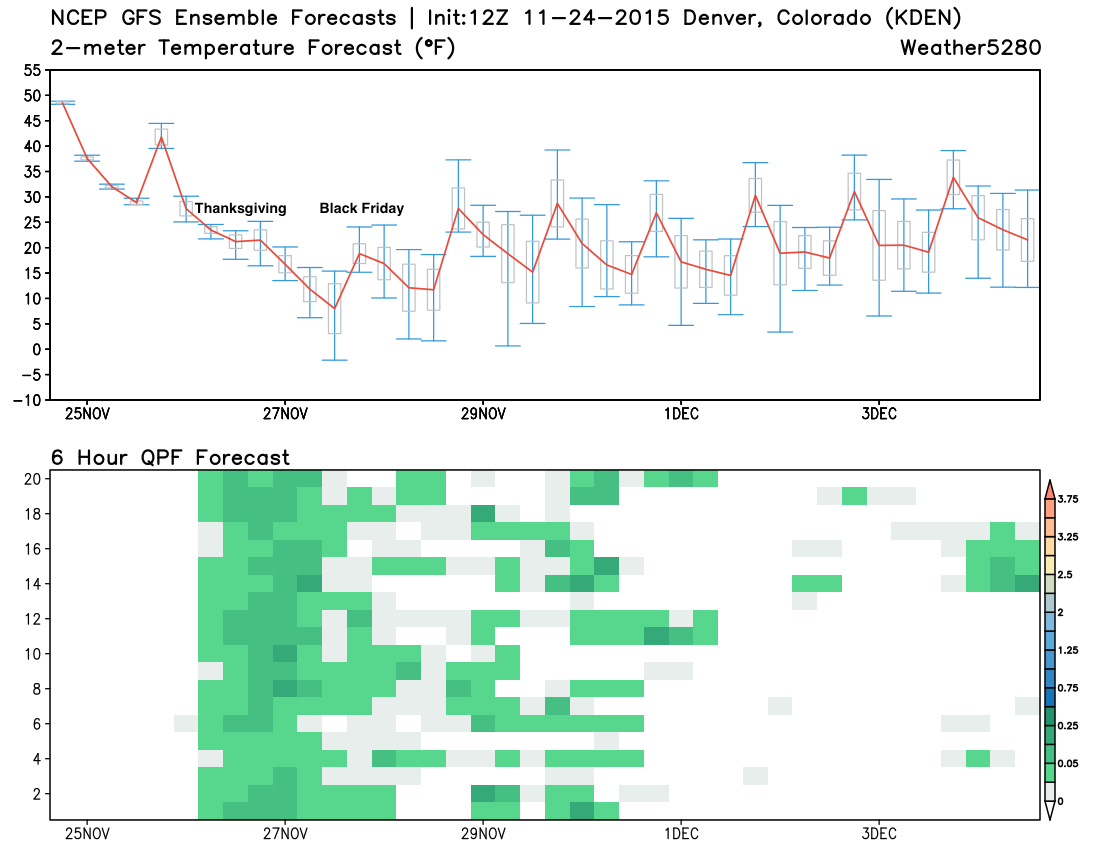 Timing varies a bit depending on which solution is most accurate, but general consensus is the front arrives midday Wednesday, with very cold air spilling in behind it. Take a look at the GFS forecast for overnight Wednesday (left) and then Thursday evening (left). An impressive front moving across the Plains on Thanksgiving.

Timing and impacts
We still expect most of Wednesday to cooperate precip-wise, especially across eastern Colorado. By Wednesday evening cold air will begin to seep south, and we'll introduce a chance for a wintry mix and snow during the overnight hours. Any initial precipitation, drizzle or flurries, could create an icy layer on the area roads.
On Thursday it looks like on and off light snow up and down the Front Range will be a pretty good bet, with light accumulation expected during the daytime hours. Greatest concern for those traveling early Thursday will be if any ICING occurred overnight, so please travel safely if you plan to do so on Thanksgiving day.
Snow will continue off and on into Friday morning (maybe longer?) for many, so where heavier snow showers do occur travel may become treacherous at times. For the time being, this continues to look like a 1 - 4"/2 - 5" event for most locations east of I-25, with some areas – especially along and west of I-25 – seeing upwards of five or six inches by Friday evening. It all depends how long we can keep upslope going for these communities in and along the foothills.
Again, snowfall will generally be light through the event, but if we can keep snow showers going long enough into Friday, totals may start to add up in a few locations. You should not expect to wake up Thanksgiving morning and see 3" of snow on the ground.
Snowfall Forecast (Wednesday night through Friday evening):

National travel
The two big weather stories for travel considerations over the next several days will be rain and snow in the intermountain west, light snowfall across Colorado on Thanksgiving, and a heavy rainfall event forecast for the central Plains on Thursday. A look at the surface map forecast for Thursday evening shows the snow across Colorado, and Wyoming, with heavy rain for portions of Texas, Oklahoma, Kansas, Missouri, Arkansas, and Iowa.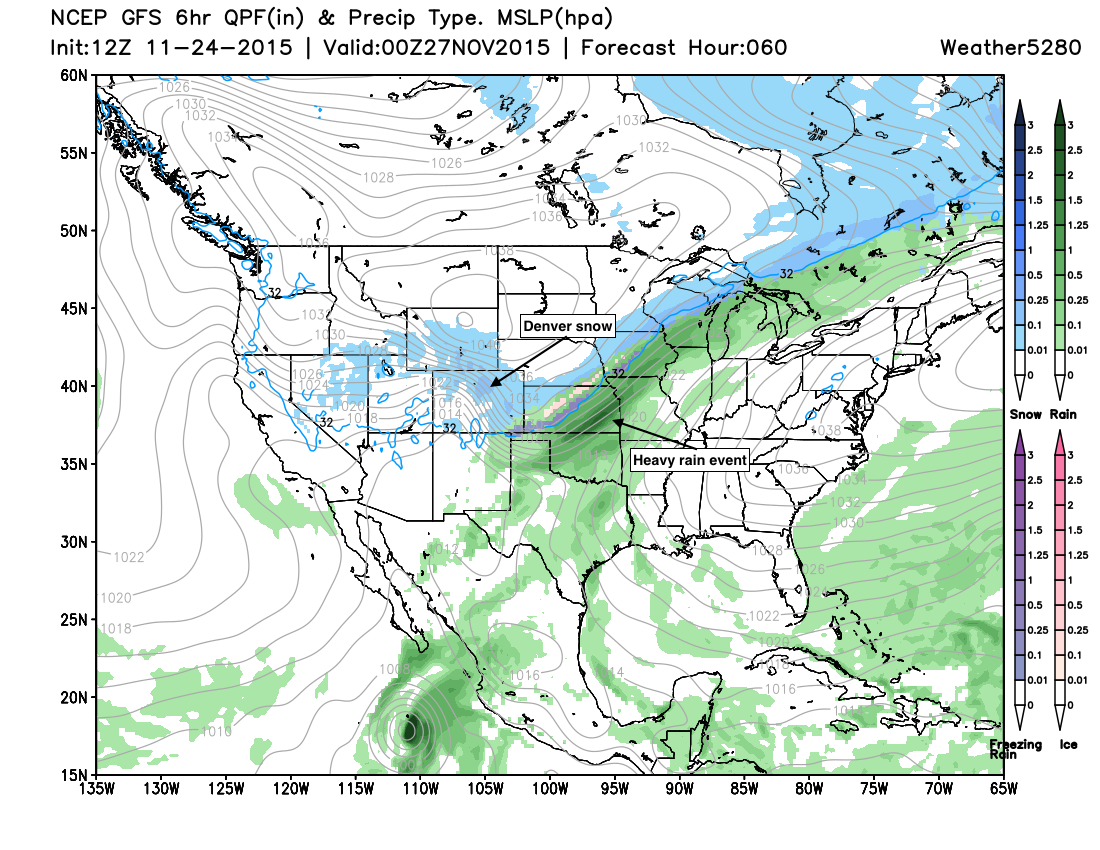 Rainfall totals through Saturday will be impressive for this time of year, especially across southeast Oklahoma where upwards of 6" of rain may fall: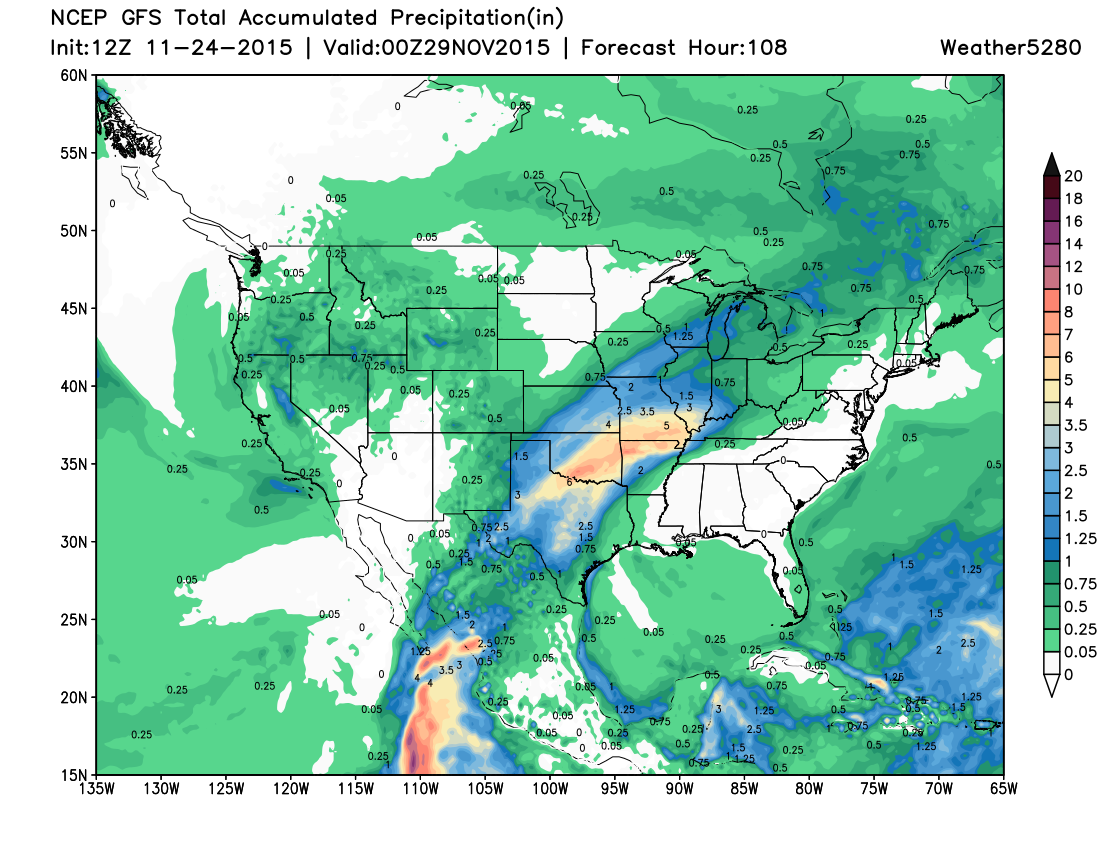 If you're traveling to the east coast for Thanksgiving the weather looks like it will cooperate by and large.
We'll aim to get another update out tomorrow, but with relative consistency in the models over the last several days I don't see things changing much. The biggest changes may be in either leaning toward heavier snowfall totals across the metro area through Friday (i.e. 3"+) or lesser totals (<2"), as this is still a bit up in the air. Stay tuned!