Thanksgiving Eve Update
No real change to the going forecast this evening, just wanted to offer a quick update and wish you all a very happy Thanksgiving!
Today the National Weather Service issued a Winter Weather Advisory for all of eastern Colorado, which goes into effect at 6pm this evening and extends through Friday morning. This includes the chance for freezing drizzle, ice and snow that will combine to make travel difficult at times over the next 24 to 36 hours across the region.
We won't be making any changes to our forecast today, but reiterate that the greater snowfall potential will be along and west of I-25, with lesser totals (generally speaking) east. A few heavier snow bands may push us to the higher end of these forecast numbers, but snowfall and accumulations will generally be light.
A reminder of our current snowfall forecast:

The latest NAM shows this tight west/east gradient across the city, with greatest totals west of the interstate. The GFS is a bit more bullish east, but we continue to think the GFS is a bit overdone in spots.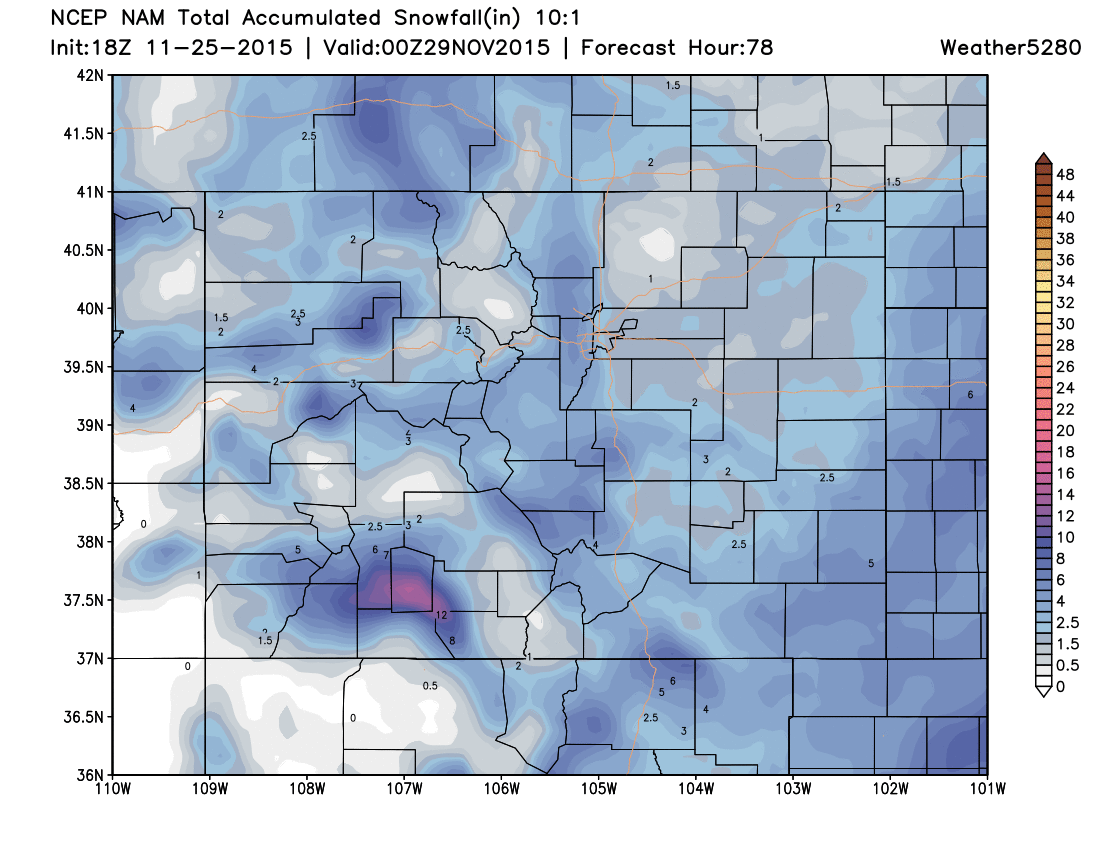 Here's a quick breakdown of things to keep in mind over the coming days:
A slow moving system to the west will keep us cold and unsettled for several days, possibly through the weekend
Very light snow and freezing drizzle will develop Wednesday evening across eastern Colorado, but little if any accumulation is expected overnight.
Any freezing precipitation tonight will mean take it easy traveling on Thursday morning.
A better chance for snow arrives Thursday and Thursday night, where 1 - 4" of snow may accumulate in Denver, with greater totals upwards of 5" possible west of I-25.
A few areas (even in the Denver area) may see greater totals under heavier showers, so we've gone with a "+" for the metro area and foothill communities.
Temperatures will be cold! 20s for Thanksgiving, teens and 20s for Black Friday.
There are still a few models (GFS) showing totals >6" in Denver through Friday. Given the setup we continue to think lower totals are more probable, and if greater totals occur, those will likely be on the west side with greater upslope.
This is a long duration event, so it will take awhile to reach forecast snowfall totals.
For some, this will be more about the cold than the snow!
A quick look at the latest HRRR shows spotty snow shower activity developing for the foothills overnight, with areas of freezing drizzle across the Plains, especially over southeast Colorado tonight.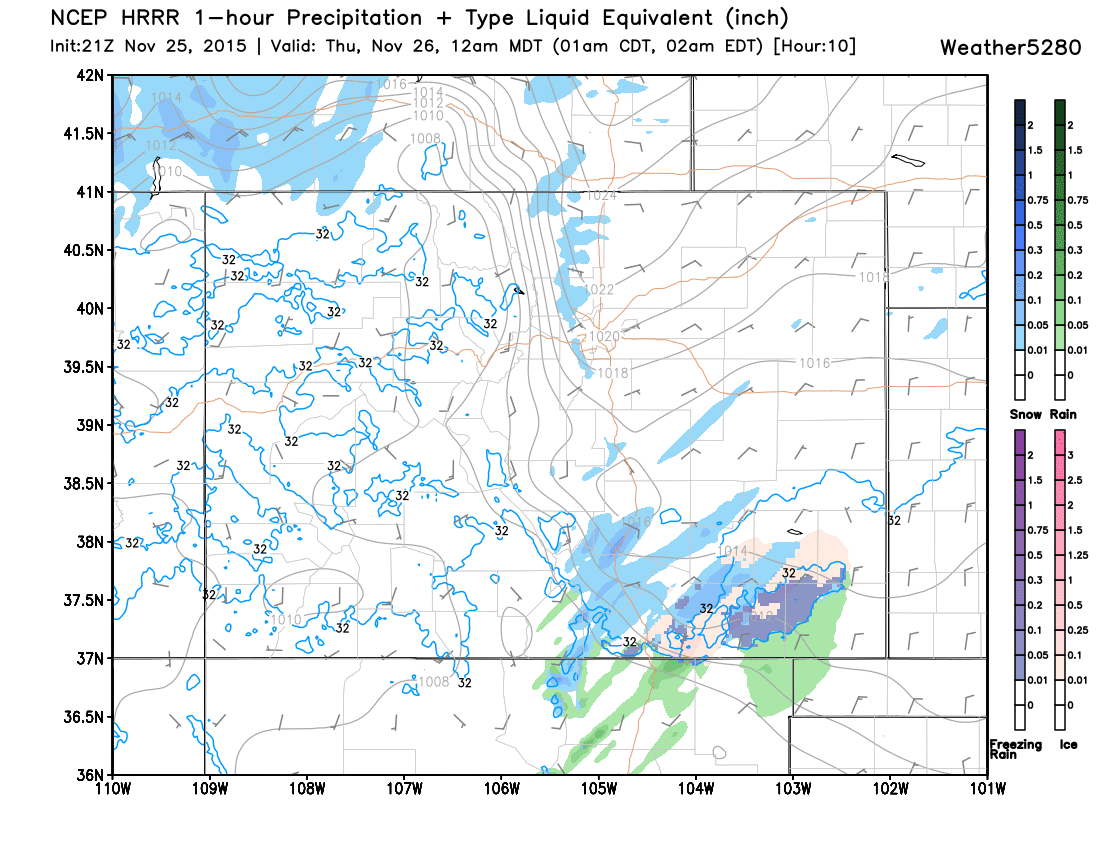 We hope you all share with us your weather reports over the coming days! We are thankful this Thanksgiving for your readership and interactions each day. Have a safe and wonderful holiday, and... stay warm!