Little change from last night's update with regard to the big changes on the way to end the week and this weekend. A chance of snow returns to the forecast from Friday evening through Saturday across eastern Colorado, with much cooler temperatures on the way for the weekend. Snowfall totals through Saturday evening will generally be light at lower elevations across the Plains.
Today was another very warm day for the state, with highs in the Denver area again climbing into the low to mid 60s – more than 20 degrees above average for many locales. Friday may warm nicely again, at least briefly, before temperatures begin to cool during the afternoon hours.
The chance for snow increases as we head into Friday evening, and overnight into Saturday. Best chances will originally be along the northern Colorado border and northern Front Range mountains, and slowly sag south and east Friday night and Saturday. It looks like the best chance for snow along the urban corridor will occur on Saturday. Any precipitation that does develop Friday evening may begin initially as rain. By Sunday most of the weather will be east of the state, as seen in the final frame here:
We are forecasting a 1 - 4" event for most of northeast Colorado, with pockets of heavier snow delivering upwards of 5" to some across the northern metro areas. Below is our forecast as of Thursday evening. Some adjustments may be made after tonight's 00z runs are in, and if so we'll get those out Friday.

As of Thursday afternoon most models were in pretty agreement in handling how the upper level feature crosses the state, and thus were in general agreement with how much snow to expect with this system. The Canadian, which previously was very bullish with this system, remains the last impressive now, and would mean a trace - 2" of snow for virtually all locations at lower elevations. The GFS remains one of the more bullish models, though has trended a bit further north weather best snowfall potential from previous runs. Others model snowfall forecasts (assuming 10:1):
12z GFS (KDEN): 2.5"
15z SREF (KDEN): 3.3"
12z ECMWF (deterministic) (KDEN): 2.5"
12z ECMWF (ensemble mean) (KDEN): 2.2"
12z NAM (KDEN): 1.5" (heavier snow north of city)
12z 4km NAM (KDEN): 2.9"
12z GEM (KDEN): 0.5"
So, if you're going to forecast strictly based on QPF, it certainly looks like 1 - 4" will be very manageable in the city by Saturday night. Most models agree on a swath of heavier snowfall well north of the city, and slightly higher totals for snow-favored locations west/southeast of the city. Nearly all have lowest regional totals in the city proper, and immediate northern suburbs.
Quickly, here's the WPC 50th percentile snowfall forecast for Colorado – while we tend to find their forecasts heavy-handed, it's a nice way to illustrate the great snowfall on the way for the higher terrain of Colorado. Winter weather advisories are up for most of the high country, with upwards of 14" possible for the north central mountains, like Steamboat. Great for the ski resorts, but will make travel difficult Friday and Saturday if you're headed west. Their forecast along the Front Range actually happens to look a lot like ours in this case, though at the 50th percentile, may end up a bit heavy handed. We'll see.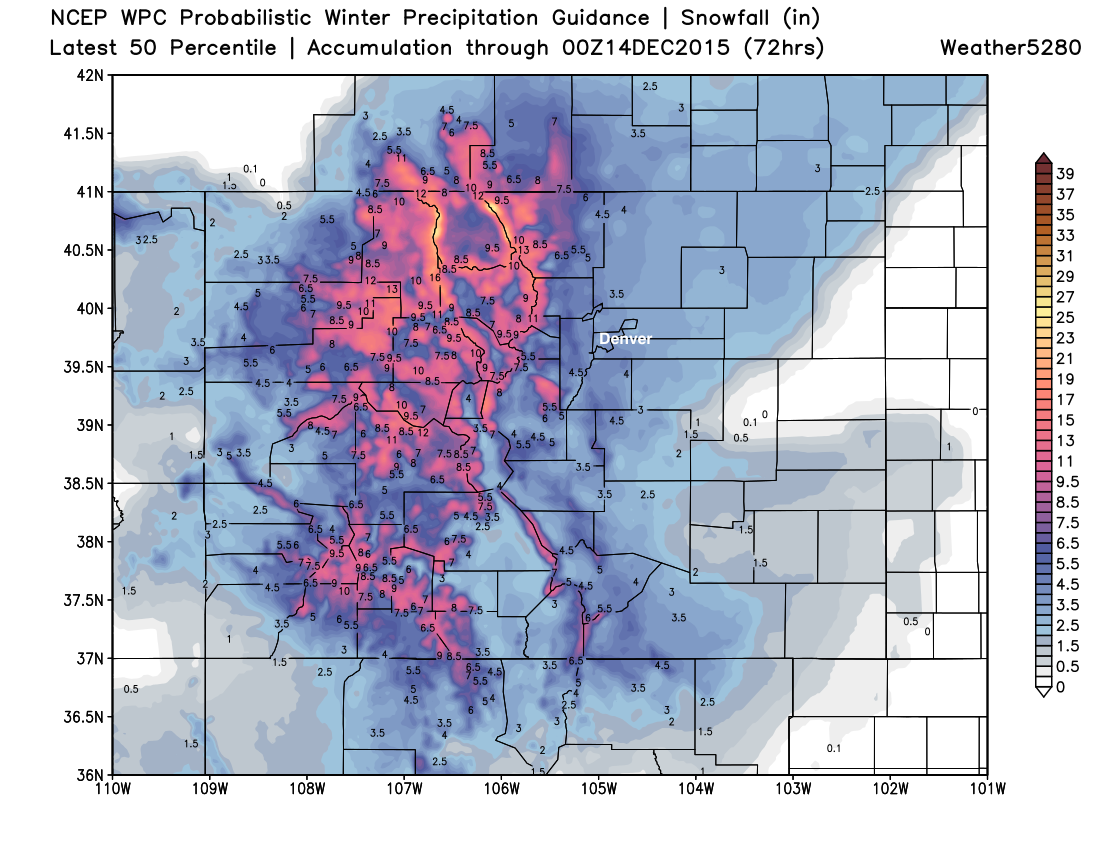 As for temperatures... expect highs to likely push, if not climb into the 50s again Friday before cooling Friday afternoon. The warmer we get Friday, the greater the chance any precipitation that does develop Friday evening will be in the form of rain for lower elevations. By Friday night much cooler air arrives, with highs only making it into the lower 30s Saturday, with off and on snow through the day. We'll warm again into the 40s Sunday, ahead of our next system due in late Monday, which may pack even colder air. Next week's system still looks intriguing, at least for northeast Colorado... but plenty of time to watch this evolve, and focus on our weekend snow first.
We'll pass along updates if and as needed. Be sure to follow us on Twitter (@weather5280) and subscribe via email here to keep up with all the latest with our changing weather.