Winter storm recap and forecast analysis
As we like to do after storms we'll take a quick look back at yesterday's snow before addressing our next chance for snow coming quickly on the heals of this latest system.
In the end, we're very happy with our forecast, and in retrospect could have lowered the Bust Index for the front range urban corridor. That said, uncertainty was great enough heading into Friday night that a high BI seemed prudent, and making adjustments Saturday morning would have been nowcasting, not forecasting.
Most of the I-25 corridor ended up right in range, with 1 - 4" recorded at most locations. Our station, in central Denver, recorded 2.25" of snow, with Denver's official reading from Denver International Airport coming in at 1.3".
Here is a look at interpolated snowfall totals from the last 72 hours across Colorado ending this morning. Nice totals for the high country!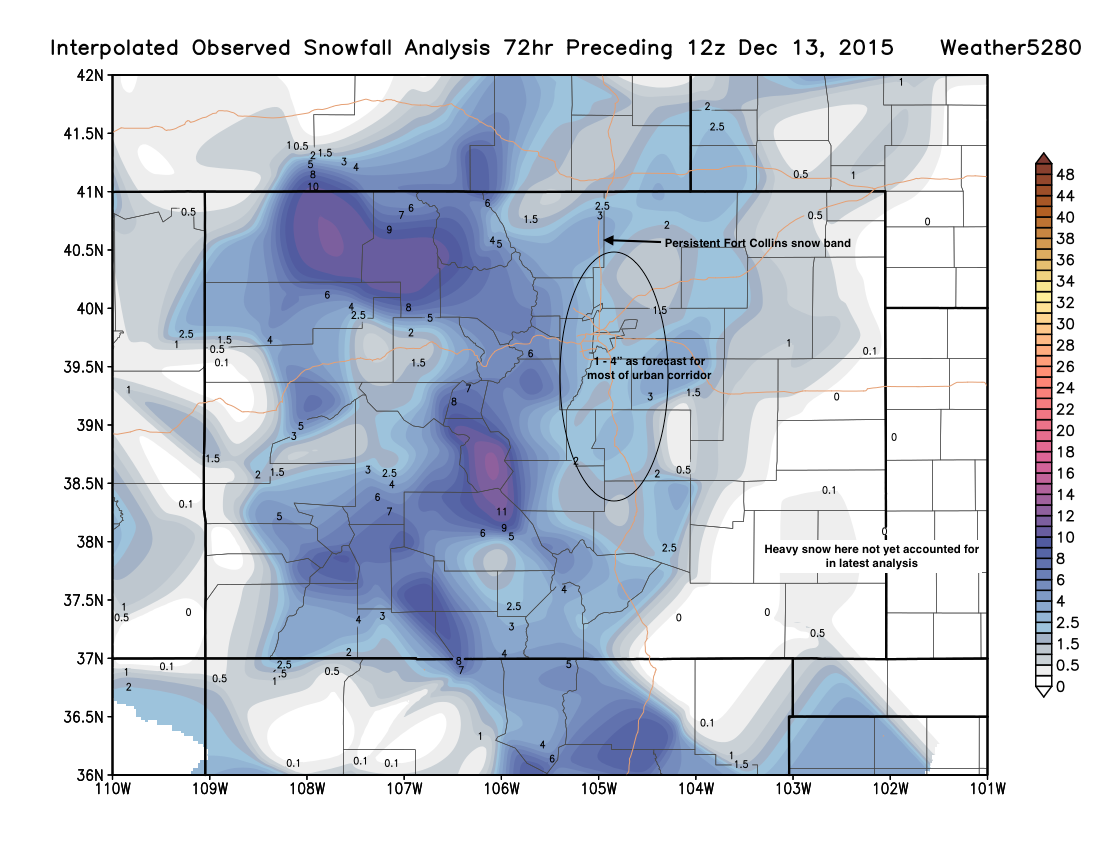 The bust of the day came in the Fort Collins area where in the end our original forecast map may have faired a bit better. A persistent snow band set up early Saturday morning there, and didn't move for several hours. Reports of 4 - 6" were common under this narrow snow band.
Some additional totals from around the region:
| Location | Forecast | Total | Bust? |
| --- | --- | --- | --- |
| Weather5820 (Denver) | 1 - 4" | 2.25" | 👍 |
| DIA (official) | 1 - 4" | 1.3" | 👍 |
| 3mi SW Fort Collins | 1 - 4" | 5.9" | Bust! 😞 |
| Black Hawk | 3 - 6"+ | 5.7" | 👍 |
| Aurora | 1 - 4"+ | 3.0" | 👍 |
| Sterling | Trace - 3"+ | 0.8" | 👍 |
| 4mi NW Elizabeth | 2 - 6"+ | 4.0" | 👍 |
| 2mi SW Boulder | 1 -4"+ | 3.3" (4-5" locally) | 👍 |
| 1mi NNE Lafayette | 1 -4"+ | 3.0" | 👍 |
| 8mi SE Watkins | 2 -5"+ | 4.6" | 👍 |
| Glendale | 1 - 4" | 1.5" | 👍 |
| Wheat Ridge | 1 - 4" | 2.0" | 👍 |
Have additional totals to add? Leave us a comment!
Week ahead
With the exception of southeast Colorado this morning, the state dries out for a day or so before the next system set to impact the region moves into the high country Monday. Denver warms into the 40s today and Monday, then sees another dramatic cool down with highs at and below freezing through Thursday.
As for snow... the threat of snow across northeast Colorado increases as we head into Monday evening and overnight into Tuesday. Snow will continue off and on all day Tuesday (especially across the far northeast Plains) before moving out Tuesday night.
At this time snow totals again don't look huge for the urban corridor, but this system still offers some intrigue. Eventual track will be key once more, and if we see the low trend a bit further south and a bit slower, those numbers could go up for the Front Range. The other two aspects with this system compared to our weekend snow, is this one will be packing colder air, and will be a much windier system, especially across the Plains.
Currently, if there is a bias in the modeling, it's to take the low too far north for a good snow in Denver. The 12z GEM keeps most of the moderate snowfall along and north of the Colorado border, for example, while the GFS tracks the surface low a bit further south across central Colorado. There is decent agreement in timing, however, with Denver's best chance for snow likely coming after midnight Monday though midday Tuesday.
Here's the GFS forecast for 12z and 18z Tuesday, widespread snow from northeast Colorado north into Wyoming, Nebraska, Montana and the Dakotas. Notice the tightly wrapped isolines across northeast Colorado, indicating a windy storm.

Here's our snowfall forecast for Monday night and Tuesday as of Sunday afternoon:
Colorado Springs: Trace - 3"
Fort Collins: 2 - 6"
Denver: 2 - 4"
East and Southeast Denver: 2 - 6"+
Northeast Plains: 3 - 7"+
And forecast map:

And without getting too caught up in the details, here's a look at the 12z NAM snowfall forecast, a pretty good high plains snowfall on the way this week, with a heavy snow event wrapping up for the southern Plains: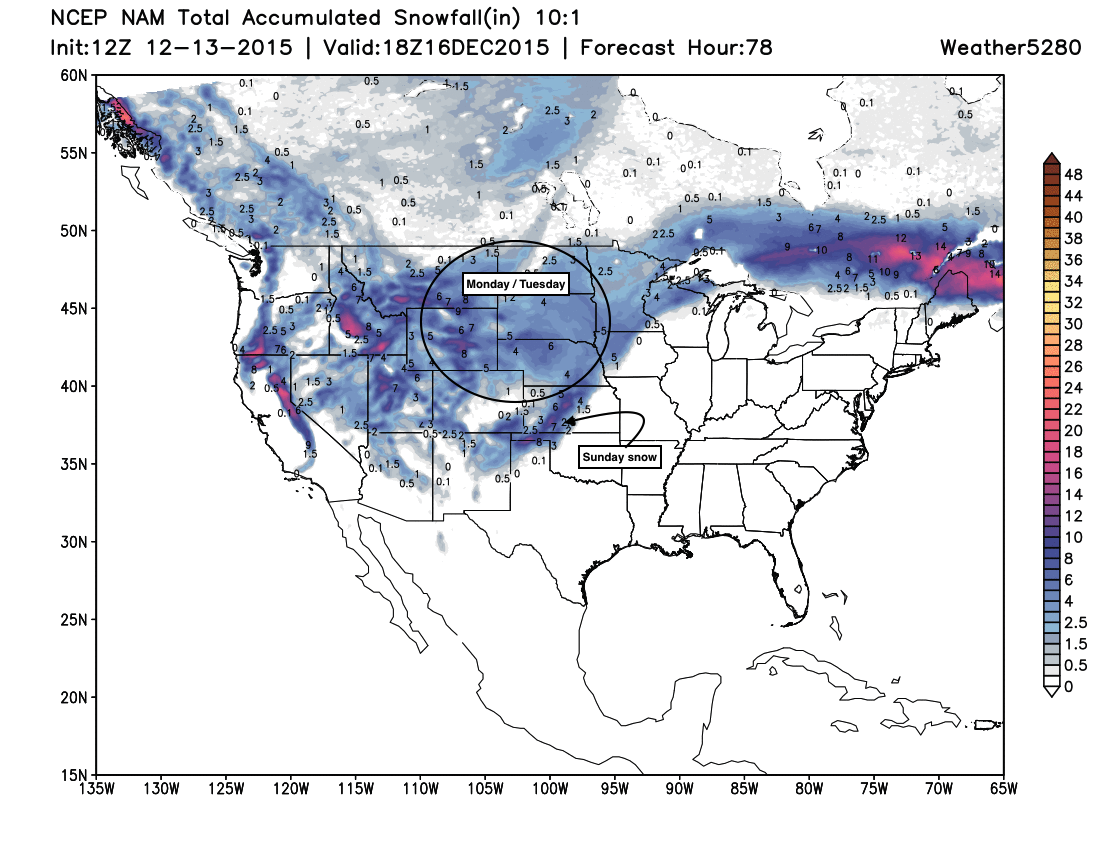 What we'll be watching for as this system gets closer is any shift in track and forecast track. If 18z and 00z models come in tonight with even a slight shift in eventual track across eastern Colorado, it could be we need to adjust snowfall totals up (or down) for any number of locations. A slower, slightly more souther track would favor better totals closer to the Front Range, a further north solution would mean more of a northeast Plains event.
Temperatures
Along with the snow we'll be tracking much cooler temperatures for a good portion of the week as well. Tuesday Denver will likely remain the mid to upper 20s for highs, with highs near freezing both Wednesday and Thursday. Ridging will try and reestablish itself for the weekend, which should mean moderating temperatures by Friday and Saturday.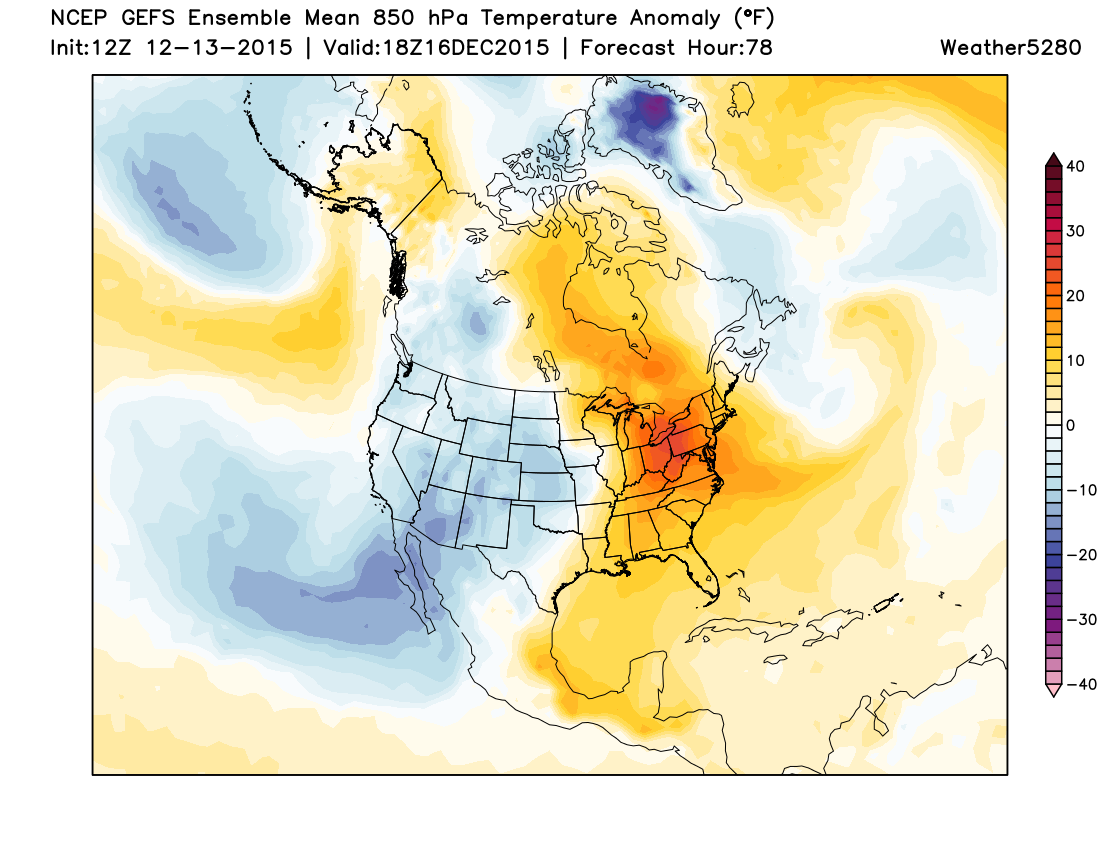 A lot to watch over the next 24 hours or so. If you do not already subscribe to Weather5820, you can do so here. We'll pass along additional updates as needed.