After convincing myself that an 06/07 repeat was in the cards last night, it was nice to see models come into better agreement today on a more likely southerly solution. If the heartbreak is going to happen, better it now than 12 hours before the snow's set to hit.
What we're tracking is a monster cutoff low to end the week, which looks to dive very far south as it spins southwest of Colorado Thursday, then slowly track east Friday before eventually turning northeast over the weekend. This is where models have generally clustered today, which if true, would largely bypass the urban corridor without any heavy snow.
Does that mean the potential for a big Front Range snow completely off the table? No, not yet. But consensus today is that this thing will likely dig too far south, and get too far east before it finally breaks north. This also aligns with our thinking regarding strong El Niños and where we are in the season, where the Denver area can often get missed as these systems are pulled south.
That said, someone's likely to get a doozy of a winter storm, here's where we see the greatest threat for a heavy snowfall late this week, through the weekend, and on into early next week: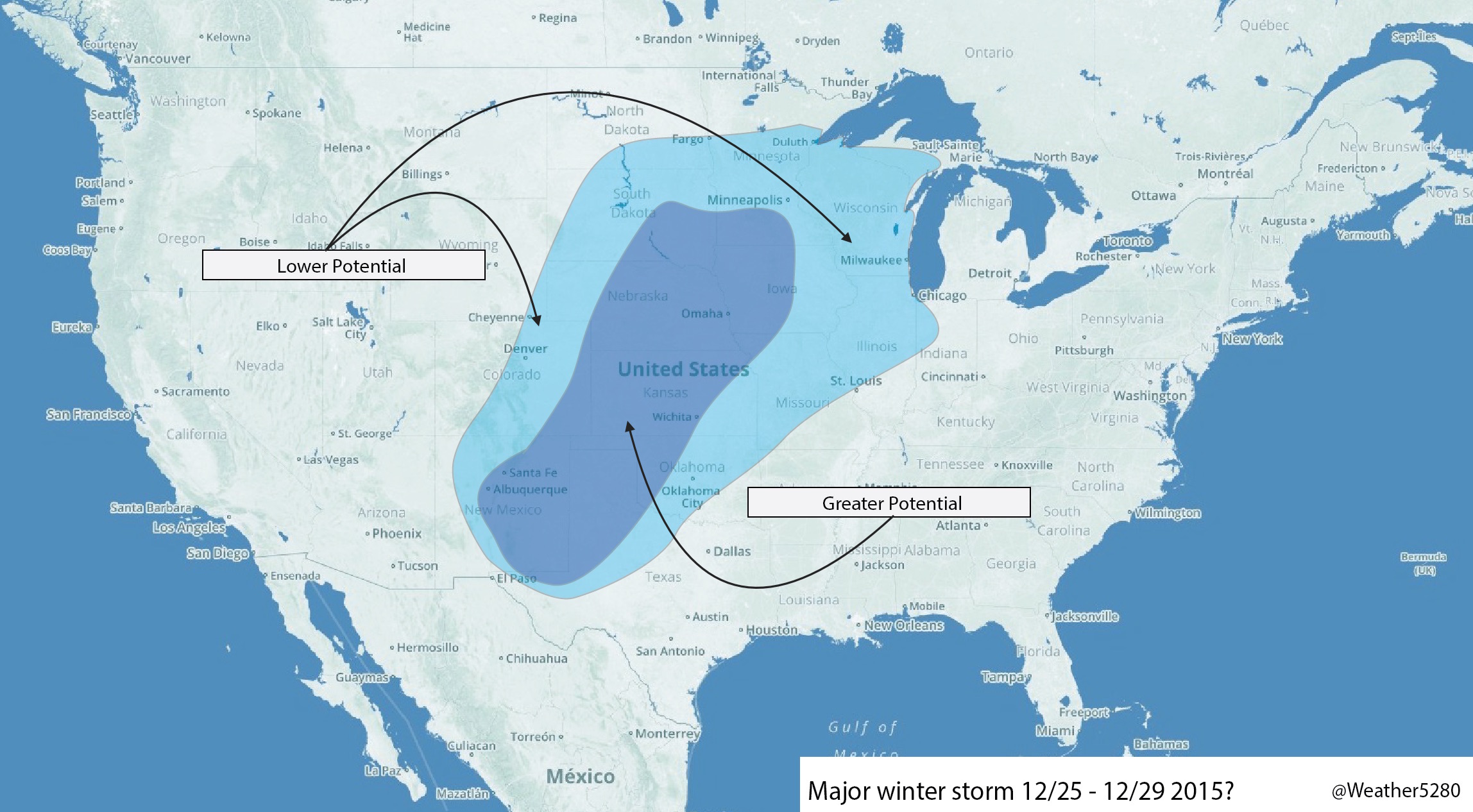 Note Denver is in the lower potential "bubble", with Colorado Springs and southeast Colorado closer and included in the greater potential solution across far eastern/southeastern Colorado.
As I mentioned above, models are in much better agreement today as compared to yesterday. All, for the time being, are leaning south.
Here's a look at the 12z GFS at 500mb. On the left is 18z Saturday, the big ULL is still located well southwest of Colorado. By Sunday night it swings southeast of Colorado, making the northward turn, but too far east by that point for big snow in Denver:

It's ensemble at 18z Sunday shows a similar trajectory, keeping the best energy too far south: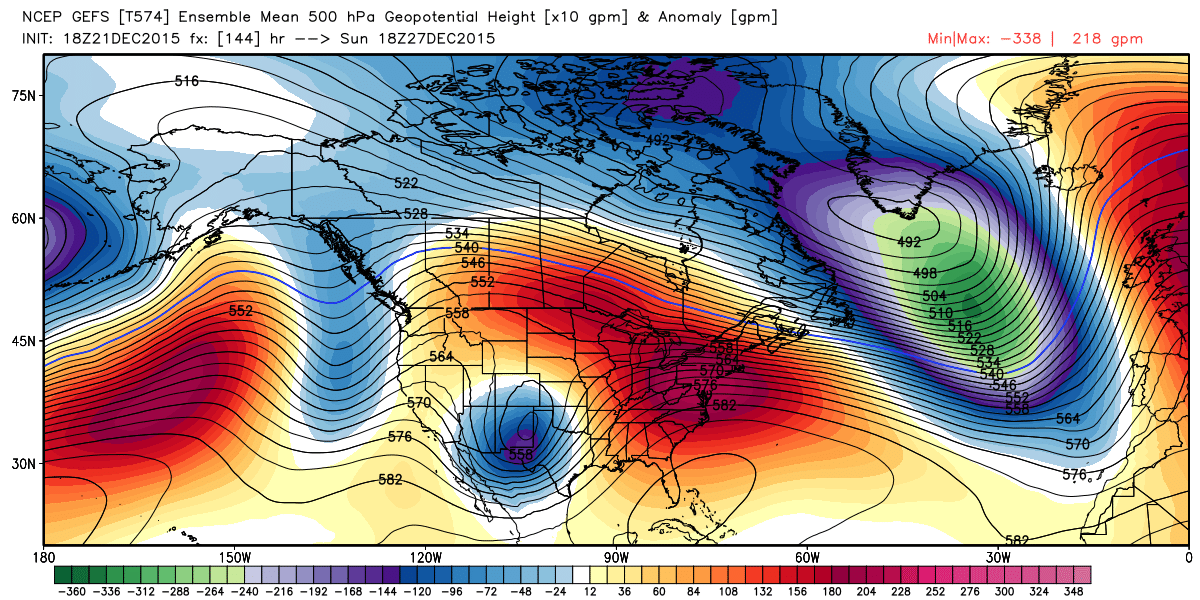 The Canadian looks similar, though barrels the system even further southeast by Sunday night than the GFS: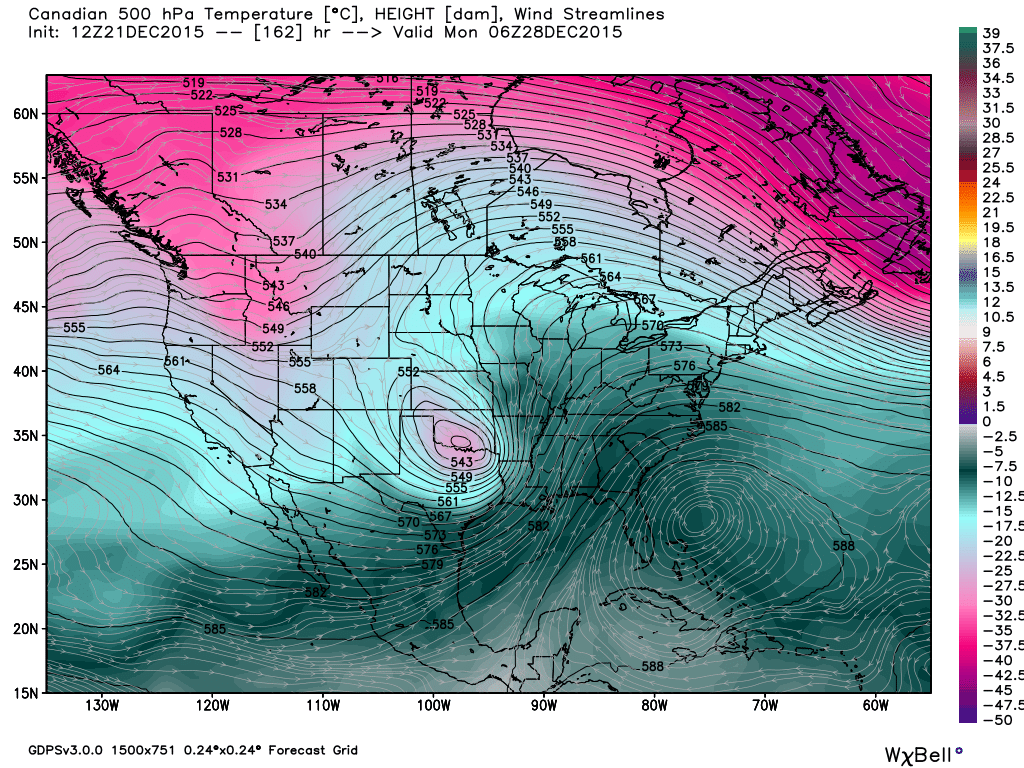 And the EURO by 12z Monday: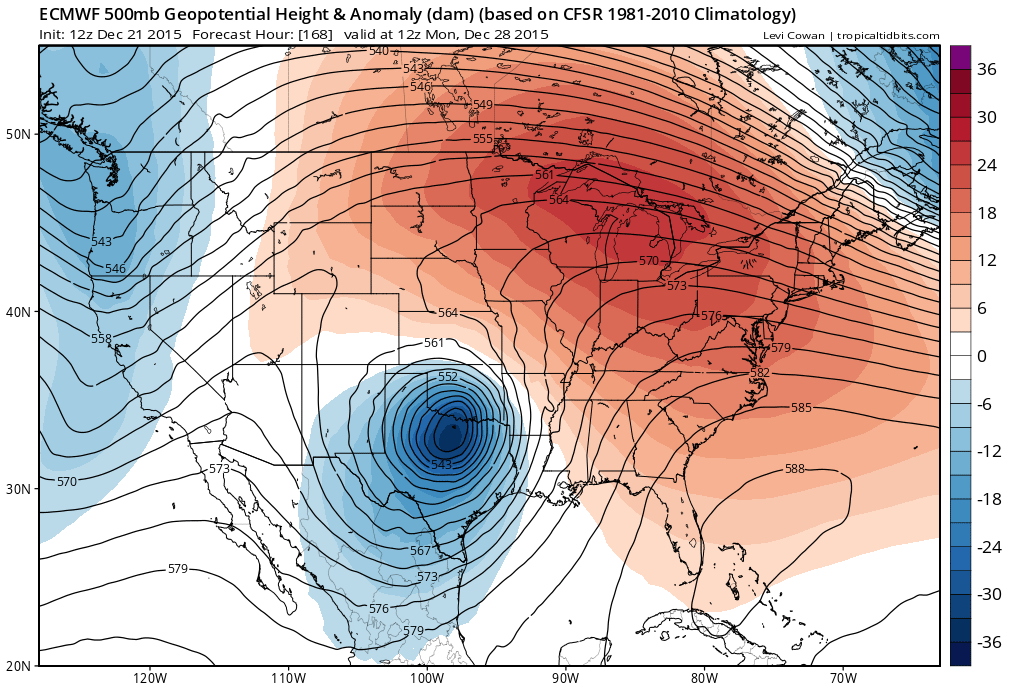 Interesting thing about EURO is that its parallel run has actually been further north and looks better for snowfall in Denver. It'll be interesting to see if the current EURO moves towards that or vise versa.
Given where things went today with the modeling I'll resist the urge to show the analogs that were showing up yesterday. We'll see how things look in another 24 to 36 hours and see if there will be any need.
Bottom line: maybe not a huge storm for Denver as it looks right now, but certainly will be a big winter storm for someone in the region. Lot's of time to see how this progresses though... So please, stay with us at Weather5280 as we track this system over the coming days. If nothing else we'll be turning MUCH colder and likely see some light snow as early as Christmas around here.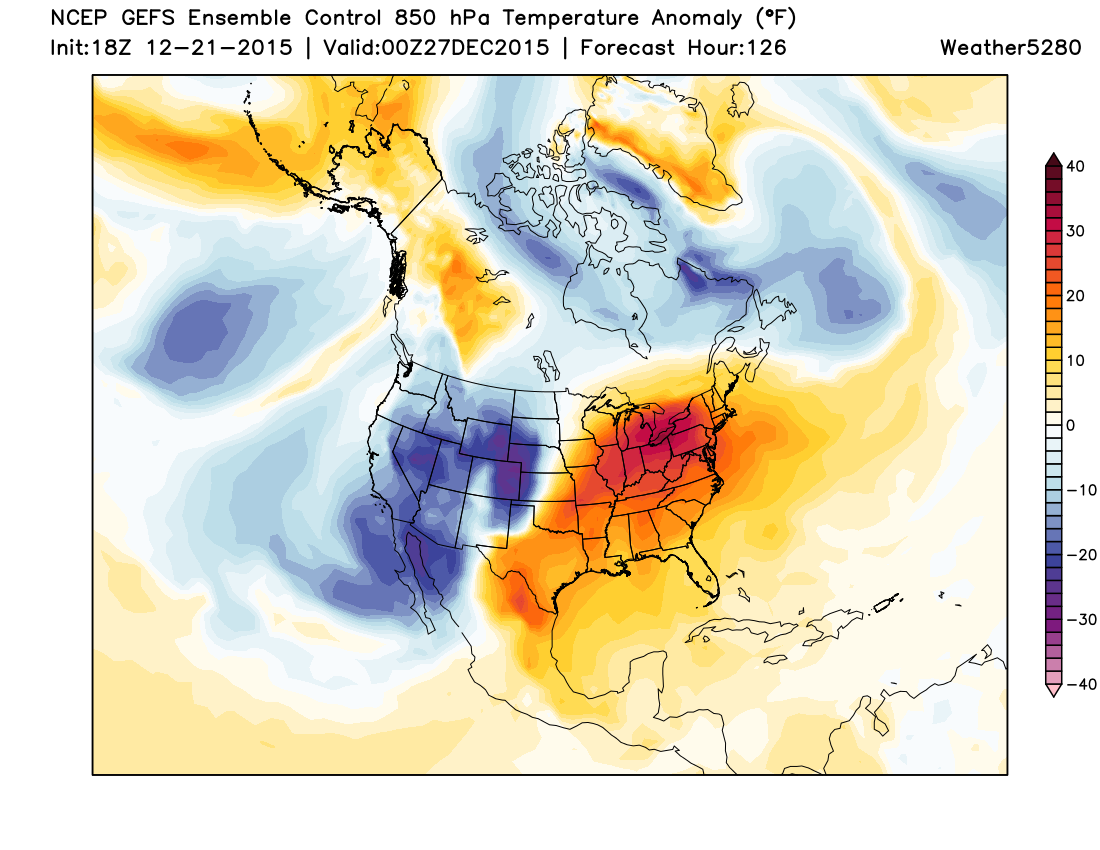 So, we'll see how things look in another 24 hours. For now we'll track HEAVY MOUNTAIN SNOW through Christmas Eve, and a chance for at least isolated snow showers racing across the Plains Tuesday and Wednesday as well. Any snow before Christmas Eve across the Plains should remain light, with little to no accumulation expected for most locales.