We may see some snow of our own down here in the metro area through the next 12 to 24 hours, or so. This is part of the snow that has been hitting the mountains.
Check out the video from Steamboat Resort of the heavy snowfall there:
Dumping in Steamboat this morning.

Posted by Steamboat Resort on Monday, December 21, 2015
Some of that snow will move onto the Front Range and plains today and tonight. Here is a quick look at the snowfall projections through Wednesday morning of the NAM and GFS, both assuming a 15:1 snowfall ratio: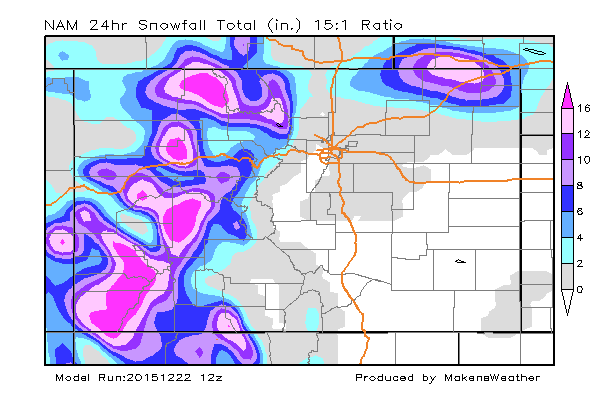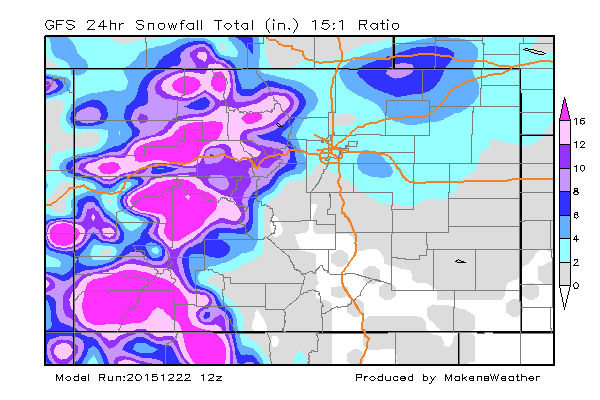 The takeaway here is the mountains will continue to get the heaviest snowfall, and a secondary area of heavy snowfall is going to be over the state's northeastern plains into Nebraska. And, some snow appears over the greater metro area.
Of course, the amounts are a bit different depending upon your model of choice. I'd lean toward the GFS as this particular output matches up with the GFS and Canadian Ensembles of a 71 to 86% chance of at least reaching 1.5". The ECM also gives a bit more to the metro area than the NAM.
With that said, it's entirely possible for the 9 county metro area to see a trace to 3-inch storm through Wednesday morning. This matches the global model outputs and their ensemble probabilities. Furthermore, the SREF has an average snowfall between 1/2 to 1" for the metro area in its morning updates.
Clouding over later today we could see some rain initially, but most of what falls will be snow. The timing on this will be mostly the overnight hours between midnight and daylight.
We are also watching the potential for snow that continues for Christmas Day and the weekend. The overall setup appears the system is too far south for heavy snowfall, however, it is far from being "set in stone" and Santa may still deliver the goods to snow lovers if he can talk Mother Nature into shifting the system a bit farther north.