A quick update this evening as we head into the long holiday weekend. The long and the short of the forecast is, the big cutoff low we discussed on Monday does in fact appear as though it'll stay well south of Colorado, and take most of the heavy snowfall associated with it along with it. With that, our weather headlines for the next few days will be: much colder air on the way, and at least a chance for some snow across northeast Colorado Christmas day and Saturday.
First, what a great week it's been for the high country with upwards of 3' being recorded in some locations near the Divide! The powder is DEEP if you're looking to get some holiday skiing in; this will likely be some of the best conditions we've seen up there for Christmas in years. Here's a look at interpolated snowfall totals for the last 72 hours across Utah and Colorado. You'll note some light snowfall totals across the northern Plains from last night (there's a bit more out there tonight as well!):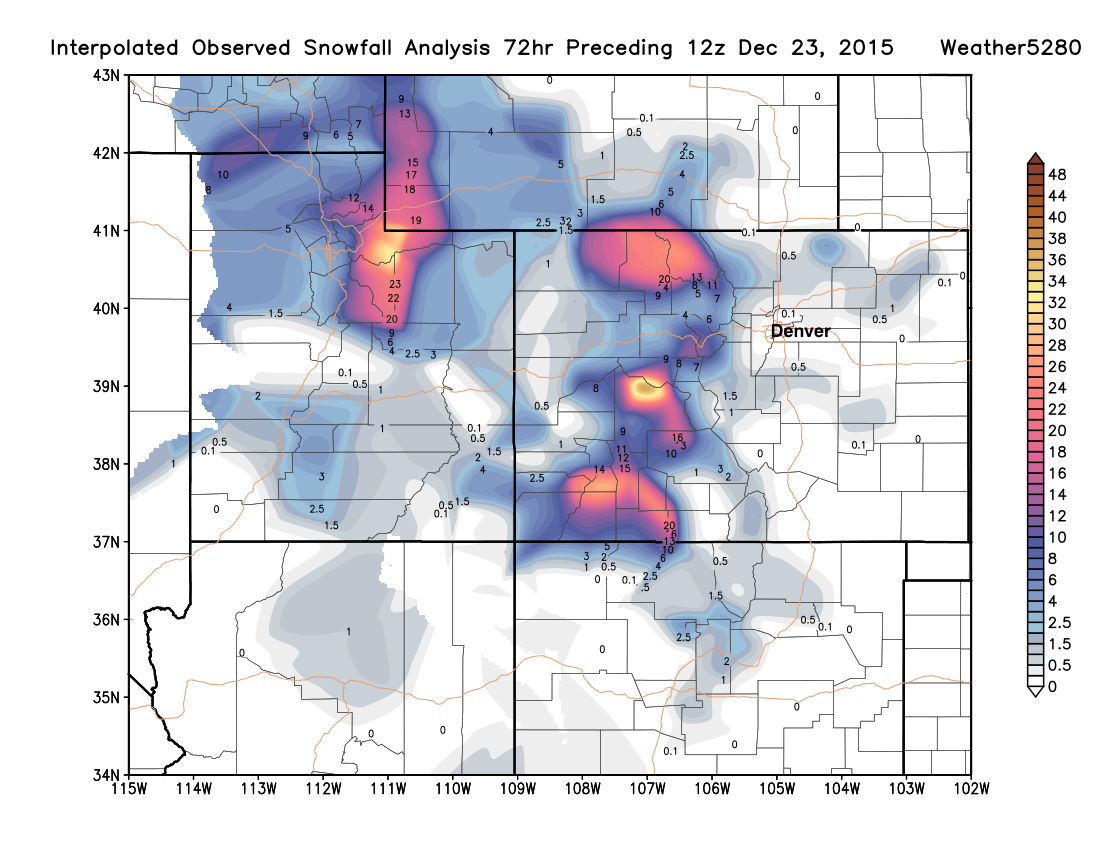 Cold reinforced this weekend
Each of the next several days will get colder and colder, with daytime highs by Saturday possibly not making it out of the teens for Denver. We'll see spotty snow shower activity tonight, a drier day Thursday, then a chance for light snow from Friday afternoon through Saturday.
The best chance of snow for northeast Colorado, including Denver, will likely come behind a cold front Friday evening and overnight into Saturday morning. Models are showing some upslope, and a bitter-cold northerly wind.
The snowfall Christmas into Saturday doesn't look like a huge deal for the metro areas, but could cause some slick roads Friday evening if it comes to fruition. We're seeing decent agreement that we will see some light snow to end Christmas, but still disagreements in just how much.
The EURO and NAM are the two more bullish models with snowfall Friday/Saturday, the NAM producing 3 - 5" across the metro area, and the EURO upwards of 4 - 7" at 15:1. The ECMWF ensemble mean and deterministic are both at 3" for KDEN (assuming 10:1), and with good such good agreement here, we do think several inches will be possible during this timeframe. The GFS and Canadian are less bullish, with just a trace - 3" across northeast Colorado by Saturday night.
Here's a look at the NAM snowfall forecast through Saturday evening (assuming 10:1 ratios):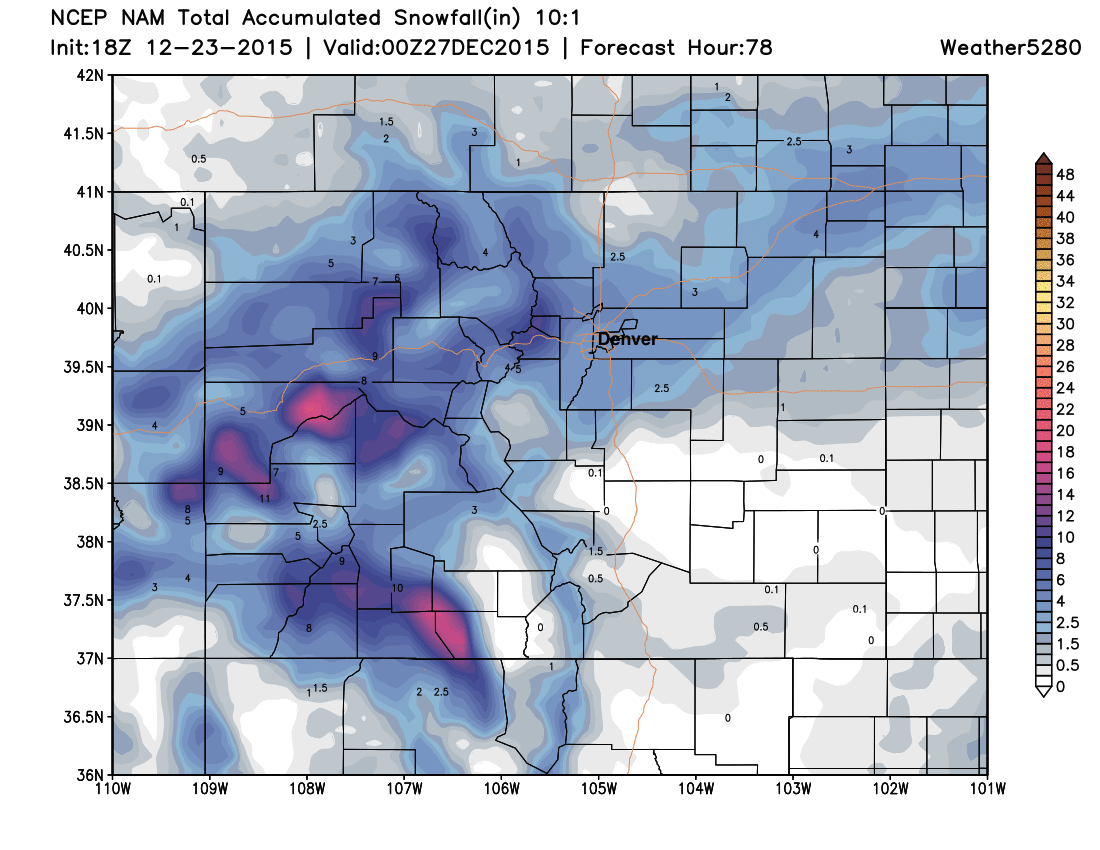 And the GFS (15:1 ratios):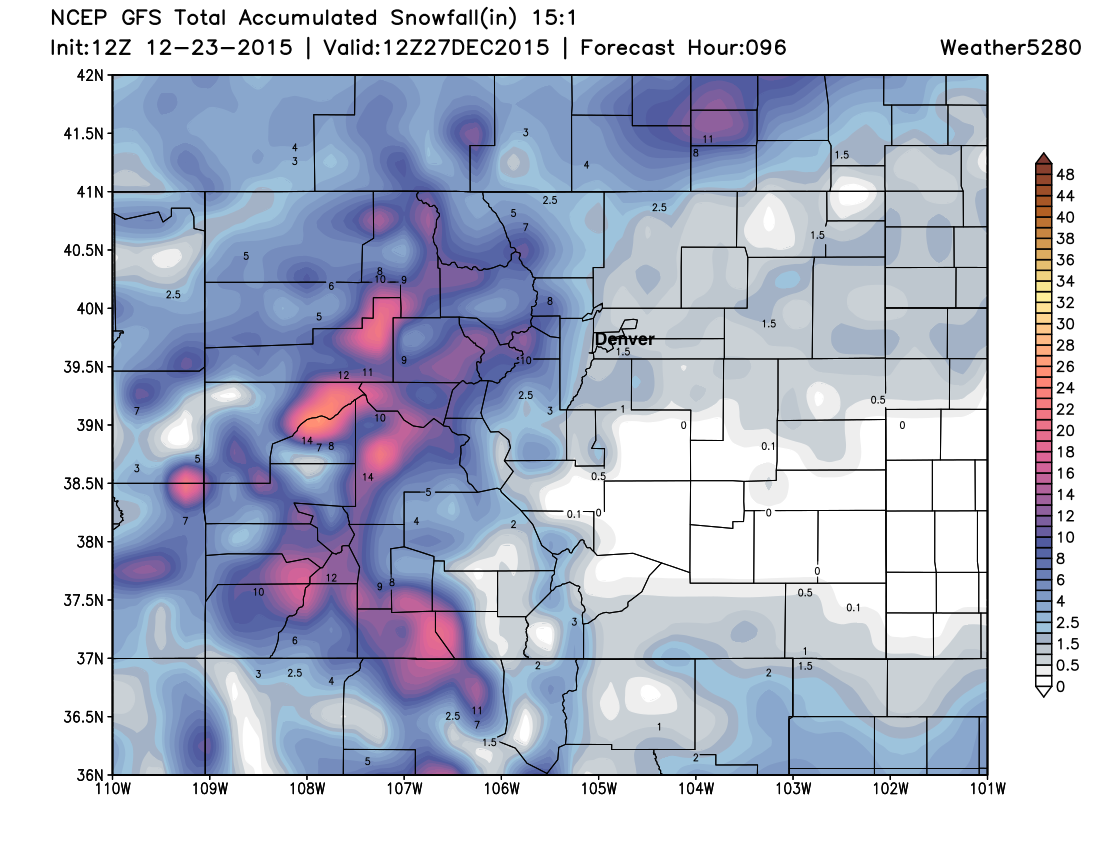 So, as you can see, some snowfall across the Plains, but not huge totals by any means.
The COLD and blustery winds will be the big story, with highs Christmas day in the upper 20s for Denver, with highs in the teens by Saturday. Overnight lows Saturday night will be in the single digits with daytime highs again in the 20s on Sunday. Chilly temperatures will linger with us into next week. Here's a look at the temperature anomalies (departures from normal) forecast for Saturday, very cold across Colorado and the southwest.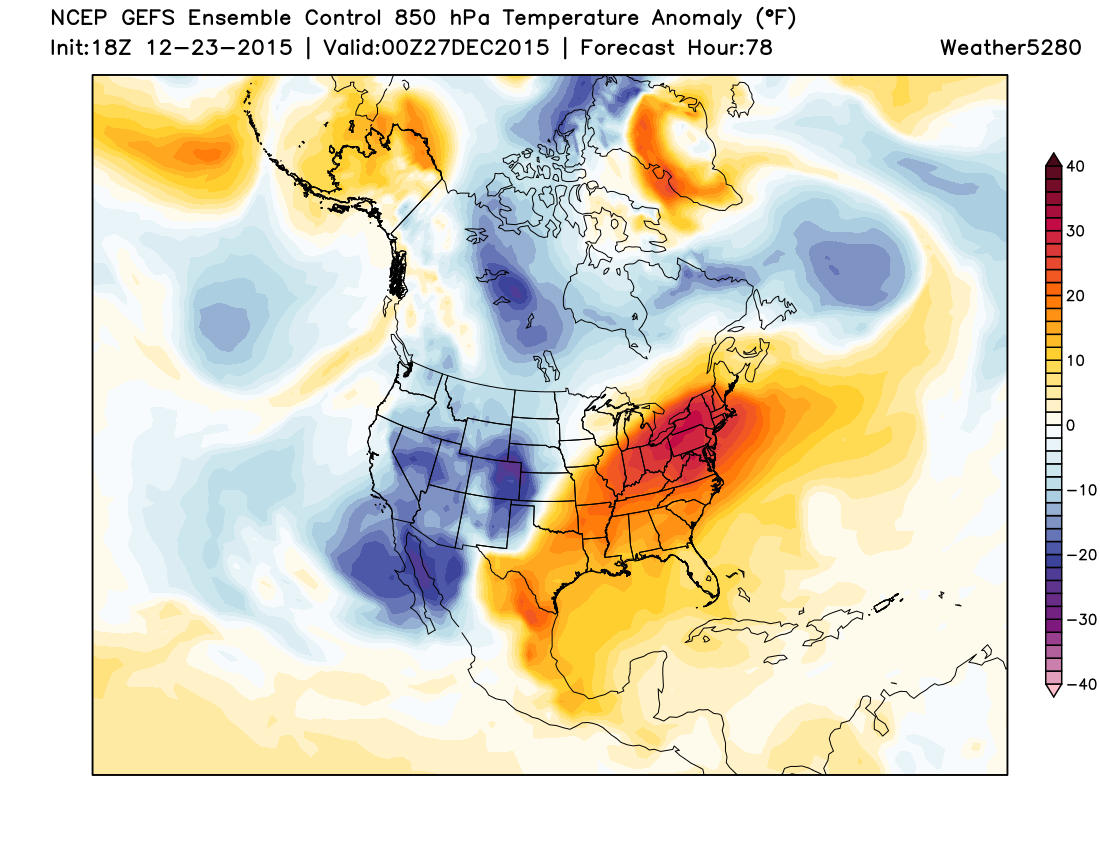 TL;DR
A cold an unsettled Christmas is on the way, with mountain snow continuing and off and on snow across the Plains as well. The best chance for accumulating snow in Denver likely comes Friday evening and Saturday, with several inches possible if we can get enough upslope going. Temperatures will be cold(!) through the period.
Oh, and it looks more or less certain we'll be missing a BIG snow just to the south/southeast of Colorado... Ouch!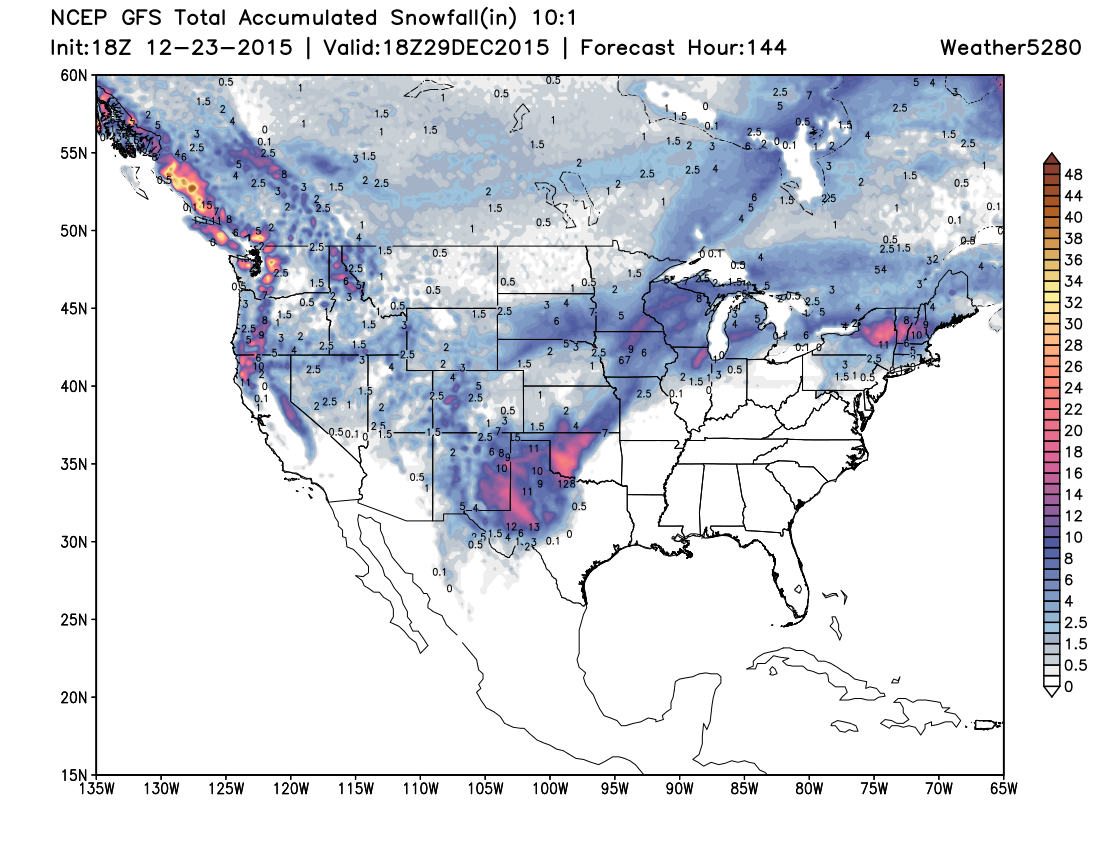 And look how far south that BIG Low gets...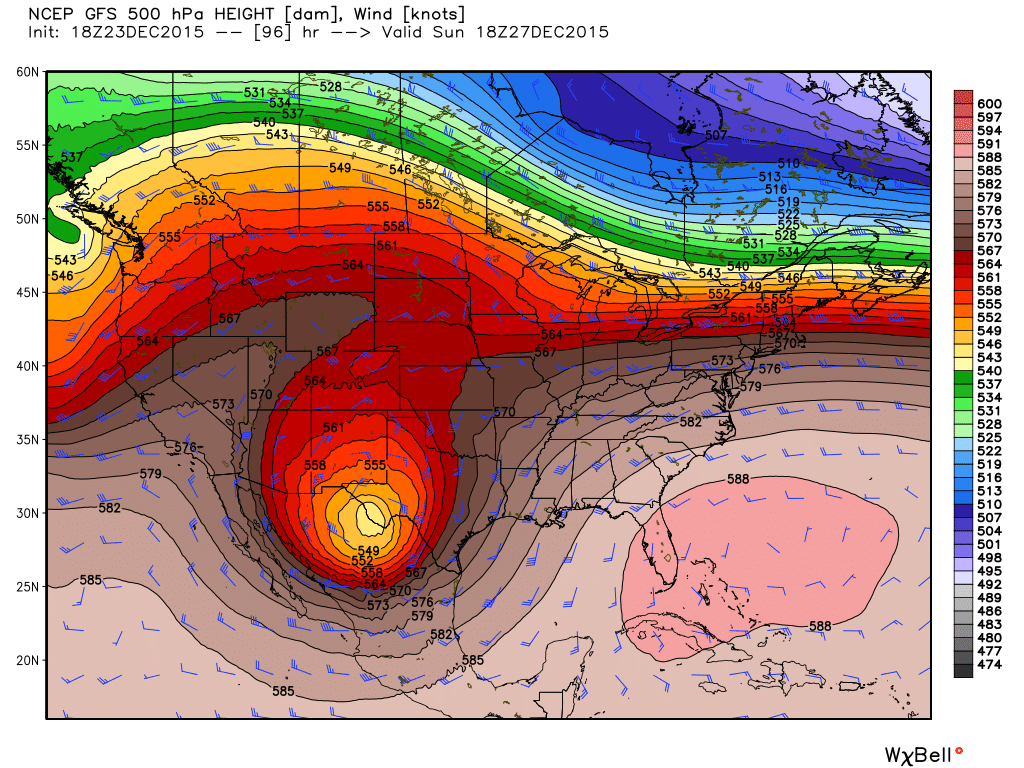 A great storm, but not looking like our storm.
As for updates...
We'll see how things look come tomorrow evening, but unless something dramatically changes with the forecast we may not issue another update as we're juggling time off and merriment as well as you all. Please plan on at least a chance for snow Friday into Saturday, and very cold temperatures. If it looks like snowfall totals will be greater than a few inches we may try to get something out, otherwise plan for a Trace - 4" event across northeast Colorado, with a prolonged period of off and on light snowfall. If, for some reason the WPC is onto something, we may be getting another post out tomorrow. We'll see...
To all of those celebrating, we wish you a very Merry (and warm!) Christmas!