Although dwindling there does remain a chance for the city to see some snow on Christmas Day. The chance looks to be about 40-60% to see some snow falling during the later day. Don't expect much in the way of accumulation unless you are in the mountains, though a coating to a fluffy few inches or so will be possible across the northeast Plains. Here are two model projections of snowfall for Christmas Eve through Day.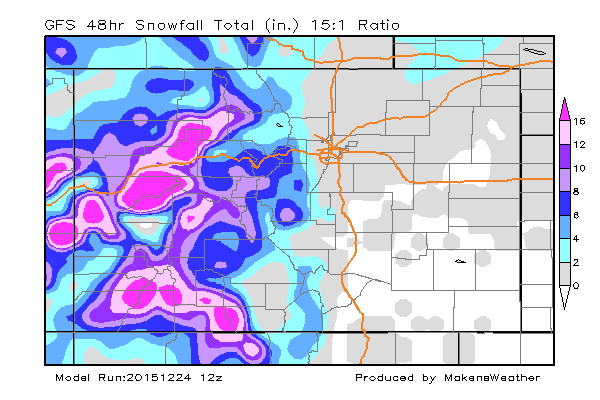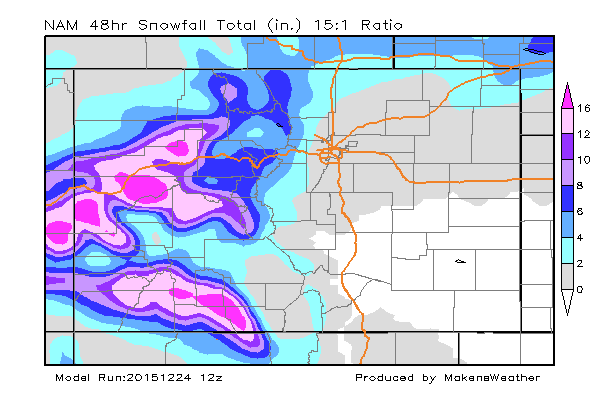 Overall, travel throughout the metro area looks okay for Christmas day. Travel throughout the mountains will have some issues for some routes.
Family Trivia
If you are trying to entertain the family here's some interesting Christmas snow information about Denver.
From the NWS-Boulder office:
If having a white Christmas means having one inch of more of snow on the ground on Christmas Day, then the chances are about 38 percent (44 days in 115 years since snow depth measurements began in 1900).
On the other hand, if a white Christmas means having measurable snowfall (0.1 inch or more) on Christmas Day, then the odds drop to about 14 percent (19 days in 133 years since snowfall measurement began in 1882).
The most snow ever recorded on the ground in Denver on Christmas Day was 24 inches which was measured after the Christmas Eve blizzard of 1982. Other significant Christmas snow depths include the following:
5 Greatest Snow Depths on Christmas since 1900
1982: 24"
1913: 19"
2006: 15"
1973: 12"
1918: 11"
The heaviest snowfall on Christmas Day was 7.8 inches which occurred in 2007. Other significant Christmas snowfalls include the following:
5 Greatest Snowfalls on Christmas since 1882
1894: 6.4"
2014: 3.4"
1912: 1.7"
1941: 1.5"
Merry Christmas
All of us at Weather5280 wish you a very happy Christmas. Pass the eggnog and rum, please. Cheers!