Ah, we made it to 2016. First, thank you for taking the time to read along with us. Second, we look forward to a great year ahead for Weather5280.
ICYMI: The Year in Weather 2015
This first SOTA of the year does not include much of a change to what we would anecdotally forecast this time of year. I'm a native and we refer to January's cold weather as "Stock Show weather". If you are familiar with this term you expect cold to coincide with Denver's National Western Stock Show.
So about this Stock Show weather. There are indications of a colder pattern to return late this week. A cold shot of air will move out of Canada and will park itself over the northern Plains and the upper Midwest. For Colorado, this cold will favor the northeastern plains the most. And, the cold will extend into the metro areas too.
This cold, and chance for snow, is the next weather change to move in by Thursday or so. Coincidentally the Stock Show Parade is also Thursday. Until then we are looking "average" for early January conditions. Temperatures Monday through Wednesday in the 40s; the average high is in the lower 40s.
Now, for Thursday and beyond. There are indications to support a duration of colder than average days. The Arctic Oscillation (AO) is projected to send a large area of cold to the Northern US. The Madden-Julien Oscillation (MJO) is in phases 7 to 8 through the next 15 days. These phases also support a cold push of air. Yet, the significance of the MJO phases and cold correlation is higher to the east of Colorado. Meaning, colder than average temperatures are more likely to stay east of Colorado. In both cases, the duration of this cold may last a couple of weeks.
So, how does this match with the long-term modeling? The GFS shows colder temperatures in southern Canada moving our way by Thursday. We are looking for temperatures below average yet maybe only 10 to 20 degrees cooler for a period of about a week. Notice in Sunday morning's run of the GFS the coldest air (indicated in richest blues/purples) could stay east and north of us during the colder period.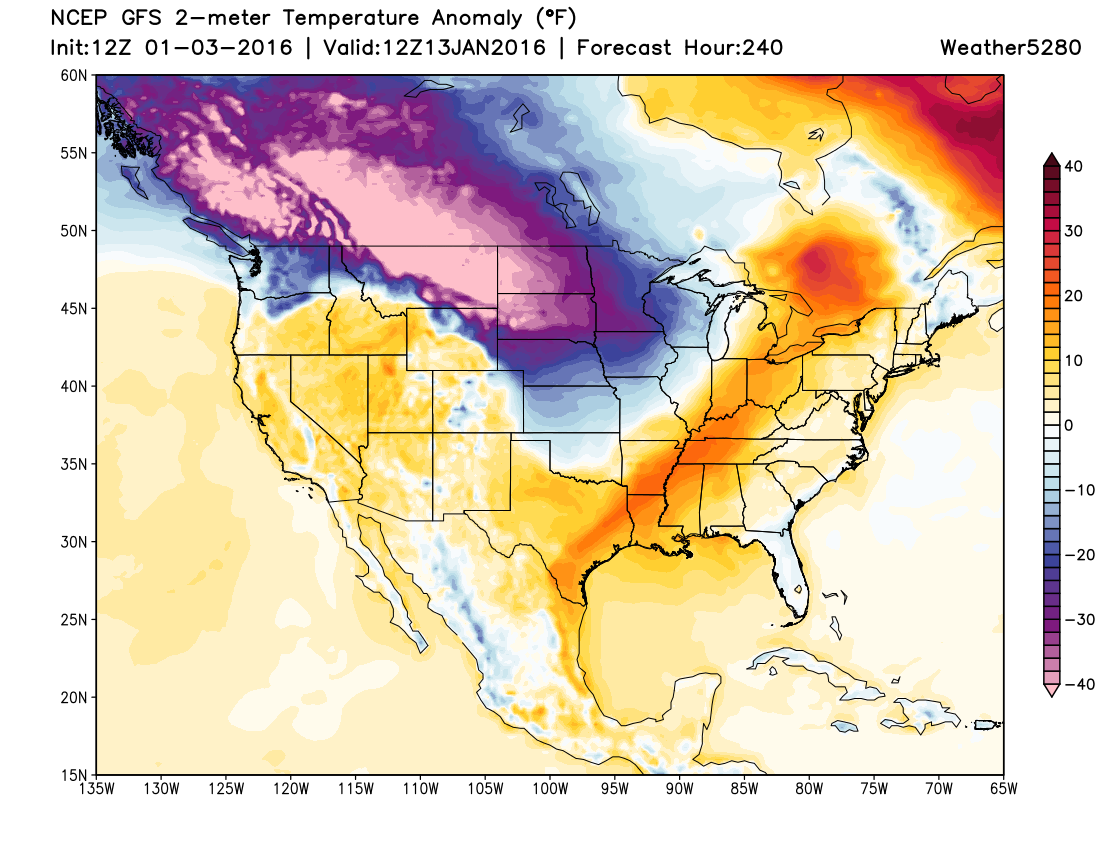 This GFS projection does align with the MJO. So I see some support to believe the GFS solution.
So, how long would it last? Well, for the northern tier of the country this pattern shift could last the rest of January, though some modeling indicates the cold will be more quickly overrun. For us, it may not be the classic blast of arctic air that seems synonymous with the Stock Show. As the MJO and AO weaken into late January, as is indicated, the truly Arctic air will stay out of Colorado - as the GFS shows for the 13th of the month.
If we feel a longer lasting and colder impact we will need to see the MJO shift into phase 1 and 2 rather than 7 and 8. Phase 2 of the MJO, particularly, would indicate a significant cold event for our area. This is not apparent in current projections. We will watch this for you.
We will also watch for any signs of snow to come through with the cold. As of now, there are chances for snow with passing troughs. The next chance appears to around Thursday as the colder temperatures arrive. Both GFS and GEM Ensembles indicated a chance for snow by Thursday.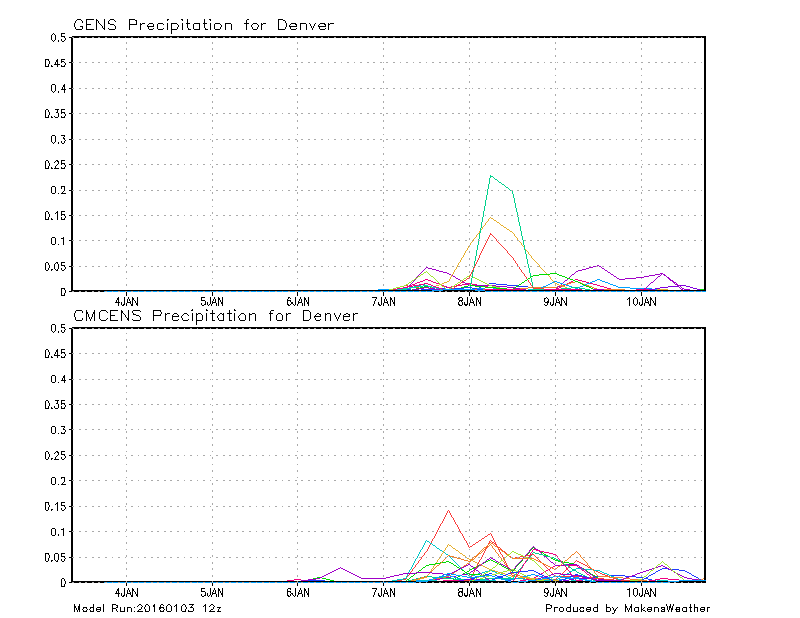 At this time there is no significant system (deep low-pressure area) projected to bring heavy snowfall through the next 10-days or so to the metro area. This also matches the dry connection we have when in MJO phases of 7 and 8. Here's the GFS snowfall total running from the 3rd through the 13th.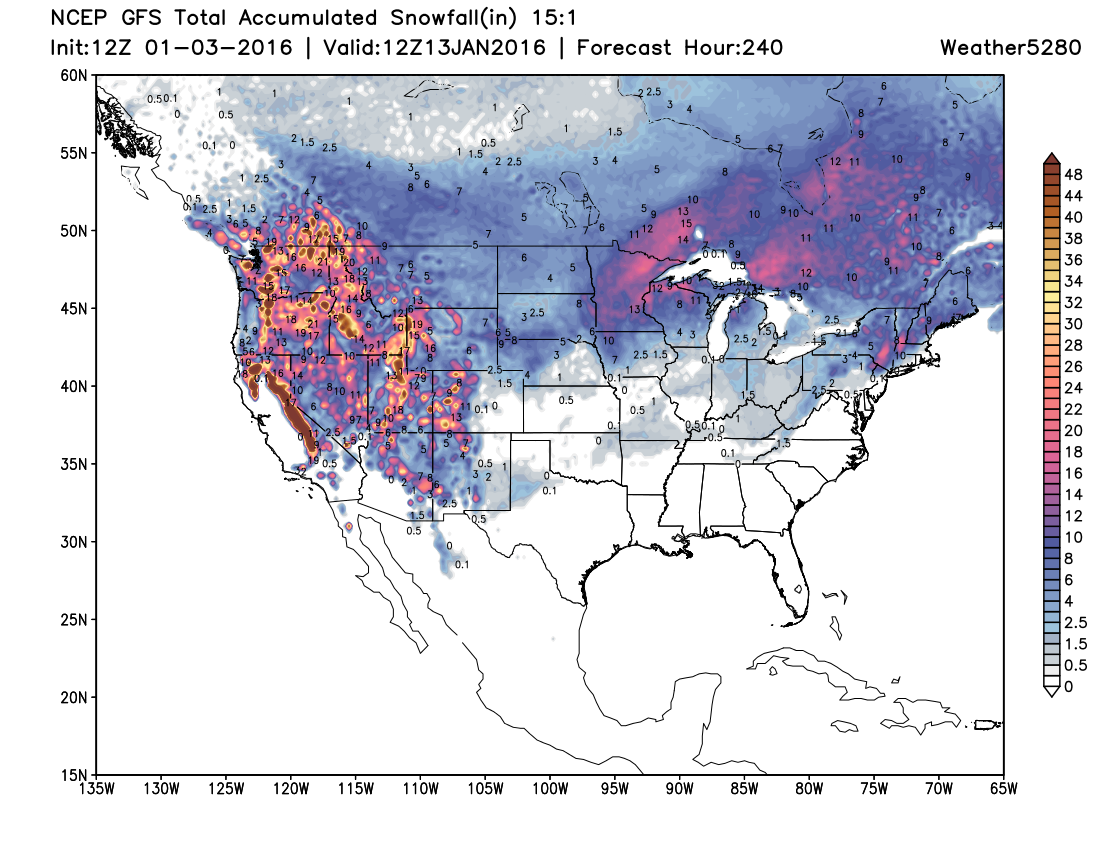 Granted this is a singular run of one model. There are some higher snowfall totals through the next 10-days in certain ECM and GEM runs. Not huge snows, but higher totals. I won't say that we should discount those particular models just yet. I will say that January is a dry month on average in El Nino years. And the further evidence is in a dry connection to phase 8 of the MJO. Based on this I'm sitting closer to the GFS "seat on the teeter-totter".
As a final note, I've made a lot of mentions of the MJO, more so than any of my previous writings. The MJO has become more active and will be a major factor in our late winter and spring outlook. The MJO may bring us a wet February and March before we return to a long-term drought with La Nina. We will provide you further thoughts on this evolution into the next few weeks.