We've enjoyed a nice warm-up over recent days, but the cold is reloading and will arrive Thursday to stick with us through the weekend.
While the cold, especially across the north-central Plains states will be the big story, we'll see a series of waves bring a chance of snow to the forecast – even for the Denver area. The best chances for snow across eastern Colorado will be from late Wednesday through Friday.
But first the cold...
This will be an impressive cold outbreak, especially across the eastern two-thirds of the United States, of which many locations still haven't yet had a real taste of winter this season.
Below is the 12z 850mb temperature anomaly forecast for the U.S. from January 8th - 12th. Blues and purples indicate temperatures below normal, yellows and reds temperatures forecast above normal. Big changes on the way for the eastern half of the country...
The coldest temperatures with this initial blast look to come over the weekend. Here's a look at the temperature forecast for very early Sunday morning, bitter cold with temperatures below zero for the northern Plains: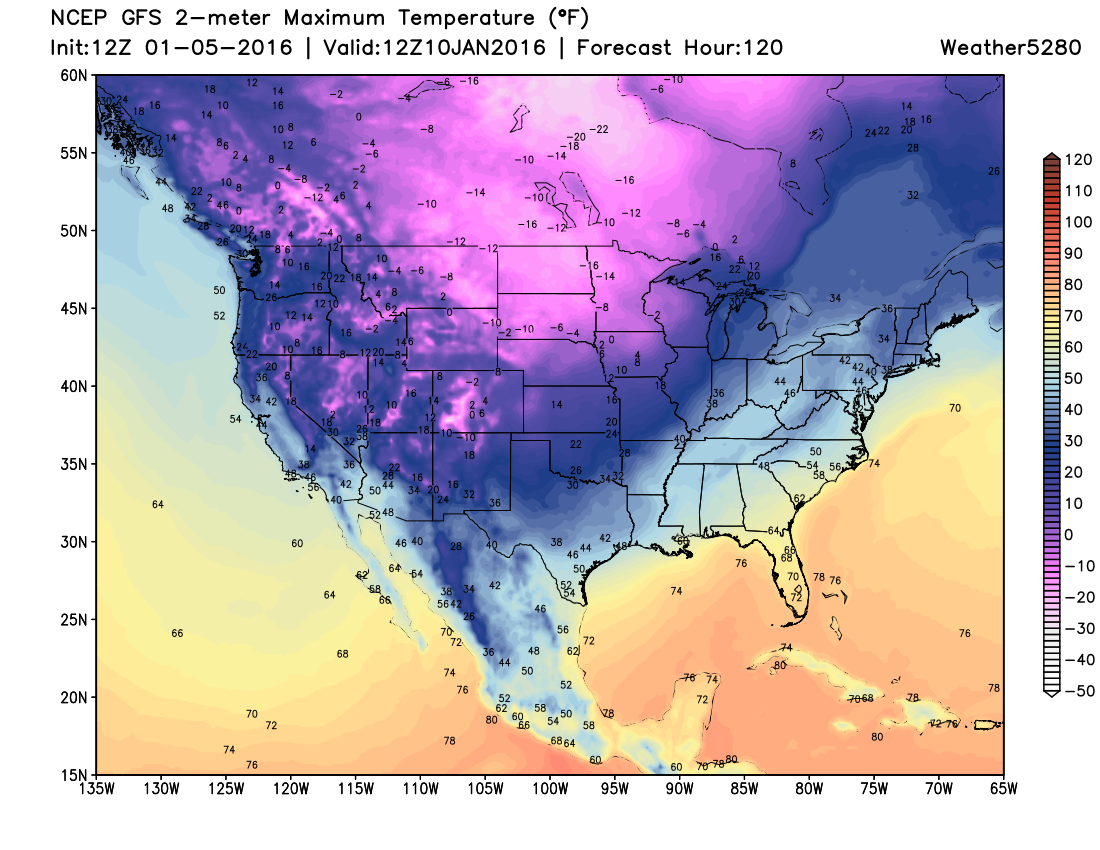 For Denver, we'll see one more day of near normal temperatures Wednesday with highs again the 40s around town, before cooling into the 30s Thursday. Friday through the weekend we will likely have 20s for highs and overnight lows in the teens and single digits.
Tracking some light snow too
The snow forecast is a bit more tricky, as is so often the case. If the GFS is correct, we'll see a chance for light snow by early Thursday morning across the metro areas, with another – possibly slightly better – chance Friday. The NAM is less convinced, keeps the first wave mostly dry east of the mountains, and is too far south with the second wave Friday. The ECM/GEM models are both pretty dry for Thursday, with a better look for snow in town by Friday. All models suggest a light snowfall accumulation will be possibly across the city by the time we get into the weekend (perhaps a few inches?), so definitely stay tuned as we nail down the details here.

The flow through the weekend favors southwest Colorado, so this is where to head if you're in the hunt for some deep snow. A Winter Storm Watch is already in effect for that area, with the San Juans looking at the potential for upwards of a foot and a half through Friday morning: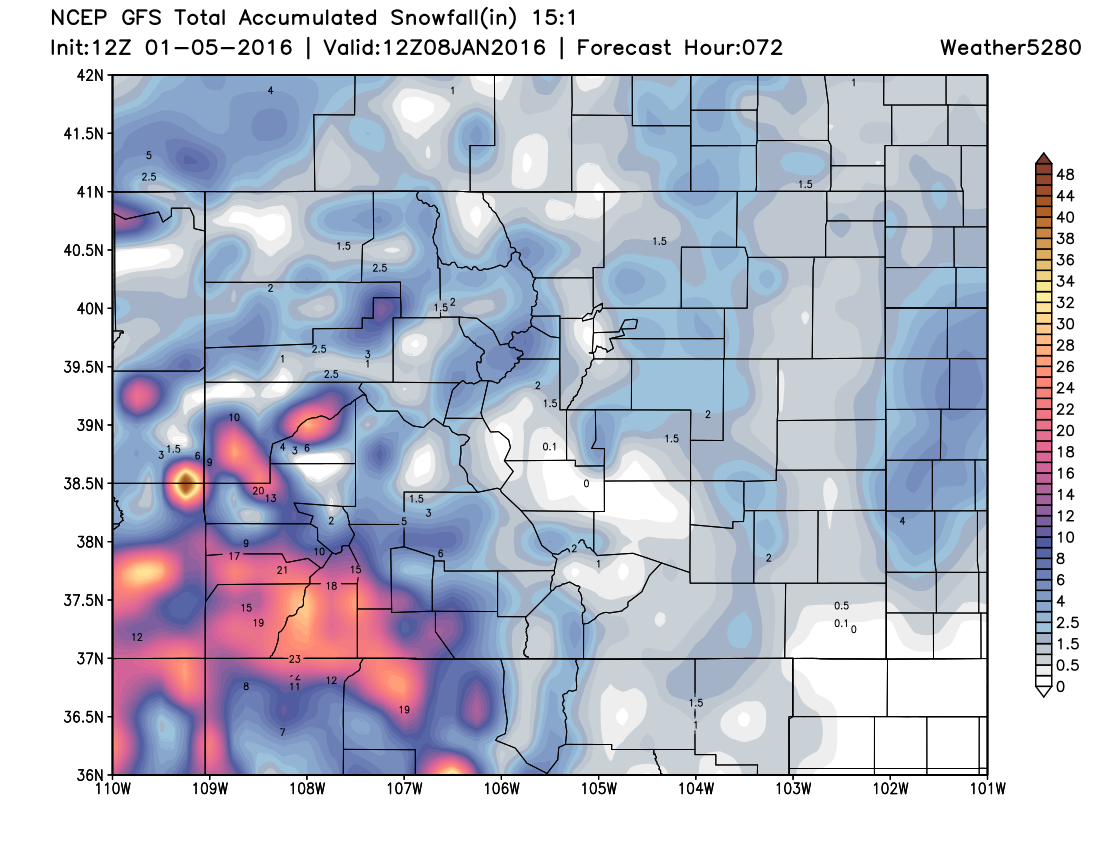 So, we'll keep an eye on things tonight and likely offer an update tomorrow regarding snow chances across eastern Colorado to end the week. At this moment is doesn't look like a huge deal snow-wise, but a few models suggest a few inches (especially with high snowfall ratios) will be possible should things align just right Friday. Keep those jackets handy, and stay tuned!