If you're keeping score at home (and of course we're not) it may seem like the northeast has been hit with more than their fair share of major winter storms in recent years.
Going back to the year 2000, there are a number of major winter storms that come to mind for the east coast – but are the numbers disproportional to the over 150 years of record-keeping? How about compared to the number of top 20 storms we've seen in Denver since 2000?
For Denver, we've seen two of our top 20 snowstorms on record since 2000. In March, 2003 the city recorded its second greatest snowfall on record of 31.8" (Denver's greatest snowfall of all time came in 1913, when 45.7" fell on the city), and then the Christmas blizzard in 2006 of 20.7". Come February, it will have been four years since the city has recorded a single snowfall event of 15" or more, last happening on February 2 - 4, 2012 when 15.9" was recorded at Denver International Airport.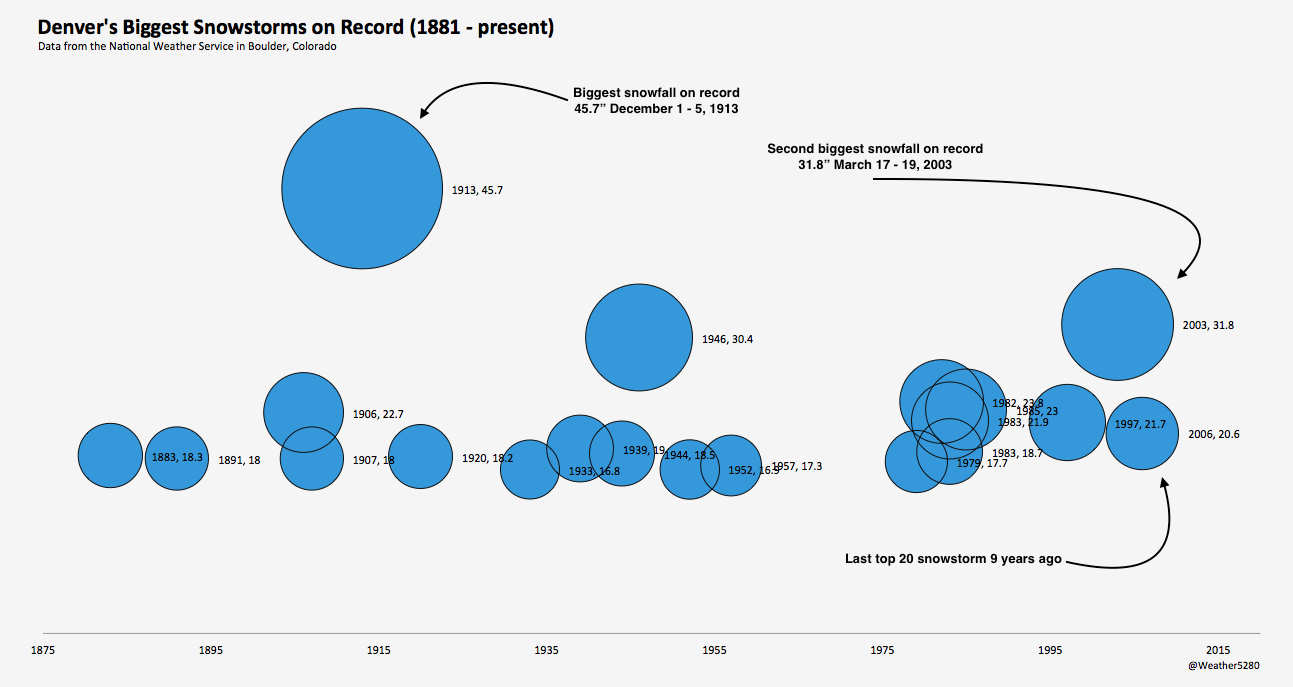 It's been nine years since Denver has recorded a top 20 snowfall. Of course this list changes as time progresses, but this nine year stretch without bumping or tying a snowfall out of top 20 is on the longer range – with the longest stretch without a top 20 snow being from 1957 to 1979 (yikes!).
While Denver has seen two top-20 storms since 2000, New York City has recorded six of their top snowfalls in the last 15 years. This includes their greatest snowfall on record of 26.9" which fell on Central Park between February 11 - 12, 2006.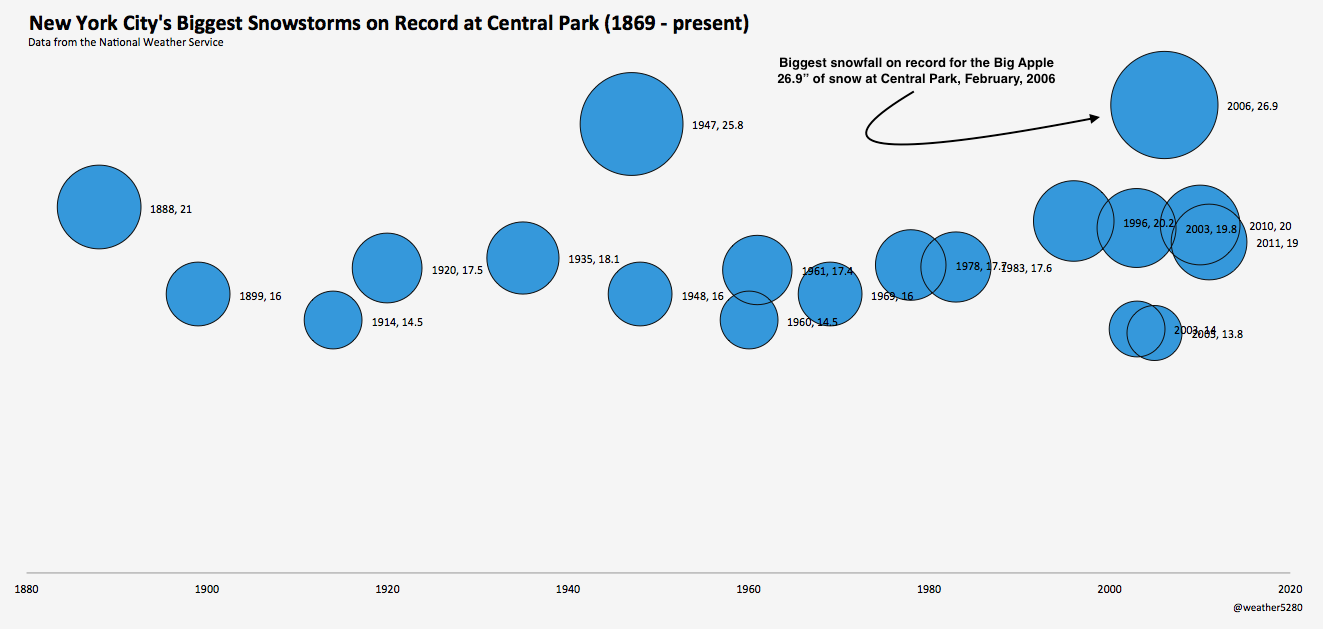 Washington DC has seen three of its top 20 snowfalls since 2000, with two of those coming back-to-back in 2009 and 2010. While DC narrowly missed an epic winter for New England last year, the District is preparing for what looks like could be a top 10 storm this weekend, should the forecast stay on track.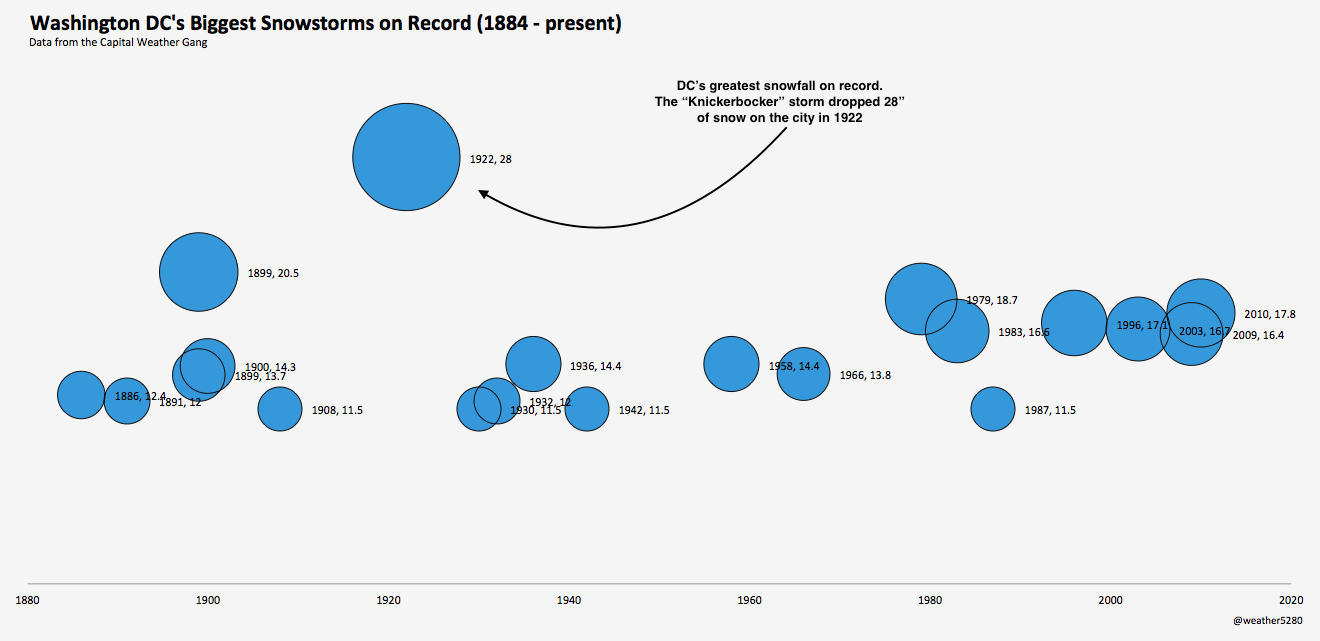 So, the answer is yes – the 21st century has started strong for much of the northeast United States for big-time snows, but that's not to say it hasn't delivered in the west, it's just been many years now for some of us, and memories are a funny thing.
Take a look at this chart, showing years since a top 20 snow storm in a number of city's across the country. For DC, it's been five short years and they are now bracing for another big-time snow, while in Denver we're nine years removed from a top 20 snowfall.
And if we look at the distribution of top 20 storms by decade, clearly NYC is doing best over the last two decades, with the other eastern cities close behind. Denver is notably missing from the 2010 bracket: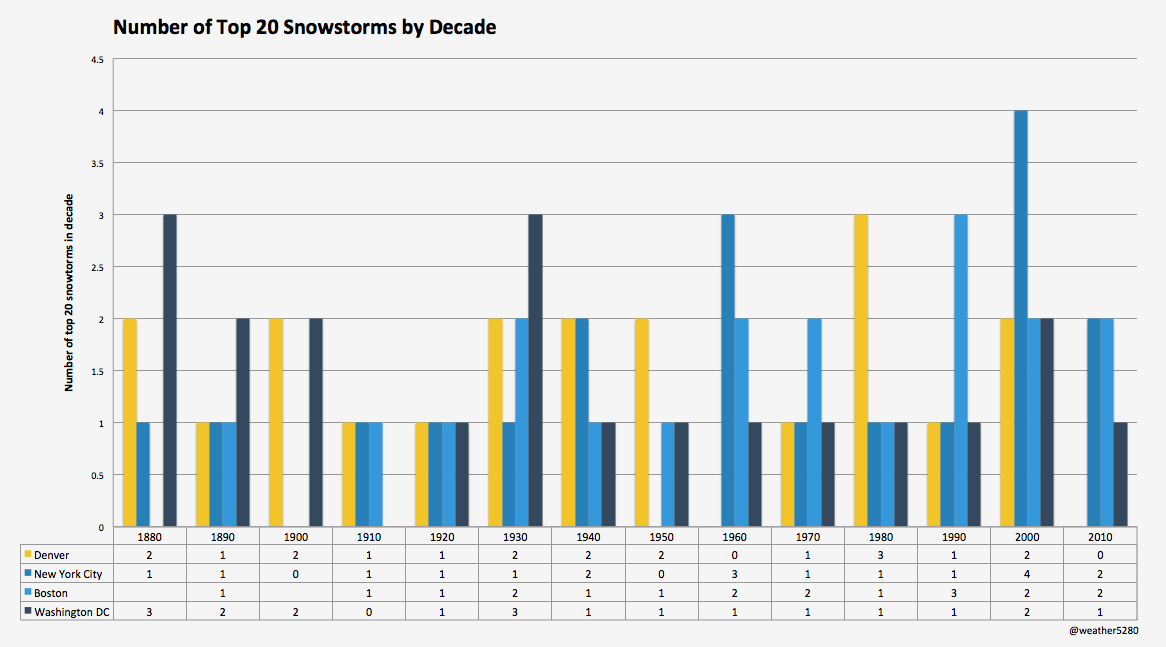 For those in Denver, the time will certainly come again when we're talking big-time snow in the Mile High City, but for now we patiently wait. With a slowly weakening El Niño, maybe, just maybe, this will be the year. All eyes on February and March, just in case.