As our weather warms up for the next day or so, the east coast is hunkering down as what surely will be a storm to remember for many years to come barrels in to the mid-Atlantic this afternoon.
Related: The Glory Years for East Coast Snowstorms?
The National Weather Service is forecasting 22 - 26" for Washington DC proper, with the northern/western suburbs likely to see more than 30" of snow from this system. We hope that if you have friends and family in the region, you have urged them to prepare of the storm on the way, and that they are all where they want to be before the snow starts to fly!
Related: Why this incredible, 'textbook' snowstorm is so potent
Here's a look at the 12z GFS snowfall forecast for the eastern U.S. through 18z Sunday. Heavy snow from North Carolina to NYC on the way this weekend.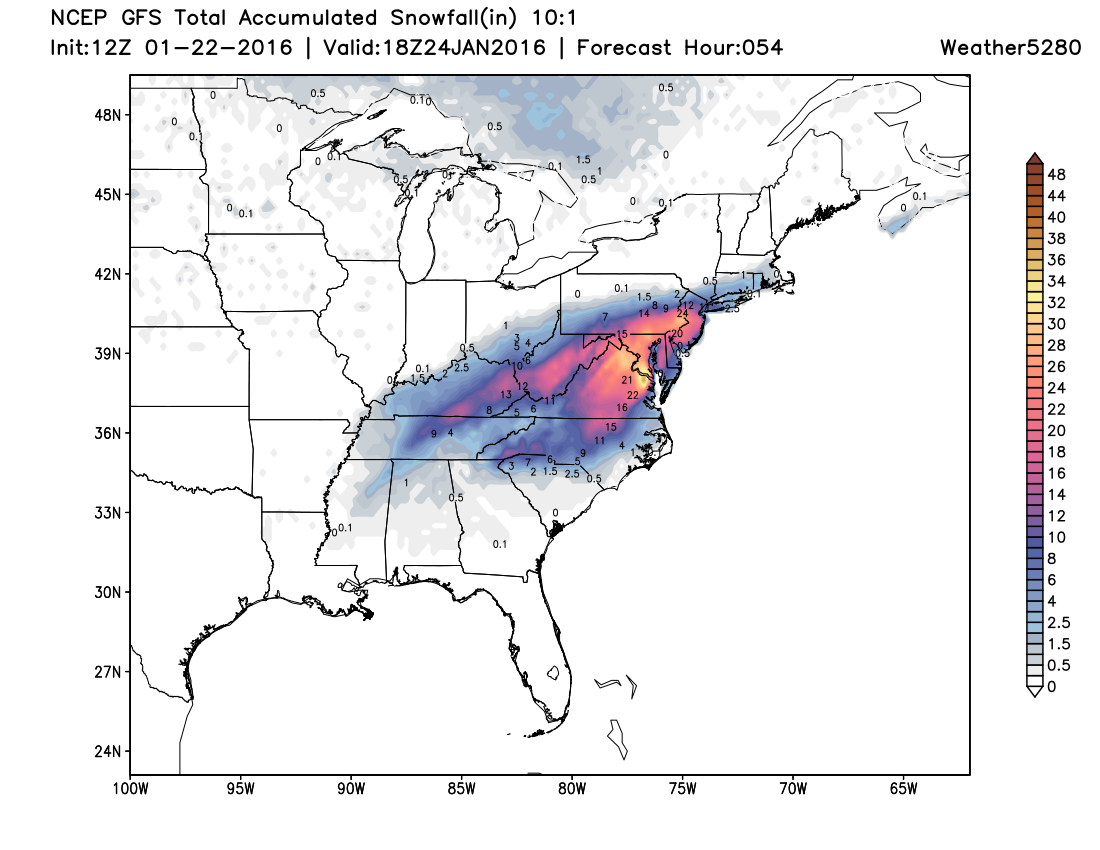 And the WPC probabilistic 50th percentile forecast for Virginia: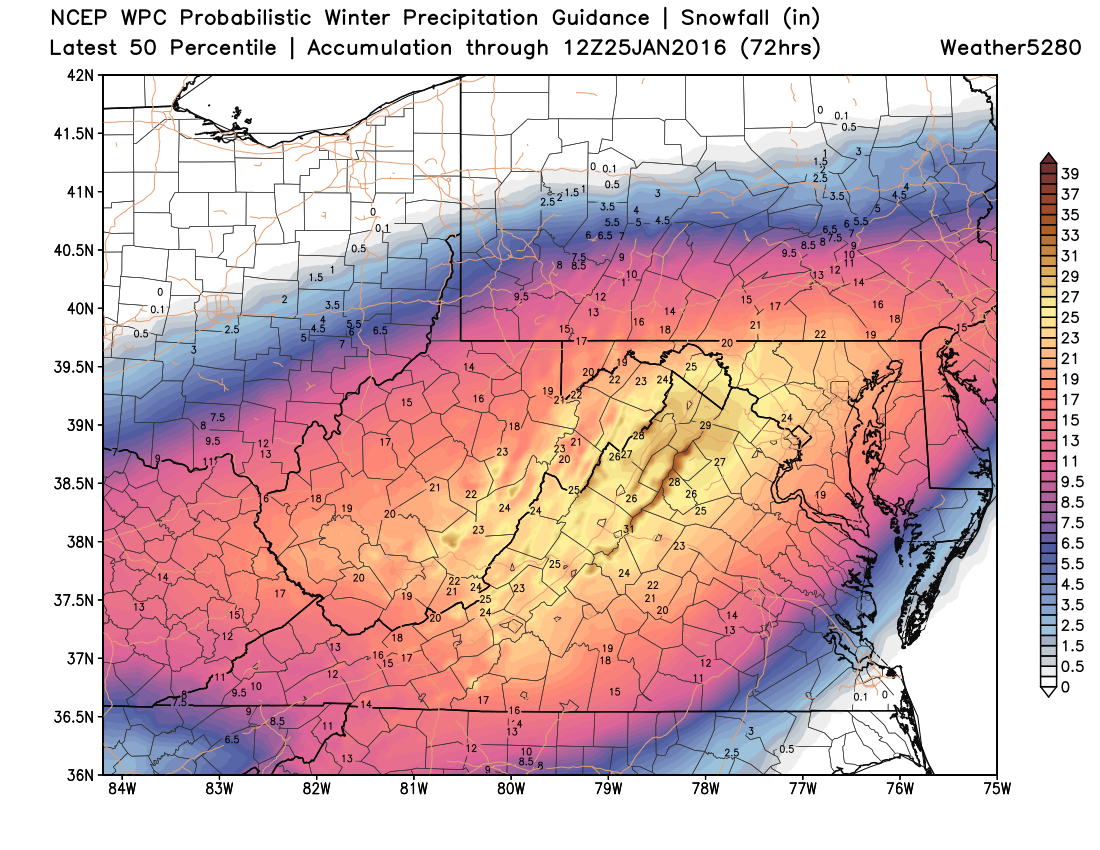 Incredible!
Around here, our weather will feel more spring-like than winter, at least through Saturday. Highs both today and Saturday will be in the 50s for the Denver metro area (near 60 degrees for many on Saturday!).
By Sunday we'll be tracking our next weather maker, though at this time it looks like any snow chances it may carry with it will hold off until later in the day Sunday, and overnight into Monday.
Of course, the big question is what the weather will be doing for the big Broncos game on Sunday. For the time being, it looks like kickoff should be nice enough – though temperatures will be much cooler than Saturday, with highs topping out in the low 40s Sunday in Denver.
From kickoff on we'll need to watch the timing of the cold front. The EURO has temperatures dropping off to near 30 degrees by 5pm Friday, which would indicate the front moves through the area during the game. The NAM/GFS/EURO all hold snow off for the most part until after 5pm Sunday, though should timing speed up, I wouldn't rule out the chance for a snow shower by the second half of the game.
As for totals... It doesn't look like a huge deal, though models today look a bit more generous than they have in recent days. Still, for the city they are printing out just a coating to 2", with maybe a spotty 1 - 4" for higher terrain south and southwest of town overnight Sunday into Monday. For now will introduce about a 40% chance of snow for Denver from Sunday afternoon through Sunday night, and see how things look in another 24 hours or so.
Get out and enjoy the day Saturday!