Out of dozens of conferences a year I prefer one, the Steamboat Weather Summit. The venue is perfect, obviously. The number and content of speakers are appropriate and broadly based. The members are a perfect blend of mets across the country from various tv stations/networks. The entire group is given a chance to learn, play, and bond. Perhaps the week of the year I look forward to the most.
Unlike the big conferences where discussion and questions wait till the end, this is a week of dialog. The expert-attendee interaction continues during sessions and in free time. Getting to know the presenters and the other attendees makes this a great conference.
This year's content spread from climatology to new technologies. Greg Carbin, SPC, discussed the below average tornado seasons of late and new methods/technologies for the improvement of severe storm prediction. Severe weather mets/chasers, keep your eye on the Storm Scale Ensemble Opportunity (SSEO) for probabilistic predictions in the seasons ahead.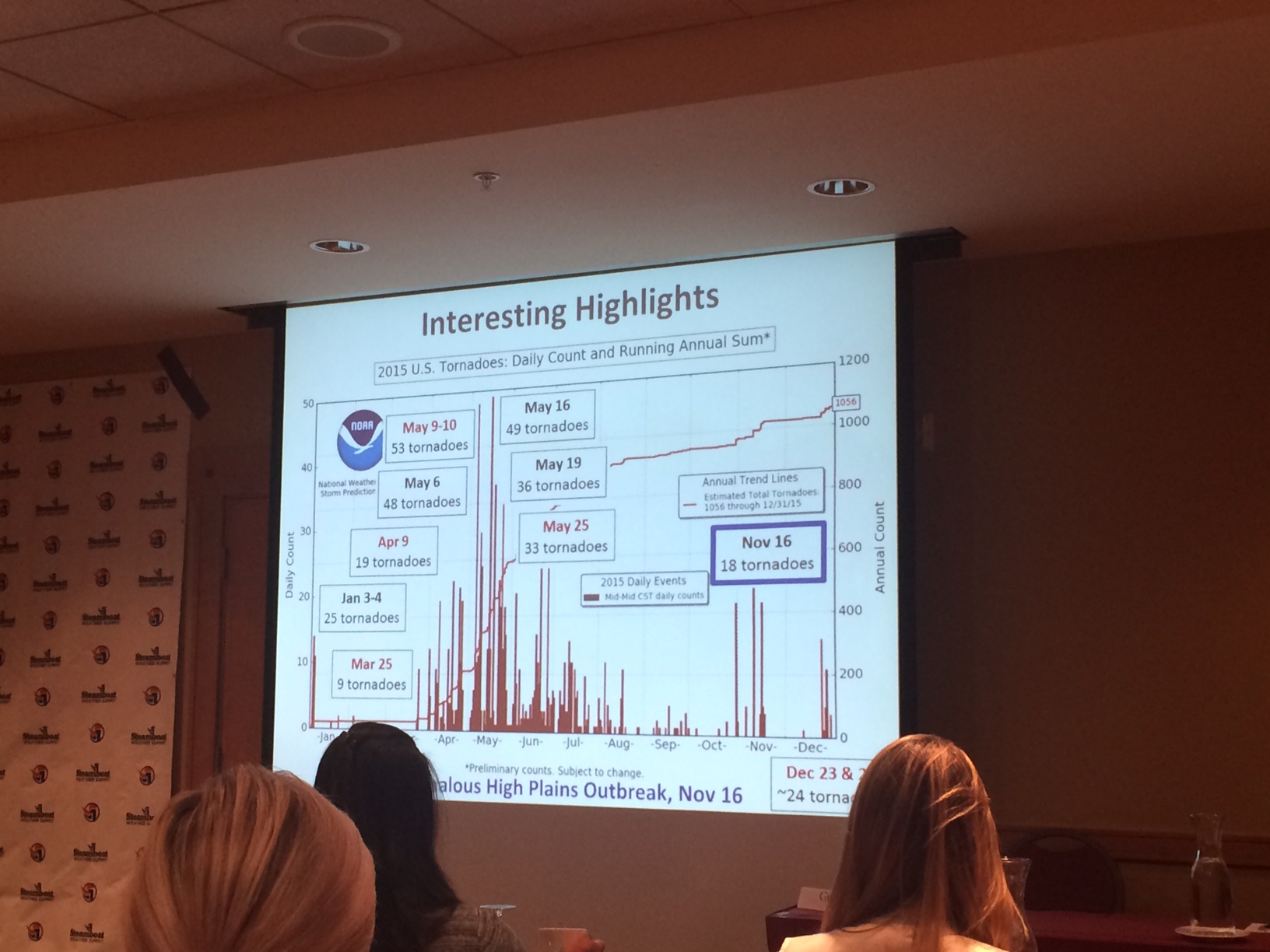 JT Reager, JPL, discussed the GRACE mission – a satellite-based methodology for tracking water. This mission tracks gravitational differences that result from different amounts of water. This data can track, over longer periods of time, changes to water levels/supply. Imagine this plethora (yes I just thought about the movie Three Amigos when I used this word) of information that can be provided to water managers. California, pay attention. Colorado water managers should also as we head back toward an extended drought period as the El Nino signal weakens and forecasts call for La Nina's return. Further, this mission can help with fire and flood predictions.
Bill Line, liaison for the GOES-R generation missions, described in detail the benefits of the new generation of GOES. We all can be honest here...this is overdue for the progression of the industry. The GOES-R has projected launch for October 2016 and will either replace the east or west GOES. GOES-R will bring a tremendous advancement in resolution and update frequency. Satellite data updating as quickly as every 30 seconds will be a tremendous advantage on our plains during thunderstorm development or during the rapid development of snow bands, just to name a couple advantages for Colorado. GOES-R is the first of three new satellites to launch. R is being assembled here in Denver and will be launched by Denver-based United Launch Alliance.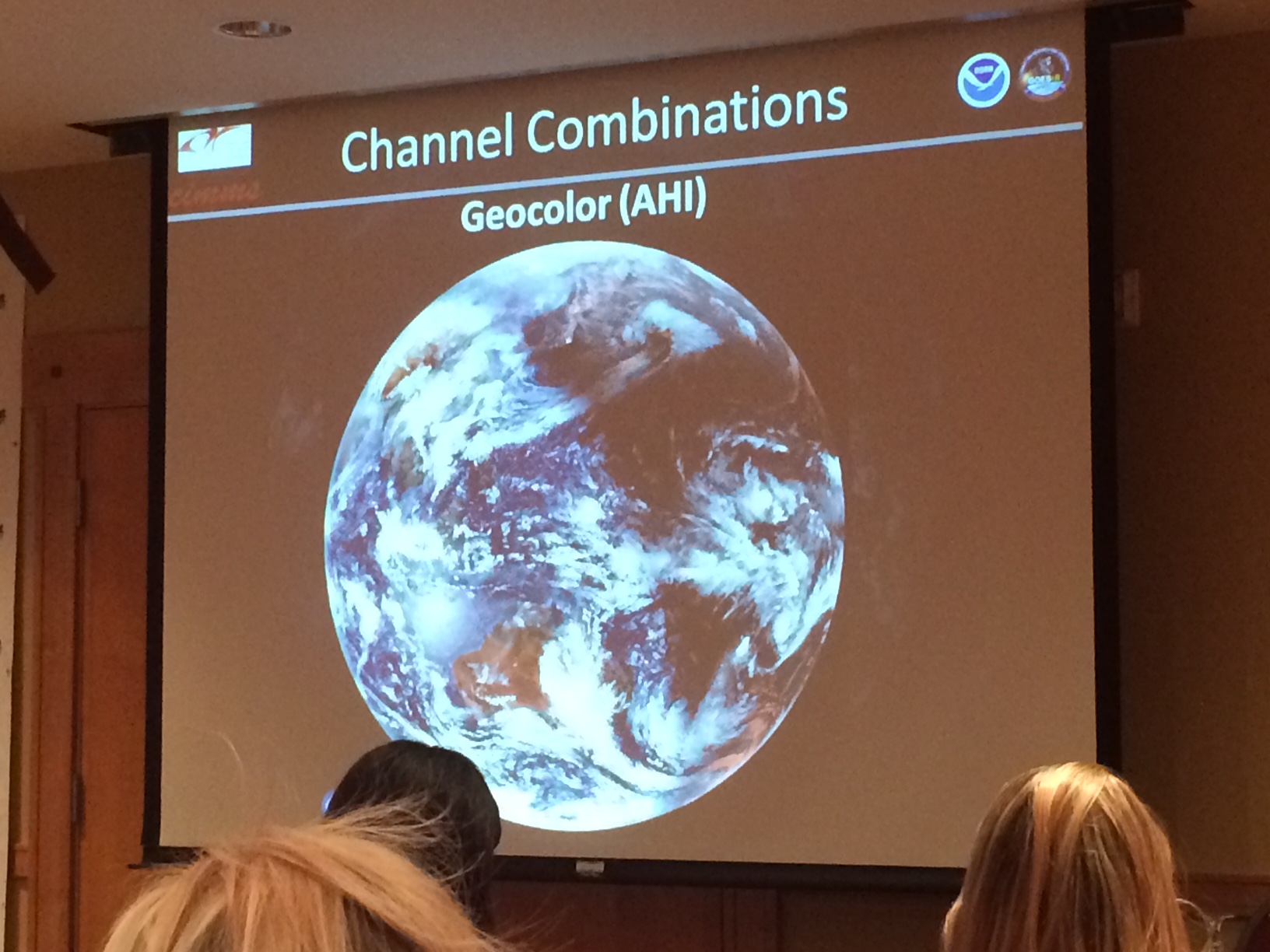 Kevin Skew, NWS Iowa, gave the perfect refresher course on the use of radar data. In all honesty, most of us in the room get a bit dusty on all the products and interpretation of them considering most of us don't use the products outside of the six, or so, severe weather months. Radar fans pay attention to MRMS products as a "seamless" multi-radar approach to data display.
Bernadette Woods Placky, Climate Central, described their communications role in climate change discussion/education. I think the easiest way to describe them is that the Climate Central group turns research data into easy to understand public information. This is provided to broadcasters across the country and world in some cases.
Ryan Maue, WeatherBELL Analytics, is a hurricane/tropical weather expert that broke down the misunderstanding of climate and tropical weather. Roughly 10 years ago there was a heated debate within the community on how warming global temperatures will alter tropical patterns. Since that debate, a consensus has grown through the research process. In general, there will be a slight increase in the intensity of tropical systems. The climatology that Ryan went through was very interesting and well laid out. As he intended, the "10-year hurricane/climate debate" was how the scientific community should work. Propose ideas, debate, continue research, and then develop consistent conclusions.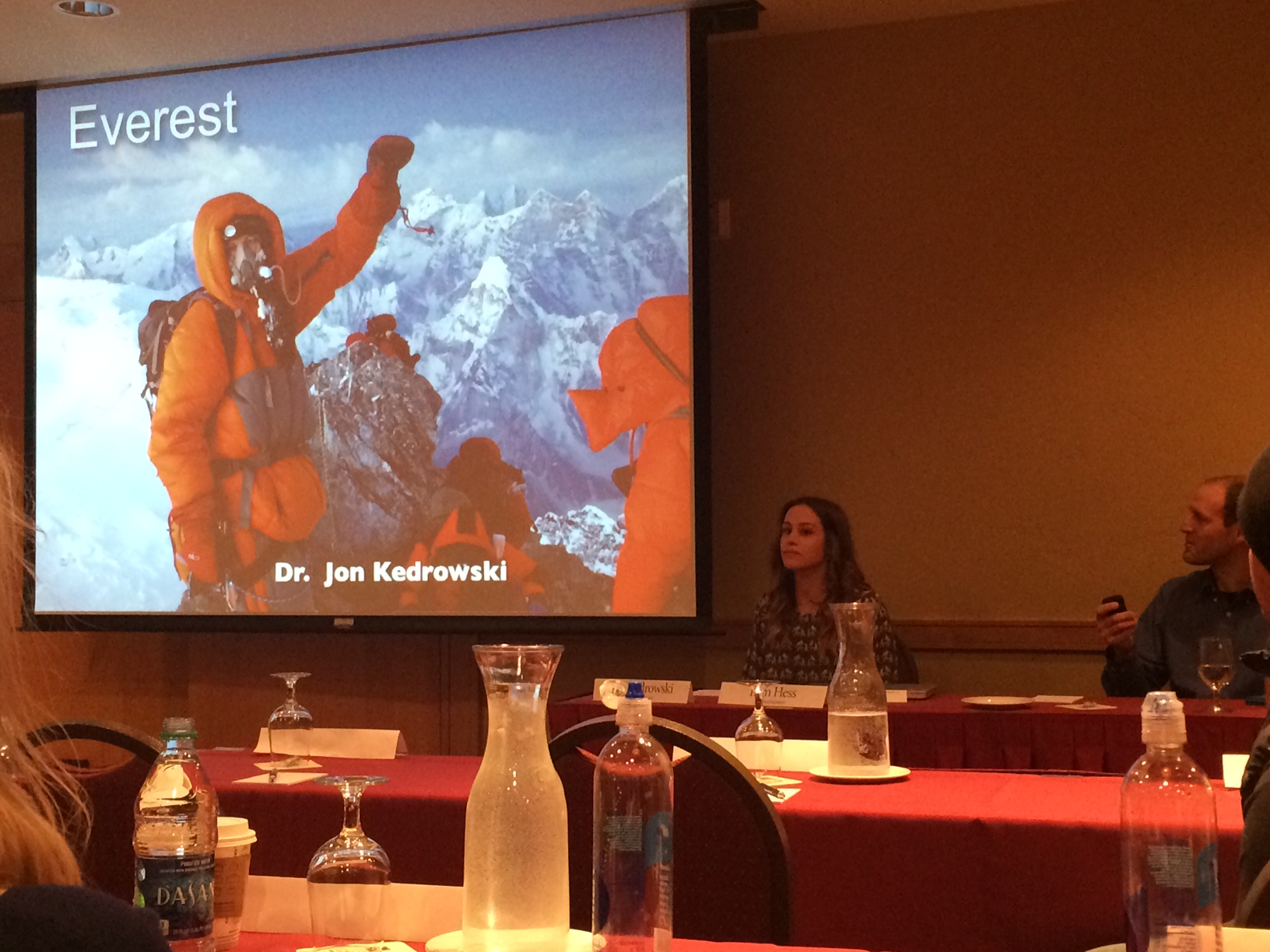 Finally, there's kind of a "Key Note" speaker. Two years ago it was Owen Daniels (TE Denver Broncos) and a fellow meteorologist, and Astronaut Steve Swanson was last year's. This year was two Coloradans that were on Everest when the Nepal earthquake hit. Steamboat Springs' Kim Hess will attempt to go back this year, and Vail's Dr. Jon Kedrowski mentioned he would like to summit Everest without the required oxygen tanks. Interesting to hear from both.
The pretty much wrapped up the Summit. Of course, I saved a lot of the nitty-gritty of each talk but felt you may need only the takeaway from each.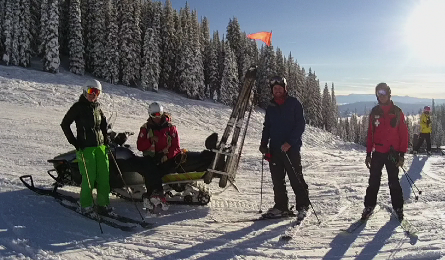 Oh, and the skiing was great also. Thanks to Steamboat's Ski Patrol for letting me tag along on the end of the day sweep... an empty mountain is the only way to ski.