As a bit of a programming note this morning... we've decided to go ahead and break down the forecast into two separate updates today (at least), the first of which this morning to cover snow chances later today through tomorrow. We'll then issue another updated forecast later in the day on Weather5280.com that addresses the "main event" (if you will) which is late Sunday night through Tuesday.
---
Temperatures today will again top out near the 60 degree mark across much of eastern Colorado before changes arrive later in the day. While there will be a slight chance of showers developing across the northeast Plains this afternoon, we think the main chance for precipitation holds off until later this evening for most locales as a strong cold front pushes south through the entire area Saturday evening.
Take a look at this animation of 700mb temps (just above the surface) for this afternoon and on into tonight. The reds/purples are relatively warm temperatures, while the greens/whites are cold. Note as the sharp gradient of cold air pushes south over Denver - that's the front:
Along this front we expect a band of heavy snowfall to develop. While for most folks it'll be short-lived, it will be capable of producing 1 - 2" of snow in short amount of time, with locally 3"+ possible, especially at elevated terrain south and west of Denver as well as to the northwest of town.
Of course, it's difficult to pinpoint exactly where this band of heavy snowfall will setup. This morning's 12z GFS puts it right over Denver – favoring the southern metro area: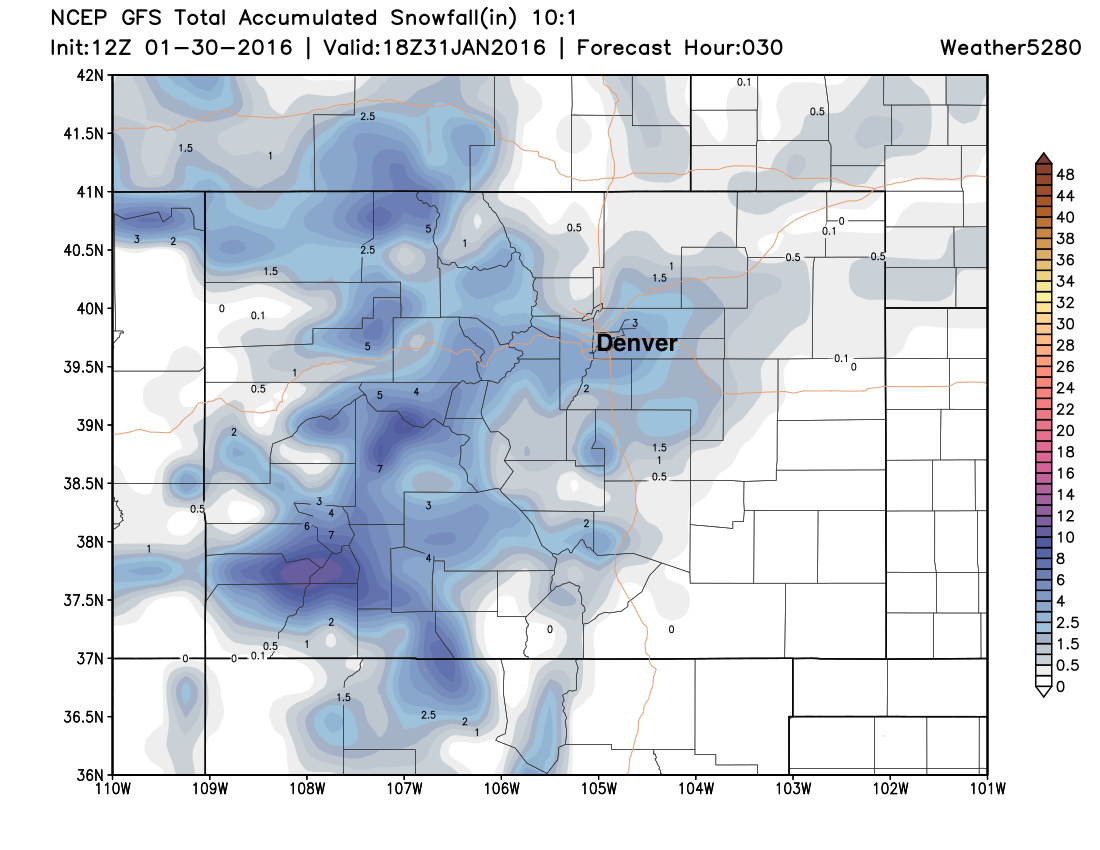 While the NAM really never develops much snow across the metro area tonight, instead has a band with 1 - 2" northeast, and only a coating around town: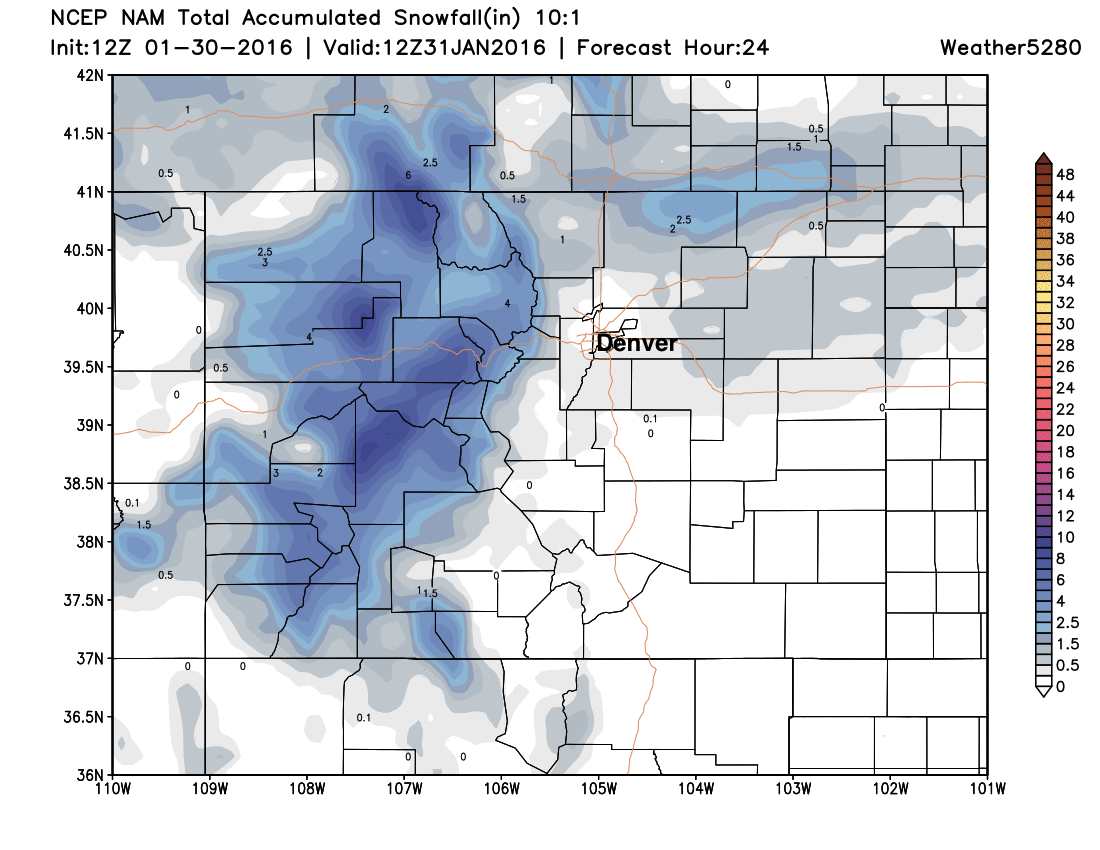 The HRRR has a band of heavy snow developing around Fort Collins by 8pm: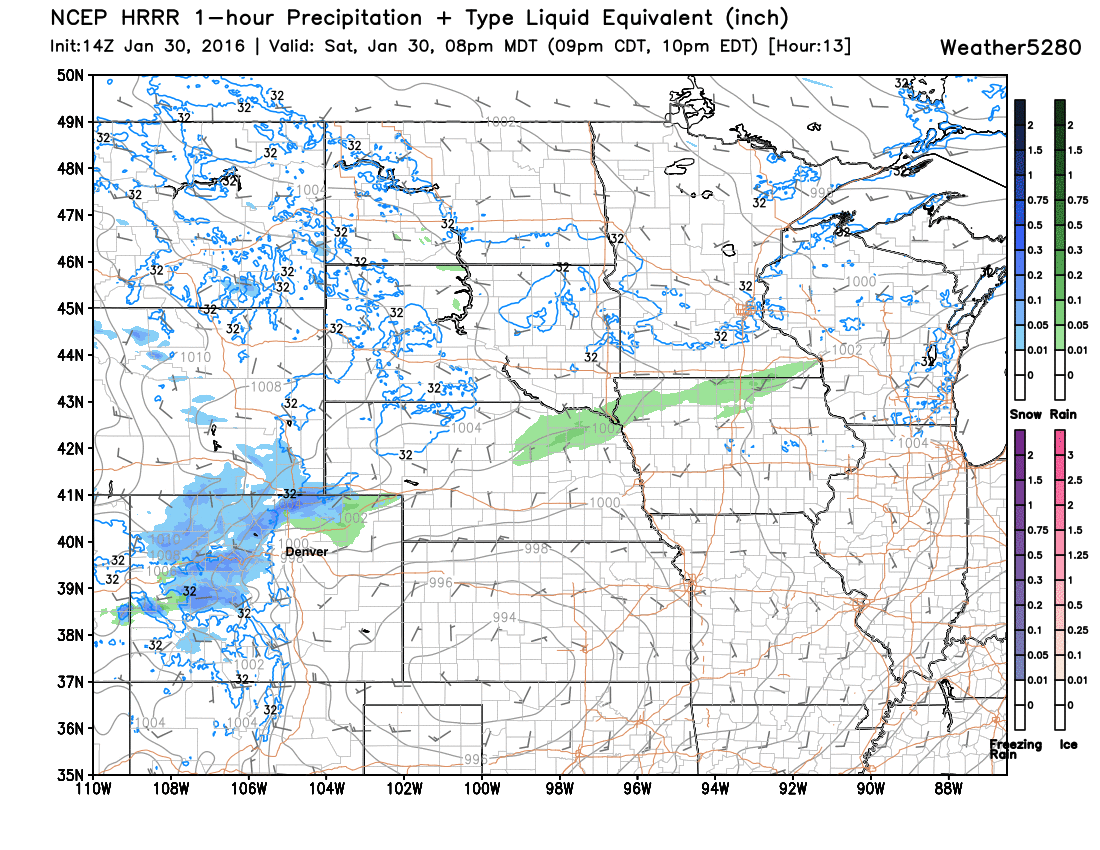 And pushes it south into Denver by 10pm or 11pm: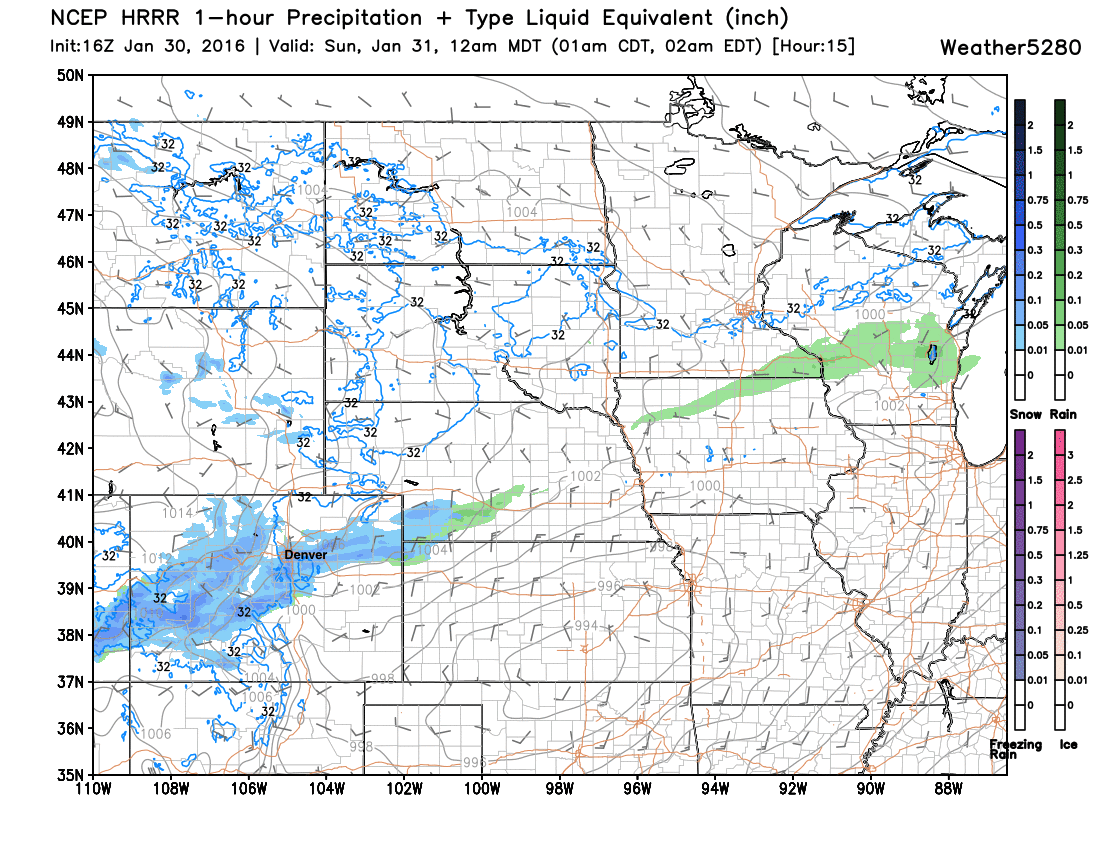 The HRRR shows the band as having the potential to produce 1 - 3" along the northern Front Range urban corridor through about midnight.
So, we'll go ahead and keep the chance for snow in the forecast tonight up and down the I-25 urban corridor and eastern Plains. While we think many locations will receive only a coating to 2" of snow, a few areas may pick up a quick 3 - 4"+ or even 6" of snow under very heavy snowfall rates produced by this band of snow. Please don't be caught off guard! With initial snowmelt, followed by rapid freeze, the roads may become slick quickly.
Questions? You are asking if this is the beginning of the main storm? No, it is not... The snow we receive tonight is the result of a strong cold front and jet stream dynamics. Once the front and those dynamics push through, that will be it for a while.
By Sunday we should see a bit of a lull in the action, though the day will be a bit raw and wintry, with highs only in the 30s, a brisk breeze, and scattered snow showers lingering across eastern Colorado. By Sunday night, snow begins to develop across southern Colorado, as our snow-maker approaches from the west. This will be the snow to bury some areas Monday and Tuesday.