The first "wave" of snow moved through Saturday night along with the quick drop of temperatures. The snow reports that came into us Sunday morning were mostly in the 1 to 3" range, but near Morrison there were some reports of about 4".
There was quite a bit of ice that accumulated as that snow melted and then froze with the dropping temperatures. As we go forward, temperatures should remain cold enough so that we aren't seeing much icing outside of treated areas. What is to come will be a prolonged period of snow with some impressive snowfall totals probable through Tuesday.
Timing
Let's begin with timing and then we will talk about snowfall amounts. Through much of Sunday, the snow will remain in the mountains. That mountain snow will begin to move over the foothills, Front Range, and metro area this evening and overnight. By the time you wake-up Monday morning, which you should do so earlier than normal, there will be areas of accumulation and the commute will likely be slower than normal.
That will be just the start of the event. Snowfall will be heavier Monday, Monday night, into Tuesday morning. So, Monday morning's commute will be better than Monday evening's and Tuesday morning's. It appears that the "peak intensity" will be Monday evening for the Denver metro area. The system will be clearing out of Colorado later Tuesday through Wednesday.
For computer model watchers, little has changed to the timing of the system. The developing low-pressure area still remains weakly sampled for Sunday morning's models. Starting this afternoon, the models should have much better data to initialize and these upcoming model runs will be interesting to dig into, looking for any changes in the speed of the lee-side low and where it will ultimately develop. That development location and speed will clearly affect snowfall totals.
Forecast
Speaking of snowfall totals, let's get into the "nitty-gritty". Overall there are no great surprises from the Sunday morning model projections of the snowfall totals. Assuming a 15:1 ratio (15" of snowfall is to 1" of water) the models-average snowfall amount in Denver remains 7 to 15-ish", and 8 to 15-20-ish" on the south side of the city over the Palmer Divide. If we are to take anything away from overall trends the past few days it will be to note that the totals have dropped a touch in the modeling (Model watchers, GFS remains consistent and yet the ECM and GEM are looking more similar this morning).
In general will continue to maintain our forecast, released Saturday night, as there is little evidence this morning to compel us to make any revisions for the Denver area. Some may argue we should drop the totals a bit, but we will await the Sunday evening models -- which should have much better data available to them -- before making any change. As you'll see here, the gradient of snowfall is for lesser totals to the northeast, heavy totals along the foothills and mountains, and heaviest amounts over the Palmer Divide and Eastern Plains.
This forecast "gels" well with the probabilities as computed in the ensemble modeling. For example, the short-range ensembles from early Sunday morning give us these probabilities of indicated snowfall amounts for Denver: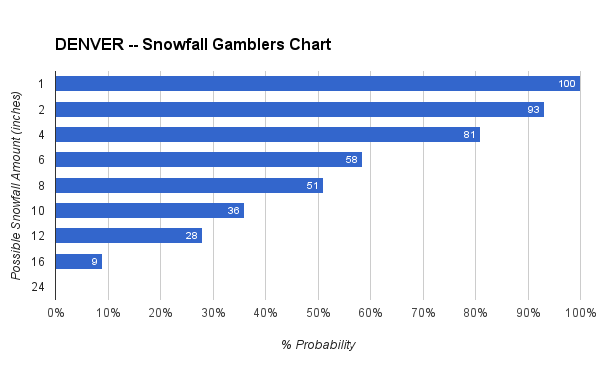 The GFS (American model) and GEM (Canadian model) probabilities are shown here for Denver: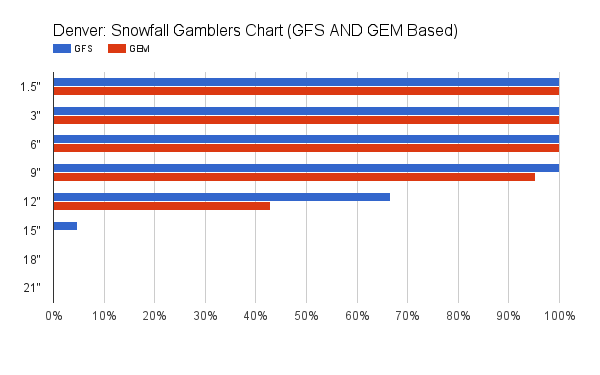 Here is an updated look at our snowfall forecast today through Tuesday. We'll keep the Bust Index in the middle of the road as we wait to see how data looks as this system finally comes onshore today, and continuing to note uncertainly with exactly where the low will develop east of the Rockies.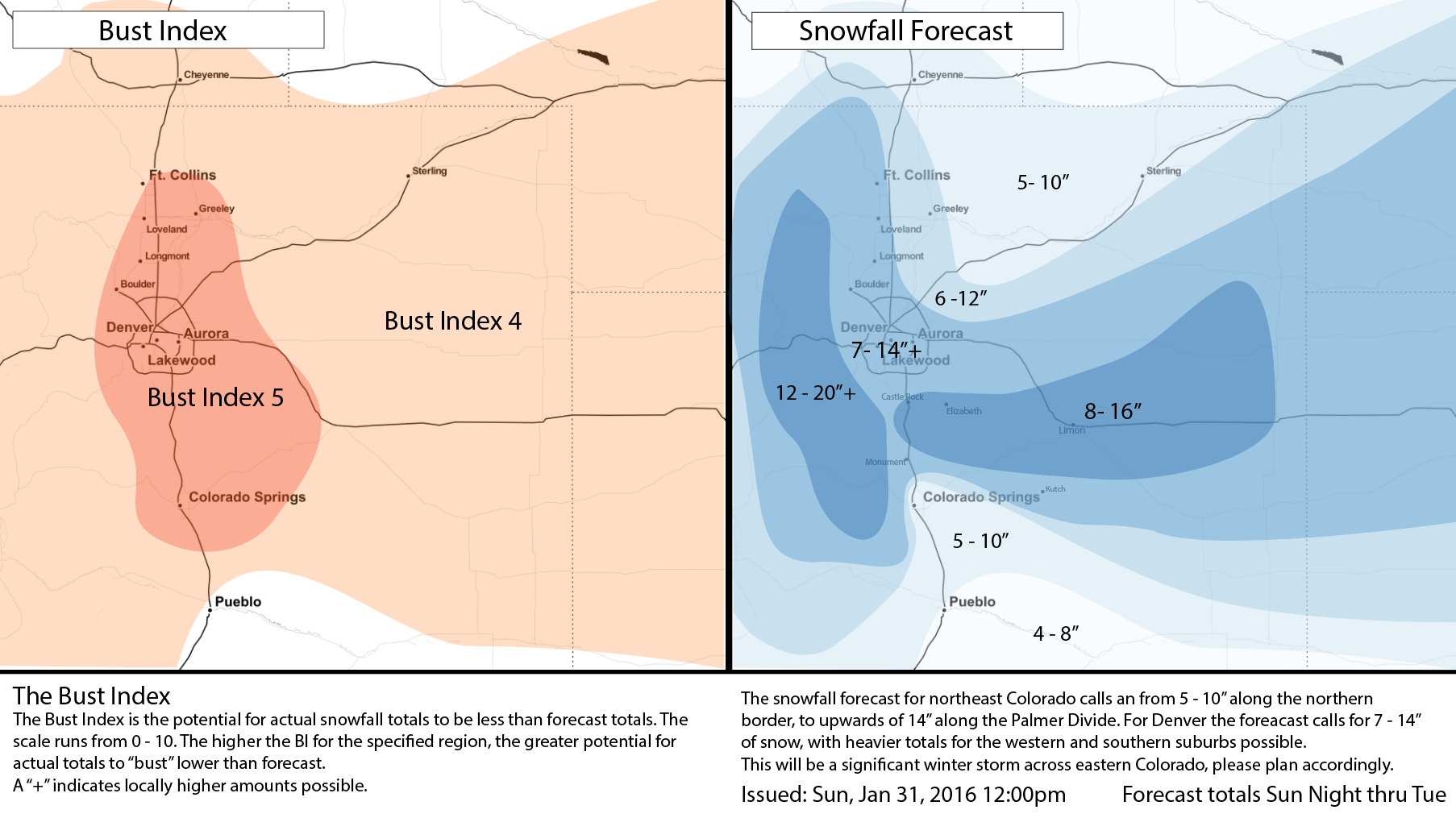 For areas south of the Palmer Divide, the situation is a lot less clear per the recent model trends. This is specifically true for areas around Colorado Springs and southward. This will depend on how long winds refrain from staying out of the north. Northerly winds will reduce the chance for higher snow totals for Colorado Springs due to downsloping off the Palmer Divide, which ultimately depends on the track of the low. The GFS really shorts those locations in terms of snowfall. The Euro, NAM, and Canadian are still putting out some pretty hefty totals, which makes the forecast even tougher. That is why it is imperative to stay current with the forecast. Tonight's model run will take place when the storm is completely on shore, and hopefully can resolve this issue. Ranchers on the Eastern Plains still need to prepare for blizzard conditions from late Monday afternoon through the first half of Tuesday. This is especially true for areas north of HWY 50.
As for updates, we'll see how things progress and see if and when there is a need to get another update out. Obviously if things look different by this evening, we'll pass that along. If not, we may get something brief out tonight, or wait and see how things are shaping up Monday morning. Stay tuned!