Here's a 24 hour water vapor loop of our system ending mid morning this morning. You'll see it spiral onshore in southern California yesterday, with the last frame ending with circulation over the Four Corners. A pretty good location for snowfall across eastern Colorado as this low continues to track east.
Our best chance for accumulating snow is still ahead of us. Despite anxieties from many this morning, we tried to stress that the best snowfall potential comes Monday afternoon through Monday night for the Front Range, not this morning.
As the low gets east of us this afternoon and evening we should see snowfall become more widespread along the urban corridor, and with that deteriorating conditions into Monday night. While we still think we should reach at least the low-end of our snowfall forecast by Tuesday afternoon, there's not too much indication this morning that we will run the risk of reaching or exceeding high-end totals in most locations across the metro area. That said, we continue to think somewhere in the 7 - 10" range is doable for Denver by the time snowfall ends Tuesday.
The low is still to the west of us at this hour, so there are still some open-ended questions with where this will end up exactly by Monday evening. A bit further north will be better for Denver, a bit further south means less snow for Denver. Latest model trends would indicate a south/eastern bias for heaviest snowfall tonight, with a bit more of a question mark for the Denver metro area... The GFS/EURO/HRRR/ETC, all have shifted heaviest QPF southeast of Denver from last night's runs.
Latest hi-res modeling supports this thinking. Here's a look at the latest 15 snowfall forecast from the HRRR: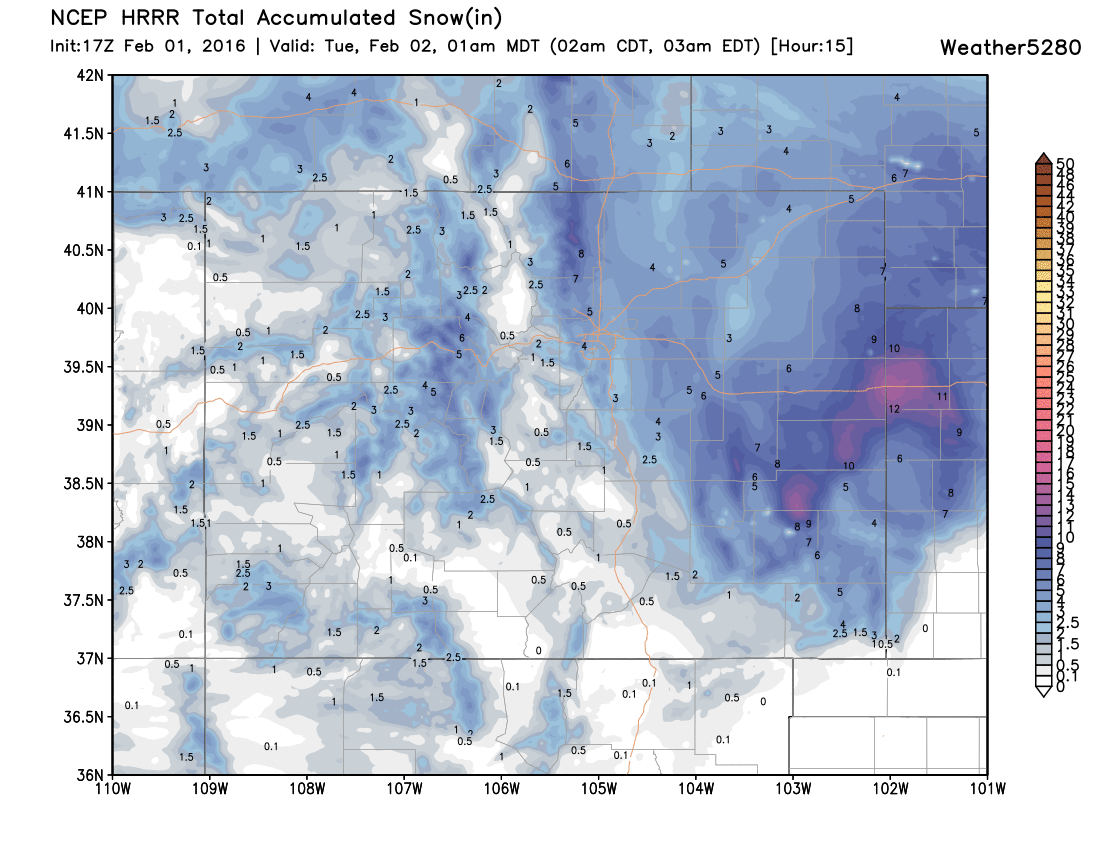 With favorable winds and precipitation continuing at midnight: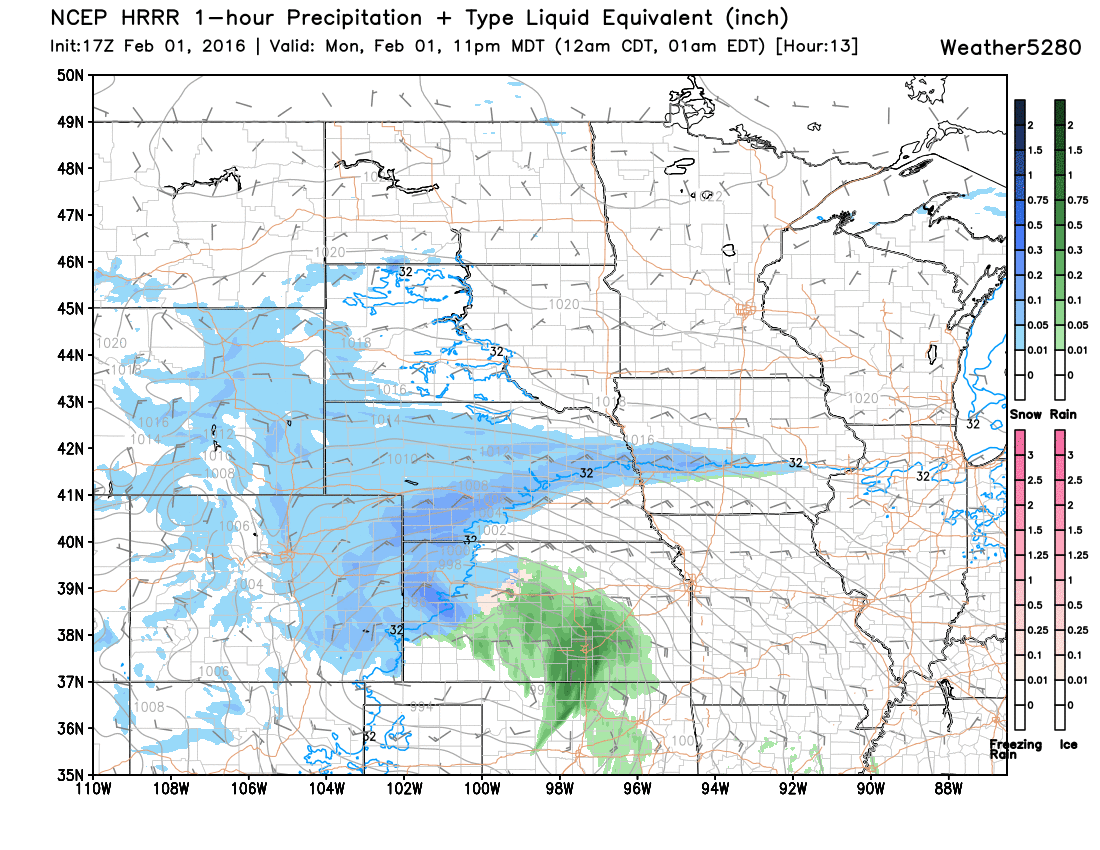 The latest NAM shows a similar look at the HRRR, has shifted the bullseye of heaviest snowfall east/southeast of Denver. It gets us to our low-end, but is cutting us close. Also, if taken verbatim, would be a bust for the southern/southwest Denver suburbs. It looks like the Plains will bear the brunt of this storm, as winds and heavy snowfall will make travel difficult through Monday night east of Denver. Ranchers, please make sure you have your storm preps completed. Make sure your livestock has adequate feed, shelter, and water...especially if you live in the zone of heaviest snow and worst wind.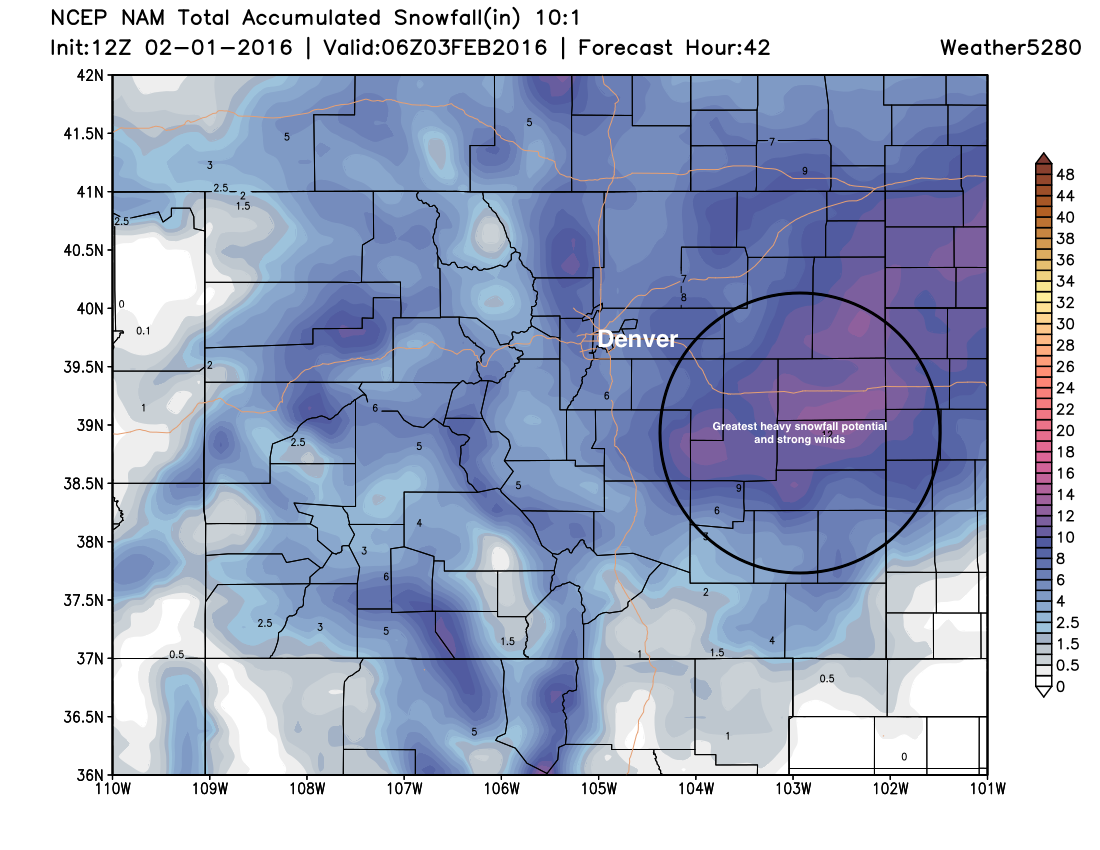 So, we'll go ahead and keep the forecast as is as we always try to avoid making adjustments to forecasts as much as possible. With the uncertainties around snowfall totals in the Denver area we see no reason to lower the Bust Index from the relatively high 5 it's currently at. It looks like the best potential for heaviest snowfall may end up east of us, but again – we do think we should eventually make it to a least our low-end totals for the Denver area. It'll take some work to get there, less so out across the Plains, but definitely in Denver. So, keep those snow dances dancing!