It wouldn't be winter along the Front Range without an extended period of freakishly warm weather, now would it.
That's exactly what we're facing right now, and quite frankly, it's not looking to break any time soon. So, while February 2016 will end with well above normal snowfall, without some serious shifts in the coming days, the month as a whole will likely end overwhelmingly warm and dry.
In so many ways we've actually made out quite lucky this winter across eastern Colorado. As we explained at length last fall, strong Niño's aren't always that great for snow in Colorado, especially during the winter months (Dec-Feb), and almost always have an extended period of warmer and drier than normal weather. Just imagine if that early February storm had missed...
Persistent ridge
The pattern that has settled in for most of February looks eerily similar to the last several winters. The highly amplified pattern, with a persistent western ridge is at work again, flooding the northeast with winter, and baking the west despite the presence of the strong El Niño, and promises from so many about an epic California winter.
Each day looks mostly the same as it has since early in the month across the west... ridge, ridge, ridge: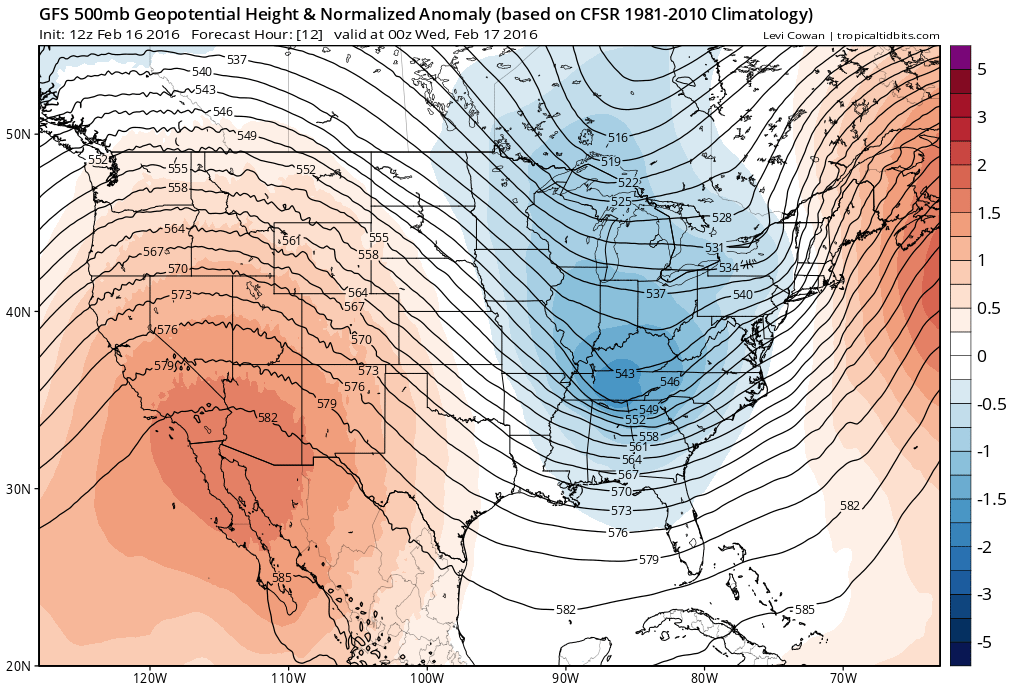 And under that ridge, anomalous warmth for the western two thirds of the country. Take a look at the forecast temperature anomalies for Thursday, when highs will likely run 20 - 30° above normal across the Plains, including eastern Colorado: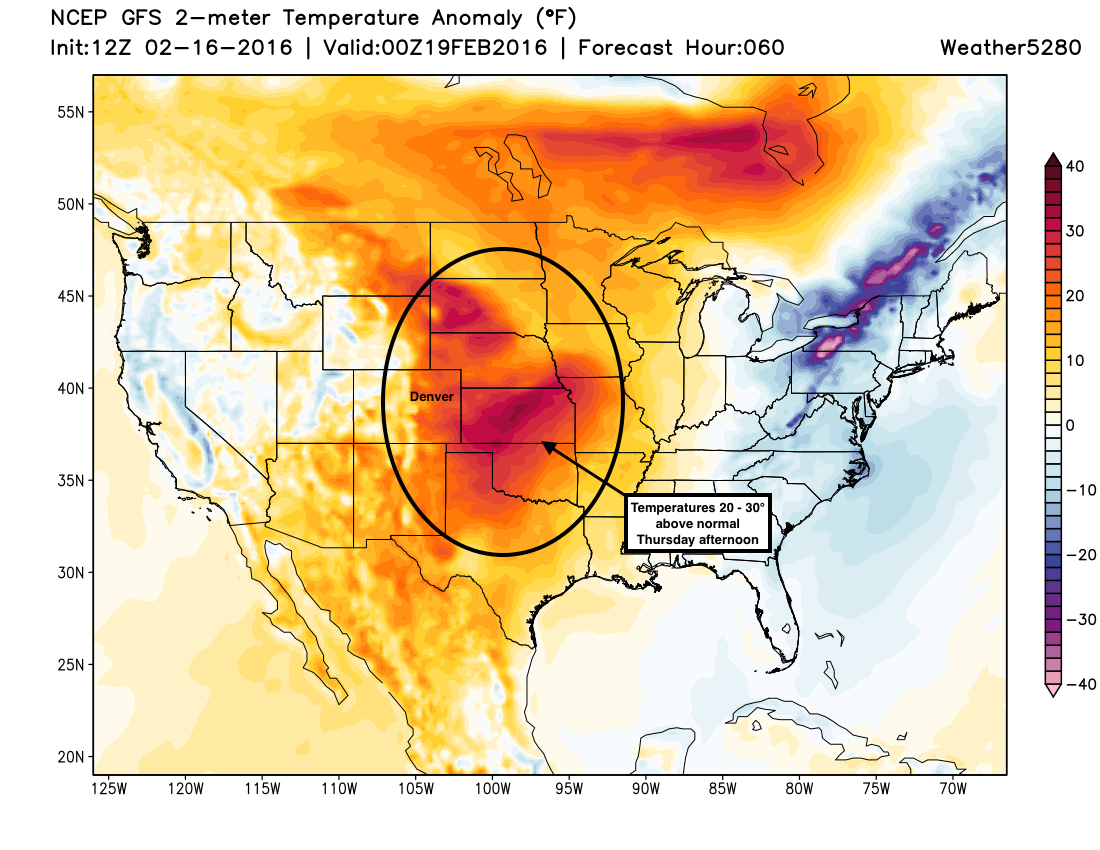 The record high temperature for February 18th (Thursday) in Denver is 71° F, set back in 1930. Current GFS/GFSX MOS guidance has the high Thursday at Denver International Airport tying that (71°), with NAM MOS at 68° F. I think there's a good chance we see highs for many locations across the metro area soar into the mid 70s for highs. Even more incredible is that overnight lows may not get below 40 by the end of the week in Denver. The average high for this time of year is 46° F. Incredible.
As the ridge shifts a bit further east by the latter half of this week (bringing us our warmest days), a bit of unsettled weather will make it into the west coast, bringing some rain and snow to the Northwest, and portions of north-central California, but not nearly enough.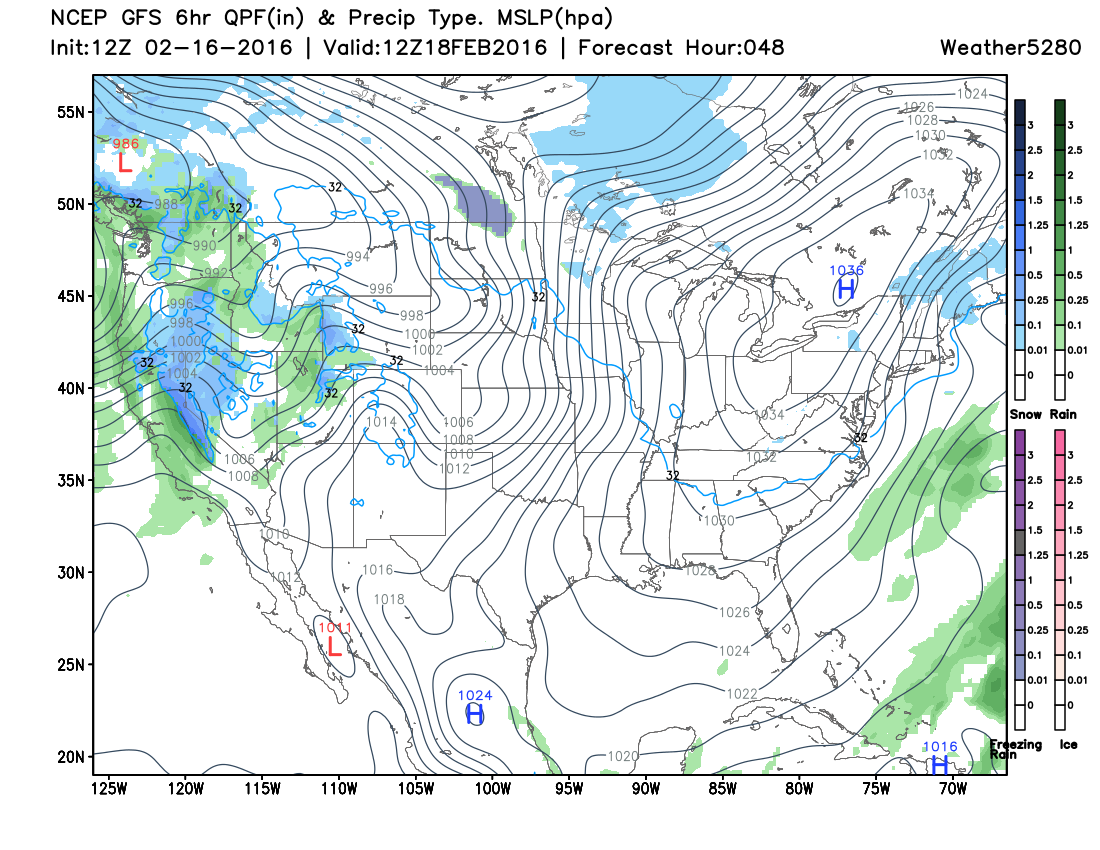 Until we can get the ridge to break in the west... well, there's just not a lot of hope for winter's return. And well, that might take awhile. Here's the GEFS forecast five day 500mb height anomaly ending March 2nd, 2016... Yikes.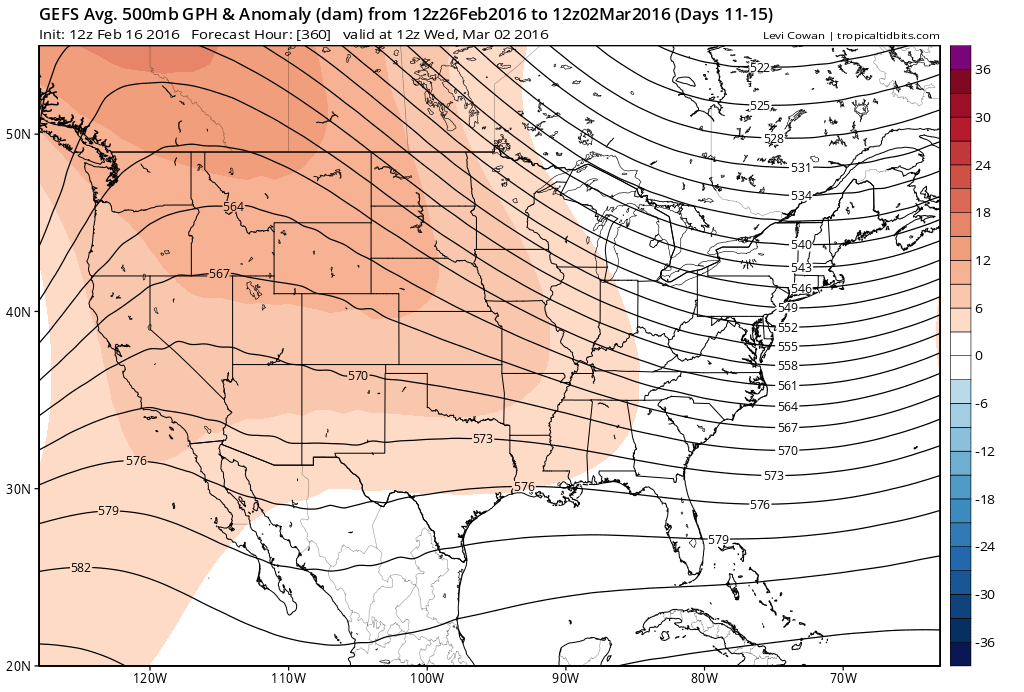 And the forecast PNA... heading positive for the remainder of the month, not a great winter signal for us: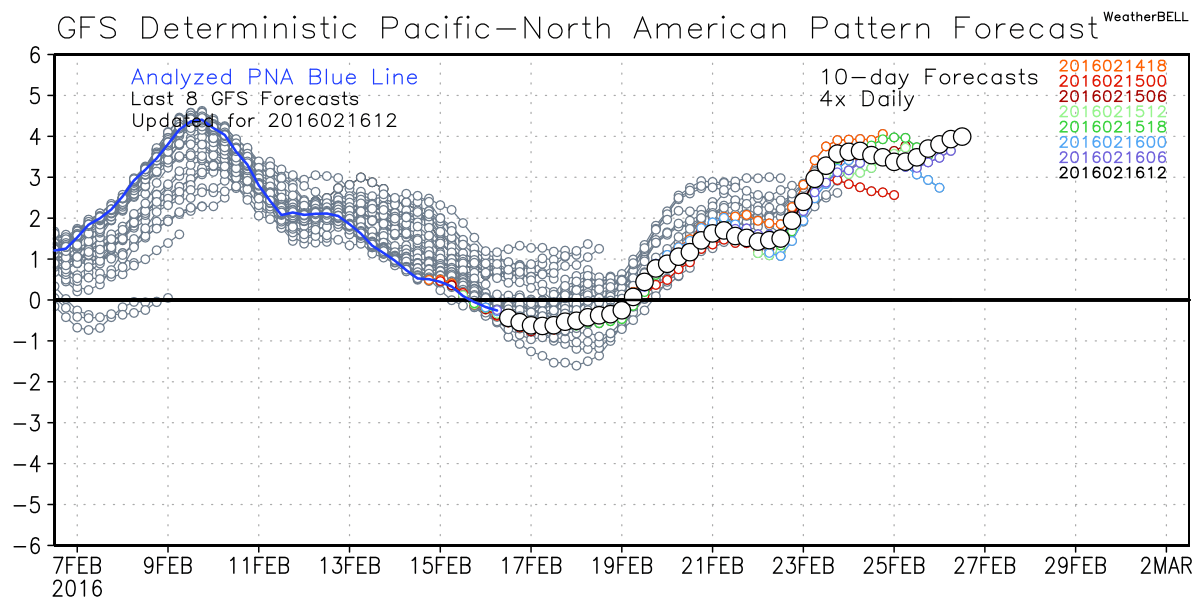 It feels bad, it really does. And when Thursday's temps feel so good, it'll feel even worse. But hey, we've been saying since last summer that we weren't all that excited about Dec-Feb prospects for snow, and we've gotten lucky – twice. We still think the potential for an active March and April are on the table... but as Bledsoe pointed out in his last update, there's no guarantee what moisture we do see comes in the form of snow. So while each day that goes by with a persistent ridge between me and everywhere I look makes me nervous... we haven't given up yet. If things look similar in another few weeks, then we worry. March, we're pulling for you.