It was one of those classic Colorado days on Thursday where winter and summer were separated by just a few hundred miles. As record high temperatures were set all across the eastern Plains, heavy mountain snow and strong winds produced hazardous winter travel conditions in the mountains.
Denver International Airport recorded a record high of 73° F Thursday, breaking the old record for the date of 71° set in 1930.
There were many other record highs broken across the state on Thursday as well, and a handful more tied or nearly tied records. Here's a look at Thursday afternoon temperatures as they began breaking records (unofficial) across New Mexico, Colorado, Oklahoma, Kansas, Nebraska, and Wyoming. Pretty incredible.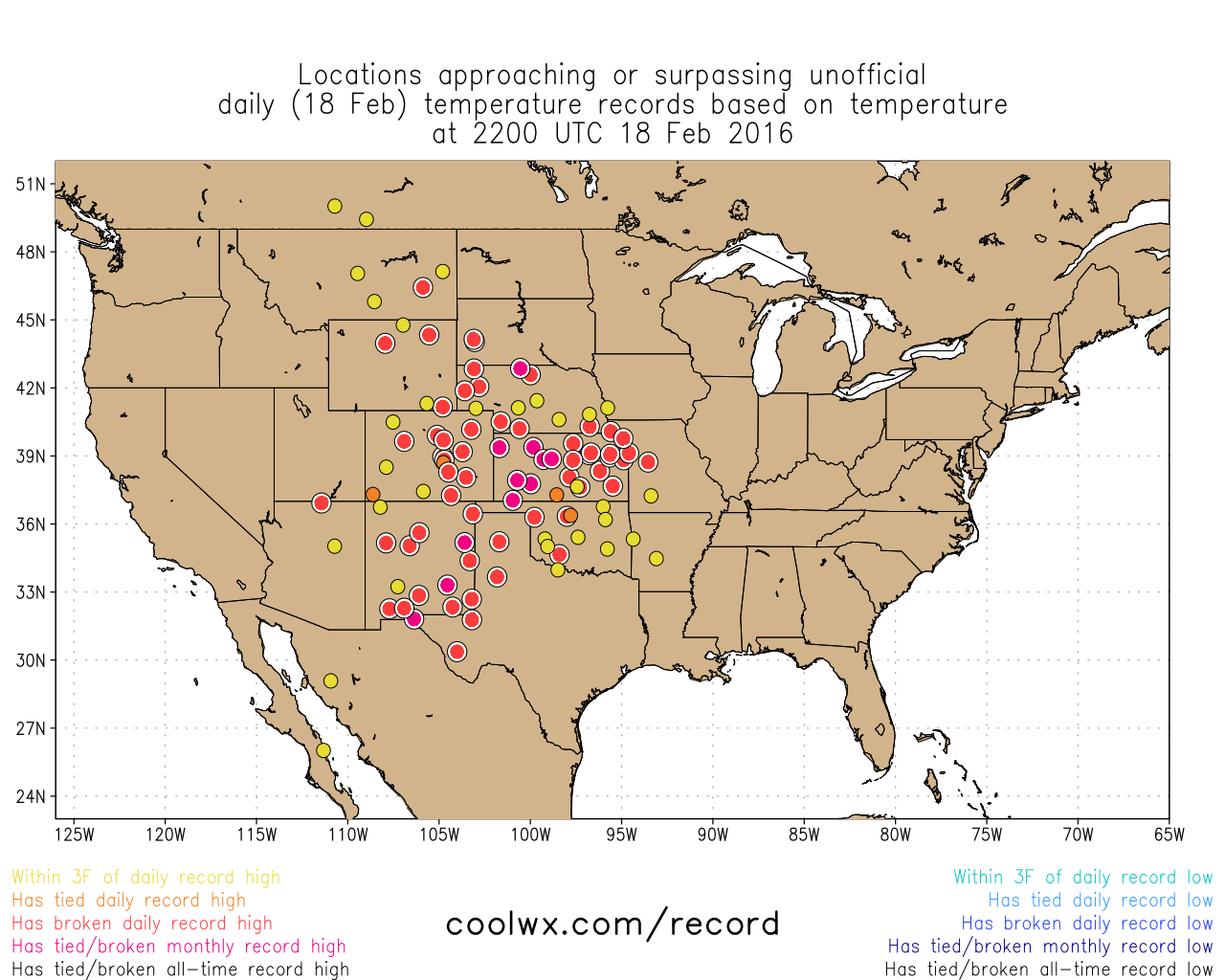 Here's a look at temperatures across the state midday Thursday – highs in southeast Colorado climbed into the upper 80s! By mid afternoon a few locations in the OK/TX panhandles had hit the 90° mark.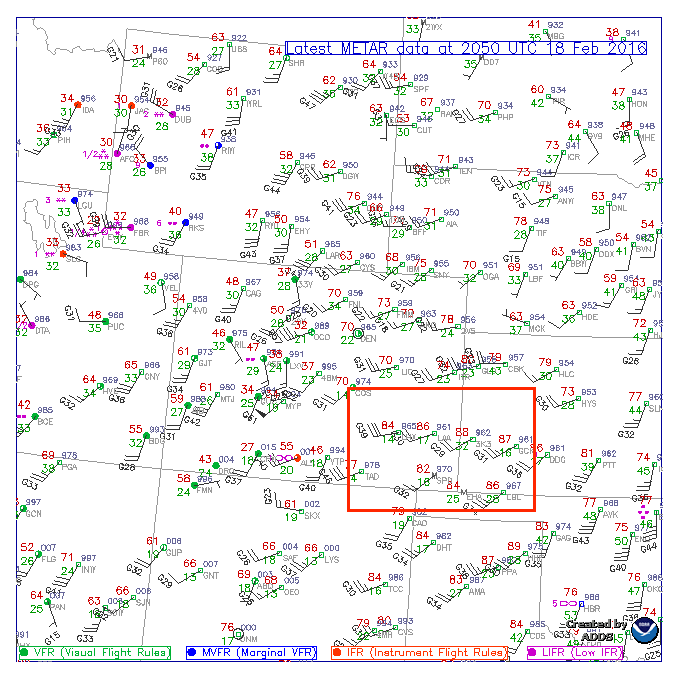 Of course, warmth like this doesn't typically occur this time of year around here without strong winds. High Wind Warnings and advisories were posted most of the day yesterday across Colorado, extending into the overnight hours as well.
There were many impressive wind reports Thursday, but none more so than at Monarch Pass which recorded (unofficially) a 148mph gust Thursday evening. Shortly thereafter the station stopped reporting wind... We'll have to wait and see if the NWS can confirm this. Nevertheless, there were many confirmed wind gusts approaching and 100mph, causing downed trees, toppling semis, and otherwise causing many reports of damage statewide.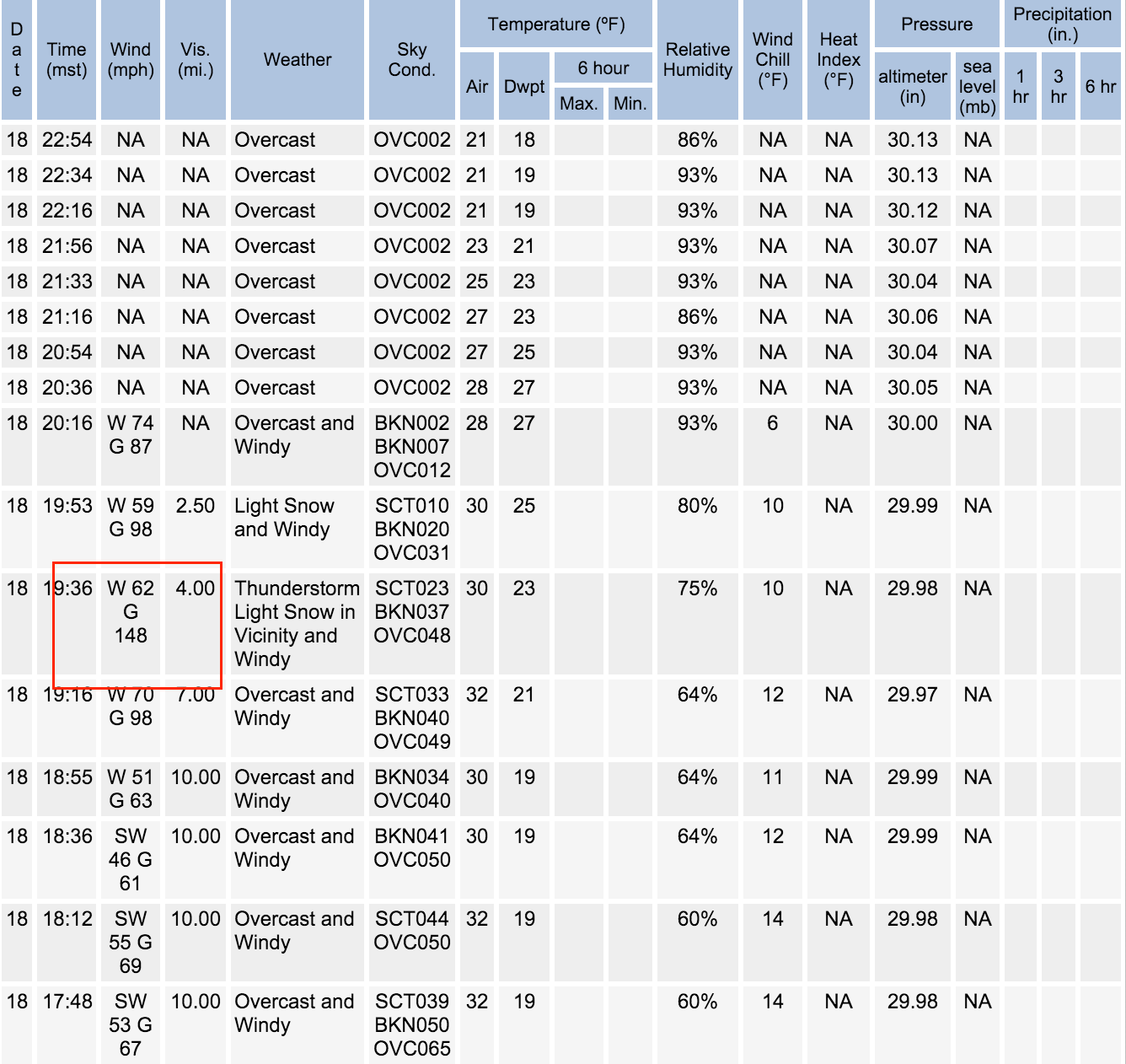 Snow totals in the mountains ranged from 3 - 7", with resorts like Breckenridge and Winter Park reporting 4" in the last 24 hours, and Aspen picking up 7" as of early this morning.
Today temperatures will cool 8 - 10 degrees across the metro area, and the wind will calm a bit as well, though conditions will remain breezy at times Friday. As of this morning all wind advisories had been lifted for the state.
Temperatures will remain warm and well above average as we head into Saturday as well, dropping closer to average (upper 40s to near 50) for Sunday.
By Monday night and Tuesday we could finally see some moisture return to lower elevations east of the mountains. Right now it doesn't look like a big deal (Canadian model may argue this...), but would certainly introduce some much cooler temperatures by Monday night and Tuesday, and even a chance for snow across the Plains. Still quite a bit of differences in timing and intensity with this one, but plenty of time to see how things progress. Here's a quick look at last night's 0z GFS forecast for early Tuesday – that's snow falling across Colorado.