As we've discussed for some time now, the western ridge will finally begin to break down this weekend and allow for a much stormier weather pattern to set up across the west. Take a look at the 500mb pattern across the United States today: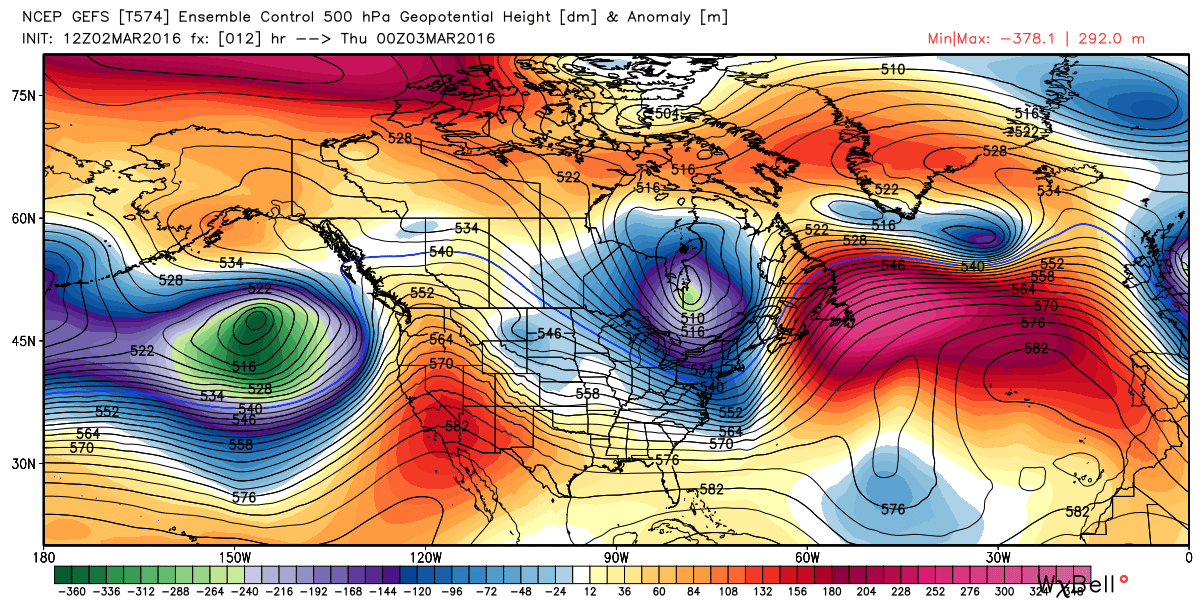 Compared with early next week: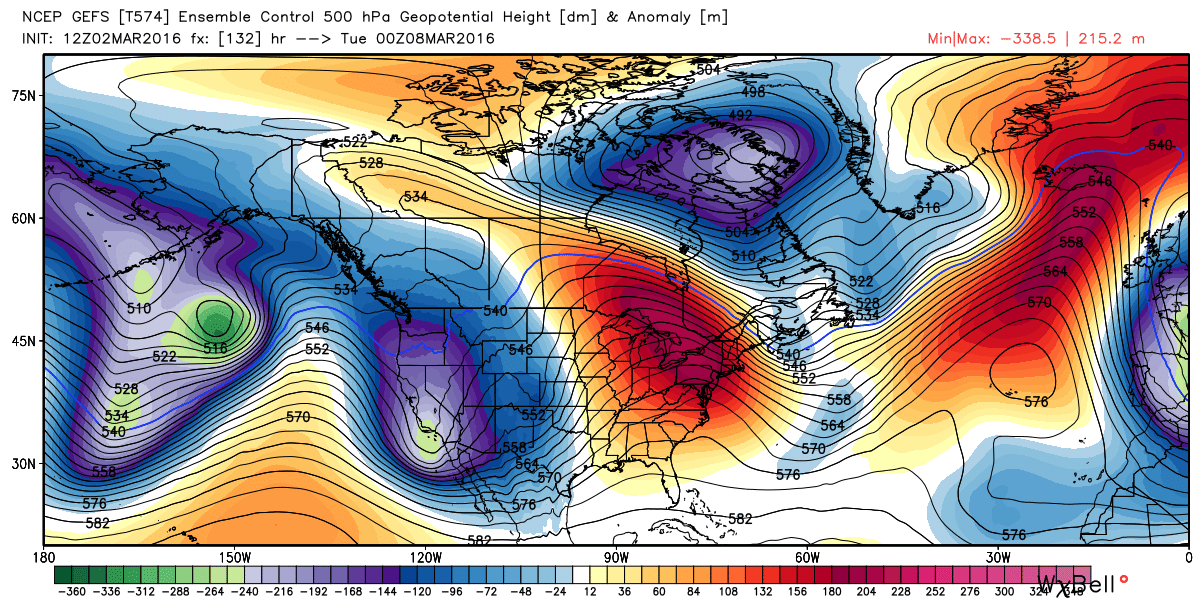 Quite an impressive flip, and one we've been waiting for for some time.
What this will equate to is a period of very wet weather across California and the Pacific Northwest. And, unlike some of the more active periods earlier this winter, this period of active weather looks to favor more of southern and central California – areas struggling most with continued drought. The precipitation forecast for the next 10 days is remarkable, with upwards of 7" being progged by the GFS for many locations in California: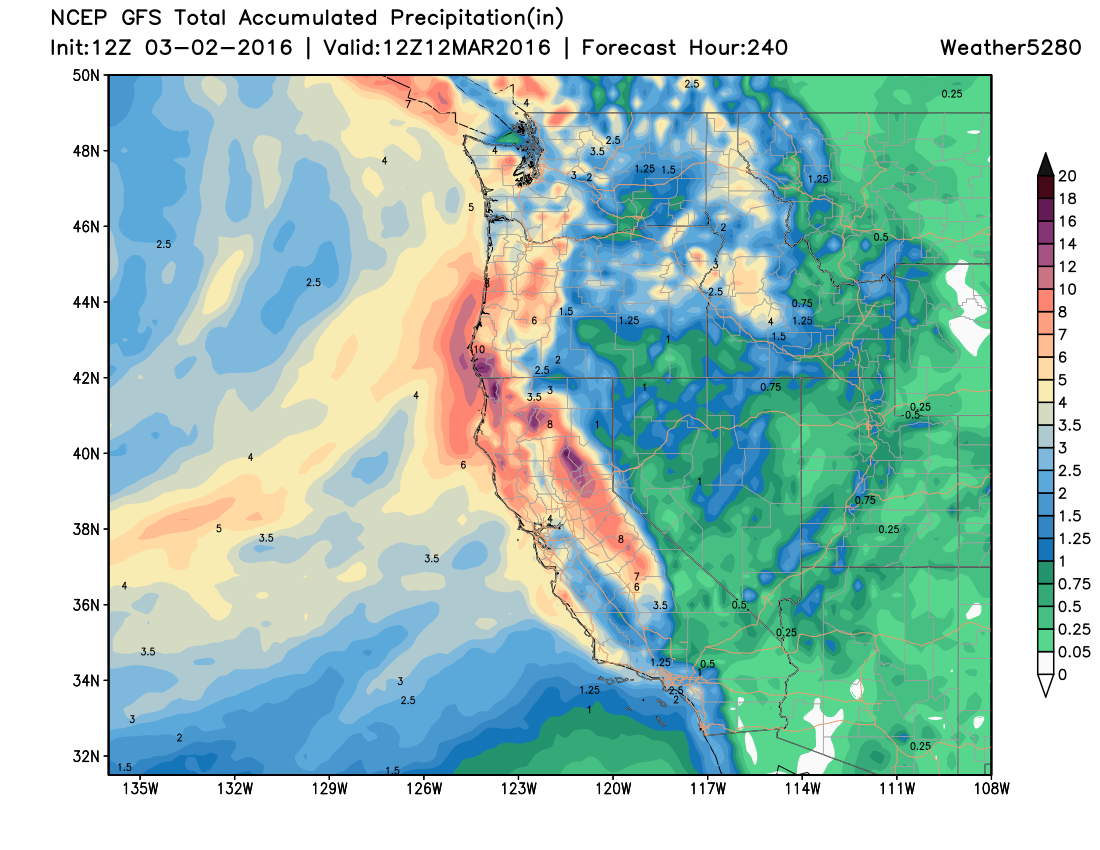 Of course at higher elevations this will mean snow, and a lot of it. For the higher terrain of central California snowfall totals may be (well) in excess of four feet in some locations over the next week+: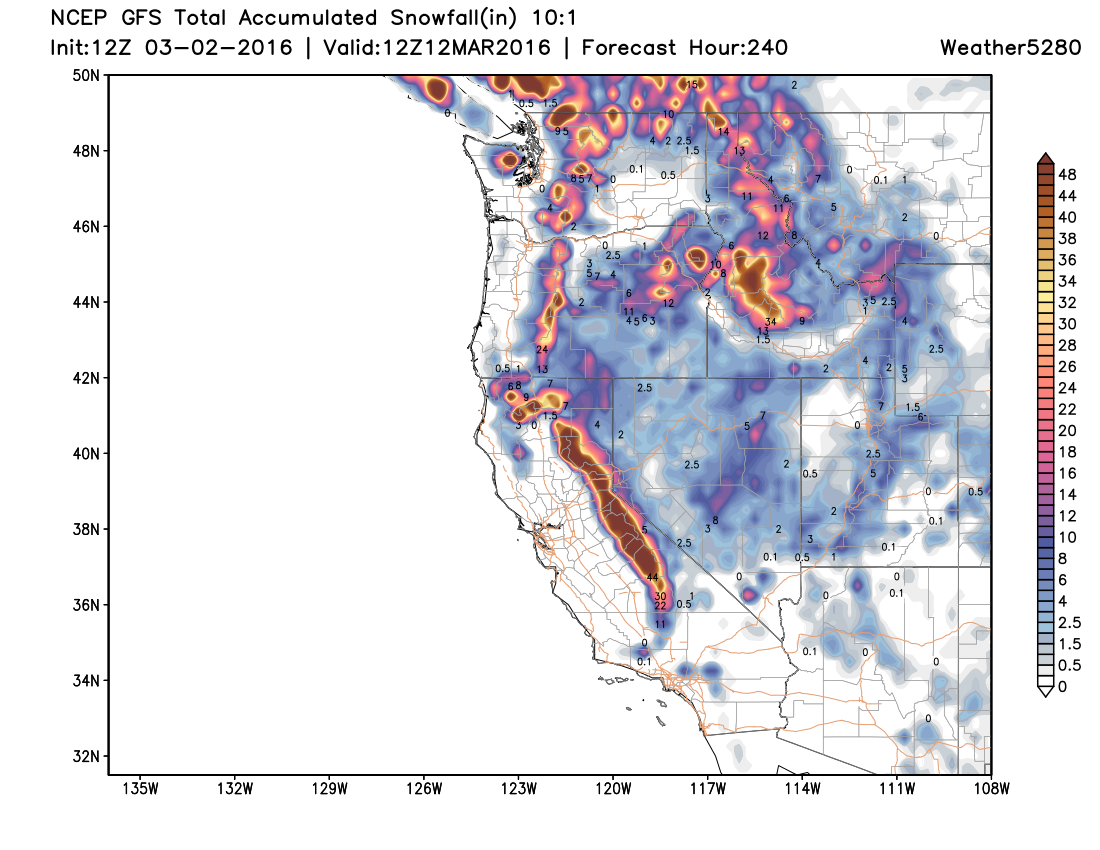 As one gets a bit further east the forecast remains much more questionable regarding rain and snow. For those of us in Colorado, the up coming pattern shift certainly leaves the door open for something to come along... but so far that really just isn't presenting itself. The mountains look to at least do "okay" over the next week to 10 days, but thus far there hasn't been much support for a good track for those looking for snow east of the mountains.
That said, not a huge amount of certainty beyond the weekend for the region. It's a good bet we'll continue to see temperatures well above normal through Sunday, with windy conditions at times. By early next week the first of several troughs begins to work its way east... but how exactly it'll progress still holds a fair amount of uncertainty. Generally speaking models are keeping the best energy too far south for much impact on Colorado with this first trough, though at times they track the ULL far enough north to make you wonder.
It seems prudent to introduce cooler temperatures for next week across Colorado and at least a slight chance for rain and snow (even east of the mountains), but probably little beyond that, for now. There's little more frustrating than to get the almighty western ridge to break down, and then still not be able to capitalize on at least one good storm. Hopefully that's not the case this time.