If you follow us here at Weather5280 you know that we've been talking about a potentially more active weather pattern during the back part of March. It's been slow going getting storms to line up for us so far this month, but last week we saw great snowfall for the northern mountains, and finally some moisture at lower elevations as well. Below is a look at observed snowfall across Colorado over the last five days, many north-central Colorado ski resorts are reporting upwards of 35" of snow this past week: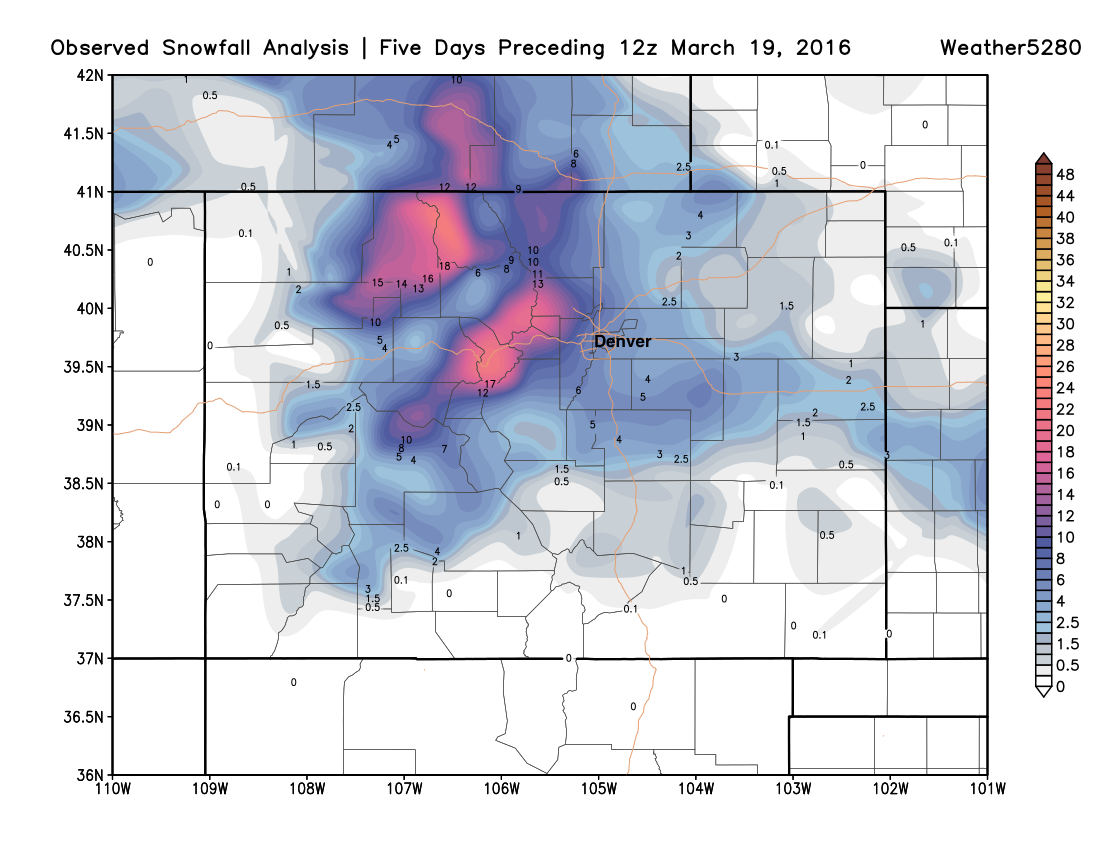 This last storm was the first of several that will impact the region over the next 10 days, which depending on track may deliver several more rain and snow chances to eastern Colorado before the month comes to an end. But before we get there, we will see a pretty sharp warm up. Check out the maps below:
ECMWF Model 500mb Pattern:
Monday: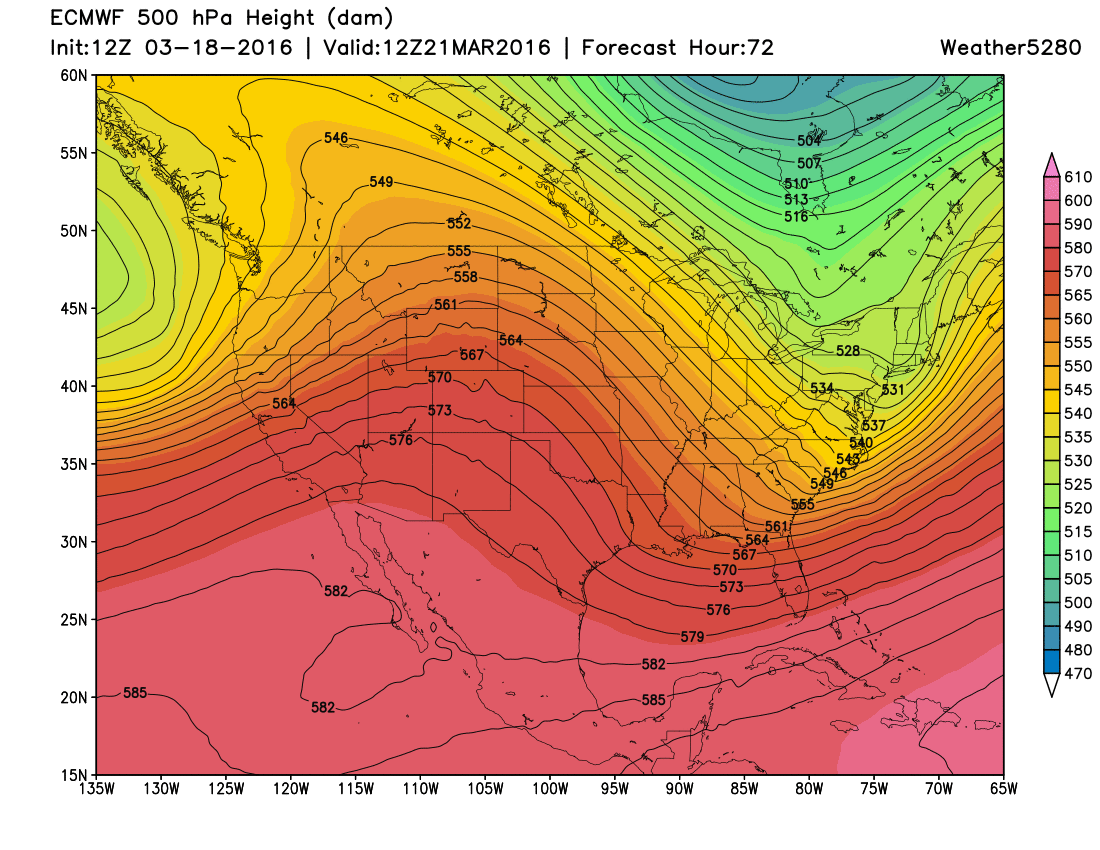 Notice the ridging across the Four Corners area... That ridging will be responsible for temperatures in the 60s and 70s for Eastern Colorado.
Tuesday: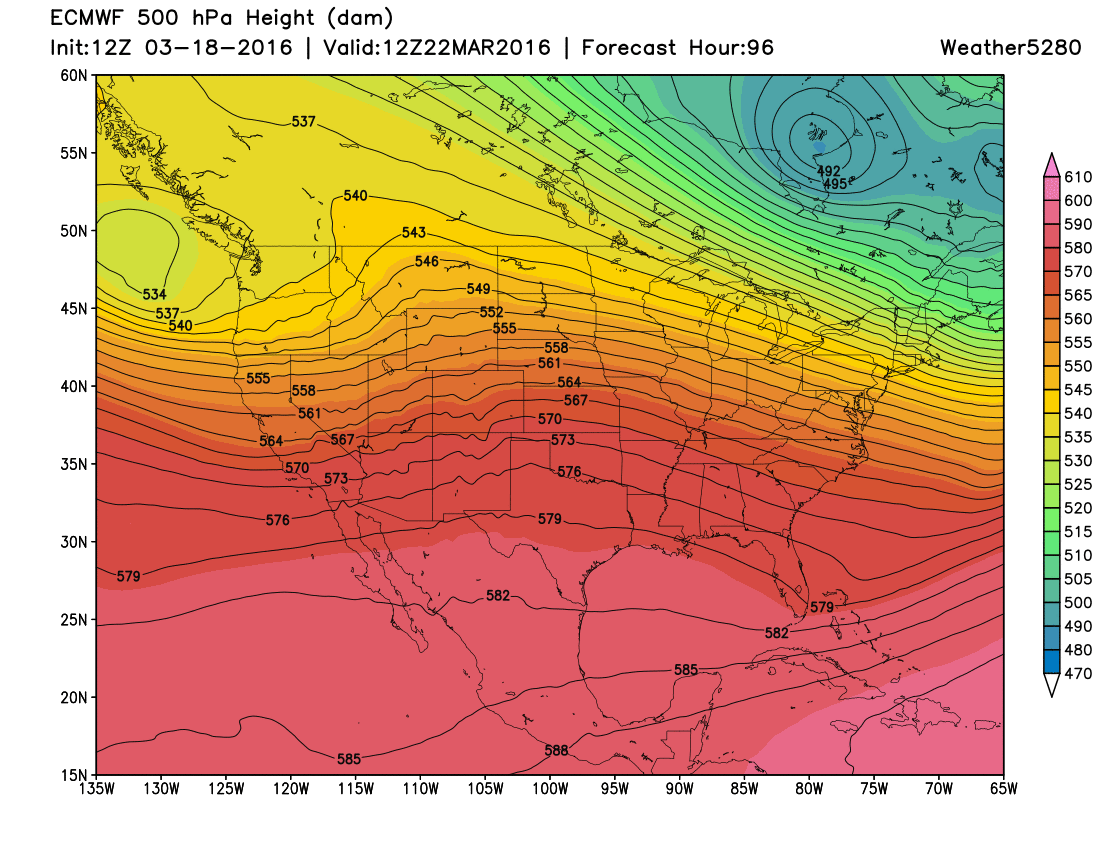 The ridge flattens a bit on Tuesday, and the core of it shifts farther to the southeast. However, we will likely have some pretty good downsloping wind which will keep temperatures well into the 60s and 70s. In fact, I wouldn't be surprised if a few 80s showed up over Southeast Colorado on Tuesday.
Wednesday:

By Wednesday morning, a strong trough of low pressure will be diving through Idaho. We will still be pretty mild through the first half of Wednesday. However, a strong cold front may move through on Wednesday afternoon and evening. This will set the stage for rain to change to snow later Wednesday afternoon and evening. The storm appears to swing through pretty quickly though...
Thursday: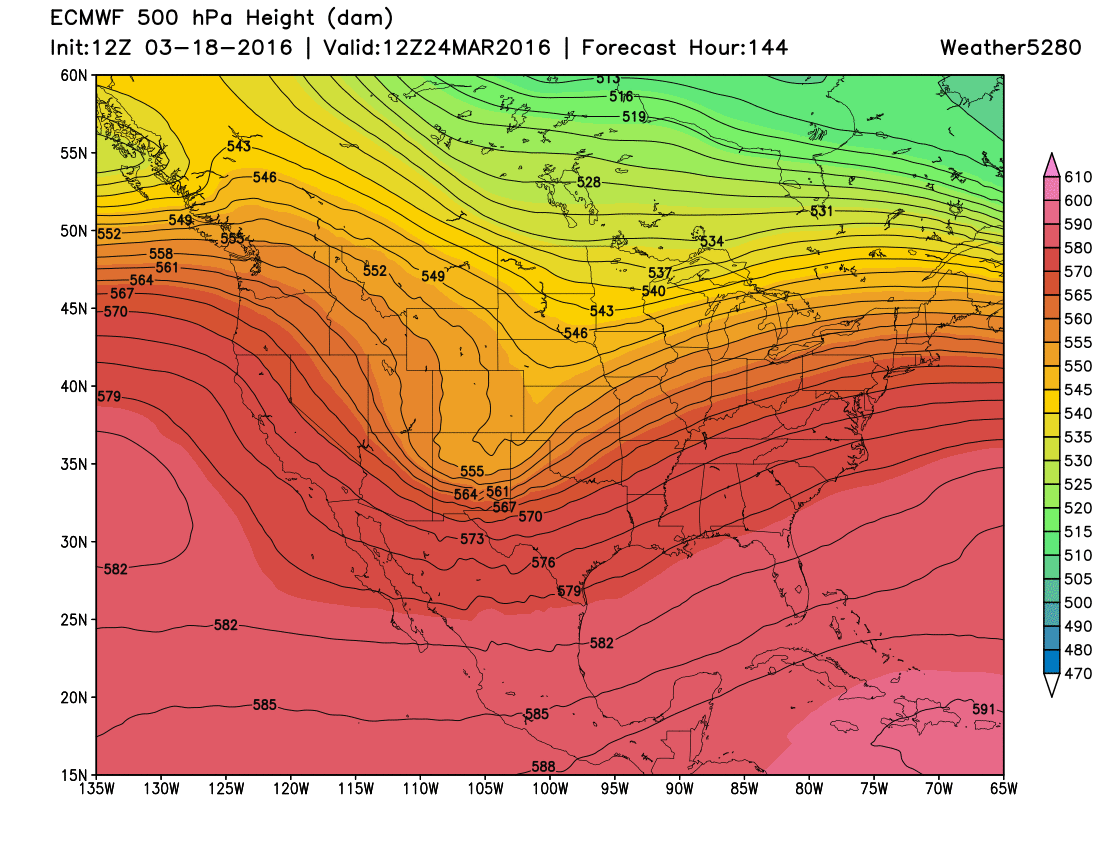 By Thursday morning, the trough is swinging through Southeast Colorado and exiting to our east-southeast. While this isn't the best track or speed for a big snowstorm here in eastern Colorado, it is decent enough that it should have our attention. A bit slower and more organized, and this could produce some good snow totals. Whether that happens or not, it appears that this will be our next chance for moisture. Some of which will fall as snow. Worth noting, that today models have generally been further north with the track of this system, which would mean less of a chance for moisture at lower elevations. That said, plenty of time for things to change, and we expect we'll see some back and forth over the next several days.
Beyond Thursday, another storm system will take aim at the area next weekend or early the following week.
Saturday: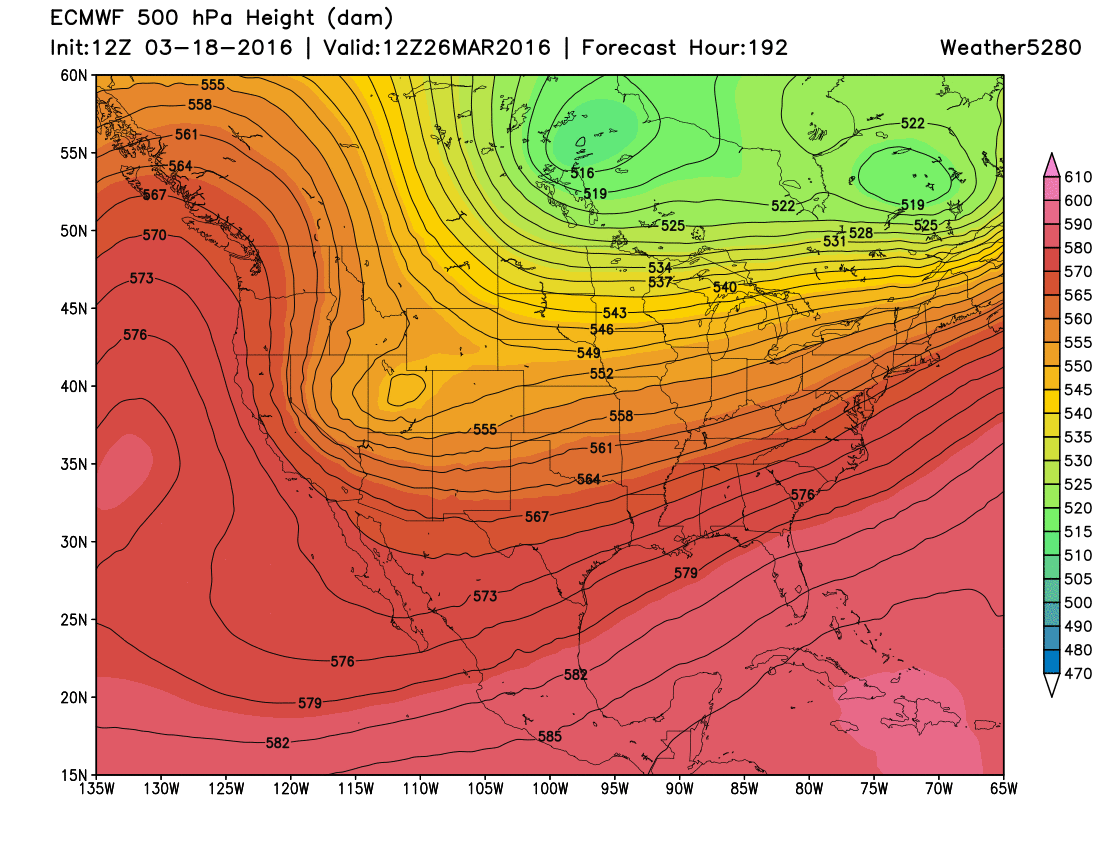 A strong storm system will be digging through Eastern Utah. This storm will also have cold air to tap, so whatever precipitation we receive, there will be some snow involved. Some of the run have been slower with this system, digging it into the northwest closer to the 27th or 28th.
Obviously, the details are still pretty uncertain with both of these storms. And, the devil is ALWAYS in the details...track, timing, temperature, etc. However, we have storms in the pipeline during the next week, and that should keep all of us on paying attention.
Peeking at April
I know these are just models, but we always like to share them with you. The month of April has looked wetter than normal for the past several months. Green represents a tip toward above normal moisture, while brown a tip towards below normal moisture.
NMME Model: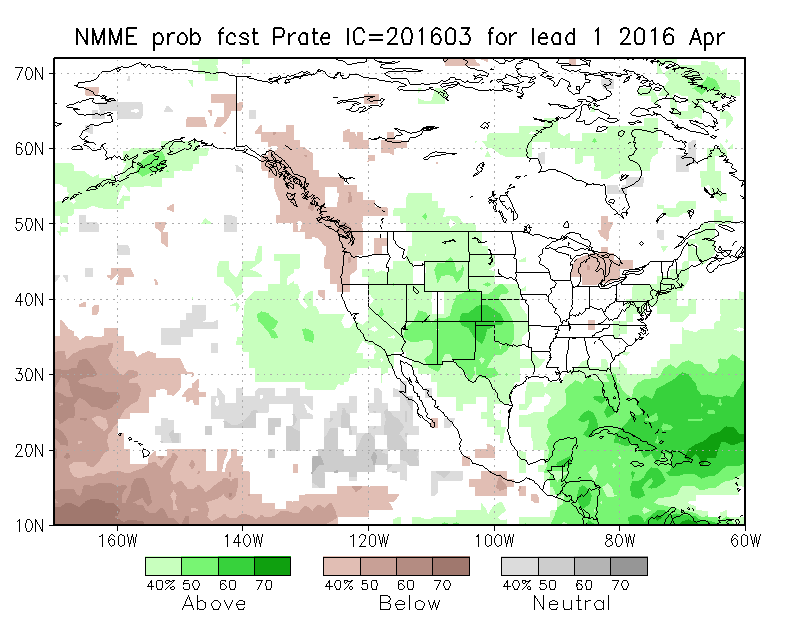 CFSv2 Model: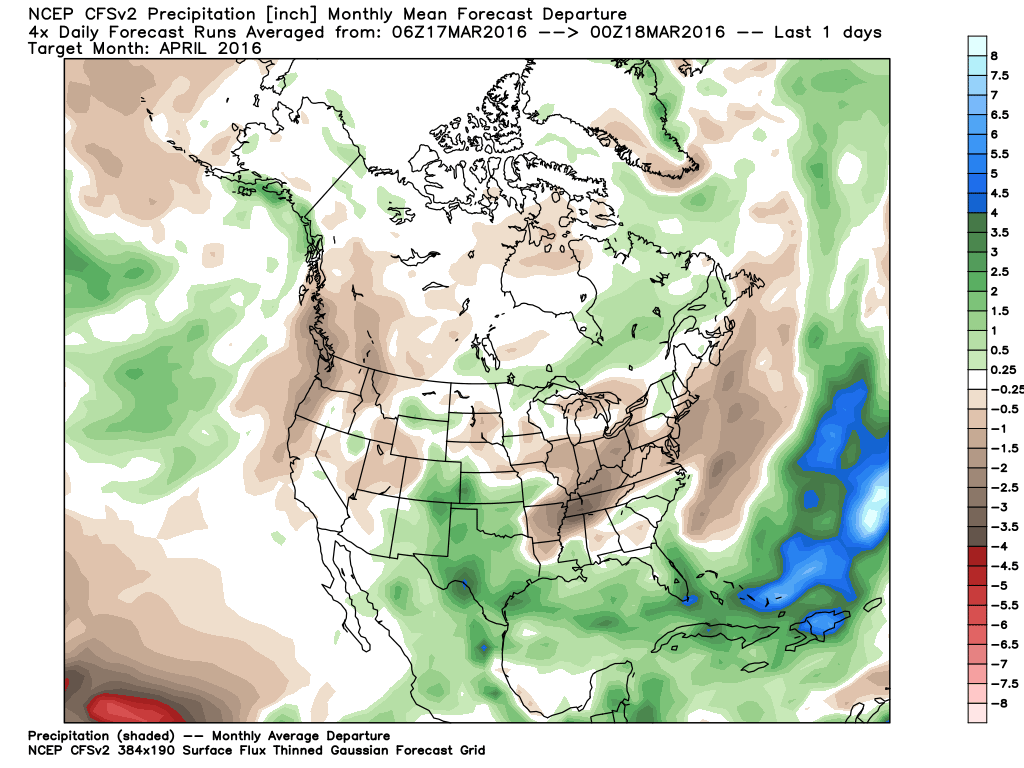 Neither of those models really keeps us colder than normal for April. Thus, if we do end up with above normal moisture in April, it will likely be in the form of rain and snow.
Rest assured we will be tracking these systems closely. If you haven't already, it is a great time to subscribe to Weather5280.