As yesterday's update stated, on the heels of Wednesday's snowstorm is another. By comparison, the one coming in isn't as wet for say Denver, but Colorado Springs may have more snowfall than with the past system. The Palmer Divide and the mountains have additional snowfall on the way too. Plus, southern Colorado may get in on the "snow-action" this time too.
Timing
The system will move through the state today through Sunday. The impact on Denver and the greater metro area is mostly later Friday through mid-Saturday. From there the system's biggest impact will shift south from the Springs to Trinidad.
Denver will have increasing rain/snow chances throughout the day and night: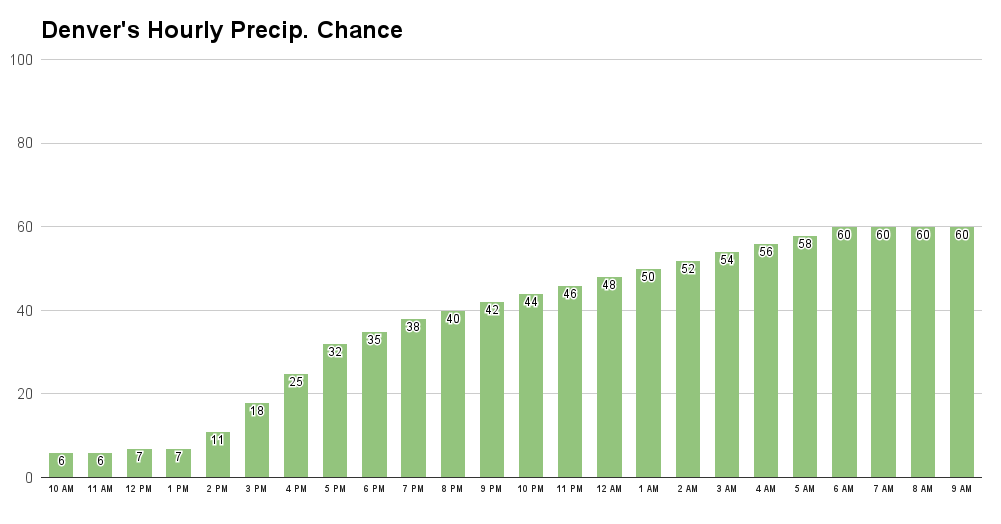 Statewide progression of the system. First with Noon today: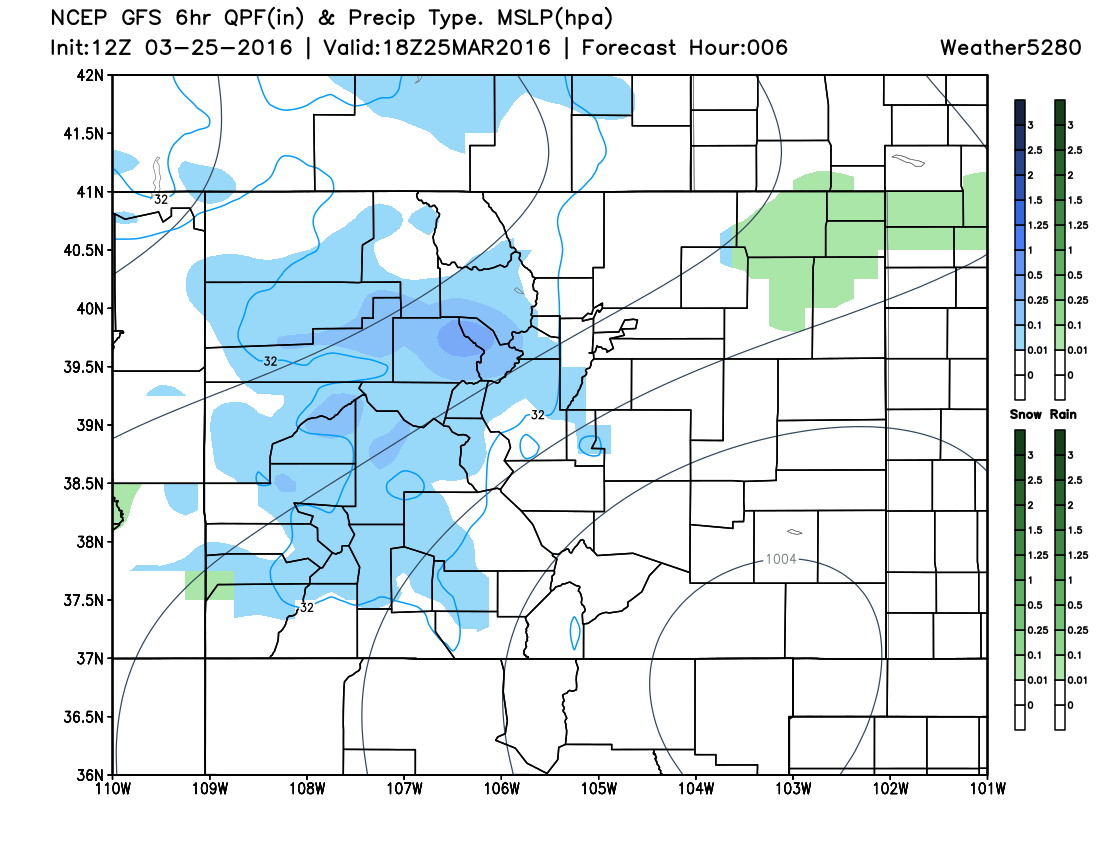 6pm Friday: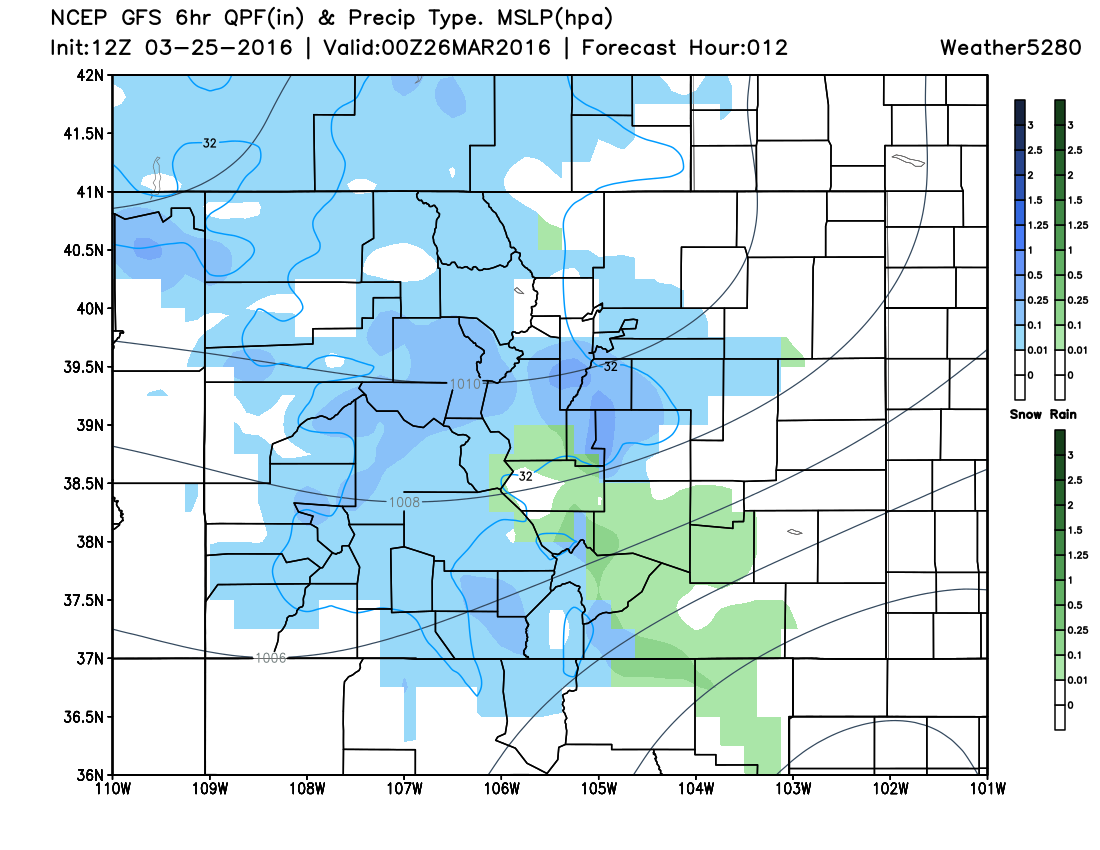 6am Saturday: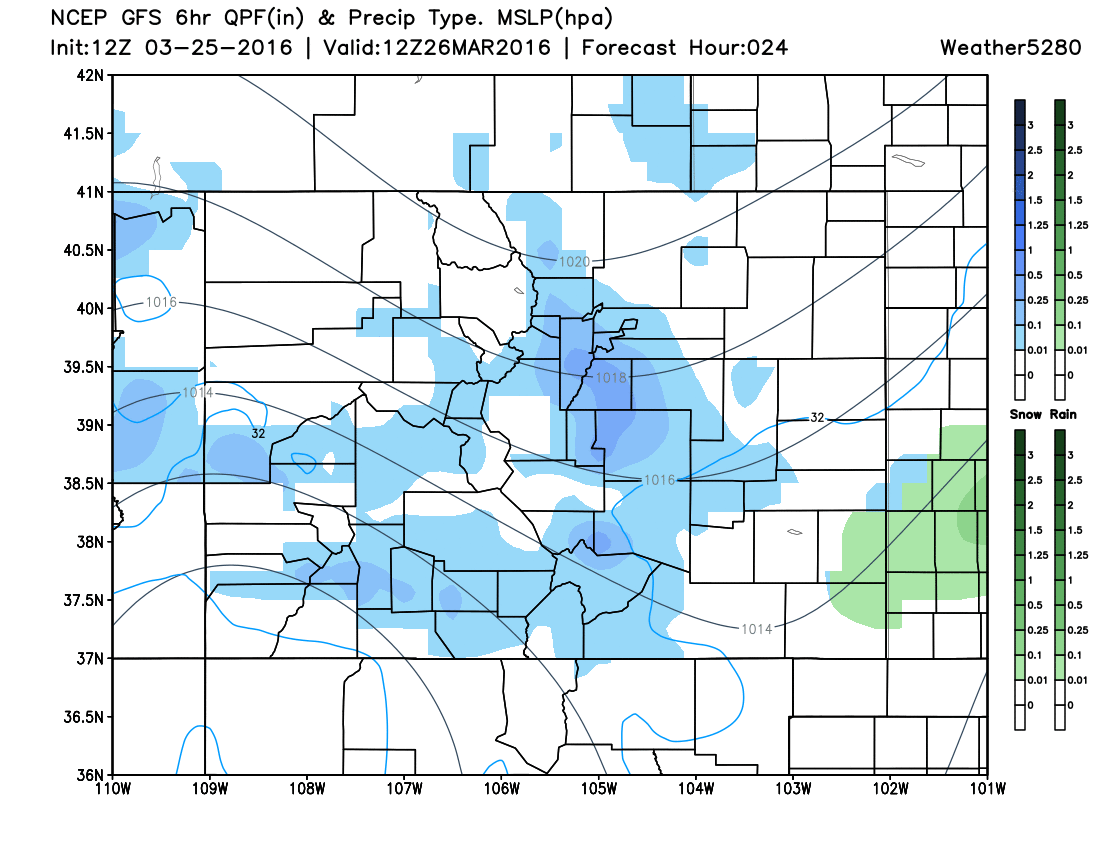 6pm Saturday: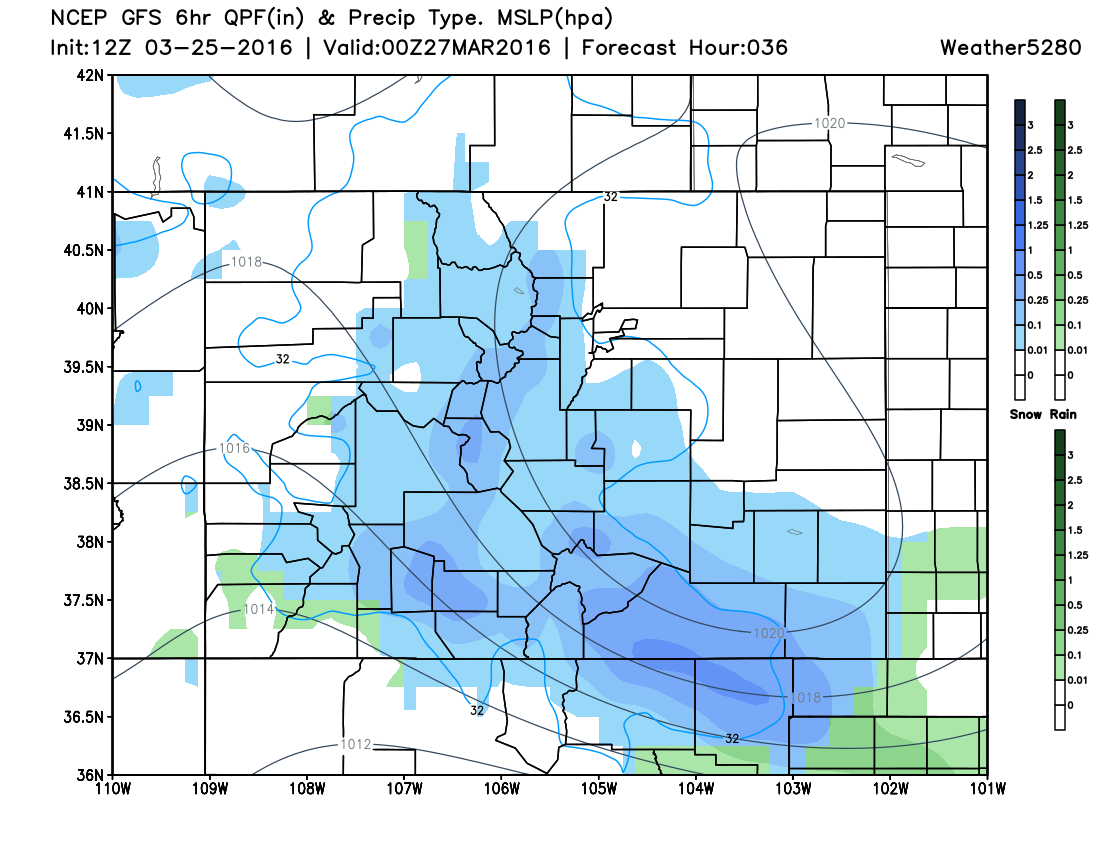 They system will clear throughout the day Saturday and Sunday will be "quiet".
Snow vs Rain
Initially, some of us will have rain before a wet sloppy snow. The better chances for rain will be southeast of Denver.
The temperature forecast for Denver has some warm temperatures until the mid-evening, so rain is certainly possible before we cool beyond 40: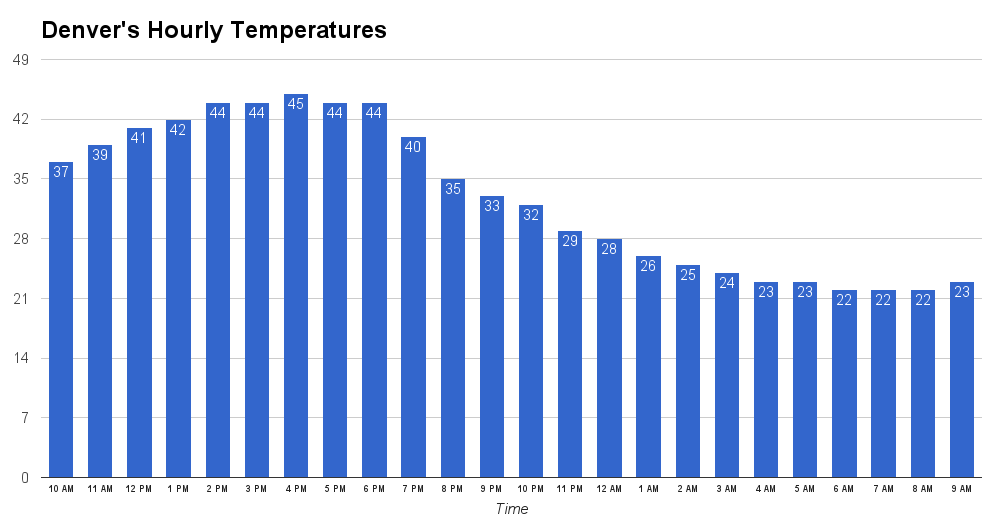 Snowfall Forecast
The foothills to the west of Denver and Colorado Springs (Jefferson, Cripple Creek, and Teller Counties) and the Palmer Divide (Douglas, Elbert, and El Paso Counties) will likely have the highest snowfall amount for the metro areas. Southern Colorado will likely be the "winner" for the system as a whole.
There is a good model agreement in the placement of highest snowfall totals, yet a mix of snowfall amount in those areas.
There is strong confidence in the forecast of a trace to three inches from Denver east and north toward Fort Collins. Denver, for example, in the GFS/CMC/ECM ensembles is in the ballpark of ~2" for this weekend – also, all indicate more snow next week.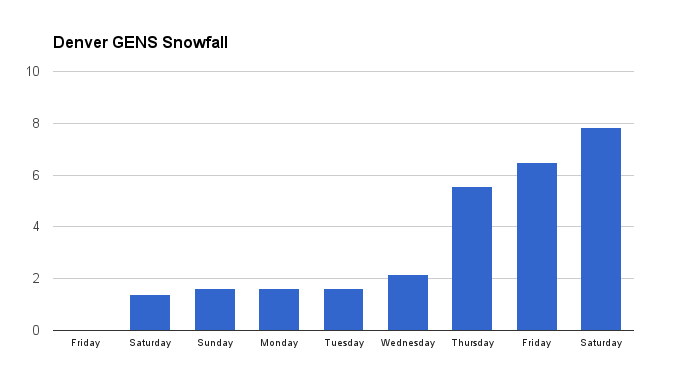 Where the forecast loses some confidence is west and south of Denver. In this area, there is potential for narrow bands of heavier snowfall that will be tricky to pinpoint until they are nearly developed.
I've selected three different locations to compute the Snowfall Gambler's Chart for. Notice Castle Rock, Colorado Springs, and Evergreen have probabilities of much higher snowfall totals, albeit the probability is low for many of us to bet on. For example, Colorado Springs has a 23% chance of 6", and the probabilities continue for higher amounts to.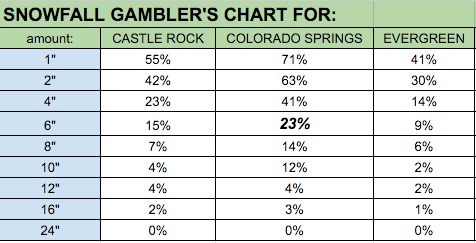 With that said, we have chosen the most probably forecast and that's what you see here: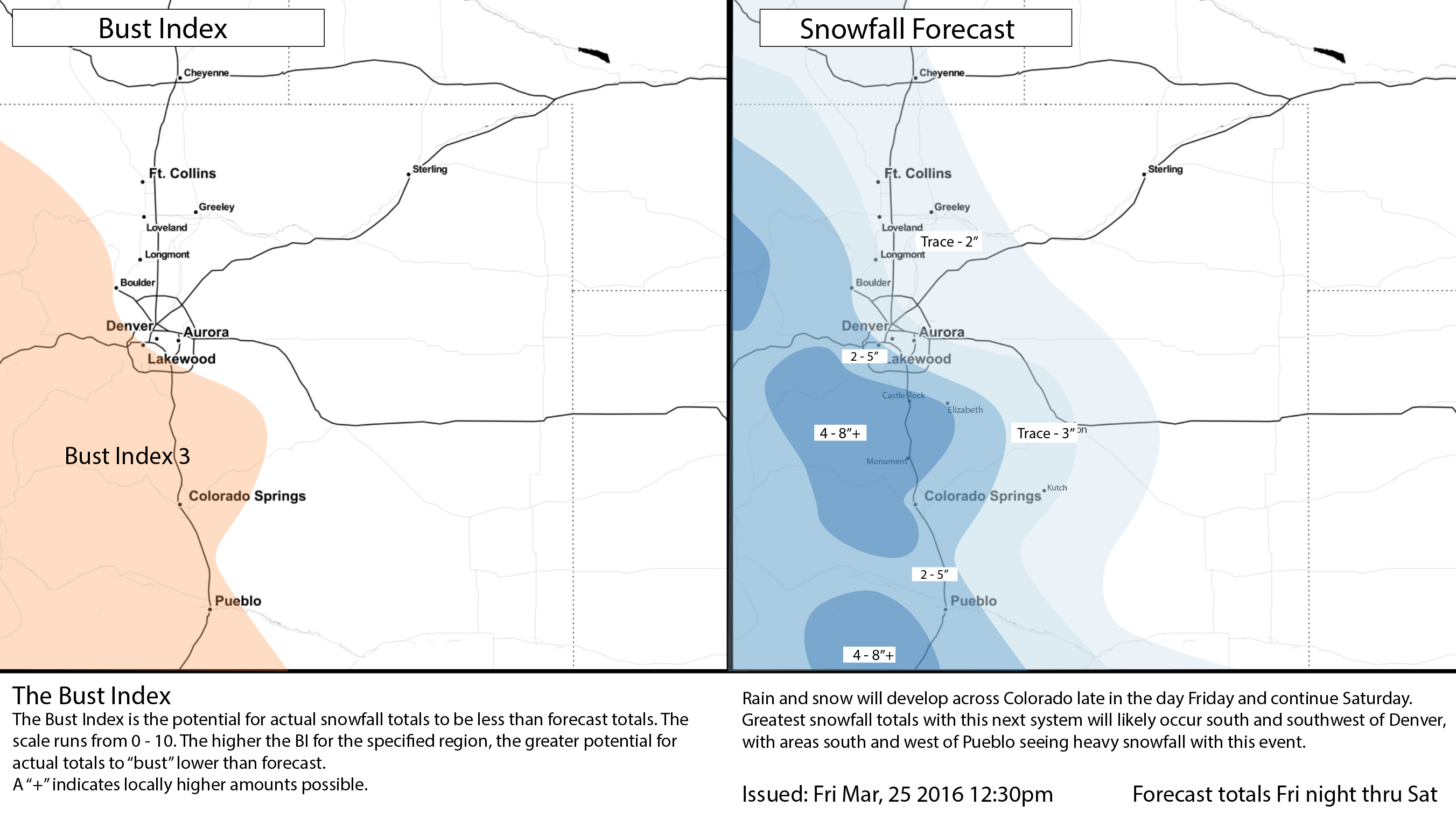 Next snow
Following Sunday's quieter day with some snowmelt, another storm is set to arrive by midweek. We will discuss that more in depth in this week's State of the Atmosphere.