One storm departed to our east on Tuesday, and another one (or two) will likely impact us late this week and late weekend into early next week. This is all part of a very active weather pattern that we have been advertising for a long time. Let's get down to some important details...
ECMWF Upper Level Pattern
Thursday AM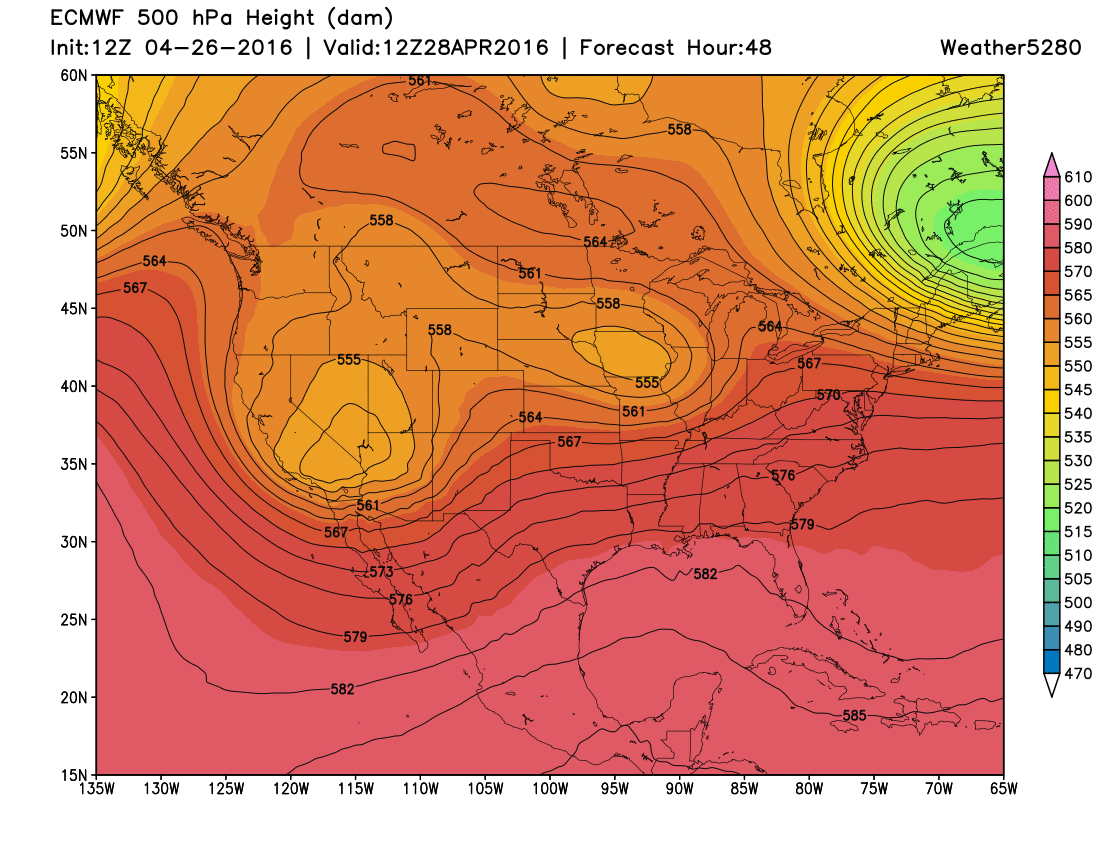 Friday AM

Saturday AM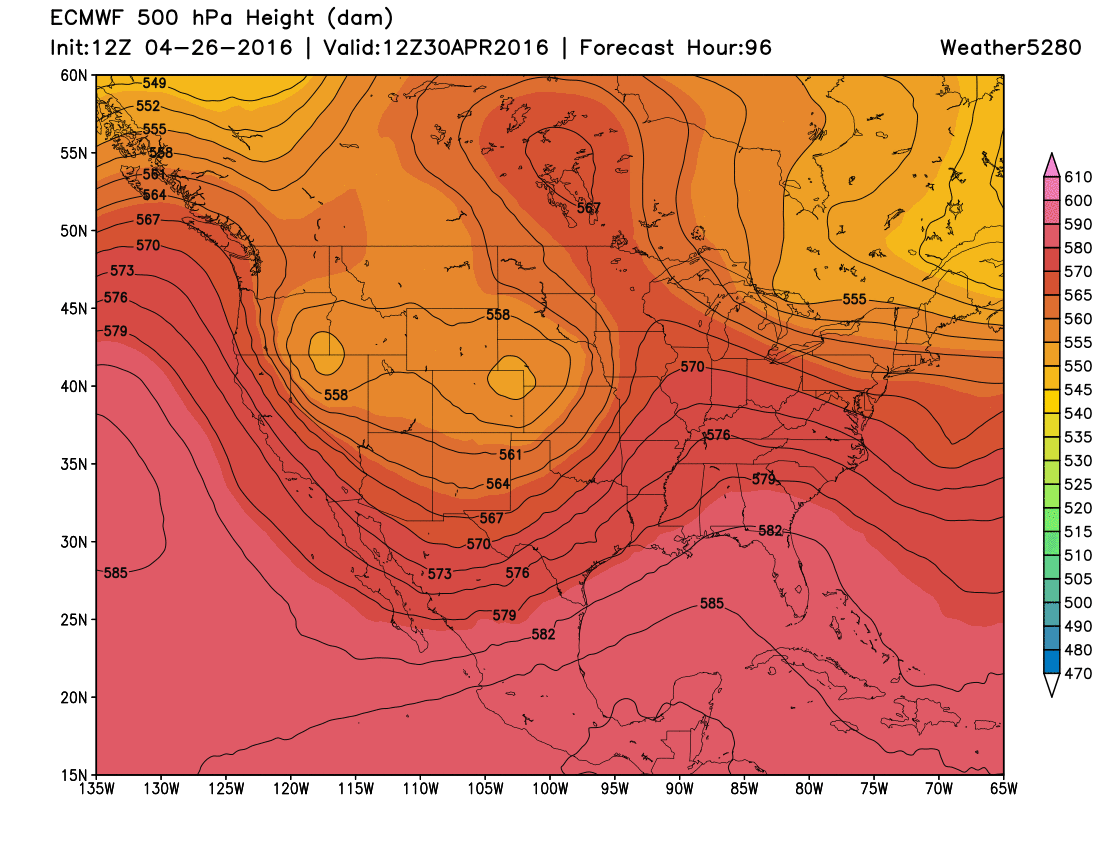 Sunday AM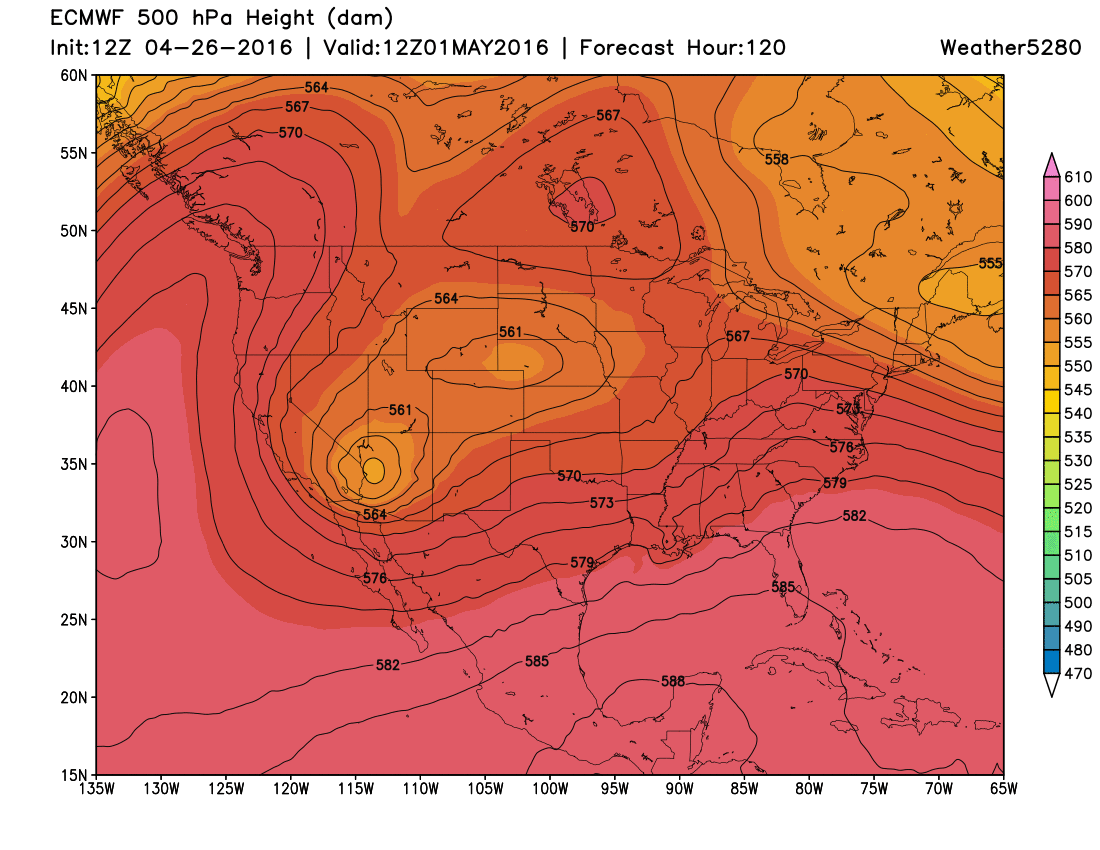 Monday AM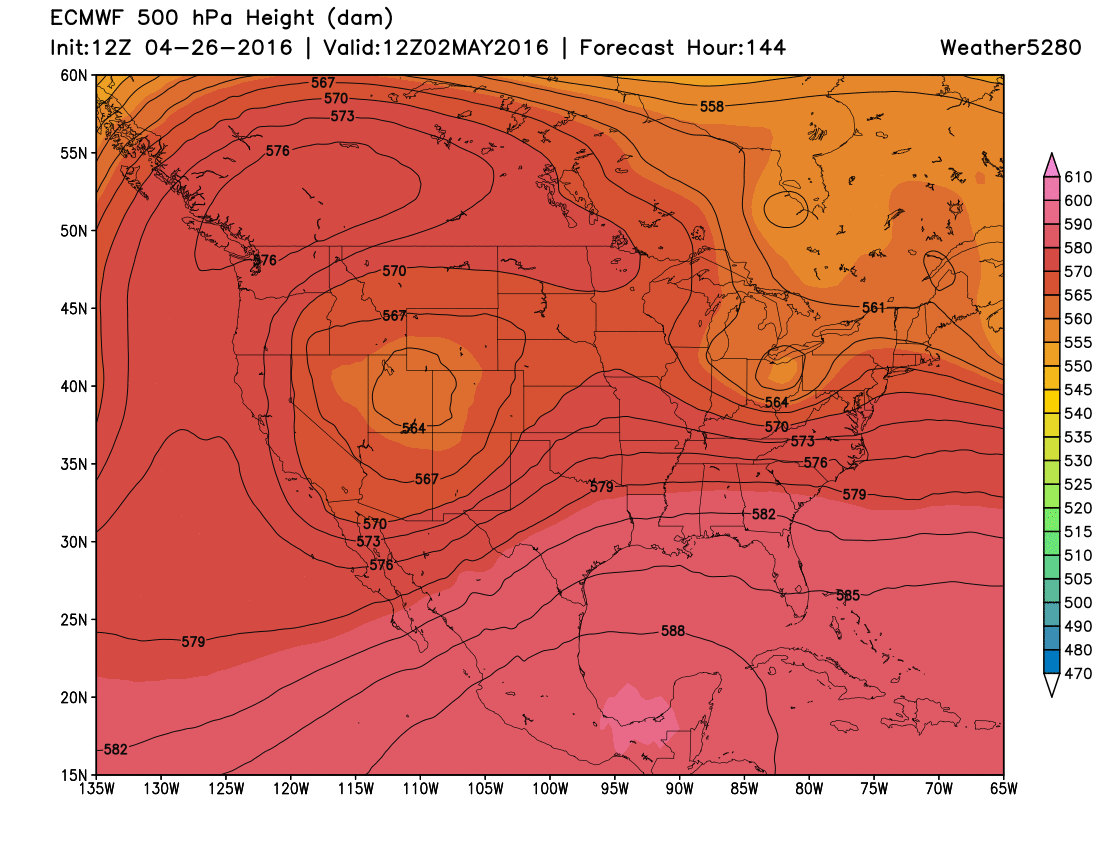 As you can see from the above maps, different impulses will be rotating around the parent storm that will set up shop over the Rockies. This storm will be similar and different from the last storm that produced so much snow along the Front Range. The similarities will stem from the speed of the storm and that it will produce a lot of snow for the mountains and possibly a lot of rain at lower elevations. It will take quite a while for it to completely clear the area... likely toward the middle of next week. This is the main reason why our forecast will remain wet, cool, and unsettled. The storm will be different in that it likely won't produce as much snow at lower elevations. However, it will still produce some.
Right now, most of the computer models are spitting out A LOT of moisture for the entire state Colorado:
GFS Model Total Liquid Precipitation Through Midday Monday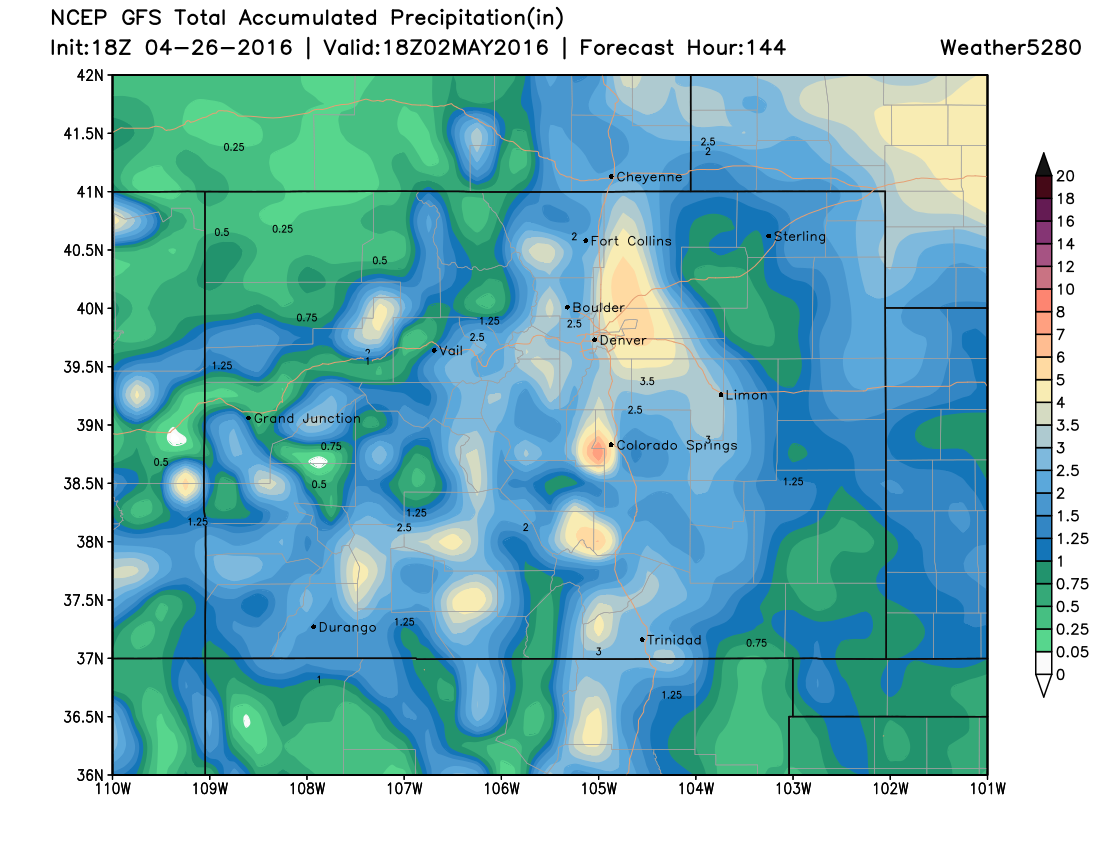 GFS Model Total Snowfall Through Midday Monday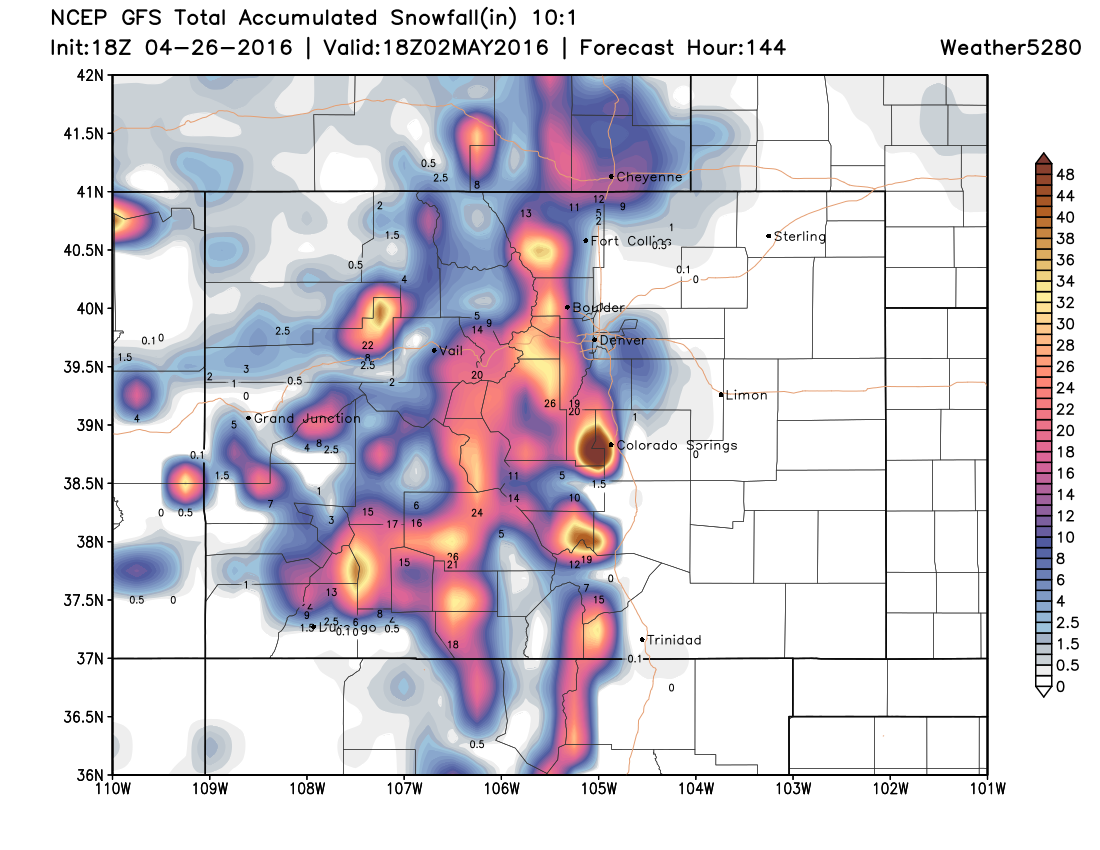 The foothills to the west and southwest of Denver, as well as most mountain locations get hammered with snow. Locations to the south and southeast of Denver (Palmer Divide) may also see a period of heavy snow. However, the ratio computer by the model is still shown at 10:1...10" of snow equals 1" of liquid. This snow event would likely offer up a lower ratio... While the GFS is REALLY bullish with both total moisture and snowfall for many of us, the ECMWF deterministic and ensemble (in great agreement) are less impressed with the storm, bringing just under an inch of liquid to DIA.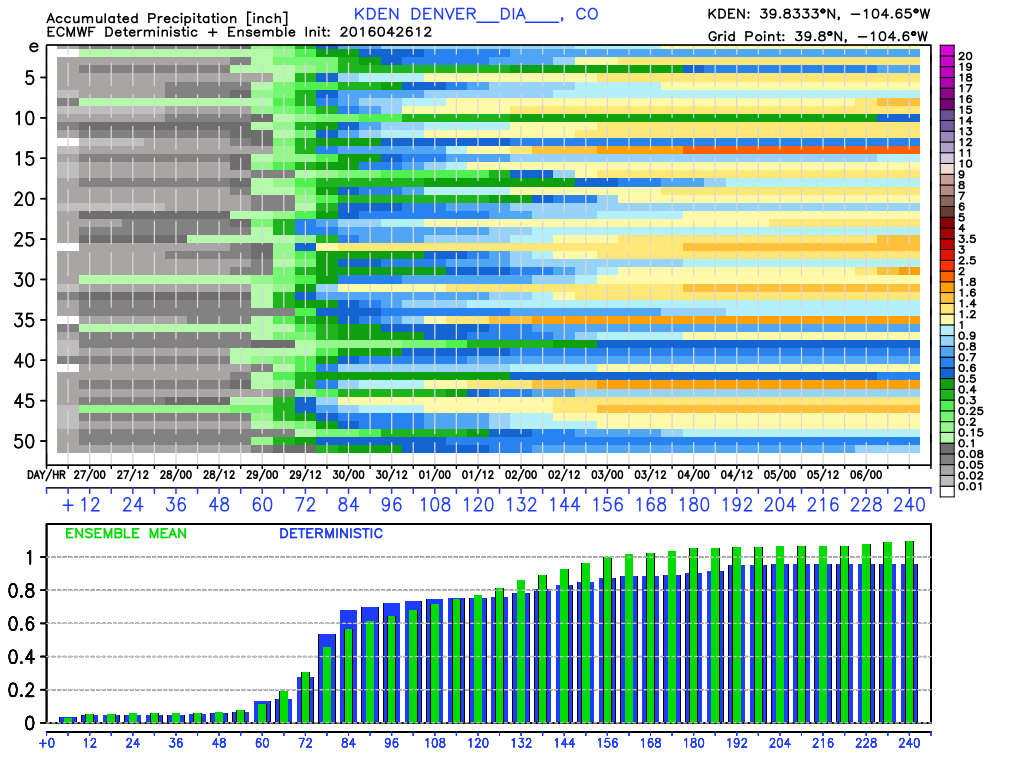 This time of year, a degree or two makes a HUGE difference in how much snow you see or don't see. City warmth, ground temperature, initial rain, etc., are all important factors for Denver...per usual. However, if you "live at elevation" to the west or southwest of Denver, you will likely get quite a bit of snow from this storm. Details will become more clear in another day or so, but we've been chatting about this upcoming storm for a while now . Stay tuned!