It's been a wet and chilly day all across the state with some areas seeing heavy snow, others seeing most a rain/snow mix, and still others seeing mostly rain.
Overall we're happy with how the forecast has worked out so far, the exception being downtown where we really didn't need to bump totals up yesterday. Snow didn't start in earnest in Denver until about 8 or 9am this morning, and while it's been snowing ever since, it's just been too warm in combination with the high late-April sun for anything to stick in the city. A bit better timing with the snow and our forecast would have worked out a bit better – but it certainly has been a wet, raw day around town.
So far the heaviest snowfall has been southeast of Denver across the Palmer Ridge. a few locations here have recorded upwards of 10" of snow, with snow continuing at this hour. Colorado Springs also did well, with a few locations seeing more that 6 inches of snow with this system. In the foothills and Front Range mountains accumulations haven't been epic, but several reports for 4 - 10" have rolled in this afternoon, while others saw very little. These areas can expect more snow over the weekend and into early next week, so it's not over for them just yet, with several more inches likely by the time Monday rolls around.
A quick check of traffic cams across the region shows roads are mostly just wet, but areas of slush have been reported, and for those that see snow after sunset this evening, expect some accumulation on the roads to be possible.

Rain and snow showers will continue overnight, and really through much of the weekend. Through midnight tonight the HRRR is placing most of the heaviest precipitation (rain and snow) east across the plains, with just light additional totals in and along the Front Range: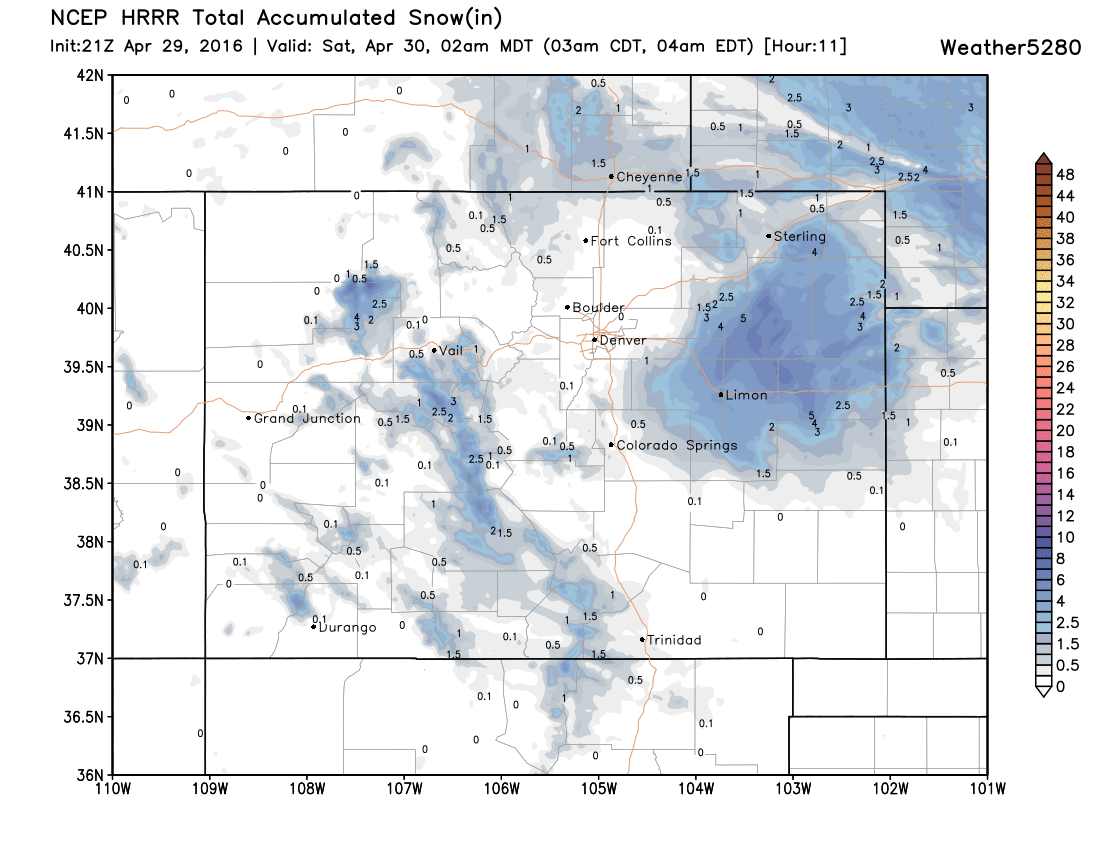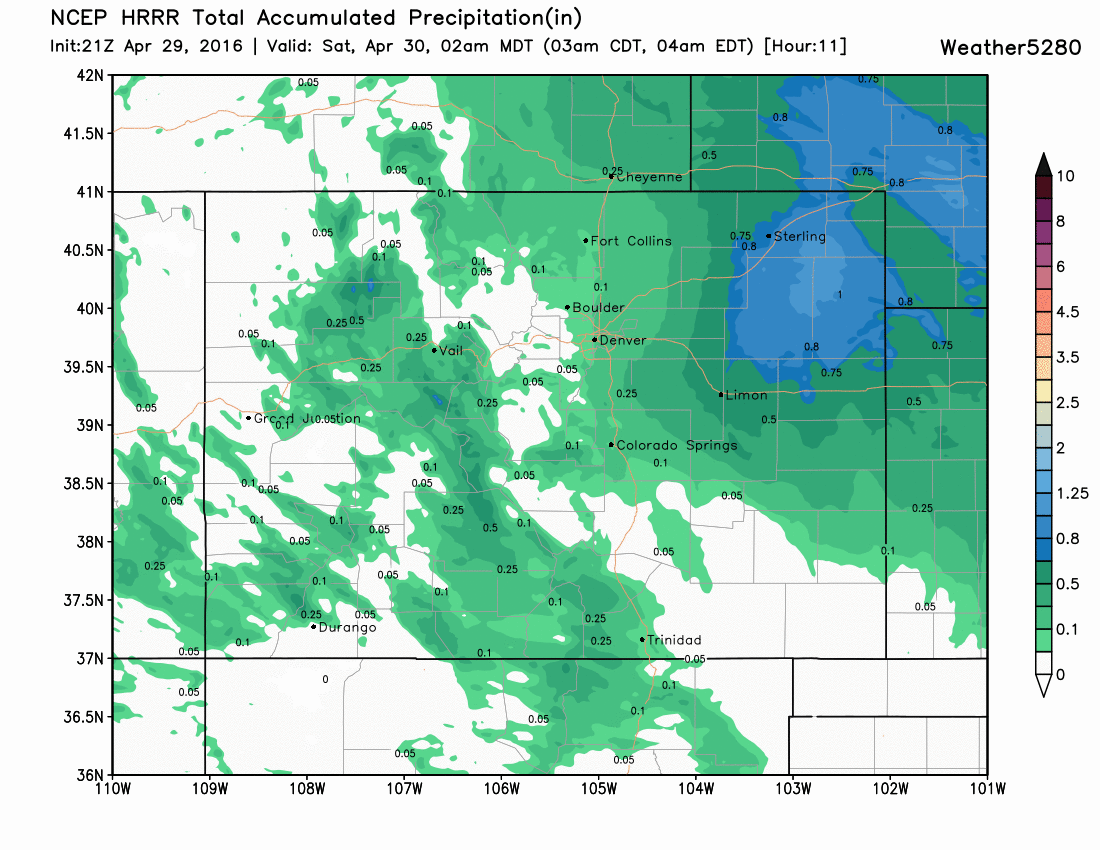 This is a trend we've already seen over the last hour or so, so it seems to have a good handle on how things are progressing. For Denver, I wouldn't expect much additional accumulation through tonight, with maybe a spotty inch or two from a passing snow shower.
Chilly and unsettled weekend
It's chilly out there today, and it looks like it'll remain so through Sunday across eastern Colorado. Highs both Saturday and Sunday are forecast to stay in the low 40s across the metro area, with highs across eastern Colorado running some 20 to 35 degrees below normal for the date Saturday afternoon:
With the chilly temps will be the continued chance for rain and snow across the state. For Denver, while there's a good chance we see more flakes through the weekend, any accumulation should be light (Trace - 3") or non-existent, while we may see several more inches at higher elevations to the west. The latest GFS forecast shows this potential, with a bit more snow across the Plains this evening and tonight, with more snow for the foothills this weekend: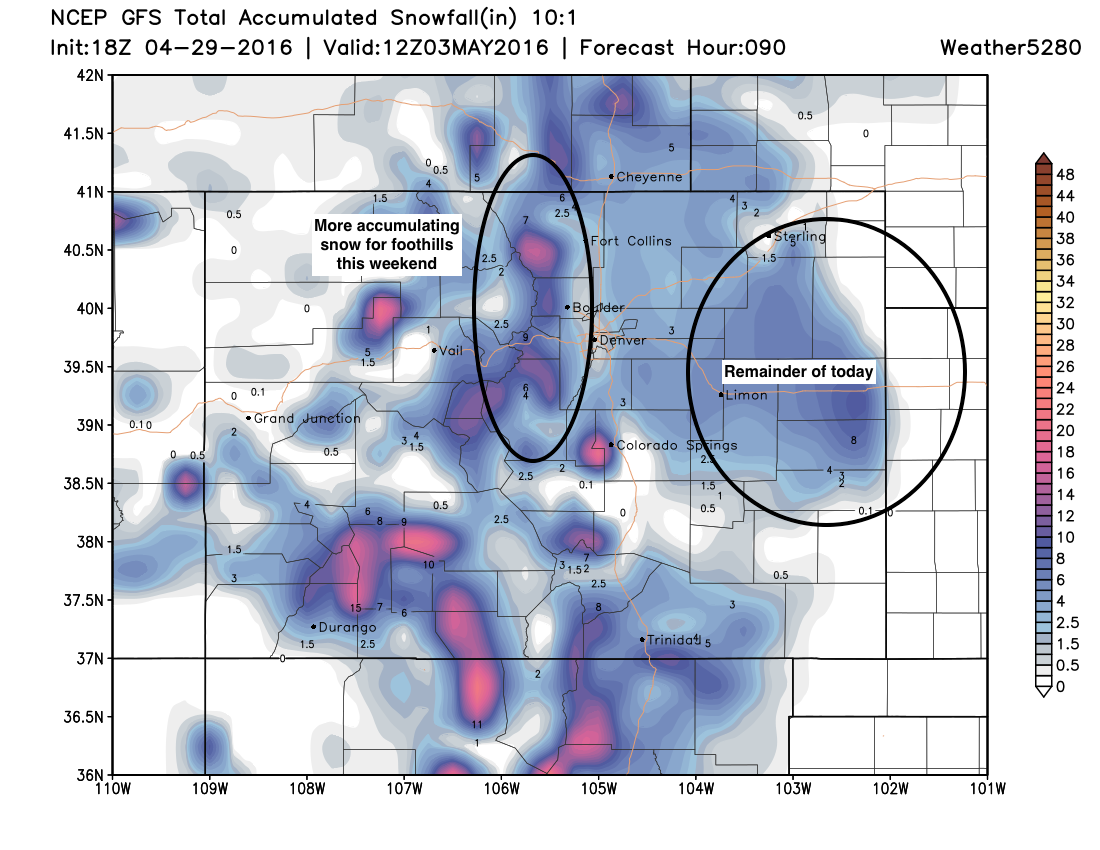 As of 4:30pm this afternoon our station was reporting a storm total of 0.63" and we should add to that through about Monday, with an additional 0.5 - 1.0" of liquid forecast over the next several days. The latest WPC precipitation forecast looks reasonable, with pretty good moisture statewide, especially over southwest Colorado, and the eastern plains.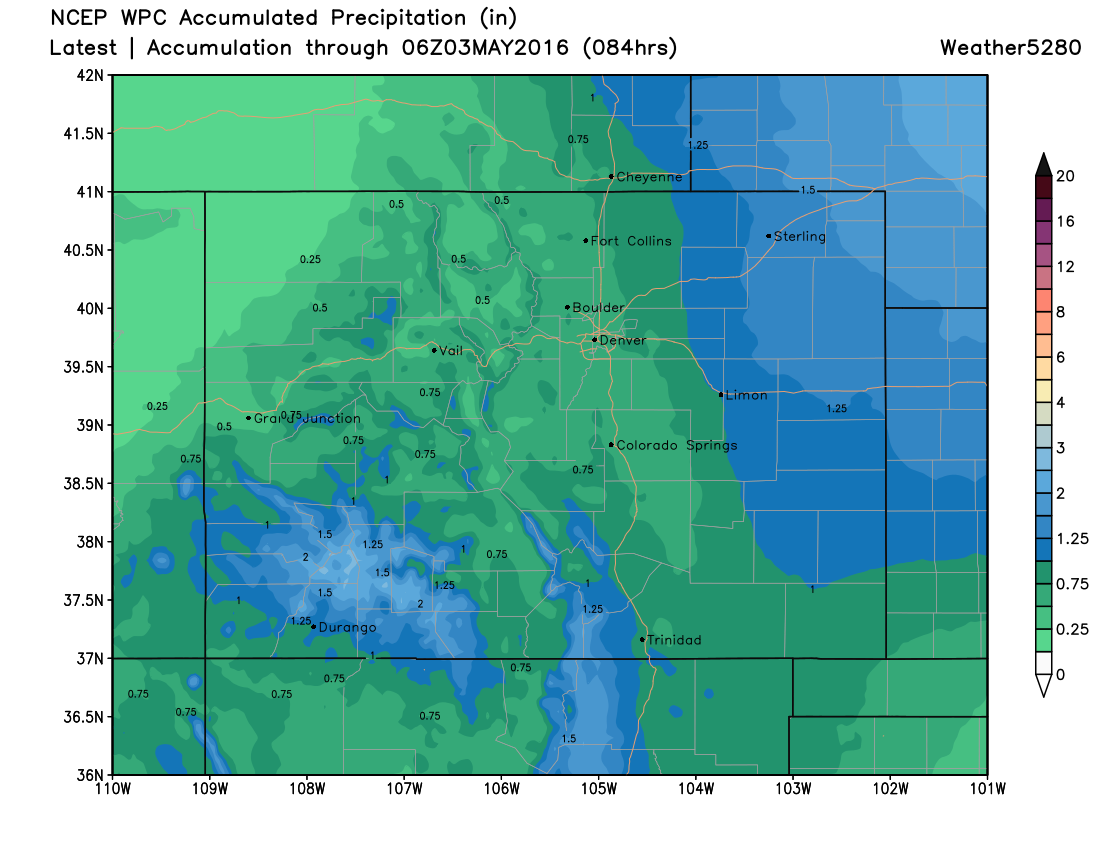 Stay warm, stay dry! We'll offer updates as needed this weekend, or just catch you for the State of the Atmosphere on Sunday. Who's ready for summer?!