The average date of the first 80° day for Denver came and went on April 28th and we still haven't managed to hit the mark. Yesterday, while many locations topped 80°, Denver International Airport did not, making it to 79° Thursday afternoon. As of this posting DIA has reached 78° today, and may reach that 80 degree mark this afternoon, but with the cloud cover it could be we land short once more.
As we head into the weekend our temperatures will cool a bit, with highs both Saturday and Sunday forecast to be in the 60s across most of northeast Colorado. With those cooler temperatures will come a better chance for precipitation as well, especially for those living across far northern Colorado and the northeast plains.
Saturday
Our primary concern for Saturday will be the potential for severe weather across northeast Colorado. At this time, it looks like the greatest threat will end up northeast of the Denver area, but – should the boundary location set up a bit further south, this would increase the chance for strong storms even in and around Denver. Moisture seems to be the main concern, as dew points over the Gulf of Mexico and Texas Coastal Plain are only in the 50°F-60°F range (green numbers). This moisture will continue to push north into tomorrow, however once daytime heating begins, mixing redistributes moisture throughout the lowest portion of the atmosphere which often results in a lower dew point at the surface.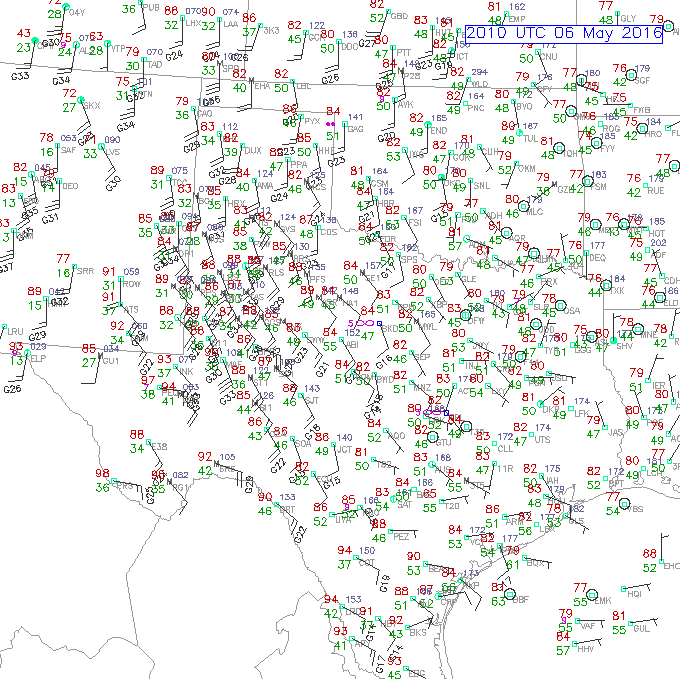 Below Friday's midday outlook from the Storm Prediction Center. They focus the greatest chance for severe storms northeast of Denver in the "Slight Risk" category, which seems reasonable at this time. Denver is included in the Marginal Risk category, which may or may not need to be adjusted as we head into this evening and on into Saturday.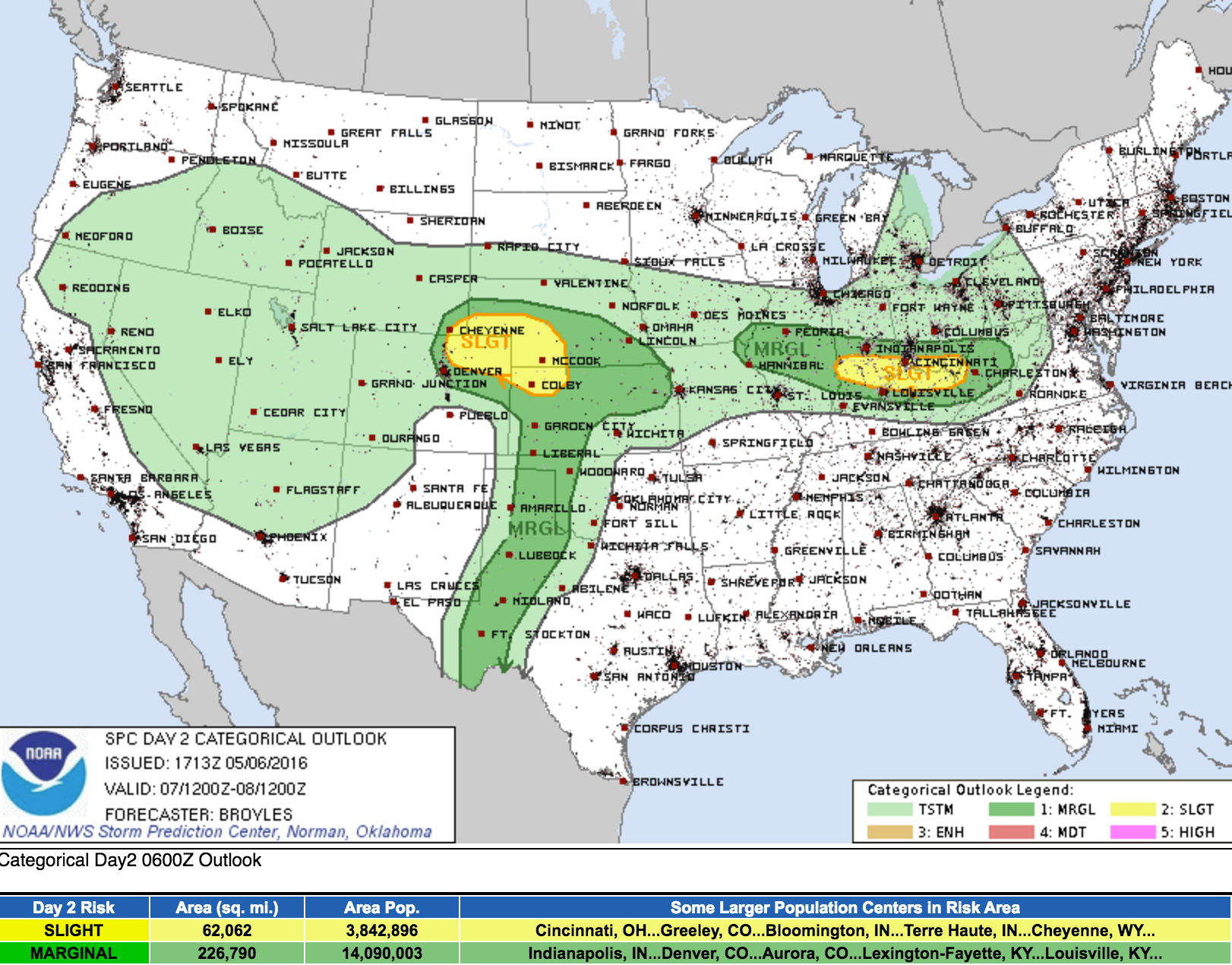 The latest hi-resolution NAM model has storm potential beginning be noon to early afternoon along the Front Range and metro areas, before centering the core thunderstorm activity out northeast across the plains as the afternoon progresses Saturday. By late afternoon the atmosphere will become favorable for some of these storms to turn severe across the plains, with gusty winds and large hail being the primary threats, though a tornado or two certainly cannot be ruled out either. Storms will probably consolidate into a line north of Denver during the late afternoon and into the evening as a 120 knot jet ejects into Eastern Colorado, placing Northeastern Colorado in the left-exit region. Our placement relative to the jet is favorable for synoptic-scale lift. This tends to make shower and thunderstorm coverage more widespread.

For those that don't see storms – you know the drill with scattered convective coverage – Saturday will be a pretty nice day. Highs will top out in the mid 60s, so near-normal for time of year, with afternoon clouds much like today even for those that don't see storms. We'll put Denver's storm chances in the 40 - 50% range, with a 60 - 80% chance of storms northeast, including places like Greeley and Sterling.
Sunday
The large 500mb low responsible for delivering the severe storms Saturday is currently parked over southern California, and will track its way east/northeast into the Great Basin tonight and early Saturday (below left). By Sunday we see the GFS track the main energy associated with this low track northeast across Colorado, with the main circulation ending up north of Denver by Sunday evening (below right).

Under this scenario we'd see most of the heaviest precipitation stay north of Denver on Sunday, with areas along and north of Fort Collins seeing the best chance at appreciable moisture on Mother's Day: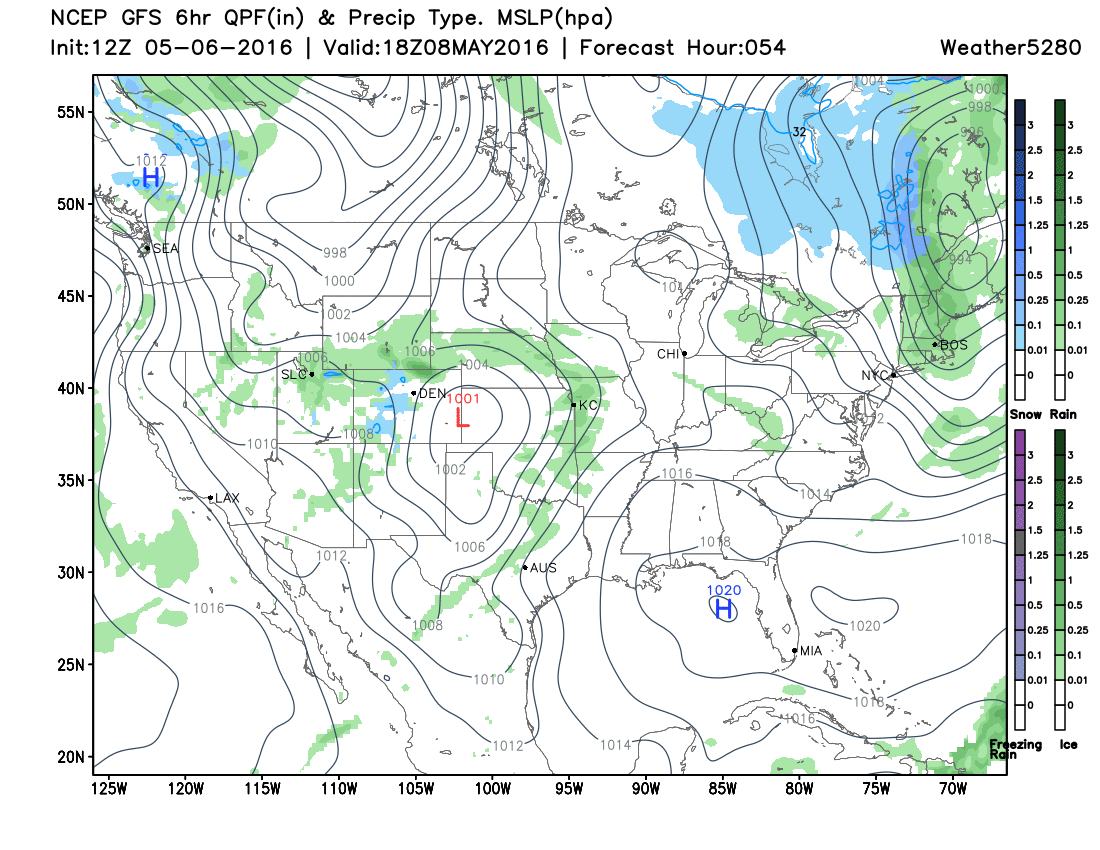 The EURO, on the other hand, has been pretty consistently just a touch further south with things which puts more of the metro area in range for some rain on Sunday.
We'll go ahead and split the difference as the two have been very consistent in their solutions, and go with about a 40% chance of showers in Denver on Sunday. For the northern metro areas extending north into southeast Wyoming those chances will be higher, with about a 40 - 60% chance for rain showers Sunday across northern Colorado. Should the trend be to move things a bit further south, Sunday would certainly end up more soggy for many moms, so stay tuned to the latest forecast for that. Otherwise, northern Colorado will stand the best chance at seeing pockets of heavy rain fall late Saturday through Sunday: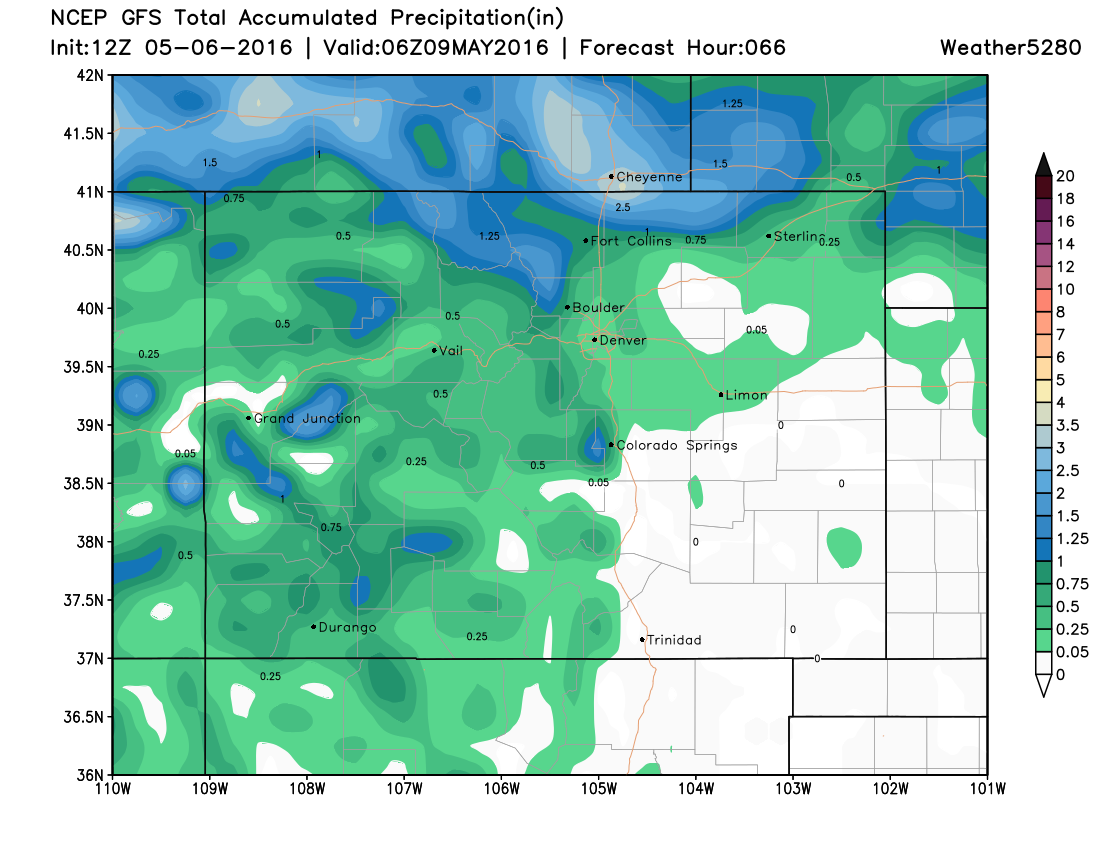 By Monday we dry things out a bit more and see temperature inch back near 70 degrees as well. Next week overall looks pretty typical for May, with highs near normal and a chance for showers and storms each afternoon.
Please keep an eye to the sky this weekend, especially Saturday afternoon across northeast Colorado! We hope your Mother's Days stay dry (or mostly so!), and that you enjoy this first beautiful May weekend with your family. It's a busy time for many of us here at 5280, so we may only get an update out regarding this weekend's weather if something changes dramatically over the next 24 hours or so. Otherwise, we'll catch you for SOTA in a few days...