It's like someone flipped a switch last week and suddenly we're full-on summer around here. With afternoon highs in the low to mid 80s to start the month, we've started the first few days of the month above normal in the temperature department, and it looks like this trend will continue in the week to come.
In fact, if we look at the forecast from the GFS below we see it forecasting above normal temperatures for most of the next 10 days (focus on any yellows/reds over DEN).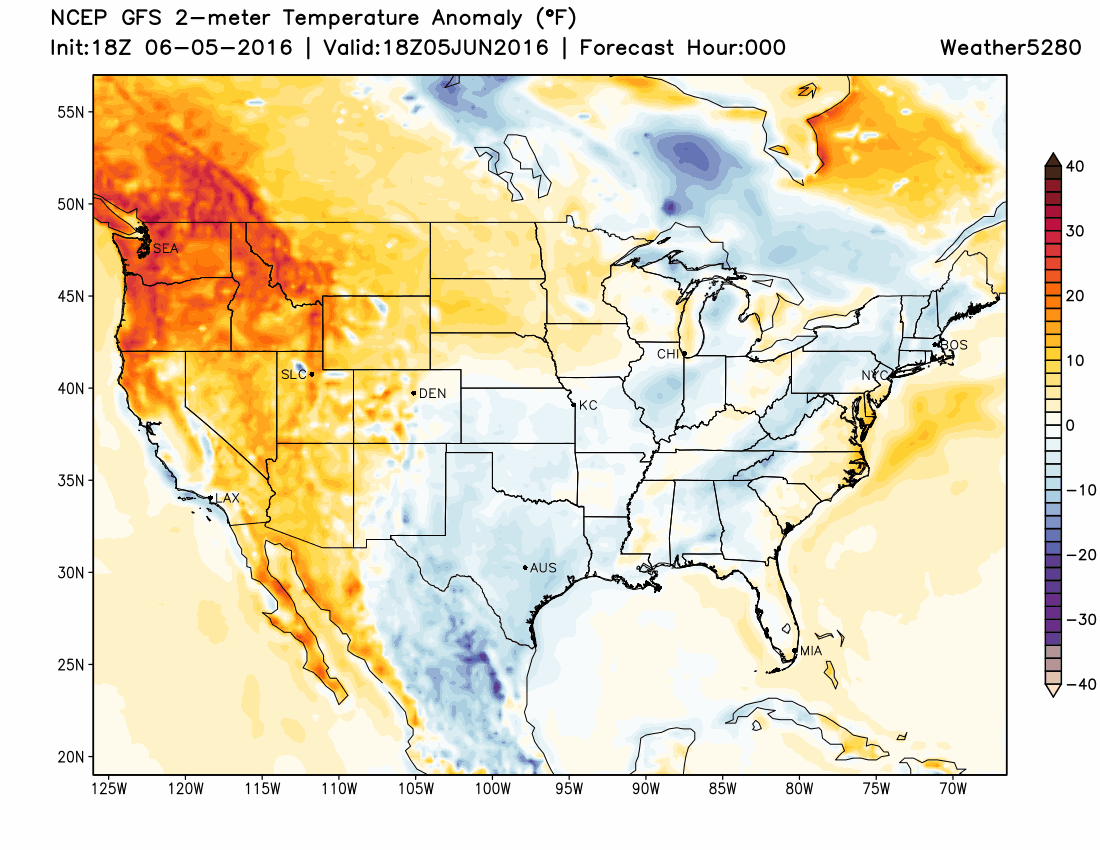 Despite pretty good ridging in place, enough undercutting will mean we see some storm chances in the coming days, and for those lucky enough to see one of these storms there will be the chance for some localized good moisture. Monday and Tuesday will feature the greatest storm chances for the week, with chances going down for Wednesday a bit, and then quite a bit more drying likely for Thursday and Friday.
The NAM is decently bullish with moisture Monday and Tuesday, especially for those along the Palmer Ridge. A look at its 4km resolution forecast through midday Wednesday shows pockets of heavy rainfall totals, with decent moisture forecast for the Front Range foothills and plains immediately adjacent. As is typically the case, not everyone will see storms the never several days, but many others will.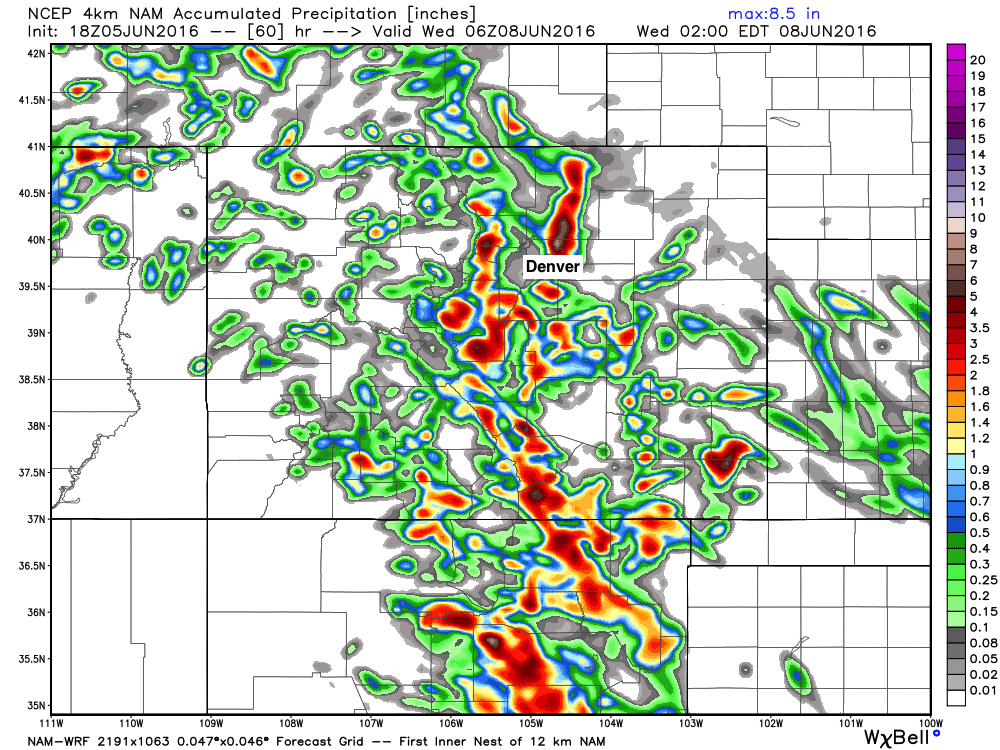 While June is severe weather month in Colorado, none of the days this week look particularly ripe for severe development – though a storm or two becoming severe should never be ruled out. Greatest threats with the storms early this week look to be hail, brief heavy rain, and lightning. The SPC guidance for Monday shows the greatest potential for a storm to become severe Monday being along and south of I-70, and that's just a small chance: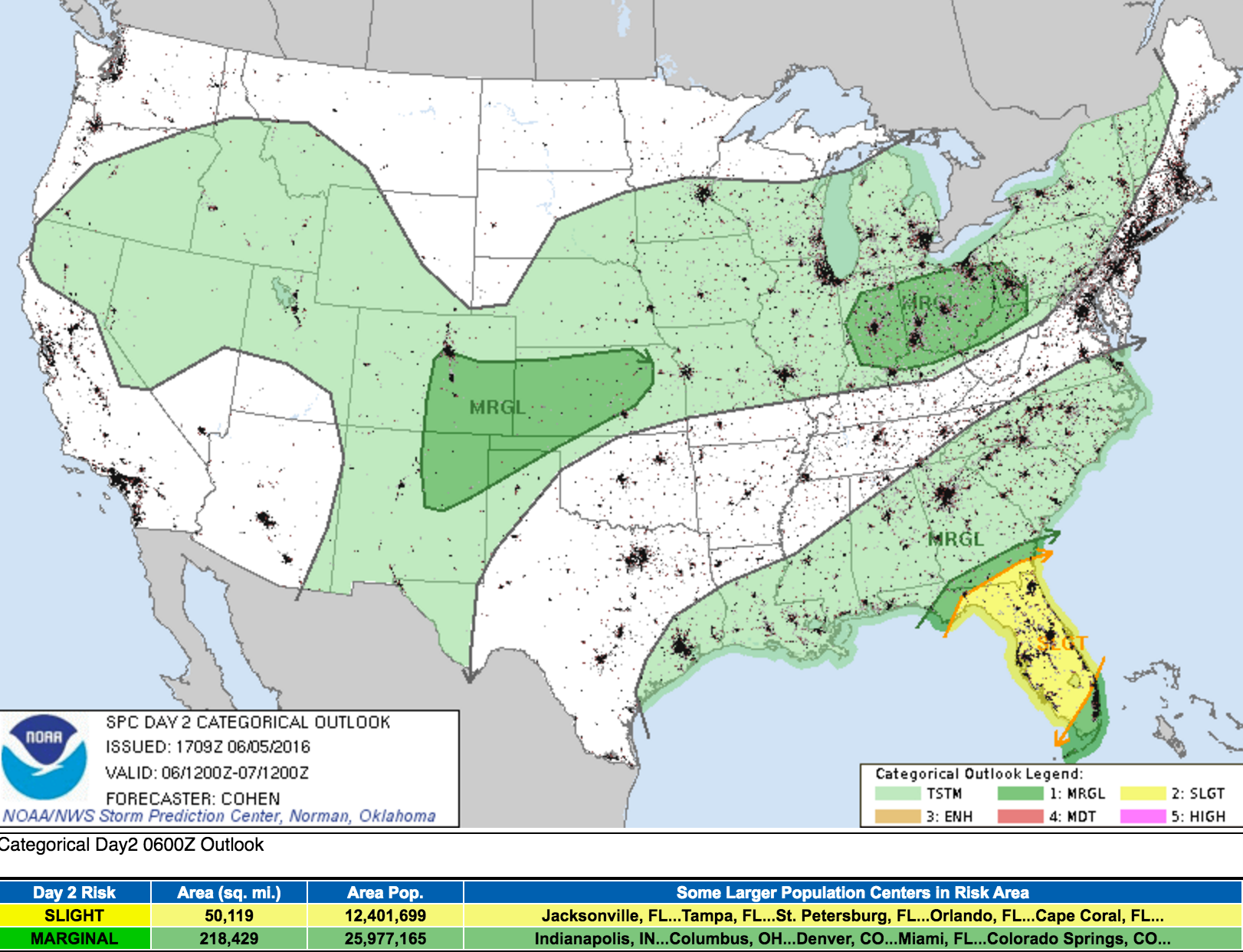 So, the first full week of June looks to be a fairly quiet, summer-like week. Highs Monday and Tuesday will be in the low 80s across the metro area with a 30 to 40% chance of storms both days. By Wednesday we see those storm chances drop to about 20%, with temperatures increasing as well. By Thursday and Friday it's a good bet many locations will be seeing the 90 degree mark, with upper 80s currently in the forecast for Denver.
We hope everyone is doing well, and enjoying this break in the weather after a very active spring! Let's hope we can get a storm or two to line up for us early this week, it'd be great to get a bit of moisture.