Yesterday Denver recorded its first 90° reading of the year officially, though the day prior certainly broke 90 for most locations as well. We'll see one more afternoon with highs in the low to mid 90s across northeast Colorado today, before a few days of cooler temperatures arrive on Sunday.
While the heat may feel sudden after our cool spring, June 10 is actually 10 days later than our average first 90° day in Denver. June is the month when we really start to warm things up – the average high climbs from 77° to start the month, to 87° to finish.
Over the coming days we'll see several disturbances bring an increased chance for storms to eastern Colorado, as well as some cooler temperatures.
Sunday will see highs in the mid 80s, with highs dropping to the low 80s Monday, and possibly upper 70s by Tuesday. Sunday through Tuesday will feature 40 to 60% chance of storms.
Sunday
Early Sunday we'll see a cold front drop through the region, which while no arctic front, should help keep temperatures several degrees cooler, with highs largely in the mid 80s across northeast Colorado, rather than the low to mid 90s we've seen the last several days.
We'll also see moisture increase Sunday across the region, with PWAT values from 0.7" to 1.4" being forecast across much of eastern Colorado both Sunday and Monday.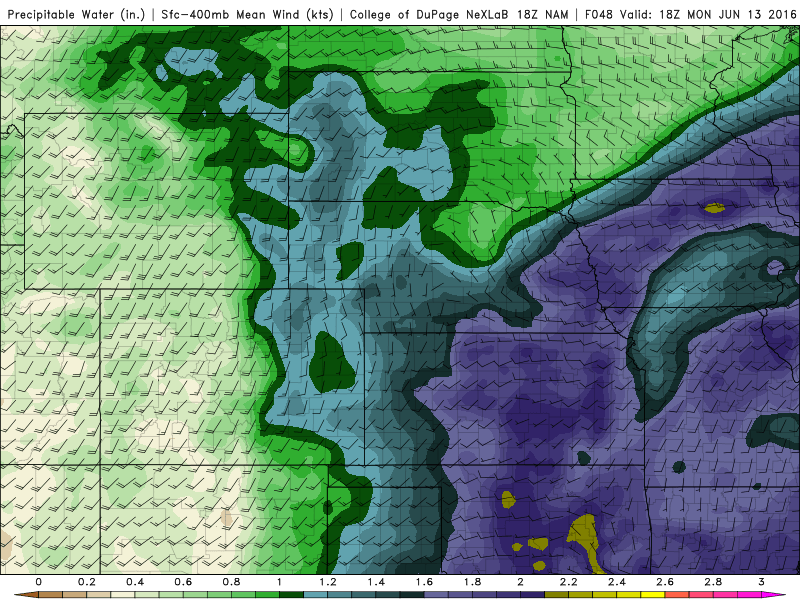 The severe weather threat won't be huge on Sunday, but as we saw last week, any storms that do develop will have the potential to become severe – especially in producing damaging hail and gusty winds. For Sunday, the SPC has issued a Marginal Risk for severe storms across northeast Colorado, which seems reasonable, though I wouldn't be at all surprised to see a Slight Risk show up by tonight depending on how things trend.
For Sunday the bigger threat will be for some heavy rainfall, especially for the Front Range mountains through Sunday afternoon, extending east across the Plains Sunday afternoon into Sunday night. Storms Sunday will be capable of producing quite a bit of rain in a short amount of time, which means pay attention to the flash flood threat and stay away from standing water.
We can see on the model sounding below, that there is a "skinny" CAPE profile, which favors more of a flash flooding threat, as opposed to a threat for large hail. A "Fat CAPE" profile indicates a stronger updraft strength, which helps in the formation of large hail. The large depth of moisture would limit the hail threat because of precipitation loading which tends to suppress updraft strength.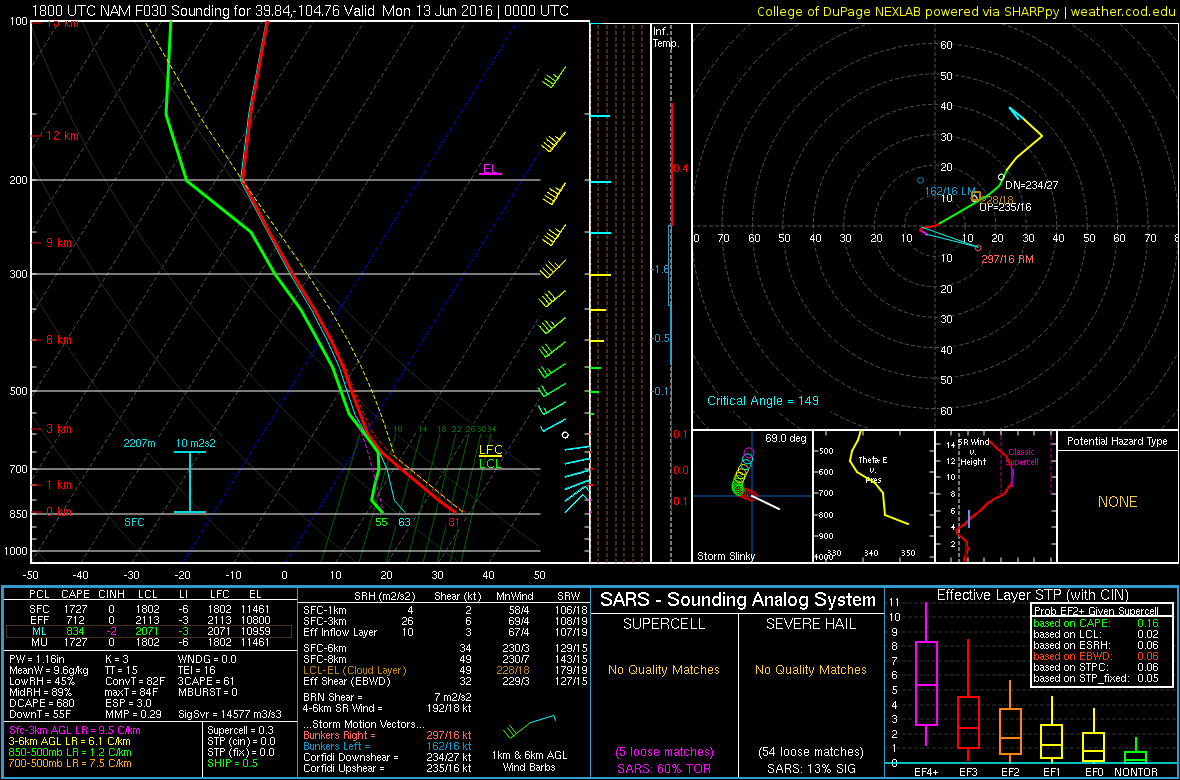 Monday
The severe weather threat will increase for Monday, and with that the SPC has already issued a Slight Risk for severe storms for much of eastern Colorado.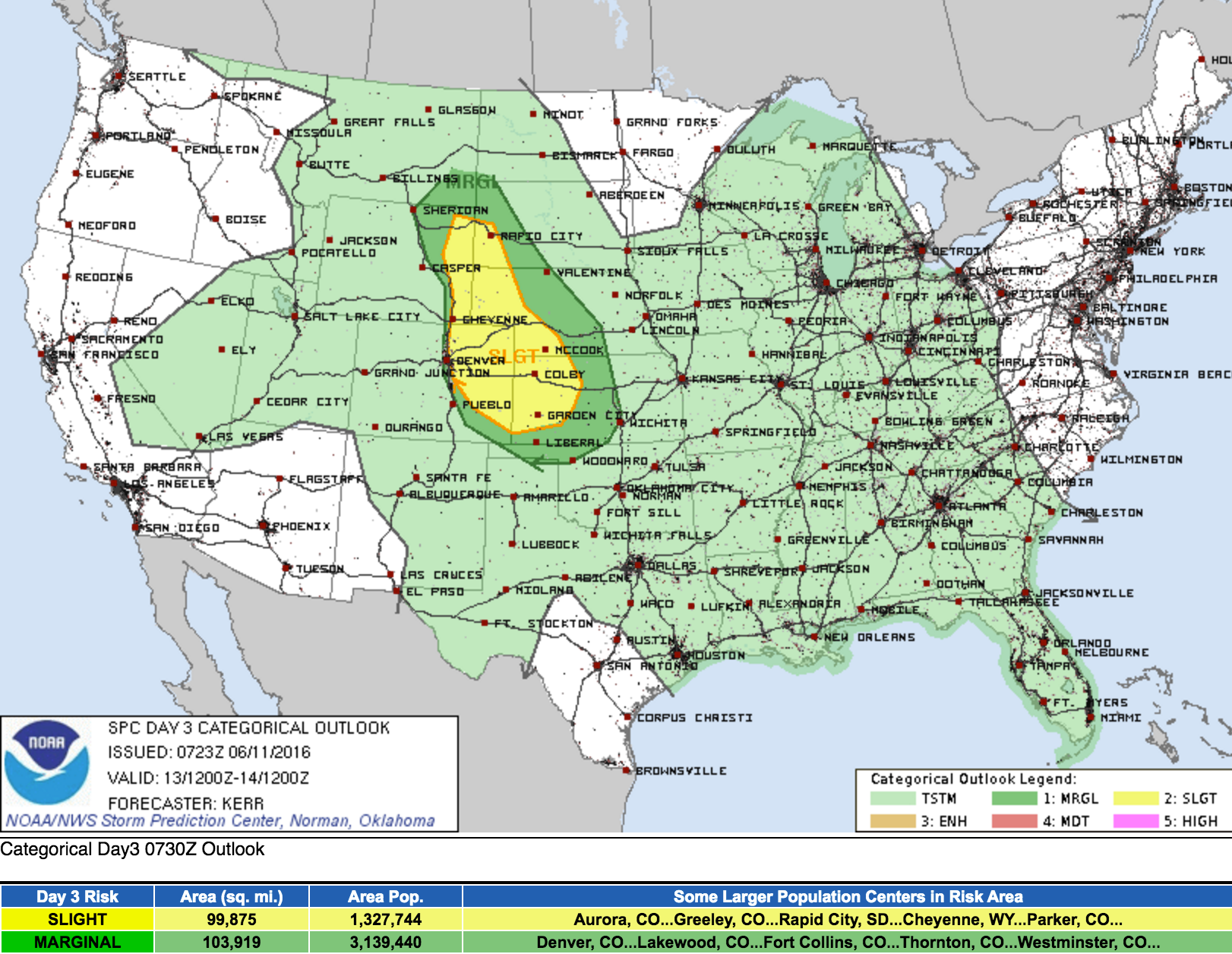 By Monday afternoon we'll see sufficient severe weather parameters come into place for storms to become strong across northeast Colorado producing damaging hail, wind, and even tornadoes. CAPE in excess of 2000 J/Kg and decent shear should support a few supercells late in the day, with possible placement for these to develop from Denver east along the Palmer Ridge.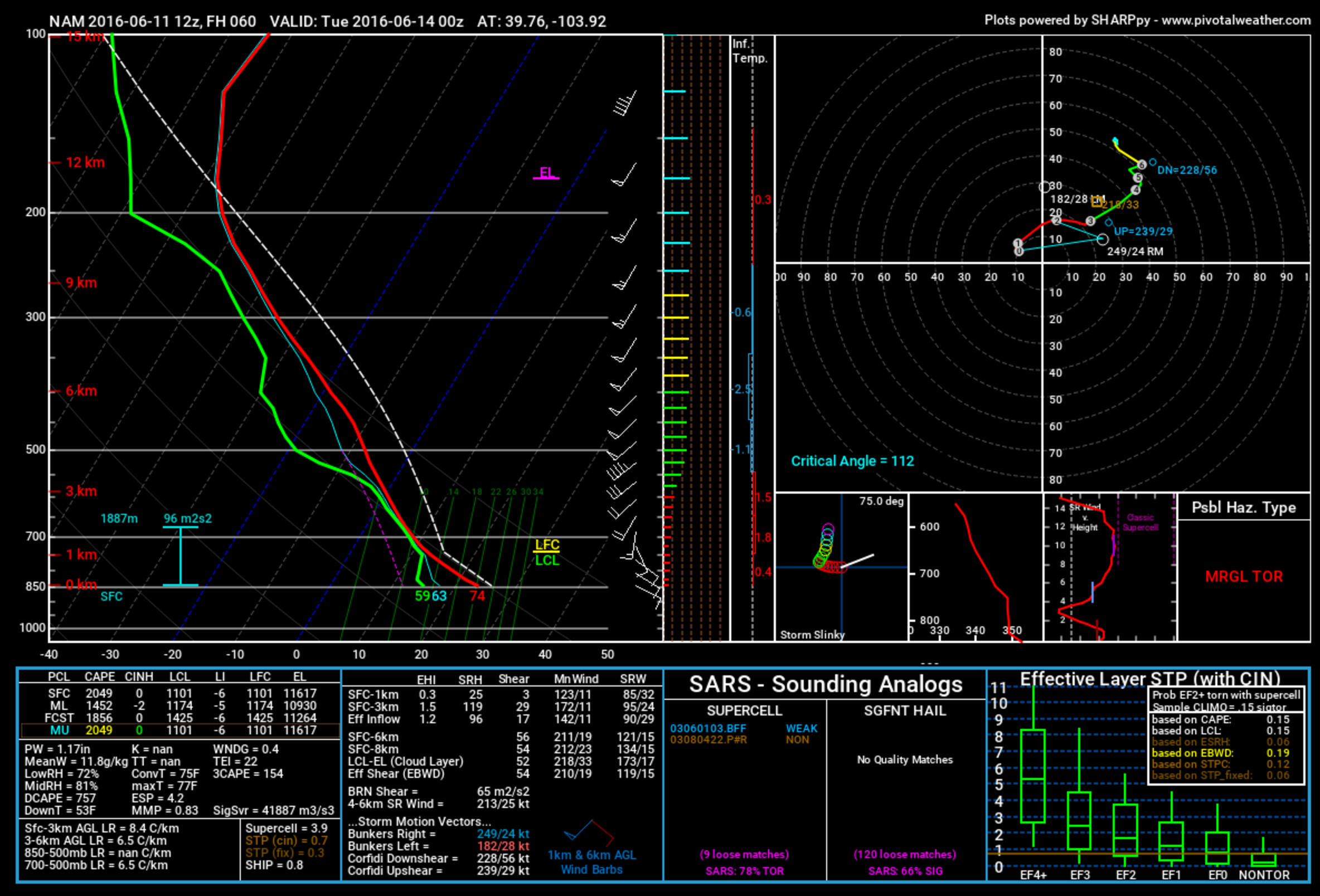 Tuesday
By Tuesday we see the storm chances decrease a bit, but still may have enough moisture and instability around to see some lingering storm chances. Temperatures will also be cooler Tuesday behind the passing low Monday, with highs likely topping at or just below 80 degrees. This will be the coolest day of the week.
Sunday through Tuesday rainfall totals will be good to even great for many locations across northeast Colorado – of course that's IF you end up under one of these storms. The nature of these summertime convective storms is that coverage won't include everyone each day, so much of it will be luck-of-the-draw if you end up with good moisture over the next several days.
With that, here are three model outputs for precipitation through Tuesday. Notice they all show pockets in excess of 1.5", though they differ on where exactly the greatest totals will set up. Pay less attention to the details here, but rather the potential for the region. It does look like this will be a good pattern for the Front Range mountains, no matter which solution you prefer.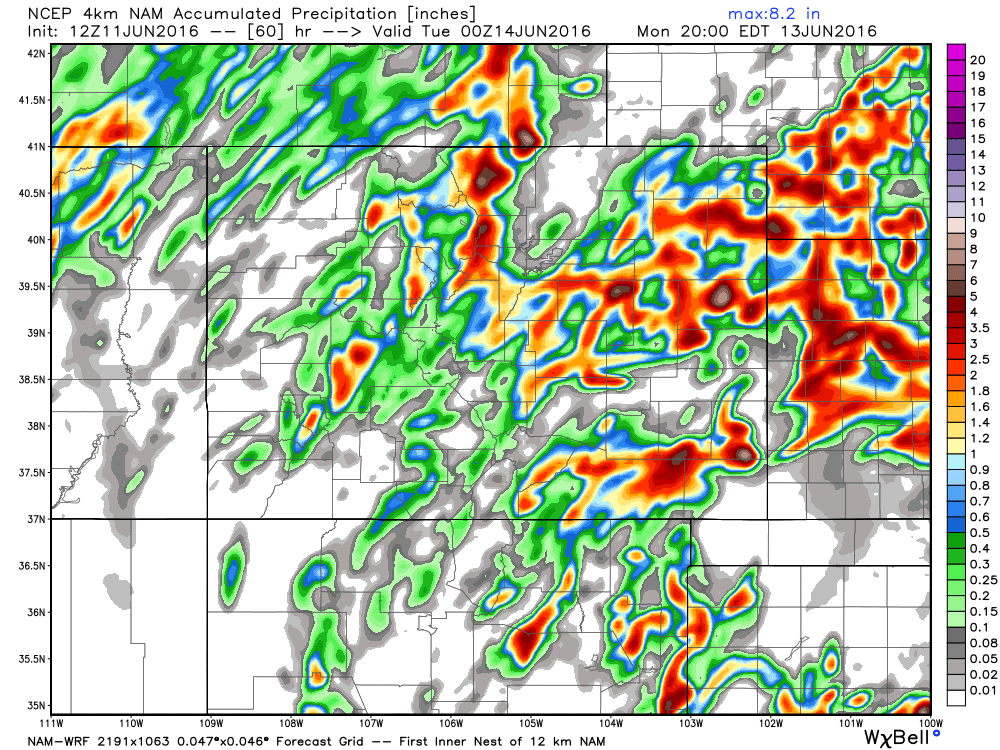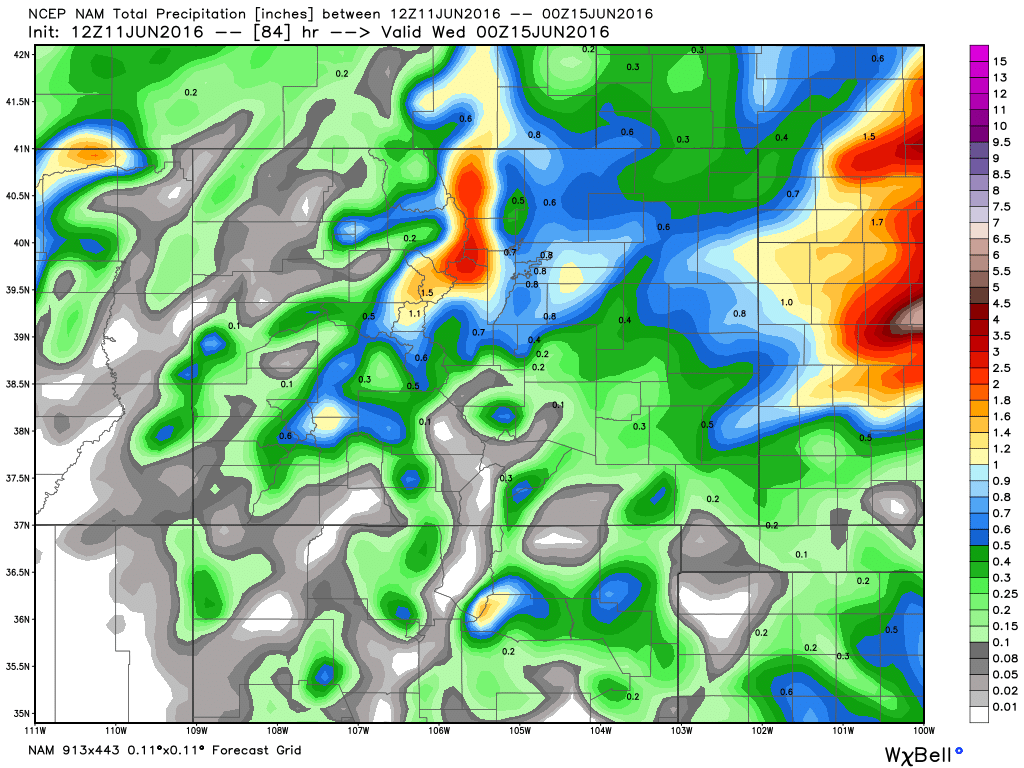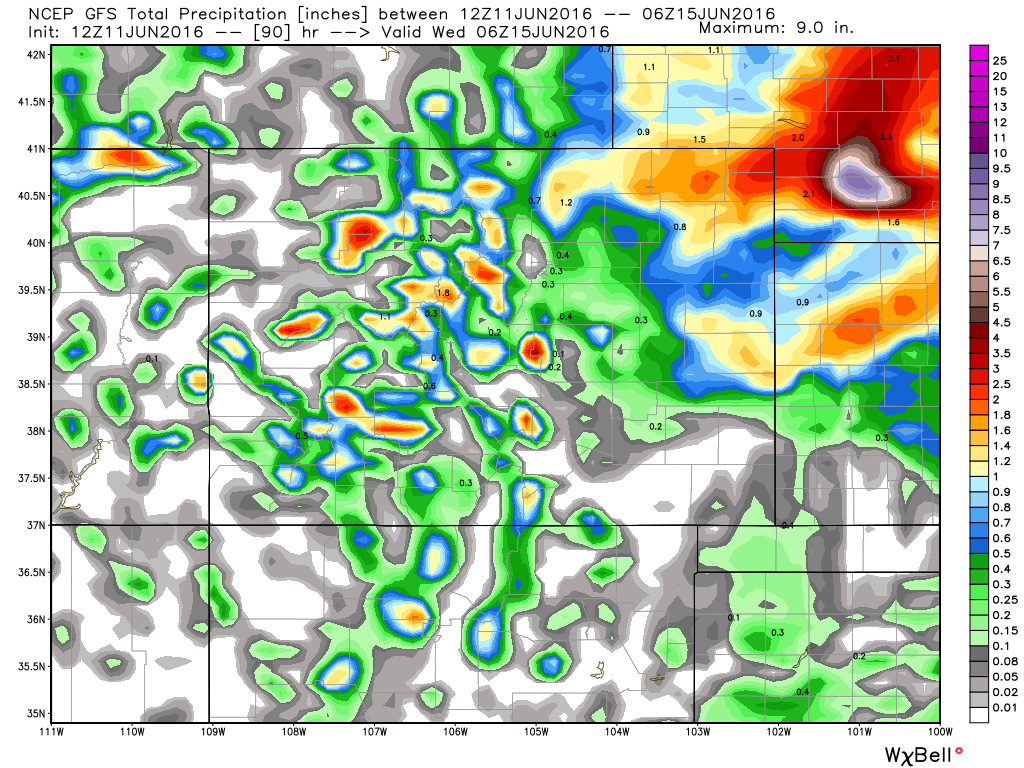 Remainder of week
For the remainder of the week we'll dry things out and warm things up. Ridging will reestablish across the south-central United States by midweek, and will eventually come to dominate our weather as well. By next weekend we see the ridge firmly in place, with above normal temperatures for the entire region: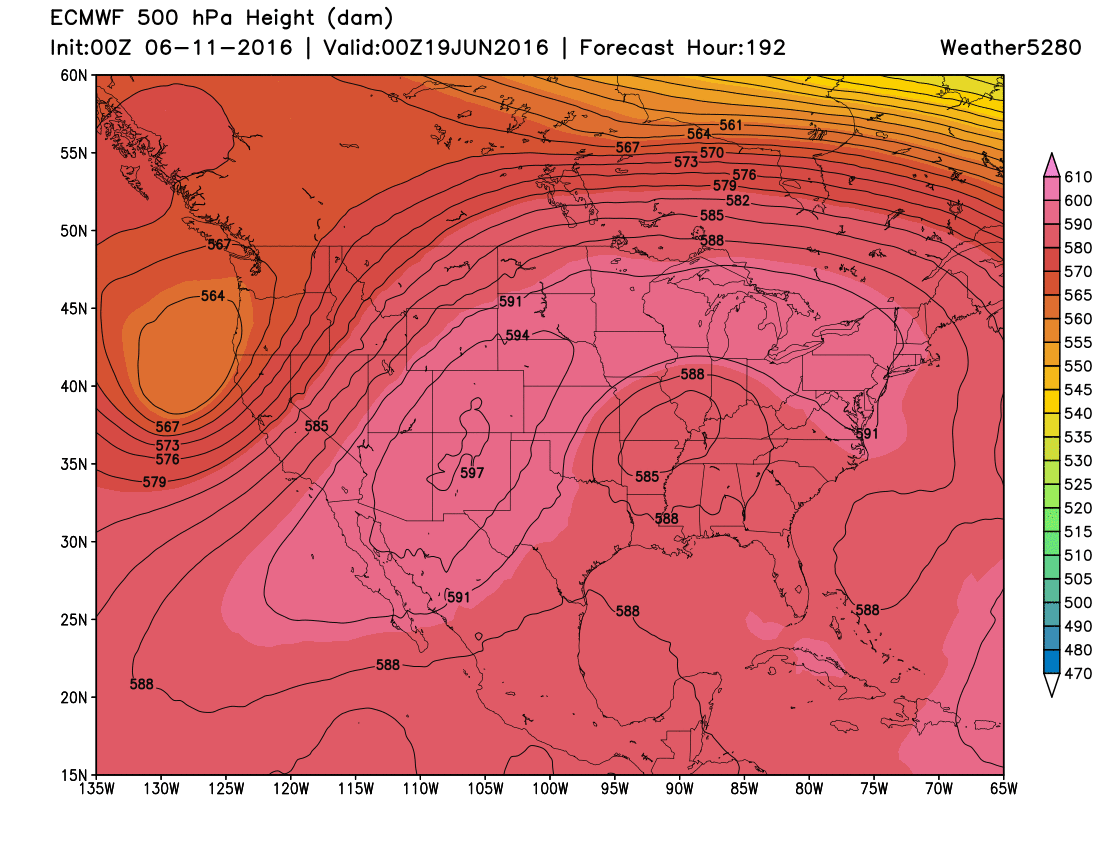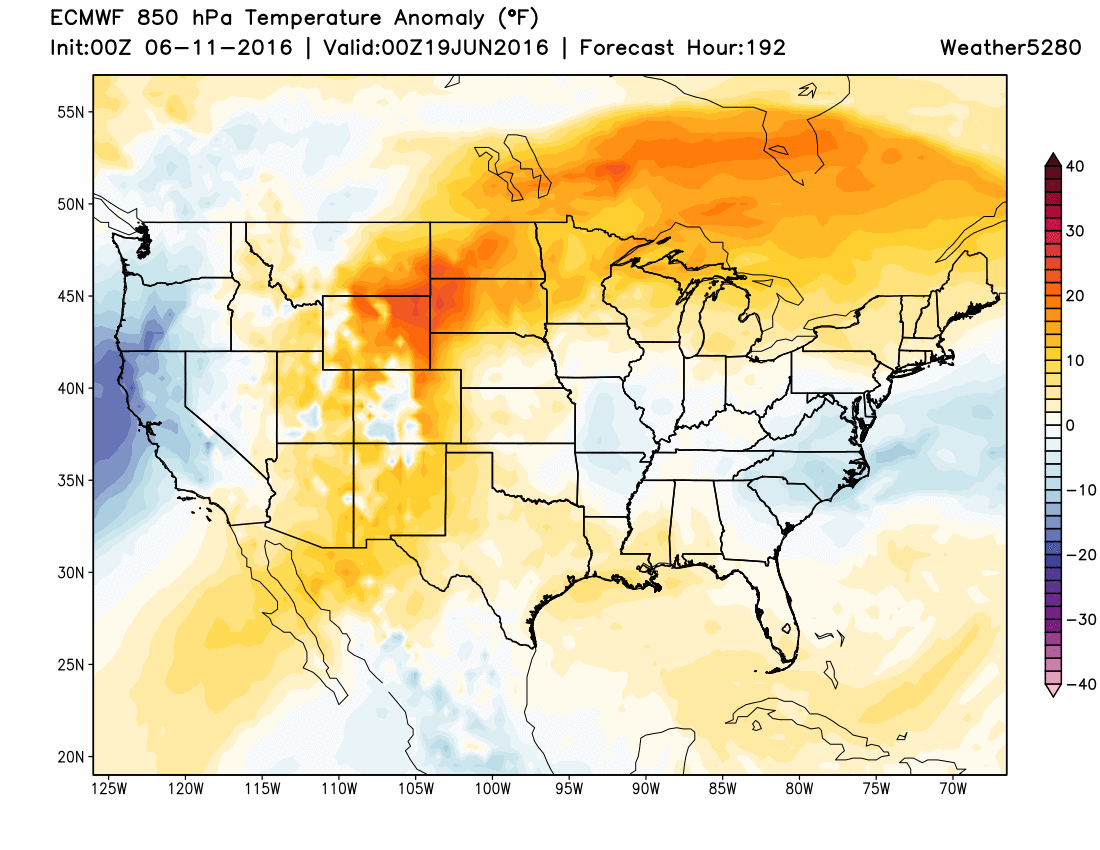 So, we'll hope for some good moisture over the next several days, because the remainder of the week looks much drier with highs likely back in the 90s across eastern Colorado.
We'll keep an eye on things tomorrow and offer an update on Monday if bandwidth/need permits. Otherwise, plan on paying attention to the weather for the next several days before we quiet things down again.