It's been quite a week for severe weather across eastern Colorado, especially the far eastern plains, and yesterday even Denver got in the mix when an isolated severe thunderstorm steamrolled over the city. Take a look at all the Severe Thunderstorm Warnings (yellow) issued by the National Weather Service over the last two 2.5 days – the two polygons over Denver are from last night's storm, with several tornado warnings (red) having been issued over recent days across the plains:
The storm over Denver was quite spectacular, and unfortunately very damaging to many people's plants and property with hail from 1 to 2" reported at times. Our station on the south side of downtown recorded 1.27" of rain in about 30 minutes, with some locales seeing upwards of 2" under the heaviest rainfall.
After topping out at 95° F on Tuesday, the storm rolled through and dropped our temperatures dramatically. At 6:23pm our station was reporting a temperature of 86.8° F, and just 30 minutes later it was reading 57.3° F, wow!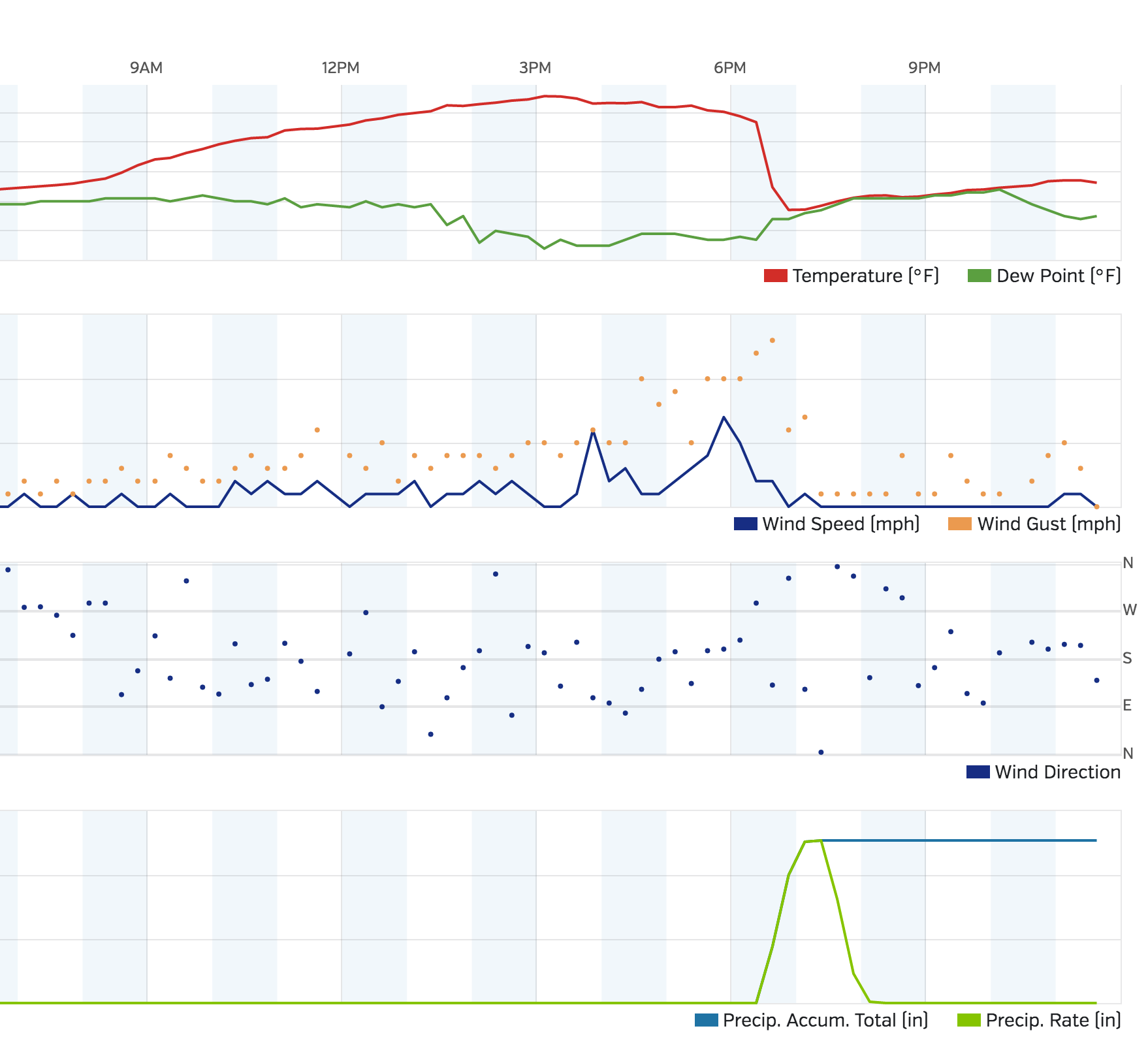 Scenes from across the city were impressive, with streets covered in water and piles of hail making it look more like winter than summer at times:
Storms that develop today will again have the potential to become severe, especially northeast of the Denver area. The Storm Prediction Center has again issued a Slight Risk (yellow) for severe storms across the northeast plains, which seems reasonable, though a storm or two further west along the I-25 urban corridor should not be ruled out.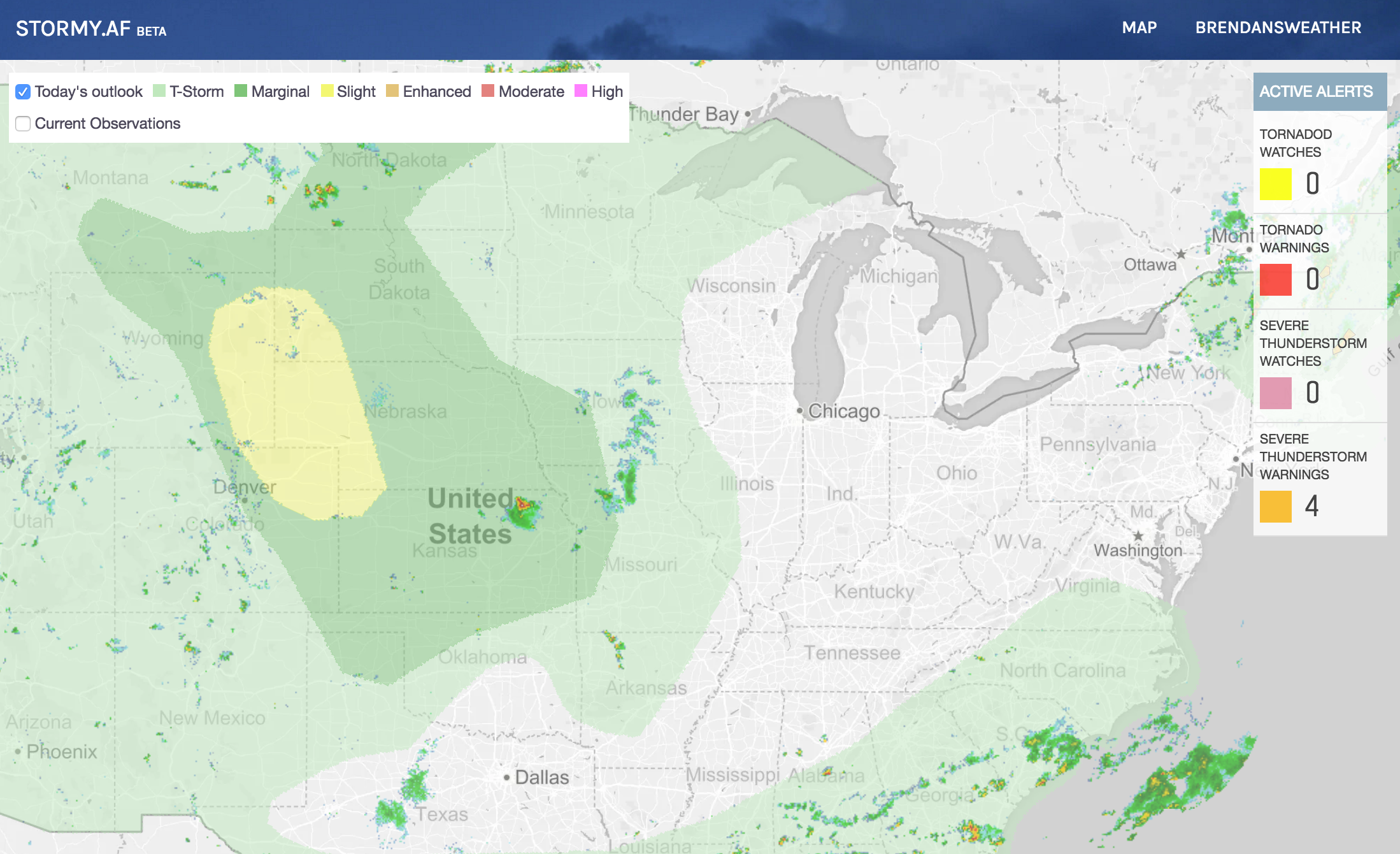 Cooler and stormy and to week
As we've been discussing for awhile now, cooler temperatures arrive for Thursday, and stick with us Friday (maybe even Saturday) as well. Highs each day will top out in the upper 70s to low 80s across the Front Range, with a 30 - 60% percent chance of storms each day. Below is a look at the 2-meter temperature anomaly forecast for Thursday – those blues and purples over northeast Colorado indicate temperatures from 5 to 15 degrees (C) below normal for the period: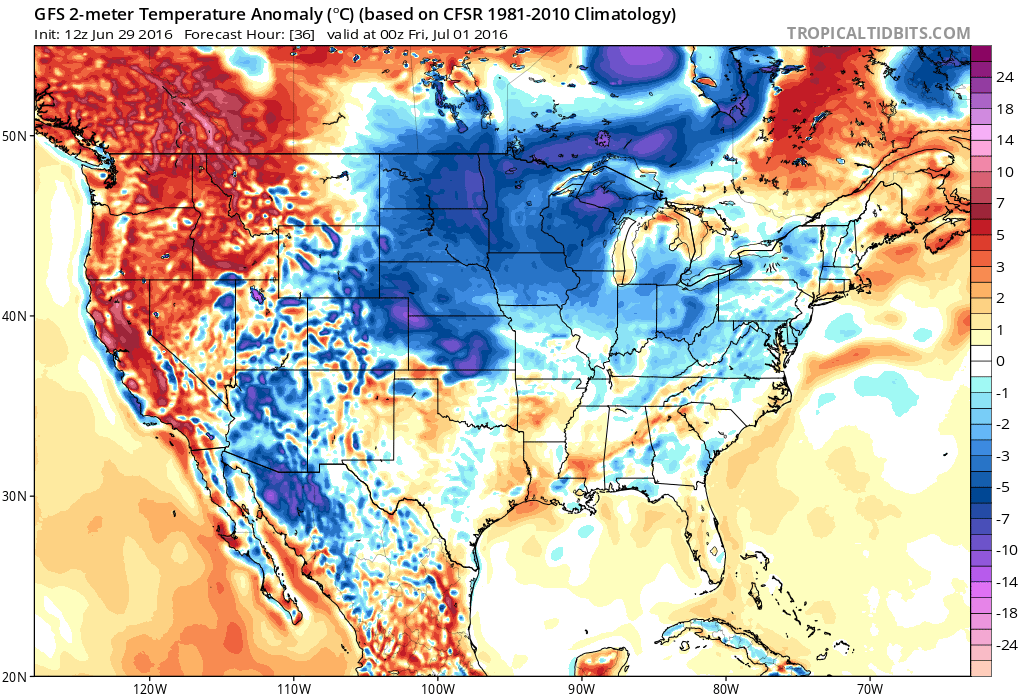 Meanwhile our storm chances will be pretty good, especially out across the plains and for the Front Range foothills. The GFS is serving up between 0.5 and 2.5" of liquid through Saturday, with other models more or less in agreement. There are still differences in where exactly the heaviest rainfall sets up, however, with the 12z EURO putting the heaviest rainfall south of Denver from Pueblo to Colorado Springs and east. The GFS on the other hand remains a bit more widespread with QPF, and has most of the state seeing some beneficial moisture over the coming days: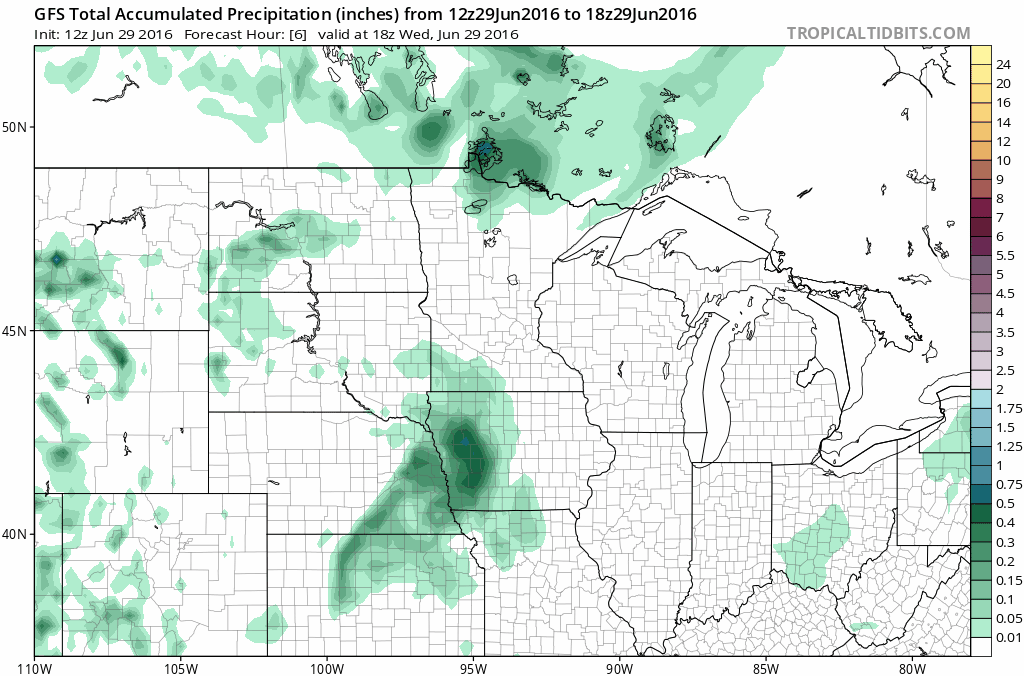 With the NAM more in line with the GFS we'll stick to pretty widespread showers and storms, with many areas seeing >1.5" not out of the question. Storms will come in waves over the coming days, with about a 30% of storms Thursday afternoon, a 60% Thursday night, a 40% chance of storms Friday, and a 30% chance of storms Saturday before we dry things out a bit. After today the setup won't be as favorable for storms to become severe, so heavy rain will be the biggest concern. That said, we'll likely see a few storms capable of producing hail and strong winds, with Friday being the more-likely day for seeing severe storms across the region.
By Sunday and Monday our storm chances remain, but will be lower. We'll also see temperatures climb back to the low 90s, with likely a few very hot days on tap by the middle of next week.
Enjoy the cooler temperatures, stay dry, and remember to pass along your storm reports in the coming days!